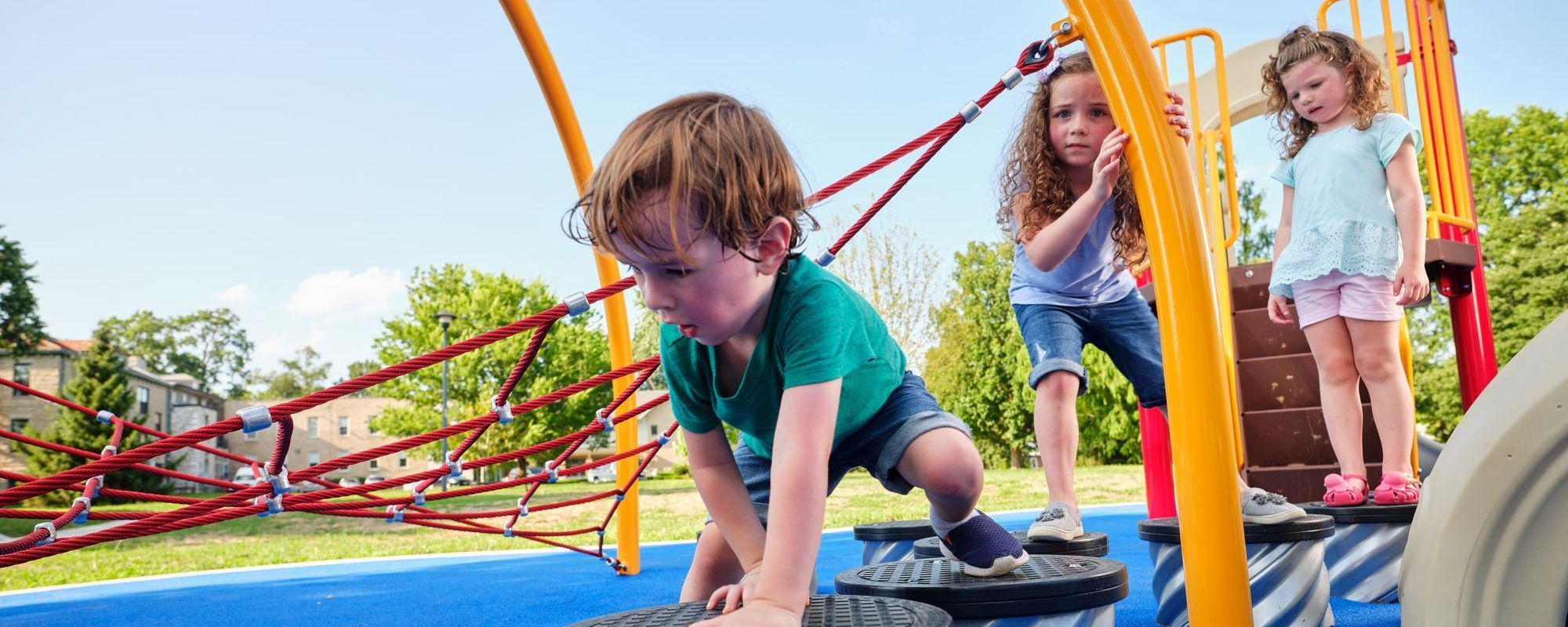 The Benefits of Outdoor Fitness Equipment
Few would argue that being outside isn't, well, a breath of fresh air. Exercising outdoors is a great way to connect with nature and stay fit at the same time. Unfortunately, if you want to do anything besides running, biking, or walking, you often need to go to an indoor gym — and pay the premium membership cost that comes with it. Outdoor fitness equipment lets people do their workouts in nature, which comes with a wide range of benefits.
The Advantages of Outdoor Fitness Equipment
Bringing exercise options outdoors is great for residents and the organization supplying the equipment, such as local governments, homeowners associations, or schools. Benefits range from better well-being to eco-friendly infrastructure.
1. Physical Health Benefits
The physical benefits of outdoor workouts are perhaps the most obvious ones. Exercising in most locations can help people stay in shape, build strong muscles, and fight obesity, but it's also associated with a long list of other health benefits like:
Reducing the risk for heart diseases, such as coronary artery disease, high cholesterol, and heart attacks.
Improving mental health and mood and reducing the risk of depression.
Keeping the brain healthy for better cognitive performance, especially as you age.
Lowering triglyceride levels and blood pressure.
Managing blood sugar and insulin levels, which can help reduce the risk of metabolic syndrome and type 2 diabetes.
Strengthening bones and slowing the loss of bone density that occurs with age.
Reducing the risk of some cancers, like breast, colon, lung, and uterine cancer.
Reducing the risk of falls.
Improving sleep quality.
Exercising is almost always a good idea for your physical health, but doing it outside can launch your workout to the next level. Outdoor exercise can make your workout feel easier, decrease stress levels, and improve your overall well-being. Nature is a powerful force when it comes to our health.
2. Socialization Opportunities
Outdoor fitness centers can also be a great way to socialize. They bring people together in new ways through a common activity. If you host classes at an outdoor gym, you can draw people in with fun, recurring events like yoga or kickboxing courses. Personal trainers are also a good way to help individuals connect and learn about the right exercise routine for them.
3. Visitor Attraction
Outdoor athletic equipment attracts people from various walks of life, from the teenager intimidated by the big indoor gym to the older adult who wants to socialize with friends while staying healthy.
Some of the selling points of outdoor fitness equipment include:
Comfort and ease of use: Outdoor gyms can be far less overwhelming than indoor gyms. You don't need to sign up for a membership, drive to the building, work out at a specific time, or worry about how you look in front of the regulars. It can be an excellent way for people to learn the equipment and start their fitness journeys in a low-stress environment.
No membership costs: An outdoor gym is usually free for everyone, so it's accessible to people who can't or don't want to pay for an expensive membership. It can be particularly useful in low-income areas.
Expanding workout options: Placing outdoor equipment along a trail or bike path can help draw people to that amenity by providing resources for a more complete workout. For example, running or biking is a great cardio workout, but a few pieces of strength training equipment can help users work different muscles and maximize the benefits of their exercise.
Location: Outdoor exercise equipment can be placed in neighborhoods, community centers, high schools, and other convenient locations. Residents might be able to choose between a walk down the road or a 10-minute drive to a gym for their workout.
Social opportunities: For many people, exercise is an opportunity to make and meet friends. With an outdoor gym, anyone can visit, regardless of membership status or which gym they visit. Classes and events can also attract more people to an area.
Aesthetic appearance: Fitness equipment can spruce up a space. Attractive components show visitors and residents you're invested in their health and experience, drawing more people into a town or development.
4. Environmental Benefits
Indoor gyms pull a lot of electricity to power rows and rows of fitness equipment. Outdoor gyms offer an eco-friendly alternative, with versatile equipment free of cords. Whether you're looking to minimize energy spending, reduce your carbon footprint, or appeal to environmental warriors, outdoor exercise equipment is ideal for planet-friendly workouts.
How to Find the Right Fitness Equipment for Your Park
When it comes to building an outdoor fitness space, you need a good understanding of your target users and general best practices for exercise equipment.
Make sure your outdoor fitness equipment:
Has variation: Opt for equipment that works different muscle groups so users can get a full-body workout and target certain areas. You might have pull-up bars to focus on the upper body and an ab bench to work abdominal and leg muscles. Full-body equipment, such as a cargo net, is also a great choice. Consider the placement, too. If your equipment is going on a running trail, you may want to focus on strength training equipment since cardio is already taken care of.
Is age-appropriate: Most fitness equipment isn't suitable for kids. Make sure equipment is built for adults and properly separated from nearby kids' equipment, like a playground. Research what your audience would like — perhaps the residents of a senior living community would prefer low-impact options, for example.
Is durable: Since it's always outdoors, you need this equipment to stand up to harsh weather and plenty of use. Only buy from a reputable seller with decades of experience building rugged equipment.
Is near other amenities: Consider other elements your guests might want, like bike racks and benches.
Building an outdoor fitness park can be tricky. Whether you're looking for all-in-one fitness structures or want to mix and match elements, a Little Tikes Commercial representative can help with all stages of the project, from planning to fundraising to ongoing support.
Choose Little Tikes Commercial for Outdoor Fitness Equipment
Little Tikes Commercial has a long track record of getting kids up and moving. With our outdoor fitness equipment, we're doing the same for adults and teens over age 14. Little Tikes Commercial fitness equipment can help your visitors stay fit, connect with nature, socialize, and save money.
Our catalog of muscle-building, heart-pumping equipment puts quality craftsmanship and fun, balanced workouts front and center. Plus, our experienced representatives are at your side to ease the process of planning, funding, and installing your new outdoor fitness equipment.
Explore our outdoor fitness equipment online, or request a quote to learn more!