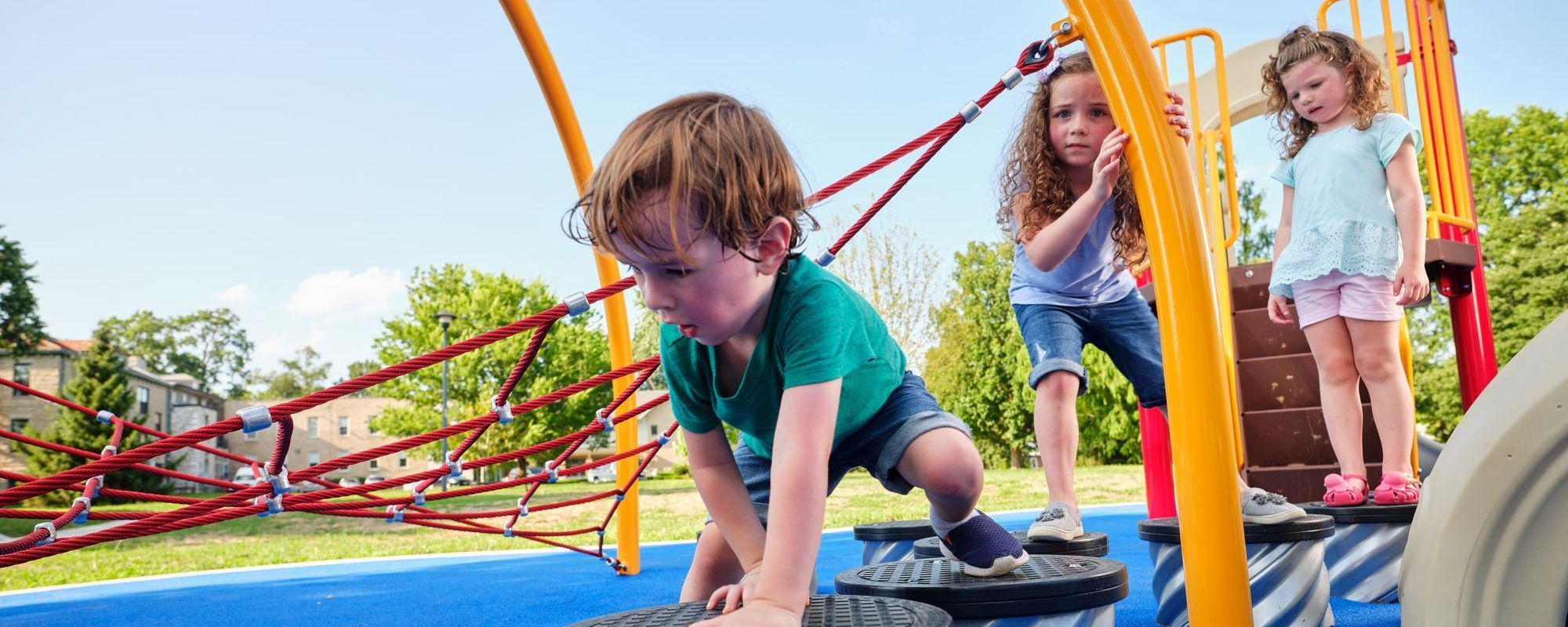 How to Design a School Playground

Children are attracted to a number of different colors, shapes, and play options when it comes to school playground equipment. So, how do you design a playground that will appeal to as many kids as possible? To plan your school's new playground, it's important to know the steps of the planning process, as well as the aspects of a well-designed playground. With this knowledge, you'll have the necessary tools to design an effective playground for all your students.
Read the full article or jump ahead to a specific section:
5 Steps for Playground Planning
As you begin to think about a new school playground, you may realize there is a lot to do and think about in terms of design and planning. The process can be overwhelming, and you may not know where to start, especially if it's your first time designing a playground. We're here to break the process down for you. Here are five steps to help simplify planning so you can design a beautiful playground for your students:

1. Define Your Objectives
To stay organized and focused throughout the planning and installation process, it's best to define the objectives and goals for the playground. This step is a great place to start because it helps you envision what you want the playground to do and be for its users. You may consider questions like:
How many students will be playing at the same time?
What ability levels and age groups will use the playground?
What amenities — bathrooms, benches, shade, trashcans — will you need?
Will you use a theme, school colors, or other characteristics of the school or your community in the playground design?
Will there be one playground for all the students or two — one for older grades and one for younger grades?
Will you keep the playground open to the community after school hours or on weekends?
What will your budget be, and how will you raise those funds?
Use this time to determine who will be involved with the process. Asking for input from the community or the student body can help you get a better idea of what the users want out of the playground. We recommend asking the head of your maintenance department as well as the physical education teacher or physical therapist to sit on the committee. These individuals can provide valuable insight toward equipment cleaning and maintenance, as well as student health while playing.
You may also consider enlisting the help of a landscape architect or playground consultant who can help you meet safety and accessibility guidelines. Help from professionals will instill you with confidence in the playground you're planning throughout the entire process.
2. Analyze the Potential Site
Whether you're starting from scratch or are replacing an existing playground, you'll likely have an area designated where you want the playground to be. After you define your project's objectives, the potential playground site needs to be analyzed. The artificial and natural elements in and around your site can have a big impact on your playground, and it's usually easier — and more affordable — to work with the existing elements instead of against them.
This time lets you determine how these elements might work into the school playground design or what may need to be removed. When analyzing your playground site, consider the following questions:
Is the site in a location that receives direct sun during the afternoon or high levels of rain, snow, or wind?
Are you able to incorporate existing vegetation into your design?
Will your site's soil conditions and slope angle provide the playground with proper drainage?
Is the site located near existing walkways or buildings for easy access?
With these considerations in mind prior to the design stage, you'll be better prepared to create an effective playground.
3. Design the Playground
Now that you've determined your school's playground needs and how a playground will work into your site, you can create a budget and work on the design stage. There are a lot of considerations to make when it comes to the design elements of your playground because there is such a wide variety of school playground equipment. Some things to begin thinking about include:
Will you include inclusive elements like sensory play, parallel play, pretend play, ramps, and music?
What kind of look do you want your playground to have?
Which play elements do you want to be free-standing?
Will you separate areas based on age groups?
How much challenge will you incorporate into each area?
What type of surfacing should the playground have?
You'll need to determine what play elements you want for your playground. For example, will you have swings, monkey bars, slides, jungle gyms, activity panels, a sandbox, or perhaps something entirely different and unique to your playground? The elements you choose will largely depend on the age groups you're creating a play space for, as well as the size of your playground site and budget. Be sure to consider the layout of your playground and how each component will fit into the site, especially in relation to other components.
4. Install the Playground
After you've chosen the equipment pieces that will become your school playground, it's finally time to install it! So, who installs your playground? Most of the time, you have some options. The recommended way to install new playground equipment is with a certified installer. Hiring an expert ensures your playground is installed correctly and safely.
Some schools recruit volunteers from the community or school faculty to help assemble and install the playground equipment. Getting help from volunteers can help reduce the installation costs of your playground. Any chance to reduce costs can be extremely effective for your budget. This option can also be a way to bring community members together to show school pride.
Regardless of who installs your playground, it's best to schedule a safety audit.
5. Maintain and Play
Before students can begin playing on the new playground, it's best to schedule a safety audit with a certified playground safety inspector (CPSI). Find a CPSI to conduct a one-time audit to ensure the equipment was put together properly to ensure student safety. After the equipment is deemed safe, your school can begin to enjoy its new playground!
While most commercial playground equipment is manufactured with durable materials, part of your playground planning should include preventive maintenance. Preventive maintenance will help you replace or repair equipment that is wearing down before the damage becomes a safety hazard. The goal here is to catch potential damage before it occurs. This measure also helps prolong your playground equipment's life so it can last for many years to come.
Playground Design Best Practices
Playgrounds attract a wide variety of different kids, all with different interests and abilities. Designing a playground involves careful consideration to create a space that addresses as many kids' needs as possible. Follow these school playground design best practices and implement these design aspects that help make playgrounds inclusive and effective:

Create Play Sections
Play sections, or designated play areas, can help ensure each child has space for their level of play. There are a few ways to break up your playground into play sections:
Energy level sections: You may dedicate a section of your playground for high-energy activities like sports, or climbing equipment. These activities encourage loud and active play, which would be disruptive for kids who prefer lower-energy activities like reading, drawing with chalk, or talking with friends. Designing your playground so activities with high energy levels are in separate areas from activities with lower energy levels creates an environment that welcomes all kinds of play.
Designated age areas: According to the Consumer Products Safety Commission (CPSC), playgrounds should be separated into areas based on age groups. Depending on the students your school accommodates, you likely won't need separate spaces for kids 2 years old or younger. However, designing sections to separate older kids from younger kids can be beneficial. This separation helps prevent young kids from using equipment that's only suitable for older students.
Sections with varying challenge levels: One of the goals of a playground is to encourage kids of various abilities to play together. To encourage this, include playground components of various challenge levels in each section. Doing so will allow kids with a variety of ability levels to play together and potentially interact.
When designing your play sections, think of ways to separate the areas while still making each space accessible to everyone. Sections should still be connected by visual and physical paths, allowing students and adults to access each one. This layout enables kids to play in different energy level areas as their preferences change and interact with kids who have different abilities from them, helping to foster empathy and understanding of differences early in life.

Include Multiple Types of Play
There are many types of play children partake in. Many playgrounds typically only target active play, although the most well-designed playgrounds provide opportunities for multiple types of play. When kids can engage in multiple types of play, they're able to build skills and learn how the world works. Consider how you may incorporate several types of play into your playground design:
Active play: Active play involves moving your body in any way possible. This form of play is the most vigorous because it's intended to get your blood pumping. Active play involves climbing, jumping, swinging, spinning, and other high-energy movements. Active play on a school playground may look like a basketball game, jump roping, and hanging from the monkey bars, among other activities.
Imaginative play: Imaginative play occurs when kids dress up or play pretend. This type of play allows kids to imagine different realities. Through costumes, dolls, playhouses, and more, kids can take on new roles and act out scenes during play. Imaginative play encourages kids to create and explore imaginary spaces and people without rules or limitations, broadening their minds.
Reflective play: Reflective play promotes thinking, reflecting, and daydreaming. Kids partake in reflective play when they observe others, consider how things work, or sit and watch the clouds. On the playground, reflective play will likely occur in a quieter corner of the playground or a garden space, where kids are encouraged to be with their thoughts.
Creative play: This type of play allows kids to express their feelings, connect with others, and communicate through channels other than speaking. Drawing, painting, coloring, crafting, dancing, and singing are all ways kids can creatively express themselves. Encourage this type of play on your playground with space for chalk drawings and incorporating music panels into playsets.
Sensory play: This type of play stimulates a child's senses, which encourages creativity, curiosity, and learning. Play that encourages kids to explore textured surfaces, smell new scents, and view colors, shapes, patterns, and new perspectives offers a better understanding of the world around them. On a playground, kids can benefit from sensory play through sensory panels, spinners, swings, slides, and many more playground components.
Social play: Social play is often accessed alongside other forms of play. Social play involves cooperating, sharing, talking, following rules, and taking turns. Kids can experience this type of play when they communicate with others on the playground to discuss games, chat, and interact with their classmates during play.
Incorporating various types of play gives kids more options to decide how they want to spend their time outdoors. This integration can also help you create a playground that appeals to a wider audience with different preferences or abilities for play.

Design With Inclusivity in Mind
To create the best possible playground for kids of all abilities, it's important to design for inclusivity. Inclusion is one of the most important aspects of your playground. Designing with inclusion in mind helps ensure everyone in the school can play on the playground. When designing to be inclusive, consider how you can create opportunities for parallel play, which allows kids to play side by side while enjoying their own challenge levels. This promotes connectivity and friendship among kids with different abilities.
Inclusive designs shouldn't compromise on fun, either. Your school playground can encourage imaginative play for kids of all abilities by using themed elements, allowing students to enhance their cognitive, social, and creative skills. Kids should also have options for different complexity levels of play, which can help them develop independence.
Another way to design with inclusivity in mind is to make all areas of the playground accessible so all kids can move from space to space without help to foster a sense of freedom. Kids who use mobility devices should be able to easily get to the playground from the school and be able to access all areas of the playground. With access to all areas of the playground and opportunities for intersection, kids of all abilities will have the opportunity to enjoy your school's playground.

Incorporate Nature
When designing a playground, many mistakenly assume the existing nature in and around the site needs to be cleared to make space for the new play space. Working with nature instead of against it is the best way to naturally incorporate trees, gardens, stones, and other features. Kids can really benefit and learn from playing in nature, making it a crucial element of your playground's design.
Here are a few ways you could embrace nature in and around your playground:
Build a slide into a slope in the landscape instead of leveling the ground.
Create a garden for observation, reflection, and exploring.
Position benches and play areas under trees for shade.
Install nature-inspired play equipment.

Use a Theme
Using a theme in your playground's design is a great way to make your playground unique to your school and the surrounding community. Playgrounds can be themed in a couple of ways. A popular way to create a themed playground is the use of pre-planned, matching playground equipment. For example, you may choose playground equipment that has an ocean or safari theme, or perhaps a castle or barnyard theme. Using themed playground components can help foster inspiration for play and imagination.
Custom playground themes are another way to incorporate aspects of your school or community to add a personal touch to the new playground. Use special characteristics of your school and community to create a strong sense of place in your playground's design. Doing so speaks to the culture of your community and showcases what's important in the area.
If art is important to your community or school, you may choose to highlight that in your playground through colors, murals, or playground components that encourage creativity. Consider including small details or symbols of the community, like using your school's colors to coordinate the equipment or incorporating the names of local businesses into a playhouse. You'll create an authentic play experience while demonstrating pride in your school or community.
Themes also offer an enhanced visual appeal to your playground. Themed playgrounds are fun to look at and even more fun to visit. Bright colors and patterns and custom playground elements can help to improve the look of your school as a whole and create a visually aesthetic environment for play.
Common Questions About School Playground Plans
There is a lot of planning that goes into a school playground. Consider these additional questions when starting your playground planning process.
How Can You Set up a Playground in Your School?
Your team and a professional installer can complete your playground setup using the provided instructions. While you may like the idea of having your school community set up your school's new playground, we recommend having a professional installer oversee the installation.
If you're looking for other ways to include your students or community members in the playground process, consider asking for their input regarding the design.
What Makes a Good Playground Design?
A good school playground design is inclusive, accessible, engaging, and encouraging of multiple types of play. While looks and aesthetics can certainly make a playground appear inviting, being able to appropriately use the equipment and gain valuable experiences while connecting with other kids is much more important to the design of a playground.
What Do We Do in Our School Playground?
School playgrounds are primarily used for recess and outdoor free time. With the right design, your playground could be used for much more. Design your playground to allow for outdoor art projects, science experiments and observations in the garden, or quiet reading time under the trees. You may even include outdoor fitness equipment to encourage gym classes to be held outdoors.
Choose Little Tikes Commercial for Your School Playground Design
The right playground equipment can make your playground design stand out. Little Tikes Commercial has playground equipment components to help you create a school playground with all the right elements to foster imagination, creativity, and inclusive play. Our playgrounds are carefully designed with all kids in mind so you can give them the best play area possible.
To find out how we can help with the design of your school playground, explore our playground products to get a quote or find a Little Tikes Commercial representative today!