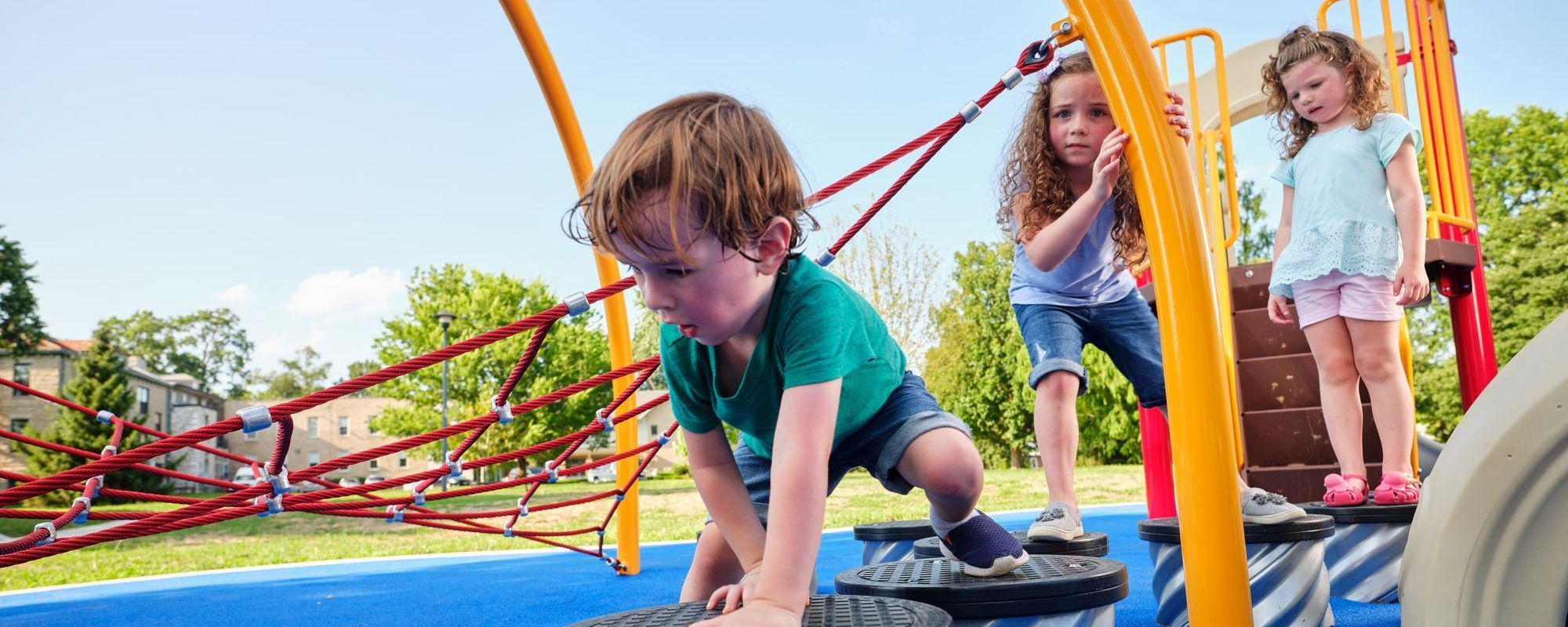 How To Encourage Imaginative Play On the Playground

Pretend play on the playground creates a sense of wonder in children. Giving new meaning to objects, locations, and people brings magic to everyday life while helping kids practice their language and social skills.
As a teacher or administrator at a school, you want to encourage whole-child learning so children can be prepared for teenage years and adulthood. One of the best ways for them to stretch their imagination is by playing on the playground. This guide will teach you how to encourage imaginative play.
What Is Imaginative Play?
Imaginative play is when children act out different scenarios and pretend to be someone or somewhere else. This practice often involves using symbols, such as pretending a stick is a magic wand or a scepter. Pretend play is critical for children to learn at a young age because it teaches them developmental skills they'll use later in life. Adults frequently use imagination to think creatively, invent new things, develop ideas, make plans, solve problems, understand others' perspectives, and enjoy a book or movie.
Since imagination involves using symbols, this cognitive skill helps with language development because words are symbols for our ideas and thoughts. You may have even noticed that children usually start to engage in pretend play as they start learning how to talk. This practice also grows their social skills so they can positively interact with their friends and family members.

What Are the Benefits of Imaginative Play?
Imaginative play stimulates whole-child learning and develops life skills. Schools and other learning facilities should have opportunities for children to learn and play outside of the classroom. Explore these pretend play benefits to discover how imagination can enrich your play areas and curricula:
Facilitates creativity: When children let their imaginations run wild, the possibilities are endless. They'll have plenty to talk about, and they'll always have something fun to do. Imaginative play gives kids a safe place to act out whatever scenarios they want, including ones they might not be able to experience in real life.
Provides a way to practice language: Children who use their imagination get exposed to the use of different symbols. Saying that an object represents a different one builds the foundation for language development and cognitive skills they'll need as they grow.
Develops empathy: When children pretend, they imagine what it's like to be someone else. This practice can help them learn empathy by considering other people's perspectives.
Exposes children to new vocabulary: Imaginative play gives kids an opportunity to use words they wouldn't use in everyday life by pretending they're in alternate worlds. While playing, they might use words like "pirate," "treasure," "castle," or "fairy" as they pretend to inhabit fantasy settings.
Encourages positive behavior: You can use imaginative play to teach your students positive actions through hypothetical situations. Ask questions like, "What happens next?" or make comments about what's happening in the story to guide children in what to do. Encourage kids to use their imagination so they can learn critical functional skills and how to navigate tricky situations in positive, actionable ways.
Boosts problem-solving and self-regulation skills: Kids who develop imaginative play skills will learn how to pretend with their friends, take turns, and work together. Imaginative group play creates scenarios that involve children making decisions or negotiating. Children who don't get to play the part they want can learn how to regulate their mood to continue playing with their friends.
Allows children to express themselves: Kids make sense of the world and communicate their interpretation through their imagination. They often play with their teddy bears and dolls and put interpersonal skills such as sharing and encouragement into practice. Listening to kids engaging in imaginative play can help you determine what they learn at home and school.
Ways to Promote Pretend Play on the Playground
Imaginative play can happen anywhere, including on the school playground. Playing outside allows children to take in the fresh air and enjoy the sun's health benefits as they pretend they're exploring a faraway land. Follow these tips for setting your students' imagination free through pretend play on the playground:
Give it a theme: An outdoor play area that follows a theme can stimulate a child's imagination by creating a literal backdrop for a fantasy world. You may want to install custom themed play equipment with various activities to encourage mind and body development. These elements have sensory play features that promote creativity and develop motor skills. Design your playground with your students' interests and your school's brand in mind.
Include fun characters in your design: Inspire your students' imaginations with hand-sculpted, imaginative play elements in your outdoor play area. Bears, gorillas, frogs, and butterflies will attract children and encourage them to explore the natural world around them. You'll also find additions to your playground that fit your unique theme, including themed stepping stones and other fun play elements that promote physical development.
Keep the kids moving: Using the imagination stimulates the mind, and it can also help strengthen a child's muscles and bones. You can put creative and durable motion play elements around your playground that look like cars, trucks, or horses to encourage pretending outside. Kids can drive across the country, work on a construction site, or race their horses, all from the safety and comfort of your outdoor play area.
Embrace downtime: A child with a full schedule of endless activities has little time to imagine on their own. Design an outdoor environment that encourages rest so children can recharge and be creative. Consider putting tables around your playground for children to sit and talk with their friends during breaks. Downtime is also necessary for children with sensory disorders who may need to relax in a semi-enclosed space.
Encourage independent and social play: Kids need to play alone and with other people for healthy development. Children who play by themselves let their imaginations lead them as they come up with their own games. When they play with their friends, kids develop emotional and social skills. Design your playground to include both independent and group activities.
Let children lead: As you create an imaginative play environment, focus on putting children in charge, especially if you take care of older kids. Instead of feeding them ideas or telling them what to do during pretend play, see what they come up with themselves. Letting children lead allows them to develop their own imagination and communicate their interpretation of the world around them.

Explore Our Playground Options for Imaginative Play
Little Tikes Commercial will help you design your playground to make pretend play a priority. We have decades of experience working with schools, daycares, churches, and other facilities that promote childhood development and growth. Explore our pretend play playground options to create the ideal environment for imaginative play outside your school or learning facility.
When you're ready to start working with us, request a quote online or contact us today.