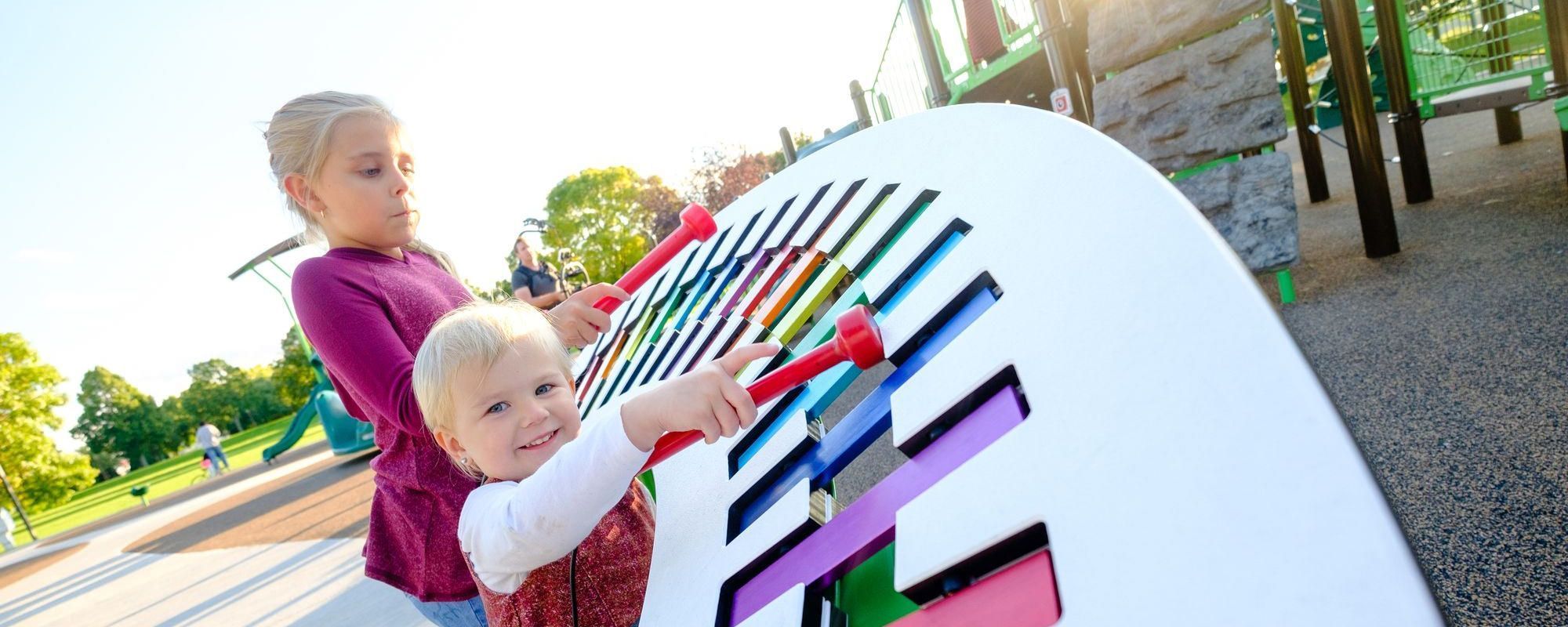 How to Improve Your Neighborhood's Community Parks

There's something almost magical about spending time outside. When people are given more opportunities to enjoy nature and breathe fresh air, they become happier, healthier individuals. Parks are dedicated spaces within your community that provide both kids and adults a safe space to play, gather, and socialize outside.
The mere existence of parks offers incredible advantages to the mental, physical, and emotional wellbeing of the surrounding community. However, with a few additional elements and new projects, community parks can make an even greater difference in your town or city. Here are a few community park improvement ideas which are sure to enhance your community park.
Read the full article or skip to a specific section:
Why Successful Community Park Designs Are Crucial
Before you decide how to improve parks in your community, you need to think about their overall design. Believe it or not, the layout of your neighborhood park is just as important as what's inside.
It's essential to ensure park visitors have ample space to commune and be active. They should also have access to quiet, comfortable areas to rest, observe, and reflect. When improving your community park, consider business meetings and other structured events that may require quieter areas. That way, members can hear one another and engage in thoughtful conversation.
5 Benefits of Community Parks
Careful design considerations can help your town or city enjoy the advantages of a local park. Some community benefits of parks are:
1. Encouraging a Healthy Lifestyle
Increasingly sedentary lifestyles have contributed to America's obesity epidemic. Whether it's children given little to no time for exercise with an increased focus on academics or adults spending long hours at desk jobs, opportunities to stay active are limited.
Not everyone has access to a gym to work out. But community parks outfitted with fitness equipment encourage an overall healthier population, especially since everyone in the community has access to parks regardless of socioeconomic status.
Supplying community parks with pull-up bars, athletic fields, leg lift loops, and more creates simple, affordable improvements that provide hours of free and safe exercise for all community members.
2. Promoting Inclusivity Using Accessible Playground Equipment
Rally your community members around a higher set of values and work together to build a park in your community where children of all ability levels and backgrounds can connect. Your park can be enjoyable for every child in your community, even those who have mobility or other challenges.
Inclusive and accessible playground equipment benefits kids on all levels. For those with disabilities, accessible equipment allows them to play, just like everyone else. Even children without disabilities benefit, as playing with kids of different backgrounds and abilities encourages empathy and helps develop social and emotional skills, serving them throughout their lives.
View Accessible Playground Equipment
3. Providing Event or Entertainment Amenities
Parks are perfect spots for both private and public special events. From family gatherings to city events, nothing beats a park, especially when they're strategically outfitted to include space for various entertainment opportunities. Both kids and adults need places where they can play sports, gather with friends and family, go on a date, or relax.
While most community parks include shelters that protect picnickers from the elements, some additional park amenities ideas with entertainment potential include:
4. Offering Access to Safe, Clean Communal Spaces
It's the little things that set exceptional community parks apart. Small considerations like picking up litter, regular maintenance, and landscaping show the community that someone cares. Clean parks are safer gathering spaces for the entire neighborhood. As a result, more people spend their time in the local park.
While pruned bushes, cut grass, and manicured trees are an excellent start, give careful consideration to the types of plants used. Low pollen varieties are greatly appreciated come allergy season, lowering allergy symptoms.
5. Encouraging Heightened Environmental Awareness
Parks have incredible potential to increase the health of the community, and they present an amazing opportunity to raise environmental awareness among locals, both young and old.
For some urban community members, parks are the only place where they can truly appreciate natural beauty. So, why not provide helpful information by labeling plants and trees? These labels might teach visitors something new, and you can even use the information panels to provide facts about sustainability efforts.
You can complement these panels by hosting relevant activities. For example, if you encourage community members to participate in a given sustainability effort, see if you can partner with a local organization to give your park visitors a chance to actually put that new knowledge into practice.
Your park can also sponsor annual cleanup events for members of the community to come together and spruce up their corner of the world.
11 Ways to Improve a Neighborhood's Community Park
In addition to making your neighborhood park more attractive, there are many other ways to improve your community. What about the streets that lead to your small public parks? Or the buildings, sidewalks, curbs, and infrastructure? Discover the top nine ways to amp up your neighborhood park: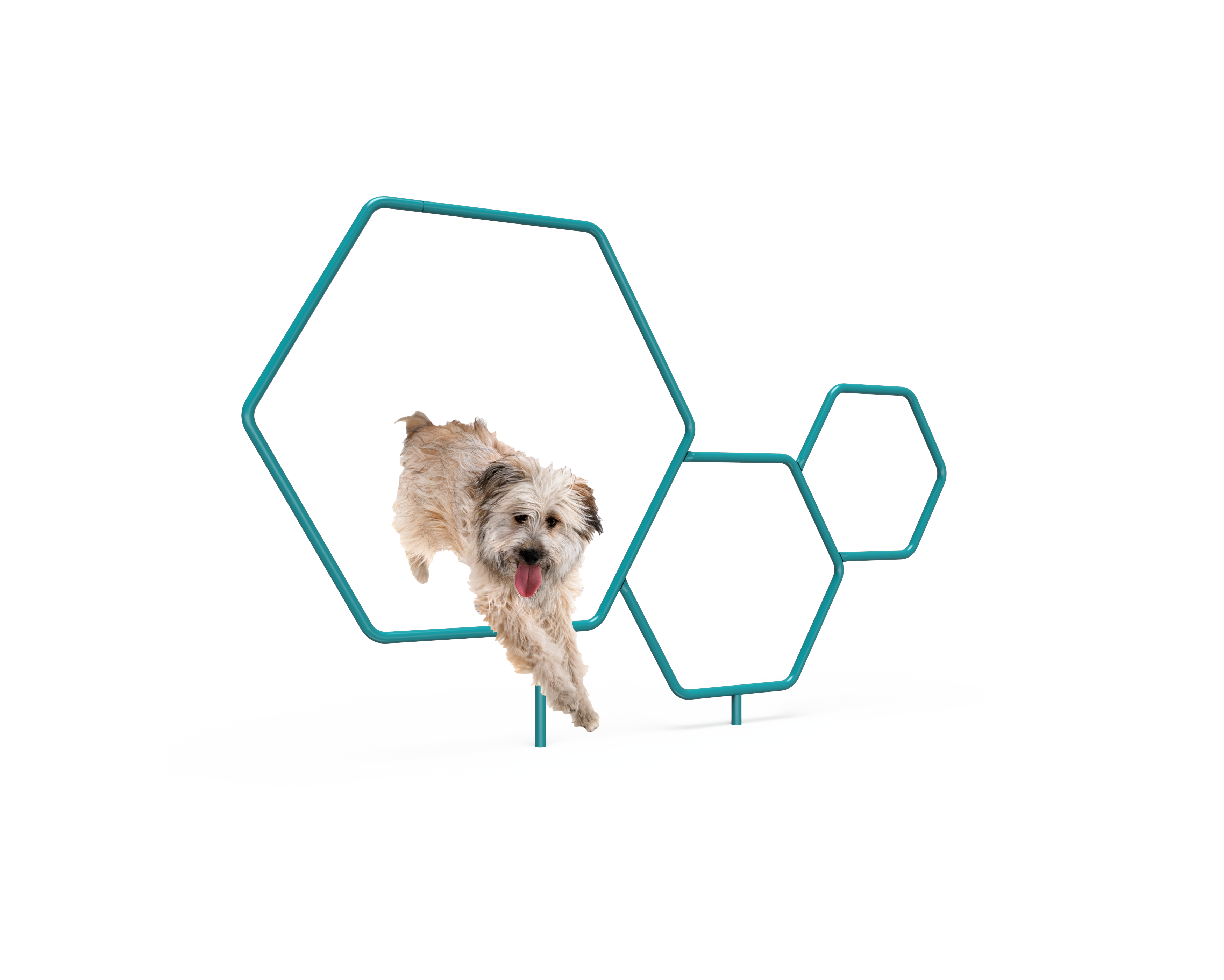 1. Create a Dog Park
While you work to make your park the best it can be for your community, remember to include visitors' canine friends — 38% percent of American households own at least one dog. Encourage the dog owners in your community to bring their furry friends with them to their outdoor activities. This will benefit both the dogs and their humans, as each gets to exercise and socialize.
Some park additions and amenities that community dogs and their owners will love are:
Dog leash rack
Dog crawl tunnels
Agility hurdles
Dog loops for them to walk through
Fire hydrant decorations
When dogs arrive at your park, they'll naturally get excited to explore the dog-friendly additions. Creating a dedicated dog park with other features, such as dog waste stations, is a great way to encourage dogs and their owners to enjoy your park together.
2. Establish a Free Library
The pleasure of reading books and magazines at the park is unparalleled. Create a real-life literary community on the streets of your neighborhood by establishing small free libraries for all to enjoy. Free libraries and "take a book, share a book" initiatives create a stronger community connection with a shared feeling of commitment and enjoyment.
3. Add Water Features
Adding water features is a great way to make your park more scenic. If you have a beautiful pond in your park, community members might be encouraged to take photos — which they might share on social media, drawing even more visitors to your park. Additionally, many people often look for local spots to take engagement or graduation pictures. Why not make your park their go-to spot by building a pond or other water feature?
4. Plant a Tree
Trees accomplish so much and demand little in return. Whether your goal is more shade, more serenity, or added beauty, outfitting any sidewalk, bus stop waiting area, or walking path with trees is a tried-and-true method of inspiring community pride. Many cities require tree planting permits, so check your city ordinances before you start planting around your park.
5. Make Works of Art From Trash and Recycling Cans
All parks need plenty of trash cans to help keep the area clean and deter visitors from littering. Take these necessary fixtures a step further by creating eye-catching works of art out of them. The project will leave your space more pleasing to the eye and help set it apart from other community parks. Plus, you can hire local artists to complete the job, which is one more way you can show your community you care about each and every resident.
6. Add Commercial Bike Racks
Over 47.5 million people ride bicycles in the U.S. As more communities open up bike trails and become more bike-friendly, bike loop racks and commercial bike racks are essential amenities for your community's park. Installing a commercial bike rack in your community park attracts more visitors, and by attracting more people, you boost visitor perception, too.
7. Develop a Sports Field
Playing sports is a favorite park and recreation activity of 26% of adults in the United States. If you have the open space to create a sports field — such as a soccer or baseball field — consider using it to draw even more visitors to your community park. Making sports fields available to your neighborhood can attract community teams and groups who want to play a casual game together.
8. Make Your Park Multi-Functional
Make your park the go-to spot for many of your neighborhood's community needs. Create a multi-functional space that includes areas for rest, reflection, conversation, and exercise to help all community members feel welcome. Accomplish this by:
Developing a central hub: As you integrate various spaces into your park, designate a central gathering area to serve as the metaphorical "heart" of your park. As an urban planner or architect, you can choose a location for the hub that will provide visitors with a central vantage point. This gathering space can be adjusted for any shape, size, or other site considerations.
Creating covered spaces: While your park is a great outdoor area for your community, you can make it more accommodating by implementing covered pavilions throughout. These spaces provide relaxed spots out of the elements for visitors to chat, and they can also make for attractive event spaces. Elevate these spots with comfortable features such as flower boxes and aesthetically pleasing outdoor lamps.
Including a variety of activities: The more activities your community park can accommodate, the better. Ensure your gathering space has open access to all of the activity areas you include, like athletic fields, amphitheaters, playgrounds, or other play spaces.
Providing learning opportunities: Parks can be great opportunities to improve environmental awareness. Add informational panels about the local wildlife and ecology and incorporate fun facts about local history or culture. These fun facts can be a great way to build town spirit, which could even indirectly encourage citizens to get more involved in their community.
Encouraging social gatherings: One of the most valuable aspects of a good neighborhood park is the opportunity for a community to gather. Facilitate these opportunities by including several benches and picnic tables throughout your park. You might also add a concession stand with seating — anything that allows your neighborhood to get together and foster a sense of community.
9. Link Walking Paths or Trails Back to the Central Gathering Space
Walking is a classic form of exercise that can be enjoyed by people of all ages. Walking can also contribute to several health benefits, such as strengthening muscles and the immune system, improving sleep, and reducing stress. For this reason, consider incorporating walking trails and paths into your neighborhood park design — just make sure to circle them back to the hub.
If you're looking for community park design ideas, loop trails are a must. These trails form a loop around your park, which can lend a sense of spaciousness and variety for hikers, even in smaller parks. Another option is out-and-back trails, which guide hikers down a path before turning them back around so they return to the same starting point. Both types of trails allow visitors to see the beautiful views throughout your park.
10. Add Shade to Seating and Playground Areas
Adding shade is a simple way to elevate the existing spaces in your park and make them more user-friendly. Improve your visitors' experience and encourage them to spend more time in your park simply by adding shading.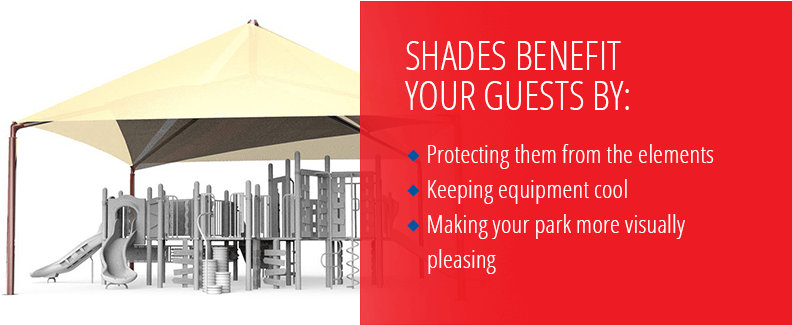 Shades benefit your guests by:
Protecting them from the elements: Families can choose to stick around and weather out a short spring shower if they have shade to give them cover. Additionally, shades provide protection from the sun's rays, making your park an attractive place to spend time in the afternoons and evenings.
Keeping equipment cool: Especially on long, hot summer days, the sun can leave seating too hot to comfortably sit on and playground equipment too hot for kids to touch. Simply putting up a shade over these areas blocks out some direct sunlight, helping keep your park's equipment cool enough for everyone to enjoy.
Making your park more visually pleasing: Well-chosen shades that complement your park's existing features can contribute to your park's overall aesthetic, making the space more visually pleasing to visitors.
Each of these benefits helps encourage community members to remain in the park longer, spending more time enjoying your park's features, regardless of the weather. Additionally, shades are generally easy to implement into your existing park structure. Browse various types of shades and choose the structure that best suits your park.
11. Update Light Fixtures
Lighting plays a large role in your park's safety — an important consideration given that the safer your park feels, the more likely community members will be comfortable spending time there. Updating your fixtures to LED lights brings several benefits, many of which contribute to a stronger sense of safety.
Compared to older forms of lighting, LED lights are longer-lasting and provide higher-quality illumination. More reliable lights allow you and your community members to be more confident that your park will remain illuminated with fewer interruptions.
Updating your lights to LEDs can also create cost savings, as LED lights are highly energy efficient. Furthermore, LED lights require less frequent updates, lasting up to 30 times longer than older types of lights. Long-term savings on lighting free up your budget so you can improve your park even more in the future.
More than that, your lighting contributes to your park's overall aesthetic. Creating a beautiful space for your community to spend time outdoors goes beyond the obvious aspects, such as landscaping and upkeep, and includes the small details, too. Update your lighting to well-designed light fixtures and elevate your park's appearance to a higher degree.
How to Attract Community Members of All Ages
With those improvements in mind, you can also make changes that encourage visitors of all ages to your park. Some ways you can attract community members across all age groups are: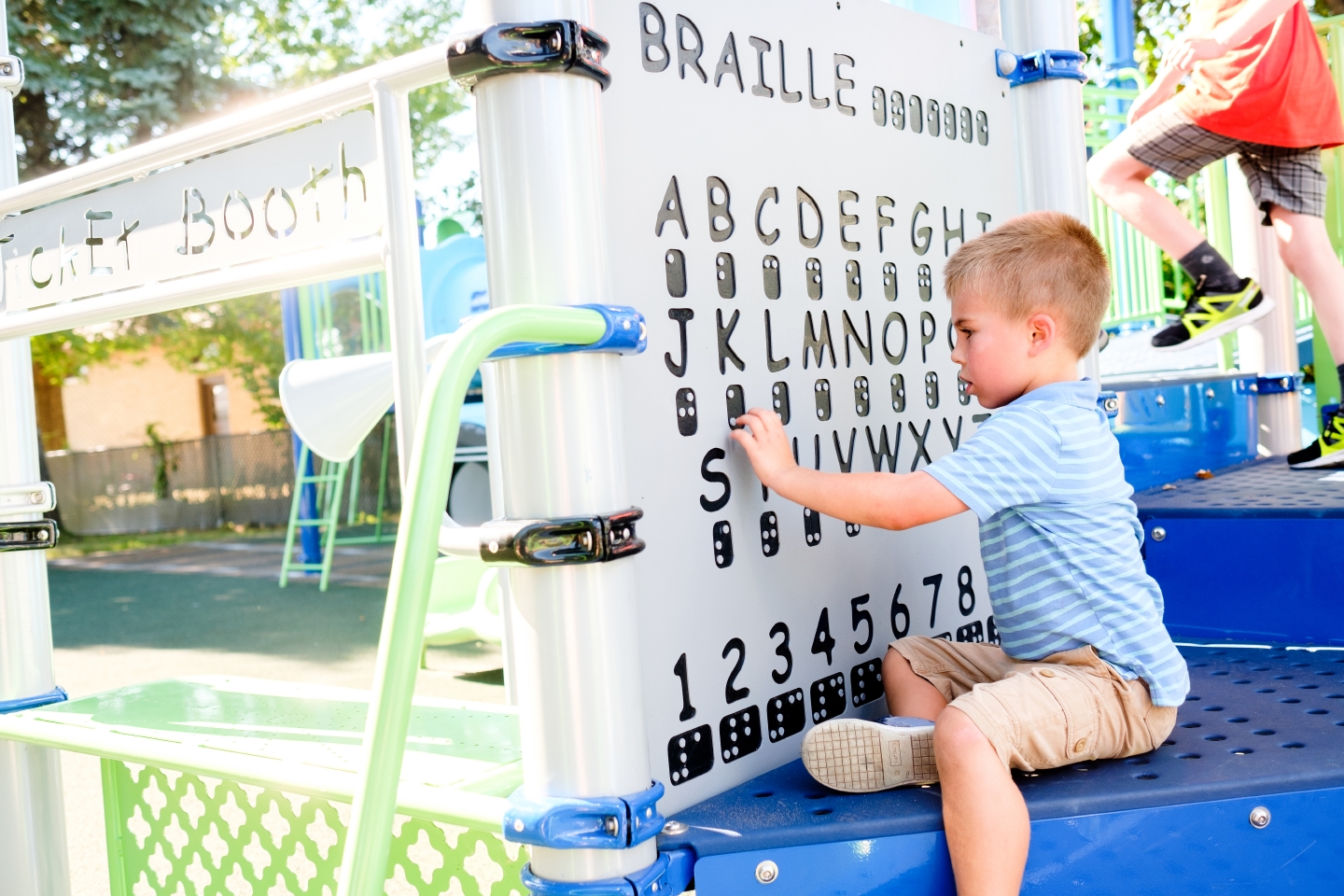 1. Support All Physical Abilities and Ages
People of different ages have varying physical abilities, namely older kids and older adults.
Young children are actively developing their fine and gross motor skills. Consider tailoring to this younger demographic by providing playground equipment for varying ages. By age, young kids benefit from playground equipment like:
Toddlers: Toddlers begin to gain movement, practicing their gross motor skills and strengthening their fine motor skills. They're using their bodies more and enjoy independent play. Toddlers benefit from individual activities on the playground, such as activity panels.
Preschoolers: Preschoolers can use their bodies more purposefully, now able to independently run, climb, jump, swing, and more. They enjoy independent activities like sliding and swinging.
School-age children: School-aged kids are beginning to play with one another and engage in more physical play. At this age, advanced gross-motor playground equipment, like climbing towers, is beneficial.
Some older adults above the age of 50 experience difficulties in gross or fine motor activities. Support these individuals by creating sitting areas and other site amenities.
2. Create a Flexible Design
According to a survey by the National Recreation and Park Association (NRPA), people visit community parks to be with friends and family. Groups also visit community parks to:
Be physically active
Be closer to nature
Learn a new skill or craft
Satisfy group needs by creating a flexible design so everyone can be together while engaging in recreational fun. Consider making a seamless design between the playground and seating area, by putting the seating area within the perimeter of the playground. That way, if the children want to play on the playground and older adults want to sit and play a board game, both parties are satisfied.
3. Increase Marketing Efforts
Gain community awareness by improving your park's marketing efforts and reaching groups of different ages. Some things you can do to increase your marketing efforts are:
Vocalize invitations: Host activities at your community park and advertise them to community members. By vocalizing invitations to your park, you capture the attention of more people. And, by planning events, you're sparking interest and intrigue in potential visitors.
Build community alliances: Consider creating relationships with other people or organizations in your community to widen your reach. Build partnerships with libraries, businesses, hospitals, schools, non-profit organizations or retirement homes to combine audiences.
Encourage stewardship: Encourage your partners and other non-profit organizations to host events at your community park. By hosting public events at your park, visitors will feel a stronger community tie.
Start Improving Your Community Park Today
City beautification projects promote the creative and social bonding of community members, creating stronger relationships. These relationships forge webs of social capital, enriching lives and strengthening community members' sense of belonging.
By implementing even one or two of these community park ideas, you'll see immediate benefits to the overall health and happiness of those who have the privilege to enjoy this space.
For help brainstorming ideas to improve your community park, we invite you to contact Little Tikes Commercial. We'd be happy to help you design creative and innovative solutions to ensure your park is meeting its full potential. Request a quote today.