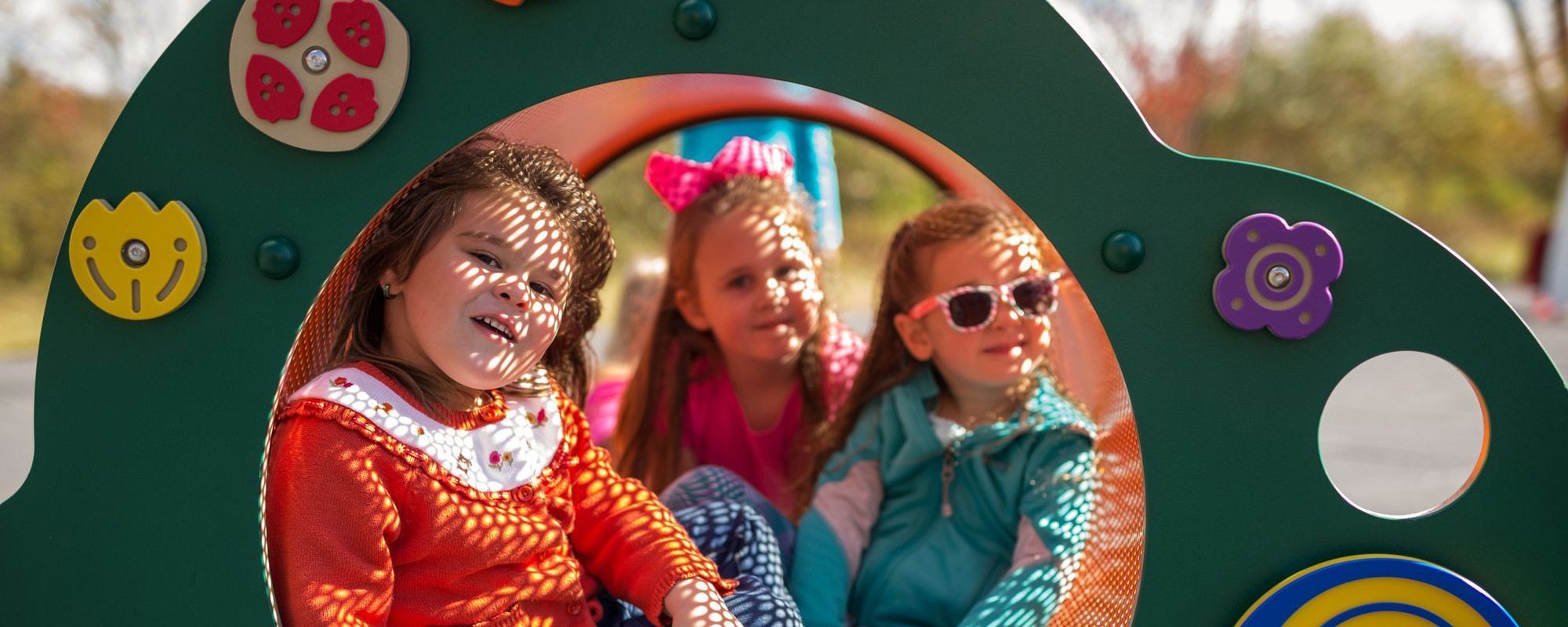 How to Theme Your Next Park Playground
When you're planning a playground, you want it to stand out from all the other designs a client may see and be a place families will excitedly return to again and again. Adding a theme or some themed elements can take a playground to the next level, making it more exciting and engaging for visitors.
Themed playgrounds encourage imaginative play more than a typical playground, and they create more memorable experiences. Modern playground ideas often start with themed equipment, which is sure to enhance your overall playground design. Here's everything you need to know about today's popular playground themes and how to use these elements in your next playground design.
Read the full article or jump to a specific section:
What Is Themed Playground Equipment?
Playgrounds always have fun elements to inspire and encourage children to play and get in some exercise in the process. Themed playground equipment takes this one step further and provides playground elements that are more specific to a certain theme. This type of playground equipment can spark kids' imaginations and inspire their playtime even more.
Imagine a playground that's designed to look like a castle, a pirate ship, a farm, or a train. These playgrounds go beyond simple slides and swings and have integrated elements that are perfect for playing pretend. Children can become immersed in their playtime when they imagine scenarios to play with themed playground equipment. The entire playground doesn't have to be themed or over the top if that's what your client prefers. It could include one element or a couple of themed pieces into a larger playground design.
Reasons to Add Themed Equipment to Your Park Playground
Adding themed play equipment to your park design can have many benefits. Let's take a look at some of the reasons you should consider themed playground equipment for your next park design:
The playground will be more engaging: Themed playground equipment is simply more exciting to children. It sparks the imagination and encourages creative play, making an increasingly engaging experience. It also encourages learning through playtime and promotes collaborating and other social skills better than a regular playground. Kids may want to play all day and keep coming back to these exciting playgrounds.
The design can be truly unique: Many playgrounds have the same general appearance. But when you add some themed elements or use a theme for the entire design, the structure sets itself apart from other playgrounds in the area. Themed equipment can help your playground be one of a kind and delight locals and tourists alike.
The equipment can enhance a brand's message or match a community theme: Playground themes can be part of a larger theme, enhancing something that the town is known for or promoting a business theme. For example, a coastal town could have an underwater-themed playground near the beach, or a community park next to a fire station could have a playground theme with firetrucks and a mini fire station.
The playground will inspire cognitive development: All playgrounds are great for helping to nurture critical childhood development skills, but a themed playground takes this a step further. The themed elements are more likely to encourage the imagination and collaborative play, prompting kids to think about helping others, working as a team, and better connecting to the world around them.
Themed playgrounds offer more sensory play: These playgrounds can have more immersive experiences, potentially offering more to see, hear, and touch. They often have more interactive and hands-on activities than other playgrounds and are great for sensory development.
Themed Playground Options From Little Tikes Commercial™
When you want a one-of-a-kind playground design for your community, Little Tikes Commercial can help with planning a special theme or custom design. Whatever you dream up, we can help you make it a reality. Here are just a few popular themed playground ideas to get you started:
Tropical: What's more fun than a tropically inspired playground? Let families feel like they are on vacation with a playground that's full of palm trees, cabanas, and tropical rainforest animals. This theme also works well for locations that are in the tropics or warmer climates with real palm trees. A tropical theme is all about fun and jungle adventures.
Underwater: An underwater theme is great for communities on the coast or anywhere you want unique and fun aquatic inspiration. These playgrounds can utilize blue turf and playground elements that resemble seaweed and coral reefs. Whales, fish, octopuses, turtles, divers, and more can be featured in these fun playgrounds. You could even include a climbing element that looks like a shipwreck!
Farmyard: Farm-themed playgrounds are popular, especially in rural, agrarian areas. For this theme, playground elements can take on the appearance of barns, tractors, and more. Farm animals like cows, pigs, and chickens may be featured, as well as crops like fruits, vegetables, and grains.
Mini city: Bring the best of your local community to life with a miniature city full of personality. With this theme, you can start with main street standbys, like a fire station and post office. Add local flavor with artwork featuring your city's skyline, as well as well-known local landmarks. Kids love pretending to be busy adults, working and moving around their own little town.
Vehicles: What kid doesn't love vehicles? From cars and trucks to trains, firetrucks, airplanes, boats, and more, this is a great theme for any fun playground. You may choose one type of vehicle to focus on, or go with several types for even more fun. Playground elements inspired by vehicles spark the imaginations of busy, on-the-go kids.
Choose Little Tikes Commercial for Your Themed Playground
There are many different playground themes to choose from that can enhance your playground, and the sky is the limit on great ideas. Let Little Tikes Commercial help you select the best playground theme for your project, whether you're inspired by some of the most popular playground theme options or have a custom idea in mind.
We can help you bring these ideas to life and create a playground that's sure to delight your client's visitors. Start by browsing our selection online. Contact us today to get a quote and get started designing your one-of-a-kind themed playground.