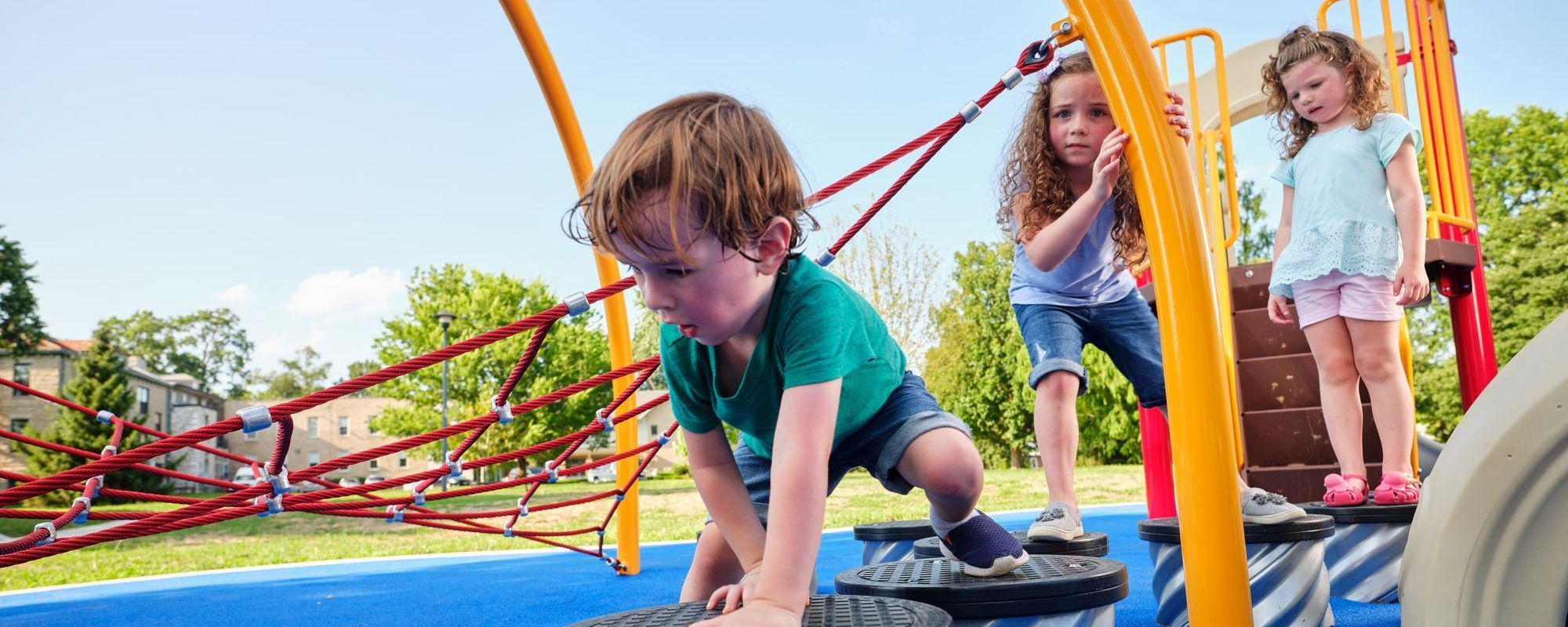 What Swing Sets Do Children Prefer?
For many kids, the swing set is a vehicle for freedom and imagination. The exhilarating feeling of soaring through the sky activates the imagination and awakens the senses while engaging every muscle of the body.
But swing sets are so much more than a fun playtime activity. Here are a few of the many benefits of swinging for kids:
Develops motor skills and coordination: Swinging helps kids develop full-body coordination by engaging multiple muscle groups simultaneously.
Relieves stress: The back-and-forth rocking motion of a swing helps calm kids down after a long day at school.
Improves social skills: Because only one child can use a swing seat at a time, swing sets help teach kids important life skills like sharing and waiting their turn.
Increases attention span: Free play activities like swinging can help kids focus by providing an opportunity to disengage from structured learning and activities, improving engagement when they return to the classroom.
That's why a swing set is such an essential element for any playground. But how can you choose a swing set you know your kids will love, and how can you know it will last through the years? This guide will answer those questions and provide helpful suggestions for specific playground projects. Let's get started.
Read on or jump ahead to a specific section:

How to Choose the Best Swing Set
When you choose playground equipment like swing sets, you naturally want to choose equipment that fits your budget and meets your community's needs. Whether you're working on a playground at a school, place of worship, or community park, you need to prioritize elements like safety and materials to ensure you get the best value.
However, the most important consideration is the children's opinions. Consider the following while evaluating your options:
Check for Safety Standards
It's difficult to overstate the importance of providing safe playground equipment for kids. Some factors contributing to swing set safety include:
Age-appropriateness: Swing sets that are too large or too small for the kids in your community can lead to injury from inappropriate use. Make sure you select a swing set marked for the age group that will use your playground. You should also consider which seats are most appropriate — for example, bucket seats are best for young kids, while belt seats are best for older kids.
Available space: Check the swing set's measurements against the space you intend to place it. Leaving enough clear space between the swing set and other playground equipment can help keep kids from colliding with their surroundings, leading to injury.
Capacity: Check the swing set's weight limit and the number of kids it can hold at once. Choosing a swing set durable enough to withstand typical use will increase longevity and improve overall safety.
You should also look for equipment that has been certified by leading safety organizations, such as:
The Consumer Product Safety Commission (CPSC).
The American Society for Testing and Materials (ASTM).
The International Play Equipment Manufacturers Association (IPEMA).
The Canadian Standard Association (CSA).
Once you've purchased your swing set, you need to set it up correctly. Proper installation is critical for ensuring safe swing sets— loose parts or damaged components can make any equipment hazardous. Hire an experienced professional to install your playground for you for the best results.
Choose Durable Materials
The three most common materials for swing set frames include:
Metal: Metal swing sets are strong and low-maintenance, making them excellent choices for large groups to play on, like at schools and community parks. Choose a galvanized or coated metal to prevent rust and corrosion and keep it from getting too hot.
Plastic: Plastic is a popular choice for many early childhood centers and daycares. It's also available in many different colors and styles, making it easy to match your playground's overall aesthetic. Plastic has a lower weight capacity than metal or wood, so it's best to reserve plastic swing sets for younger kids and toddlers.
Wood: Wood is a naturally aesthetically pleasing material, but it's better for backyard playsets than commercial playground equipment due to its high maintenance requirements. You'll need to seal and stain it annually to minimize splinters, increase its lifespan, and maintain its color.
All three materials can withstand the elements for many years, but certain climates can increase or decrease their longevity. For example, wood is incredibly sensitive to rainy or cold climates and may warp. That's why Little Tikes Commercial makes our swing set frames from high-tensile, zinc-galvanized steel. Our three-step finishing process makes our metal components resistant to corrosion, fading, and excessive wear.
You also want to choose the best material and style for the swing seats to ensure they meet your kids' needs. Some of the most popular seat styles for commercial swing sets include:
Belt seats
Flat seats
Bucket seats
Multi-user seats
Inclusive seats
Choosing the right seats for your playground enables kids in your community to experience the wonder of swinging, regardless of their ability level. For example, adding an inclusive seat opens the swing set up to kids who would be unable to use other seating types.
Let Your Kids Decide
Who better to choose playground swing sets than the kids who will use them? Get the kids in your community involved by forming focus groups of each age group that will use the playground.
Additionally, keep the kids' individual needs in mind while selecting a swing set. Are there kids in your community who use mobility devices, such as wheelchairs or crutches? If so, add inclusive swing seats to help them join in the fun.
The 13 Best Swing Sets for Children
With so many options to choose from, how do you know which ones are best for your unique playground? To give you a solid place to start, we picked our favorite swing sets for each category and compiled them into this list.
1. Best Budget-Friendly Swing Set
Need to stick to a budget? You can still give your kids a swing set they'll love — the MaxPlay® Swing Set. We designed our MaxPlay line to provide a solution for playgrounds with limited space and budgets without sacrificing quality or safety.
2. Best Swing Set Splurge
For organizations with a little extra room in the budget, the freestanding Team Swing is an excellent choice. Providing enough room for two riders to swing together, the Team Swing requires a coordinated effort from both riders to move in the right direction, promoting cooperation and social development for kids ages 5 to 12.
3. Best Swing Set for Toddlers
Give parents and caregivers a new way to bond with their kids like never before with the Generation Swing Seat. The face-to-face Generation Swing Seat has two seats — one for an adult and one for a toddler. This configuration lets parents and caregivers be an active part of their child's playtime, which promotes family bonding and connection.
You can add the Generation Swing Seat to swing set structures with an extended bay frame.
4. Best Swing Set for Big Kids
Inspired by surfing, skating, and snowboarding, the Freestyler provides a thrilling swinging experience for kids who crave adventure. To use the Freestyler, kids hold on to the overhead handles and swing while standing on a suspended board.
The innovative design encourages kids to actively use their imaginations as well as their muscles — kids can pretend they're riding the perfect wave or snowboarding through the North Pole as they hold their balance on the board.
Plus, the Freestyler's unique circular frame makes it a striking focal point for a playground. Curious and adventurous kids will be drawn in by the promise of a new, exciting experience, so it's bound to see plenty of use.
6. Best Swing Set for Large Groups
Need to accommodate lots of kids of multiple age groups? Our heavy-duty swing sets have you covered. With tripod supports at each end, the heavy-duty swings can stand up to heavy use. Plus, its modular design lets you add as many swing bays and seats as needed to accommodate your community's needs. This swing set also has safety certifications from the ASTM, CPSC, and the CSA.
7. Best Swing Set for All Ages
Our standard swings are the classic choice for all kids ages 2 to 12. These highly customizable swings allow you to create a play space that meets your specific needs without breaking your budget.
Combine different seat styles to cater to kids of all ages and abilities. For example, you can add bucket seats for toddlers on one end and belt seats in the middle to let parents swing younger kids while keeping an eye on their older siblings.
8. Best Double Swing Set
The Raft Swing combines the best of both worlds to create a one-of-a-kind group swinging experience for kids ages 5 to 12. The raft-shaped seat inspires imaginative play and would fit well on a nautical-themed playground.
Because it can hold multiple users, it encourages kids to include others in playtime, helping them develop critical social skills they will need as they grow up.
9. Best Tire Swing Set
Tire swings are an exciting way to shake up your swing game. With its spinning motion and circular seat, our freestanding tire swing helps kids develop core strength, movement coordination, and muscular endurance.
Built for kids ages 5 to 12, it provides enough space for multiple kids to swing at once. By working together with other riders, children will learn important social skills like teamwork and patience. They'll also make happy memories and lasting friendships to cherish for the rest of their lives.
10. Best Swing Set for Parks
Designing a park? The standard metal swing set is the choice for you. Simple but sturdy, this classic metal A-frame design sits in the ground to prevent movement even with frequent use.
Our standard swings are modular and available in multiple colors and three different heights, so you can easily customize their design to fit your site's unique needs. Be aware that the total price changes depending on your customizations.
11. Best Swing Sets for Schools
Schools need budget-friendly swing sets that will stand up to heavy use for many years. That's why our heavy-duty swing sets are such an excellent fit for school playgrounds.
You can choose from a wide variety of customization options to create a heavy-duty swing set that matches your school's colors and overall playground style. Add ADA-compliant inclusive swing seats to enable students with disabilities to play alongside their classmates.
12. Best ADA-Compliant Swing
It's important to provide inclusive and accessible playground equipment. The Mirage Swing Seat is our most inclusive swing seat, allowing children of all abilities to participate in the fun. Its full backrest helps kids stay upright while swinging to ensure comfort and stability. Its removable safety harness provides even more support for kids who need a little extra security.
You can add the Mirage Seat to any swing structure — be sure to consult with a representative for more information on the customization process.
Find a Swing That Kids Will Love From Little Tikes Commercial
If you're trying to find the best swing sets for kids in your community, Little Tikes Commercial is here to help you.
We can also pair different swing styles together in the same play area to create a truly unique play experience. For example, you can add inclusive swing seats to a classic swing set and place a row of toddler swings nearby to allow kids of all ages and abilities to play together.
Unsure which products would work best in your play space? Get in touch with one of our knowledgeable representatives to discuss how to address your specific needs and customization options.
Learn More About Our Commercial Swings
If you need a long-lasting, kid-approved swing set to complete your school, daycare, or community playground, the experts at Little Tikes Commercial can help you find the best product for the job.
Fill out our online form to request a free quote, or contact your local representative for more specific information.