Funding Resource Center
If you need to raise funds to make your playground dream a reality, we can help! Our team of experts developed a series of industry-leading, step-by-step guides. Whether you're beginning to think about funding, a seasoned pro or considering crowdfunding options, these free resources will enable you to better understand the funding market and empower you to create and manage a successful campaign. Let us help you bring the power of play back to your community!
Funding Resource Center
FUNDING EXPERTS
Launching a funding campaign can feel like a daunting task. That's why we've created multiple resources to help guide you in your fundraising drive.
Funding Resource Center
Playground Funding Guide
This free resource is the foundation for your funding journey. With this guide, you'll learn:
Who will help fund your project and where to find them
The most effective ways to approach potential donors
How to set up and manage a winning campaign
Funding rules to live by
How To Identify Donors
The key is to target those prospects who have the highest probability to contribute to your project in the most efficient manner. With this guide, you'll learn:
How you can determine if a donor is a match for your playground project
What resources you can use to help identify donors
How To Build Relationships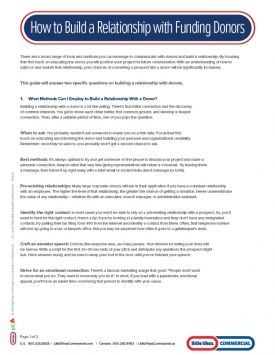 There are a broad range of methods you can leverage to communicate with donors and build a positive relationship. With this guide, you'll learn:
What methods you can employ to build a relationship with a donor
How you can enhance and deepen that relationship over time
How To Manage A Successful Campaign
You've assembled your team and started identifying donor prospects. Now is the time to launch your funding campaign. With this guide, you'll learn:
The primary attributes of a successful campaign
How you can sustain interest and engagement in your campaign