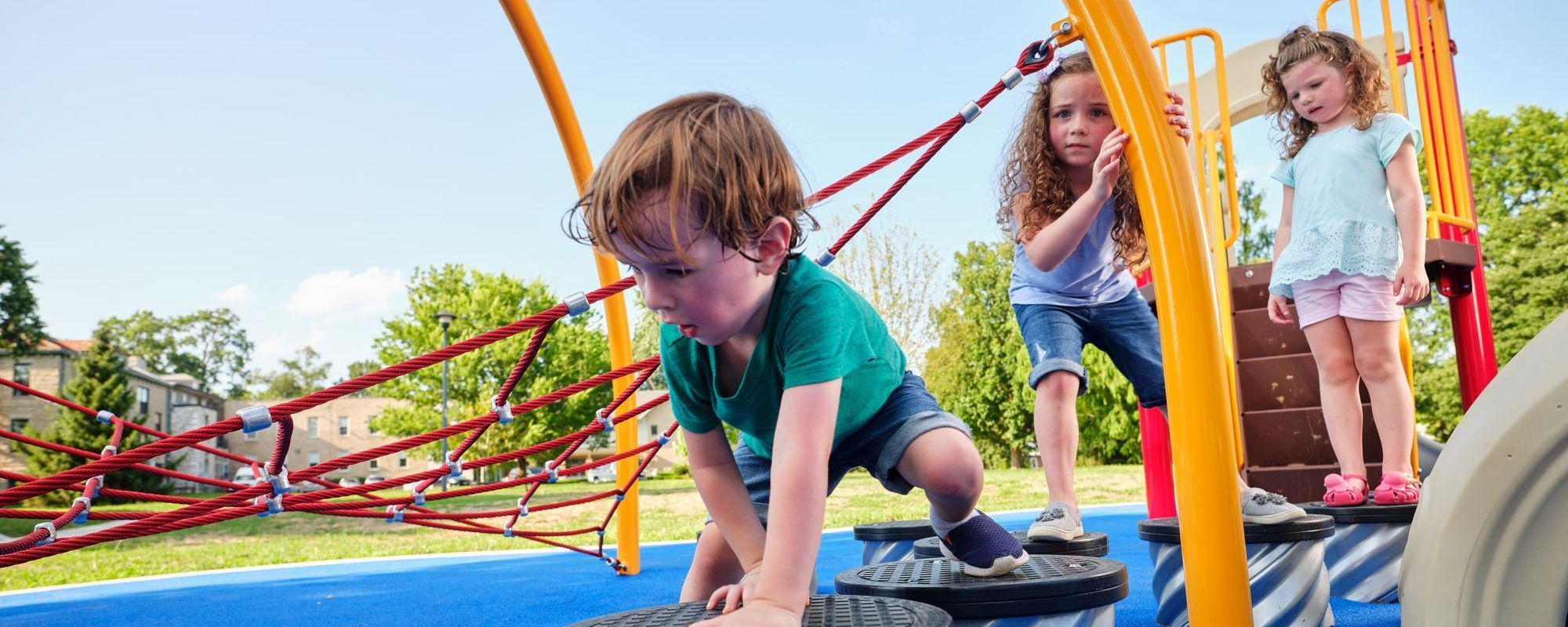 6 Best Landscape Trees for a Playground
Trees do a lot more than beautify your commercial playground. They provide shade, assist in lowering the temperature, and capture the imagination. For many children, trees offer a sense of familiarity and a connection to nature. For landowners, adding landscaping trees to commercial or school grounds has a positive environmental impact and helps make the overall environment more enjoyable for users.
Deciding which trees to plant in your commercial playground can be a challenge, but the right trees can also augment the community's experience and enhance the lives of kids and adults alike. Consider the best trees for shade, the best trees to plant on school grounds, and the most appropriate playground trees to make your facility a visual feast.
6 Best Trees and Other Plants for Playground Landscaping
The sun beats down on uncovered playgrounds during the summer months and turns them into mini ovens. Planting trees can add some much-needed shade, which is why one of your top priorities will be discovering which trees provide the best shade for playgrounds. Adding some shade can help keep your playground usable even during the hottest days. However, it's essential to determine whether a tree can survive in your location before planting.
The best trees to plant on school grounds and playgrounds include the following:
 1. American Blaze Maple
This hybrid of red and silver maple trees boasts gorgeous fiery coloring in the fall. It's fast-growing and loves full sun, making it one of the best shady trees for playgrounds. From their beautiful appearance to the shade they can provide, American blaze maple trees make an excellent addition to any playground.
2. Red Oak
Red oak is a lovely, low-maintenance addition to your playground or school grounds. They naturally take a traditional shape without pruning and are fast-growing and sturdy. These are large trees and can reach up to 75 feet in height. Their solid branches mean wide-reaching shade, and they make our list of the best trees to plant on school grounds and playgrounds.
3. American Hornbeam
One of the considerations when choosing playground trees is how much maintenance they'll need. The American hornbeam requires very little intervention. It's slower-growing but boasts attractive yellow blossoms in July and seed pods during winter. The seed pods don't fall and create a mess, which is excellent for playground maintenance.
This tree loves full sun and provides beautiful, low-growing shade during the warmer months. It adapts well to poor soil and dry conditions and can grow in many locations. Consider American hornbeam trees if you want to add pleasant accents throughout your commercial playground.
4. Sugar Maple
Even the name of this tree is appealing to kids. This versatile tree can tolerate full sun and partial shade, making it a great addition to any section of the playground. Sugar maples can reach up to 75 feet and provide abundant shade over large areas. Please take a look at the placement of the sugar maple carefully. While it's gorgeous and shady, it does need quite a bit of space when fully mature.
The sugar maple drops pretty yellow leaves in the fall, which are fun for kids to collect. They also produce small flowers in the springtime.
5. American Sycamore
The American sycamore is the tree for you if you're looking for that perfect, dappled shade for your commercial playground. While it doesn't grow a full canopy, it helps lower playground temperatures while still allowing kids a little dose of vitamin D. This hardy tree perseveres through most weather, including hot and dry conditions. Plus, it grows quickly.
The American sycamore can reach up to 100 feet tall, making it one of the biggest trees you can plant at your school or playground. While it does drop bark and twigs as part of its growth cycle, these form part of your playground's ecosystem, creating perfect soil for more trees to grow.
6. Boxwood
No playground or school landscaping would be complete without some shrubbery. Boxwoods are one of the best plants for school grounds and any commercial playground. They're evergreen, so they add a splash of winter color and offer shade during the summer. Plus, their thick, dense leave are great for topiary.
Boxwoods can grow quite large, but they're easy to prune so you can keep them at your preferred size.
How to Choose the Right Plants for Your Playground
When adding trees and greenery to your commercial playground, consider several factors to ensure they grow and provide your community with environmental benefits. Kids benefit and learn from a well-chosen variety of trees and shrubs.
All green life needs three things to thrive — soil, light, and water. Other considerations are based on your school or playground's needs. Some critical factors to consider include the following:
Soil: All trees have different soil requirements to thrive. Consider whether your soil is plentiful enough for trees and plants to root deeply, how moist it is, and whether it's nutrient dense. Your tree choices will depend on what will grow best in your soil.
Light: You'll also have to tailor your landscaping choices around how much light you have available in your chosen area. Some trees and shrubs love being in full sun, while others require partial or complete shade to thrive.
Water: Consider how much natural water you have in your playground ecosystem. Do you need trees that can survive with little water, or does it rain often in your area? With this information, you can plant accordingly.
Existing trees: Preserve the existing trees in your landscape whenever you can.
Value to kids: Trees and greenery are more than just pretty. They enhance sensory stimulation and add another dynamic when kids play and learn outdoors. Kids can learn about the different seasons, care for the trees, and draw them to inspire creativity.
Wildlife: If you'd like to attract wildlife to your commercial playground, find out which trees are likely to bring them into your ecosystem.
Design Your Playground With Little Tikes Commercial
Giving kids access to nature while they play on your commercial playground encourages development, creativity, and empathy for nature. Let Little Tikes Commercial help you get the most out of your space and help you design your perfect playground to blend in with nature. From planting real trees to implementing products like natural-looking Tree Climbers, we can help you design a playground for nature-loving kids.
Little Tikes Commercial is here to guide your commercial playground plans. With our experience and focus on providing the best quality, we can help you transform your commercial playground from the design phase. Contact us today to learn more about how we can help you design your next playground!