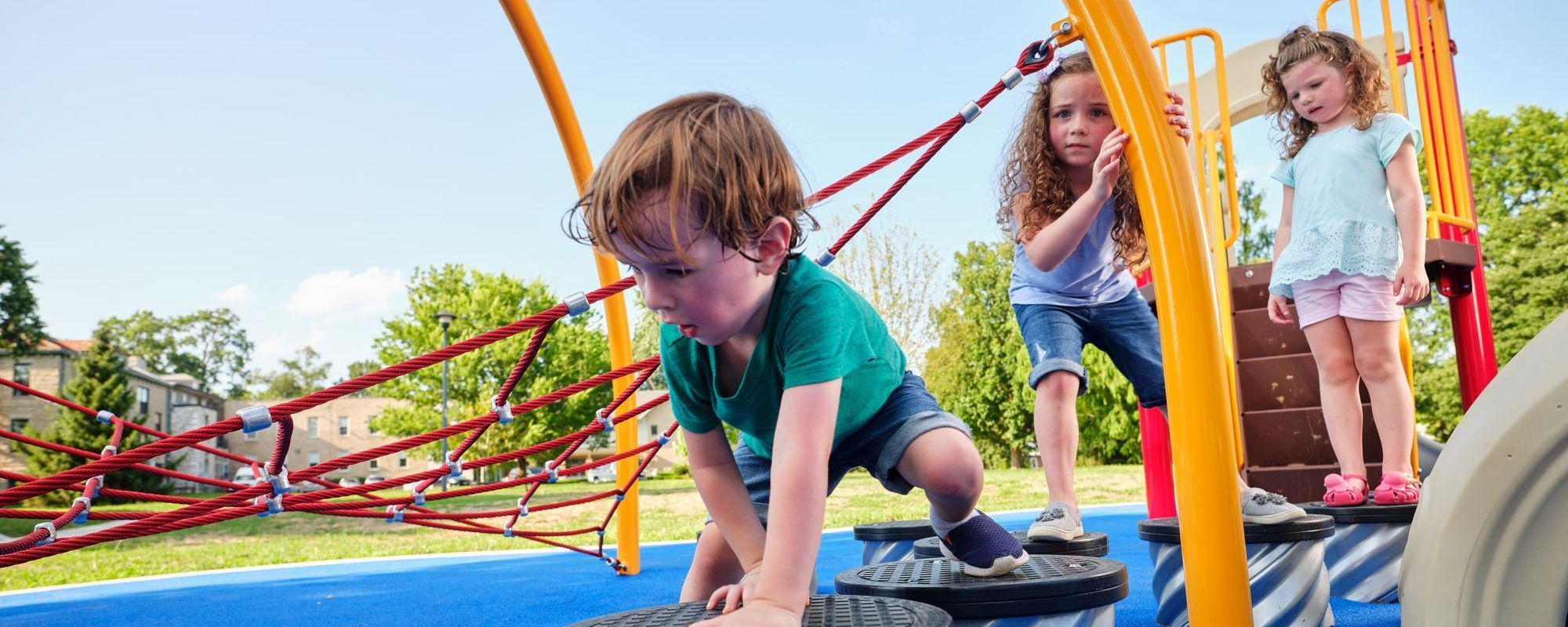 Inspecting a Playground After a Storm
With six hurricanes making landfall, 2020 had the second-highest number of hurricanes in the United States since 2000. Hurricane Ida caused massive damage in 2021, becoming the second-costliest hurricane in the U.S. When hurricanes and storms strike, they can leave devastation in their wake. Unfortunately, property damage from hurricanes and flooding isn't limited to homes or businesses — severe storms affect nearly every part of a community, including public parks and playgrounds.
Damage to playgrounds can be a huge disappointment for the kids who enjoy these spaces and use them as a means of physical activity. For schools and public parks, playgrounds damaged by storms should be repaired as quickly as possible to make sure kids have a space to play safely.
We must ensure playground safety for the kids in our communities and schools, so what should we do to inspect our playgrounds after a storm? How do we clean outdoor playground equipment after a storm, and how do we keep it clean? Here are some steps you should take after a storm to keep your community or school playground safe and clean.
Read the full article or jump to a specific section:
Inspecting Surfacing
Physical activity is a necessary component of a child's early development, and playgrounds help facilitate this exercise. But during storms, wind and rain can knock down trees or leave behind floodwater, causing damage to your community playground. Some ways to keep your playground's surfacing safe include:
1. Remove Debris
Playground surfacing is generally at most risk of damage in storms, so give special care to inspecting the surfacing of your playground. Debris is the main threat to playground surfacing after flooding. You'll need to remove trees and branches blown or washed into the playground. Get a few staff members or volunteers together to make this job a faster, easier process.
2. Inspect Loose Infill
During a storm, rubber nuggets or engineered wood fiber can get blown away, washed away, or displaced. If the loose infill has been displaced, simply brushing or raking the material back into place should be an easy solution to the problem.
However, if the loose infill was blown or washed away, you may need to contact your manufacturer to get enough replacement infill to ensure the safety of your playground's visitors.
Check with national and state playground surfacing requirements to comply with the most updated regulations for safe infill levels.
3. Repair Surfacing Tears
If the unitary safety ground surfacing at your playground is torn after impact, you will need to repair it quickly. Even small tears can become large holes that can result in a costly repair if left unattended. Adding a new wear layer or a color cap can restore a playground's poured-in-place surfacing, but this work needs to be performed by professionals.
After professionals cut out and remove the affected area of surfacing, they'll apply a binding mixture so the materials will adhere properly, and then they will replace the damaged area with new material. The repaired area will not initially match the rest of the surfacing color, as the old surfacing will be a duller shade due to natural wear, but the repaired patch of surfacing should fade within a few months and blend into the older surfacing.
Once again, you'll have a unified playground surface!
4. Flush out Debris
Materials made of rubber can become hardened if filled with dirt or sand from flooding and lose their cushioning feel. To remove the debris from the voids in the rubber materials, clean the materials with fresh water.
Do not use a pressure washer, as it can further tear apart the material. Instead, use a hose on a low setting to flush the rubber without causing additional damage. If debris is left within, it can cause cracking in the material as it cuts up the surfacing from the inside over time.
5. Assess Turf
If your surfacing is synthetic turf, you'll want to remove any large debris from the material and assess the infill underneath. If large debris has caused surfacing wrinkles, you'll need to contact the playground manufacturer to re-stretch it. You may also need to contact the manufacturer to refill or redistribute the infill underneath your synthetic turf.
6. Set up a Proper Drainage System
After the floodwater recedes, make sure a proper drainage system is set up and intact. If you're using engineered wood fiber (EWF), more commonly referred to as wood chips, this is especially important, as improper drainage can shorten the longevity of this infill and cause it to rot quickly.
Once you've cleared all the debris, rinse the surfacing to remove bacteria, dangerous chemicals, and salt water. If your safety surfacing is pour-in-place, don't use a pressure washer for rinsing, as it can cause more damage. With drying and time, the material should bind back together to create the necessary surface tension.
Little Tikes Commercial Surfacing
Most injuries on the playground are caused by falls. Proper surfacing can make your playground safer and reduce the risk of injury while also making the area easy to navigate for all kids. Whether your community would benefit from unitary surfacing or loose-fill materials, Little Tikes Commercial can help you choose the right ground covering for your playground.
1. Unitary Surfacing
Unitary surfacing is a single entity of ground covering, like poured-in-place materials or rubber tiles. Unitary surfacing stays in place and is wheelchair-accessible. If unitary surfacing is right for your playground, choose between:
No Fault® Pour in Place: This surfacing is made of rubber, covered with a layer made from recycled tires and polymer, and comes without gaps or seams. Use this surfacing for both outdoor and indoor playgrounds to reduce the risk of fall injuries from tripping or slipping.
Interlocking Kid Tiles®: These thick tiles provide a cushion of safety, can be easily installed, and come in a variety of colors so you can design the surfacing to fit your playground.
2. Loose Fill Surfacing
Loose-fill playground surfacing is made of small, loose particles like wood chips or mulch. Loose-fill is a budget-friendly surfacing that moves around. A loose-fill surfacing like Landsoft™ Rubber Nuggets could be the right option for you.
Landsoft™ Rubber Nuggets are a nontoxic surfacing delivered in large quantities and offered in several colors. The rubber material has better resistance to moisture and weather, is soft, and gives kids a comfortable space to play.
When to Inspect Your Playground
When a school or community playground is under your care, you need to ensure it remains a safe and fun place, regardless of the occasional damages it might sustain over the years. Playground safety is always important, which is why you should inspect your playground at the following times:
After heavy precipitation: To make sure your playground's drainage system works properly, visit the site after big rainstorms. If any water is pooling in certain areas, you'll know to address those specific spots in the future as you work to improve your playground. Falling rain, sleet, and hail can also damage equipment, so look out for dents or cracks, as well.
After storms: Depending on your community's location, you might encounter a range of big storms and natural disasters throughout each year. Strong winds and precipitation from hurricanes and tornadoes can dislodge equipment or scatter debris that can clutter playgrounds and damage play structures. Flooding can also cause issues to equipment or result in hazardous conditions from dirty floodwater. If a recent storm has blown down tree branches or damaged other local structures, make sure your playground gets proper care and cleanup.
After snowfall or frost: Even in the winter, playgrounds still provide a fun way for kids to maintain active lifestyles. Keeping up playground maintenance is especially important during the colder months, as snow and ice can create slipping and fall hazards. Regularly clearing snow and ice ensures your playground stays free of removable obstacles.
Before and after large events: If your playground is at a site where large community events take place, it likely receives spikes in traffic throughout the year. When an event is coming up, inspect your playground far enough in advance so you have time to make any necessary repairs. After the event, if more people than usual were using the playground and its nearby amenities, inspect the site again to identify any recent damages.
In addition, set up a routine maintenance schedule that includes playground inspections so you can keep an eye on the equipment as it endures normal use. Checking your playground at least once a month, regardless of how often it's used, lets you stay on top of maintenance needs and address natural hazards that arise with storms and other weather.
Inspecting Equipment
Prioritize regularly inspecting your playground's surfacing and equipment as part of your routine maintenance. Depending on the severity of the damage to the equipment, you may have to close the playground until after your maintenance crew has repaired or replaced the equipment. If the damage sustained is severe, call the manufacturer as soon as possible.
Even if the playground seems to be in fine shape for continued use, err on the side of caution and inspect a set checklist of elements before reopening the site to the public. For instance, you should inspect playground equipment that has been submerged in floodwater, even if the water has receded, because flood-induced issues can remain after the water is gone.
Put these items on your equipment inspection checklist:
1. Inspect for Erosion
Examine the equipment for erosion around the footings. While it may make for a fun science lesson, erosion can harm a playground. Erosion is a process during which materials of the earth, such as rocks and soil, are transported or worn away by water and wind.
If erosion occurs around trees, those trees could fall and damage playground equipment or hurt playground visitors. Erosion can also create slippery conditions in areas that aren't covered by human-made surfacing, causing visitors to slip, fall, and possibly injure themselves. A large amount of erosion means you should close your playground and call the manufacturer right away.
Here are some steps you can take to prevent erosion before it damages your playground:
Plant shrubs or grass: Plant roots are often effective at holding the soil together, preventing it from eroding. The leaves on plants can also reduce the speed at which rain hits the ground, which makes the soil less susceptible to being moved by the rain.
Build diversions for proper drainage: When working with a slope on your playground property, one of the best ways to prevent erosion is to build drainage channels that will carry water on a predetermined path. You can dig simple drains down the slope or use gutters and pipes for drainage.
Use erosion control blankets: These blankets or mats are specifically designed to minimize water erosion on embankments. Rolled mats are generally made of mulch held together with a fiber mesh, degrading slowly until vegetation can grow and prevent the soil from eroding. Similar to mulch mats are compost erosion control blankets, which offer organic nutrients and can foster vegetation growth even in challenging areas.
2. Inspect Hardware
Nuts and bolts hold your playground equipment together, so be sure to check for any that are missing or loose. Get out your tools to replace missing bolts and tighten any loose screws. Inspect for any sharp points from protruding bolts or hooks that could present a safety hazard to playground visitors. If you find any sharp points, be sure to replace the hardware to help prevent injury.
Additionally, look for small parts that may have become unattached from the equipment. Locate any and all of these pieces across the playground so that you can reattach them or replace them accordingly. Items like knobs and handles can present hazards if left throughout the playground, so conduct a thorough search throughout the property to locate them if you notice anything has gone missing.
3. Inspect for Interior Flooding
Check your playground's slides and panels. Any double-walled, plastic equipment on your playground could contain floodwater, which will need to be drained. To drain, drill a hole in the component's underside. A hole of a fourth of an inch or smaller in an unused part of the equipment, such as the underside of a slide, should enable drainage.
4. Inspect Moving Parts
The moving parts of playground equipment should be inspected closely to check that the mechanisms are clean and working properly. Such moving parts may include:
Suspension bridges: Whether they're made from ropes or stepping stones, suspension bridges use moving mechanisms for kids to walk across the playground equipment.
Swings: Swing sets require ropes, chains, and hooks that require consistent maintenance and safety inspections.
Spinners: From large globe-shaped spinners to single-use seated spinners, these mechanisms require a sturdy foundation.
Merry-go-rounds: A classic moving playground piece, merry-go-rounds are a large moving mechanism that needs a strong foundation and regular cleaning to prevent material from breaking or injury.
Moving panels: Panels like tic-tac-toe or interactive pieces should move smoothly to prevent hands or fingers from being caught.
See-saws: The up-and-down motion of a see-saw requires sturdy nuts and bolts and a strong foundation to prevent it from lifting out of the ground.
Moving climbers: Moving climbers combine merry-go-rounds with rope climbs or spinners and need a consistent inspection to prevent rust or dirt buildup.
When inspecting the playground after severe weather, move the equipment around to see if it's full of sand, dirt, or excess debris. Flush out any dirt with water, as debris could affect the pivoting mechanism and make the equipment hazardous for children to play on. The water should free up the sand or soil, and after drying, you can lubricate the equipment as recommended by the manufacturer.
Specific equipment like see-saws or swings may require extra care. For example, properly inspect the gears within merry-go-rounds and see-saws. Using a damaged see-saw may cause the equipment to break down or cause injury. The chains, ropes, and hooks of swings are potential entanglement hazards, and any loose or broken materials could cause injury.
Because most moving parts in playground equipment require a secure surface and foundation, as a preventive measure, make sure you replace any dirt or surfacing so that the depth remains adequate for keeping equipment secure. Further, be sure any moving parts have efficient spacing — merry-go-rounds and swing sets shouldn't overlap in zones and can be placed further away from the rest of the equipment to prevent injury.
Overall, any loose equipment from the storm should be put back into its proper foundation and inspected for strength and safety before the playground reopens to the public.
Little Tikes Commercial Equipment
If you're looking for equipment for your playground, Little Tikes Commercial has what you need. With our equipment, you'll get quality materials that are durable, safe, and fun. Browse from our:
The Importance of Documentation
During your inspection process, document any damage by taking pictures. You'll need these photographs for insurance claims, FEMA documentation, and to repair or replace parts from the manufacturer. Other details to include in your inspection documentation include:
During your inspection process, document any damage by taking pictures. You'll need these photographs for insurance claims, FEMA documentation, and to repair or replace parts from the manufacturer. Other details to include in your inspection documentation include:
Location
Date
Details of the damages
Details of any work you did to reverse the damages
You can record your notes on a computer or simply in a notebook with handwritten entries. Combined with photos, this documentation will be the thorough evidence you need when requesting replacement or reparations of parts from the manufacturer.
Beyond its use as evidence for the manufacturer, documentation can also benefit the school or community group that oversees the playground, letting them:
Record data for future work
Rationalize the current budget
Modify the replacement plan or maintenance schedule
Predict future budgetary needs
Save money
Supply information for any new employees who will replace current employees when they leave
By documenting damage or regularly scheduling maintenance now, you will save yourself and other staff time and money later.
Cleaning Playground Equipment
Before reopening your playground after inspections or repairs, you'll want to ensure the area is thoroughly cleaned and ready for public use. Luckily, you don't need a special soap or cleaner to maintain your playground's cleanliness and safety. Mostly, you just need a lot of fresh water.
1. Clean Equipment Surfaces
If the playground has been a victim of floodwater, you'll need to clean everything with fresh water before reopening. Floodwaters can contain hazardous chemicals or sewage, so ensuring the equipment and surfacing are cleaned thoroughly is essential before reopening the playground for use.
Playgrounds in coastal areas, in particular, need to be cleaned with fresh water as soon as possible after storms or flooding. Salt can corrode playground equipment after a storm, so any surfaces that might've been sprayed by or submerged in salt water need to be rinsed with fresh water to prevent corrosion.
2. Clean Inside Equipment
Components of the playground that move — such as swings, merry-go-rounds, suspension bridges, spinners, moving climbers, and tic-tac-toe panels — need to be moved slightly to ensure their internal mechanisms still work and to dislodge any debris. If they aren't moving normally, clean them with fresh water.
Ideally, the water should fix the equipment's movement. You can then let the equipment dry and lubricate it according to the manufacturer's recommendation. If the water doesn't fix the equipment's movement issues, contact the manufacturer.
Pressure washers clean playground equipment efficiently. Use a pressure washer to clean most of the playground equipment, particularly areas where kids tend to use their hands. Use pressure washers with caution, however, as they can potentially damage the equipment or the paint.
Following these final steps will ensure you can quickly reopen your playground to the public so kids can get back to being active.
Maintaining Playground Equipment
Safety and cleanliness go hand-in-hand when it comes to playgrounds. After you've cleaned and repaired your playground after a storm, you'll need to maintain that cleanliness to ensure the playground remains a safe space for kids to play and explore. Follow these maintenance tips:
1. Establish a Maintenance Schedule
Protect your investment and the kids who are using it by adhering to a regular maintenance schedule. Include these three routines in your practices:
Inspect equipment regularly: Schedule routine inspections to check for wear and deterioration of equipment. Potential safety hazards could arise from equipment that needs replacement.
Perform rope tensioning: This will enable ropes to last longer. Luckily, since the equipment for rope play is generally quite durable, it typically requires little maintenance.
Check bearings on moving and rotating equipment: You'll want to regularly check bearings for wear on any moving equipment. Dirt and other particles can slow rotating equipment, so spray them regularly with a hose to keep the bearings clean. Bearings can be expensive to repair if you don't perform routine maintenance, so keep to your schedule to avoid the expense.
On your checklist, include the following information:
Name and location of each piece of equipment
Name of the person performing the inspection
Date of the inspection
Page numbers
Detailed descriptions
2. Establish an Equipment Replacement Plan
Once you begin seeing the effects of wear, especially for equipment 10 years or older, you'll want to formulate a plan to replace this equipment when it becomes necessary.
Consider the layout of your playground, the equipment kids enjoy most, and drainage issues to determine when and how you'll replace equipment.
Your playground plays a vital role in the health and wellness of the kids in your community, so be sure to take care of it as soon as possible following a storm or any other potentially hazardous event.
Taking action early to anticipate and fulfill equipment repairs will save your community or school time and money down the road. Additionally, opening a repaired playground after a particularly harsh storm will improve morale at a time when the community needs it most.
Create Your Playground With Little Tikes Commercial
Today, fewer and fewer kids are engaging in outdoor, unstructured play. At Little Tikes Commercial, we want that to change. We know how important outdoor play is for kids' emotional, physical, cognitive, social, and sensory development, so we're here to help you get the playground the kids in your community need.
We offer playgrounds that meet various needs and suit several age groups, with product lines such as:
You can also customize the design of your new playground with us! We've been helping schools, parks, churches, and other organizations create playgrounds for decades. We can help you find or build the playground that's exactly right for you.
Maintain your playground's safety and cleanliness after a storm by inspecting surfacing and equipment, documenting damage, and washing surfaces. Here at Little Tikes Commercial, we want your playground to be safe at all times. At the start of every new product idea, safety is our first consideration. We work to produce quality, durable playgrounds you can trust.
Ready to discover the magic of outdoor play? Find the playground you need by contacting Little Tikes Commercial today.