Unlimited Play Panels
Inspire Imagination with Unlimited Play Panels
Inspired by dedication to inclusivity and the way kids naturally play with found objects, our Unlimited Play Panels provide children with unique opportunities to explore the world through their senses. Jam out with the Scrambled Scales or celebrate with the Disco Party Panel! These play panels offer interactive motion, encourage social inclusion, and inspire independence. Full of fun colors and interactive elements, children will be engaged to learn while experiencing the joy of play.
Unlimited Play Panels
Unlimited Play Panels are also double-sided for double the fun! All our play panels are available in post mount, deck mount, reach, and compatible with our Kid Builders® and Play Builders® lines.
Unlimited Play Panels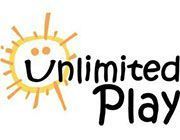 Little Tikes Commercial is proud to partner with Unlimited Play, a non-profit organization whose mission is to build universally-accessible playgrounds for all children to enjoy. Together, Unlimited Play and Little Tikes Commercial work to give ALL kids the chance to play by building playgrounds where limitations are forgotten and differences are celebrated.
Unlimited Play Panels
View all of our Unlimited Play® products
Find a Rep
To learn more about inclusive playgrounds, contact your local sales representative.