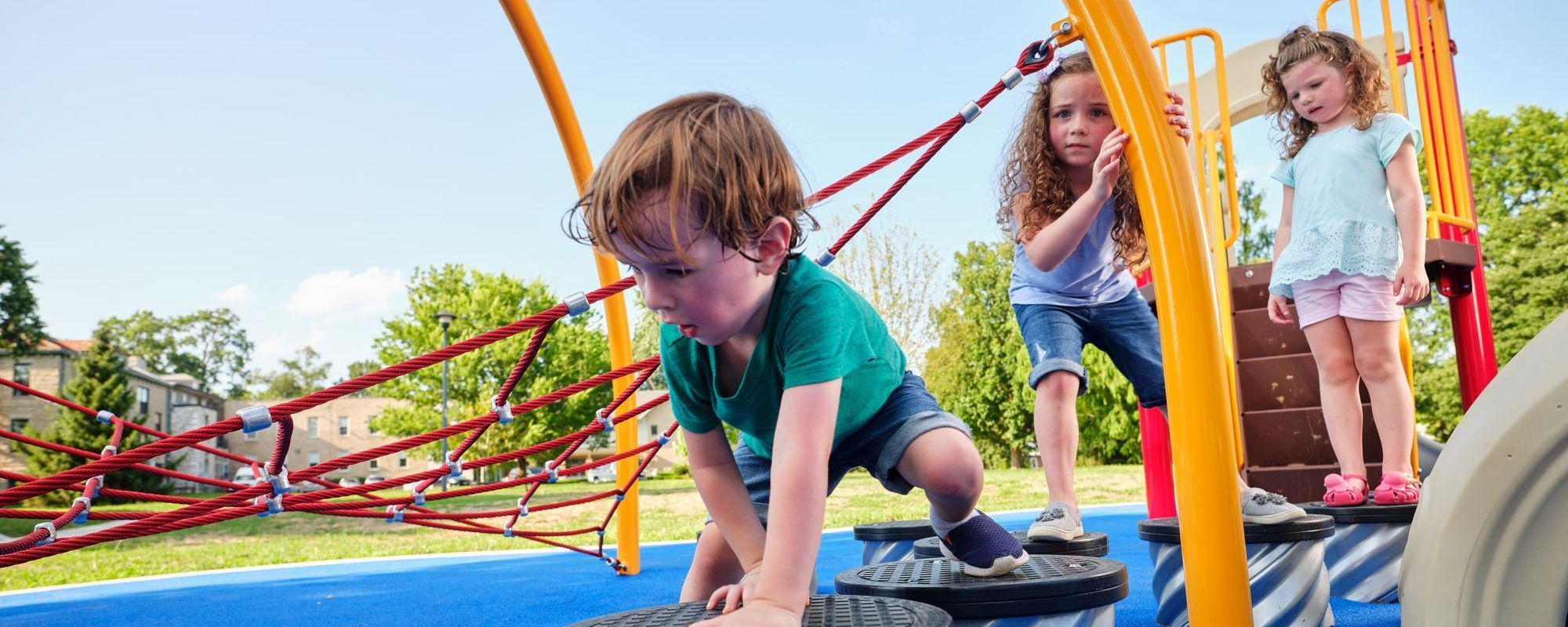 Unlimited Play Celebrates 20th Anniversary with Playground Donation to Extraordinary Pinkerton Family of Wyoming
May 22, 2023, ST. LOUIS – Unlimited Play, the trailblazing nonprofit organization dedicated to planning, designing and building fully accessible playgrounds that allow all children to play together regardless of their abilities, today commemorated its 20th anniversary by announcing a playground donation to the Pinkertons of Glenrock, Wyoming, whose family includes six adoptive children with Down syndrome and other special needs. With a focus on promoting Down syndrome awareness and understanding, the Pinkerton's TikTok account, PinkertonBoysAdventures, has 1.2 million followers.
"For two decades, Unlimited Play has developed inclusive playgrounds that promote dignity, understanding and respect among children," said Natalie Mackay, Unlimited Play's founder. "The Pinkerton family provides inspiration to millions of people, and they share our ideals – of inclusivity and understanding. We are proud to donate a playground to this wonderfully selfless family as we celebrate our own 20-year milestone."
Mackay's inspiration for Unlimited Play was her son, Zach, who lived with a disability before his passing in 2021.
"Initially, I thought we would build one project for Zach," said Mackay. "I soon realized someone, in so many families, requires an inclusive playground. These play spaces bring communities together and help validate that all members of a community belong."
Over the past two decades, Unlimited Play has built nearly 90 play spaces across the country, touching countless lives while enabling children of all abilities to play and interact in a welcoming, accessible environment.
The playground for the Pinkerton family symbolizes a continuation of Zach's legacy and Mackay's commitment to providing an inclusive space for all children to play. To make this play space a reality, Little Tikes Commercial, Unlimited Play's partner in play since 2016, is providing the commercial-grade playground equipment, design, and installation.
"Our family is beyond grateful to Unlimited Play and Little Tikes Commercial for building the playground of our dreams," said Shannon Pinkerton. "We really needed commercial-quality equipment that was designed with inclusivity in mind, so we are thrilled to accept this donation and to celebrate Unlimited Play's 20th anniversary."
Installation is planned for May 30-June 1. This playground will feature Little Tikes Commercial's inclusive equipment, including a ZoomTwist (a cone spinner that increases spatial awareness), Concerto Congas, Vibes and Cabasa (outdoor music play for the entire Pinkerton family), and a Roller Slide (for an enhanced tactile sensation while sliding). The playground will also feature classic equipment such as climbers, a bridge, and MaxPlay® Swings.
Unlimited Play invites the public to join its 20th anniversary celebration and help support its continued mission of making building inclusive playgrounds. To contribute to the Pinkerton project, please visit UnlimitedPlay.org/Donate.
About Unlimited Play
Unlimited Play is an award winning nonprofit organization that helps plan, design, and build fully accessible playgrounds that allow all children – regardless of their abilities – to play together. Incorporated in 2003, Unlimited Play builds playgrounds across the country, creating a world where play has no limit. As a 501(c)(3) nonprofit organization, Unlimited Play relies on donations from supporters. Donations help the organization ensure no one gets left out at the playground — because every child deserves the right to play. To learn more about the mission of Unlimited Play, visit UnlimitedPlay.org.
About Little Tikes Commercial
Little Tikes Commercial designs and manufactures commercial-grade playgrounds for parks, schools, childcare centers, and other places where children gather. A division of PlayPower®, Inc., Little Tikes Commercial empowers kids to flourish by inspiring wonder and developing life skills through imaginative play. Our mission is to create fun, exciting, and inclusive play spaces that instantly engage imaginations. For more information, visit LittleTikesCommercial.com.
Media Contact:
Jennifer Leckstrom
RoseComm for Unlimited Play
[email protected]
215-681-0770