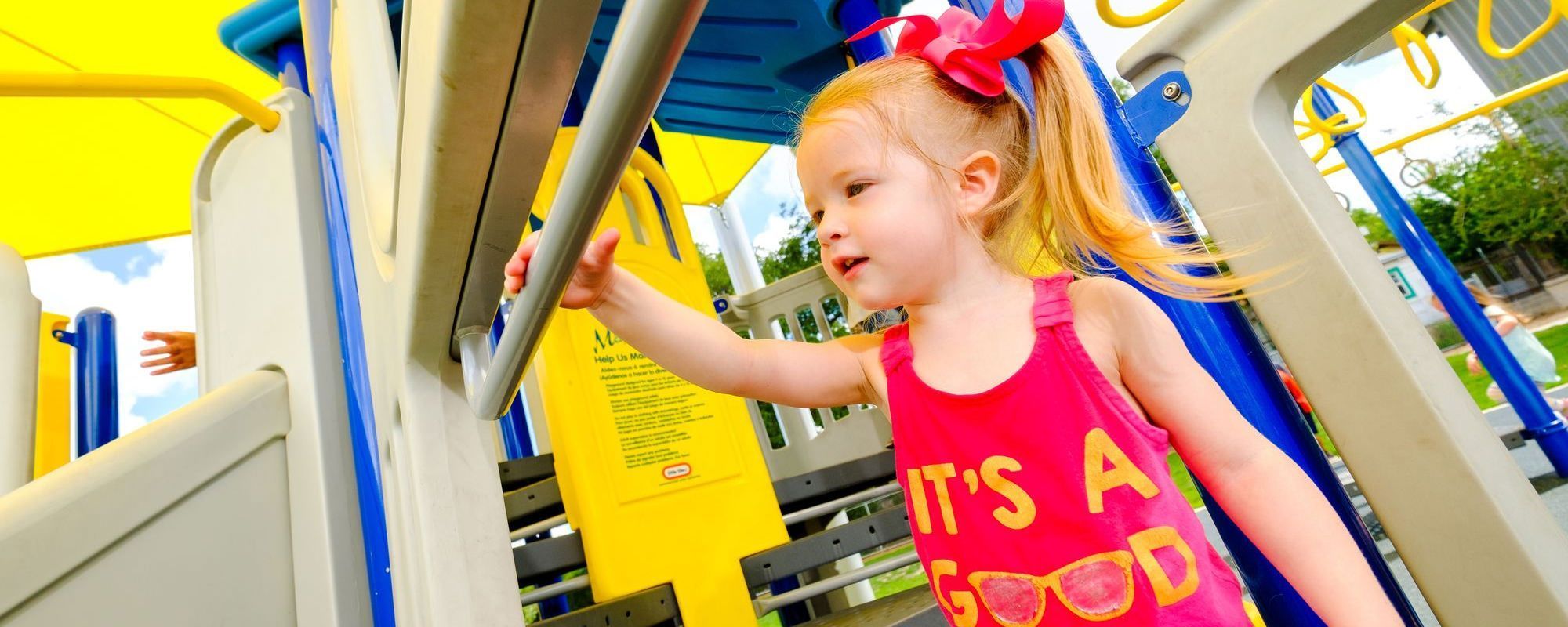 10 Reasons to Install Shade Structures Over Your Playground
When creating a play space for your community, your first priorities should be fun and safety. Parks, schools, neighborhoods, faith organizations, and more can all benefit from innovative play structures that inspire creativity and active play habits.
Playgrounds are a tried-and-true way to encourage kids to spend more time outside. Families, school classes, and community groups come together in play spaces. Kids can socialize and exercise their imaginations while adult supervisors appreciate outdoor time as well.
As you plan to build a new playground or upgrade your existing one, consider adding a shade structure. Shade lets more people enjoy being outside, and a permanent shade structure can help your playground become the center of attention in your community.
The Importance of Shade Structures
Shade gives new life to playgrounds big and small. Shade structures are a great way to add comfort to a play area that doesn't already have natural shade from trees or other buildings.
When the sun is beating down overhead, you want a dependable solution to keep your playground enjoyable for all visitors. Playground shades are an easy and appealing way to upgrade your community's outdoor spaces.
Here are 10 reasons to use shade structures on your playground:
1. Provide Sun Protection
Play is an important way for kids to release energy, socialize, share ideas, express creativity, work together, and exercise. Sunny days are fun for play. Without a cloud in the sky, parents and caregivers can bring kids to playgrounds for hours of outdoor fun without worrying about rain or cold weather.
But sun safety is also important. The sun is strongest between the hours of 10 a.m. and 4 p.m. Those are also often ideal play hours for kids, especially during the school day and other childcare events. As winter transitions into spring and then summer, temperatures rise. As temperatures rise, people spend more time outdoors, leading to more playground use.
Safe amounts of sun exposure are good for people's health. Sunlight makes it possible for our bodies to metabolize vitamin D — a vitamin that helps keep bones healthy and strong by allowing our bodies to absorb higher amounts of calcium.
However, too much sun exposure can also lead to sunburn and other issues. In the short term, the sun's UV rays can cause painful sunburns, even on cloudy days when you don't see or feel the sun's rays as much. In the long term, continued sun exposure and repeated instances of sunburn increase a person's risk of skin cancer.
To protect against sunburn or too much sun exposure, healthcare experts recommend wearing full-coverage clothing, hats, and sunscreen. These measures may not always be ideal for every instance of play, though. For instance, on hot days, most people don't wear long sleeves and pants, opting instead for clothing that will help keep them cool. Additionally, kids who go outside for recess or playtime in between other activities at school or daycare probably won't have time to put on sunscreen before heading to the playground.
A sun shade offers protection from UV rays. Many playground shades are made of fabrics that block up to 96% of UV rays. Sun shades that expand over the top of the entire play structure help provide sun protection at all times of day, even when the sun is hottest.
2. Add Shade to Create Cooler Temperatures
The higher temperatures of sunny days may entice kids to play outside, but extreme heat might shorten their adventures. Being outside on hot days can lead to uncomfortable heat cramps, disorienting heat exhaustion, and, in extreme cases, heat stroke, which is characterized by fever-level body temperatures, a rapid pulse, dizziness, and an absence of sweat.
However, spending time outdoors at safe temperatures provides many mental and physical health benefits. Playgrounds offer large spaces for kids to exercise through active play. And, people of all ages can benefit from a lowered risk of heart disease and high blood pressure when exposed to sunlight and natural spaces.
Time spent outdoors, and especially around nature, can also relieve stress, increase relaxation, and improve focus and creative thinking. People often feel better after being outside, whether they were involved in physical activity or simply relaxing on a park bench.
Providing plenty of shade in your play areas can inspire your community to spend more time outside without the side effects of too much sun and heat. Playground shade structures can keep play areas up to 20 degrees cooler. Shade helps cool down an area by blocking sunlight, and natural air circulation under the shaded area also contributes to lower, more comfortable temperatures.
When you provide shade at your playground, people of all ages can benefit from safe outdoor time. Kids will enjoy playing in cooler temperatures, and supervising adults will appreciate this spot to sit and relax out of the heat.

3. Make Playgrounds Inviting and Comfortable
When families, school groups, and daycares are looking for a place to play, they want to see a playground that looks fun and safe, and that fits their combined needs. Kids want a structure that sparks thrills and imagination, and adults hope to find a place where they can find a few moments of peace while their kids play. Park shade structures are a simple, yet effective way to welcome people to your play area.
A new shade structure will amaze kids. Just as playgrounds are designed with youthful creative expression in mind, a playground sun shade may further boost creativity by giving kids new inspiration for imaginative games.
Playground shades also come in a variety of colors. You can choose a canopy color that matches your playground, or one that stands out and invites people to come see what your outdoor space is all about. Bright colors are cheery and welcoming, and they can also aid in child development. As kids grow up, bright colors are more stimulating to them, because they can see those colors and form associations with them more easily than muted colors.
While the actual playground structures are for kids, the surrounding area should also welcome accompanying adults. Shade structures benefit everyone. Caregivers will love that they have a place to sit out of the sun as they watch their kids and socialize with other parents and teachers. Adding shade will also help make your playground more inclusive for those who have sun allergies and certain conditions that make them more susceptible to overheating and sun poisoning.
When everyone is comfortable spending time at your playground, they'll want to stay longer and come back often. A cool, shaded area gives kids the energy to keep playing even on hot days, and the added stimulation of a new, colorful structure can help make your playground everyone's number one choice.
4. Create an Exciting and Innovative Look
Playground shades are the perfect way to upgrade the play spaces in your community. Adding new touches to an existing playground can bring renewed attention to your neighborhood park or school play area. And, installing a shade structure along with an entirely new playground is a great way to get people interested in your space from the start.
Playground shades are popular, but not every playground has one. A sun shade on your playground can help you stand out and create a unique, practical, and fun feature for your community.
Shade structures also bring visual appeal to your space, which can be a great way to boost community involvement. People will visit your park out of initial interest and come back again and again once they realize how comfortable and fun a sun shade can be. A distinctive playground shade will be a crowd-pleasing addition to your space.
5. Allow for Ease of Use Anytime
If you think back to playing on a playground as a kid, you'll probably remember a lot of good times. Playground equipment has a ton of fun features that likely kept you entertained for hours at a time during your childhood.
In direct sunlight, though, playground structures can be too hot to enjoy. Playground shades are the solution you need. Shades help block the sun's heat, giving kids the chance to play on structures with ease and comfort, even while the sun is high in the sky. Rather than waiting for a cooler, cloudier time of day to make use of the nearby playground, families and school groups can visit shaded playgrounds anytime they want and play carefree on all equipment that's kept cooler under the shade.
6. Offer Visitors a Place to Get out of the Rain
Thinking back to your childhood, you may also remember times when you wanted to play outside, but rainy weather or wet playground equipment kept you indoors. Uncovered playgrounds offer no protection from the rain.
Playground shade structures, however, can also help to deflect the rain. Canopies that cover an entire play area provide a barrier during light drizzles, so kids can keep playing even if a brief rain shower comes their way.
Light rain protection also means playgrounds can often stay dry during rainy days. Even if it is too wet to play outside, the play structure and its surrounding ground will stay drier and be ready for play once the sun comes out the next day.
7. Protect the Playground Structure
When you invest in a playground for your community, you want it to be a feature that lasts for years to come. Sun shades can help keep your playground equipment in good shape so kids can continue to enjoy their favorite play areas just like when they were new.
Constant exposure to sunlight could fade the vibrant colors on plastic pieces over time. With sun shades blocking almost all UV light, though, your playground can stay colorful longer.
Shade structures can also help to deflect some types of precipitation like hail from hitting the play structures. This means dents and dings might be better avoided.
Whether it's sun, rain, hail, or other inclement weather, installing a shade over your local play structure is the perfect way to help increase your playground's longevity and usability.
8. Fit Any Styled or Size of Playground
Whatever the size, height, and style of your playground and overall play area, you can find the perfect shade structure to meet your needs. Playground covers are designed to accommodate several types of play structures and sitting areas, and with a variety of canopy sizes and post heights, you can add shade to any and all aspects of your playground. Shade structure designs include:
Full Cantilever Play Shade: Large play structures can benefit from the Full Cantilever Play Shade. With a far-reaching canopy and only two poles, this design is perfect for adding shade to a playground without adding too many columns. The canopy for this structure covers spaces of 10 feet by 12 feet or 10 feet by 20 feet, and canopy entry height options are eight or 10 feet.
Hip Play Shade: A common style for covering large playgrounds, the Hip Play Shade features clean lines and a peaked roofline for added height. The canopy for this structure is available in a wide variety of coverage dimensions ranging from 10 feet by 20 feet to 30 feet by 40 feet, and canopy entry height options are eight, 10, or 12 feet.
Hip Joined Play Shade: For play areas that need more coverage, the Hip Joined Play Shade offers all the features of the regular hip shade, but with steel posts that can support two adjacent shades at once, so you can connect multiple canopies using fewer poles.
Two-Post Hip Play Shade: Cost-effective and versatile, the Two-Post Hip Play Shade provides a lot of shade while using only two columns. Choose from canopy coverage sizes of 10 feet by 16 feet or 14 feet by 22 feet, each with a canopy entry height of eight feet.
Pyramid Play Shade: A classic four-post, peaked roofline design, the Pyramid Play Shade helps you cover extensive areas with ease. The canopy can span a variety of square dimensions from 10 feet by 10 feet to 30 feet by 30 feet, and it has entry height options of eight, 10, or 12 feet.
Mariner Pyramid Play Shade: For a sophisticated look that provides a large amount of shade coverage, the Mariner Pyramid Play Shade features a canopy with overlapping fabric and a high, multi-level peaked roofline. Perfect for large play structures, this design comes in the standard canopy coverage dimensions as the Hip and Pyramid Shades.
Single Post Pyramid Cantilever Play Shade: If you're looking to create a shaded area with as few columns as possible, the Single Post Pyramid Cantilever Play Shade does just that. With a single offset pole, you'll have enough space under the center of the canopy for small to medium play structures. Canopy coverage dimensions include 12, 14, and 16 square feet, with an entry height of eight feet.
Single Post Pyramid Play Shade: With a classic, center-pole umbrella-like design, the Single Post Pyramid Play Shade helps you cover small play or sitting areas where you may have limited space. Canopy coverage dimensions for this design include 12, 14, and 16 square feet, with canopy entry heights of either eight or 10 feet.
The structural variety of playground shades makes them incredibly versatile. Install a large sun shade for kids to play under on the main playground, or include a series of smaller shades over separate equipment, such as swing sets and freestanding sculpted play elements. If your playground has areas for multiple age groups, separate shade structures can easily distinguish these sections while providing all kids with enough shade.
Playground shade structures can also extend to include nearby picnic tables and benches for adult caregivers to sit at. Connect multiple Hip Play Shades together to create one giant shade structure, or add variety with several shades in a variety of sizes. With so many combinations of height, canopy coverage area, and style to choose from, the possibilities are endless.
9. Easy to Install
Installing a playground shade is as easy as installing the rest of your playground's structure. Shade structures come with multiple base plate mounting styles, so installing one is easy to do on any type of ground your playground is on. Choose from embedded base plates, which go partially underground, or recessed base plates, which fasten the metal poles above ground with the addition of a metal plate system.
As important as shade structures are to your overall playground environment, they're remarkably quick and easy to add to your installation plan, making them the perfect solution for comfortable, fun play spaces. In snowy regions, you will need to remove your shade structures for the wintertime — but easy installation makes it easy to adjust to this process as the weather changes.
10. Are Low Maintenance
Shade structures are a great alternative to natural shade in areas that may not have many trees because they're easy to install anywhere that trees might not grow. Natural shade can be tricky to work with for several reasons. Shade cast from the side of tall objects like trees and buildings may only partially cover a play area, and the shade may recede quickly as the sun moves across the sky.
In addition, though trees provide beautiful natural shade, they also can produce lots of debris such as falling leaves in autumn and broken branches that can clutter a playground after a storm with strong winds.
Instead, consider a clean, simple shade structure that stays in place and offers years of effortless enjoyment. Convenient playground shades, once installed, require little future maintenance, so they're perfect for beautifying your community while providing a fun play space for all.
Complete Your Playground With Little Tikes Commercial Shade Structures
Playground shade structures are sure to benefit all visitors to your playground. From excited kids to supervising adults, everyone can enjoy the cool shade and fun environment playground canopies provide. Whether you're looking to improve your existing playground or create a whole new play experience for your community, Little Tikes Commercial has exactly what you need.
From small sun shades to sprawling canopies, our extensive collection of shade structures will complement any playground and help the kids in your community make lasting childhood memories.
We want to help you find the best shade solutions for your playground. To learn more about Little Tikes Commercial, find your local representative, and get a quote for any items that spark your interest!