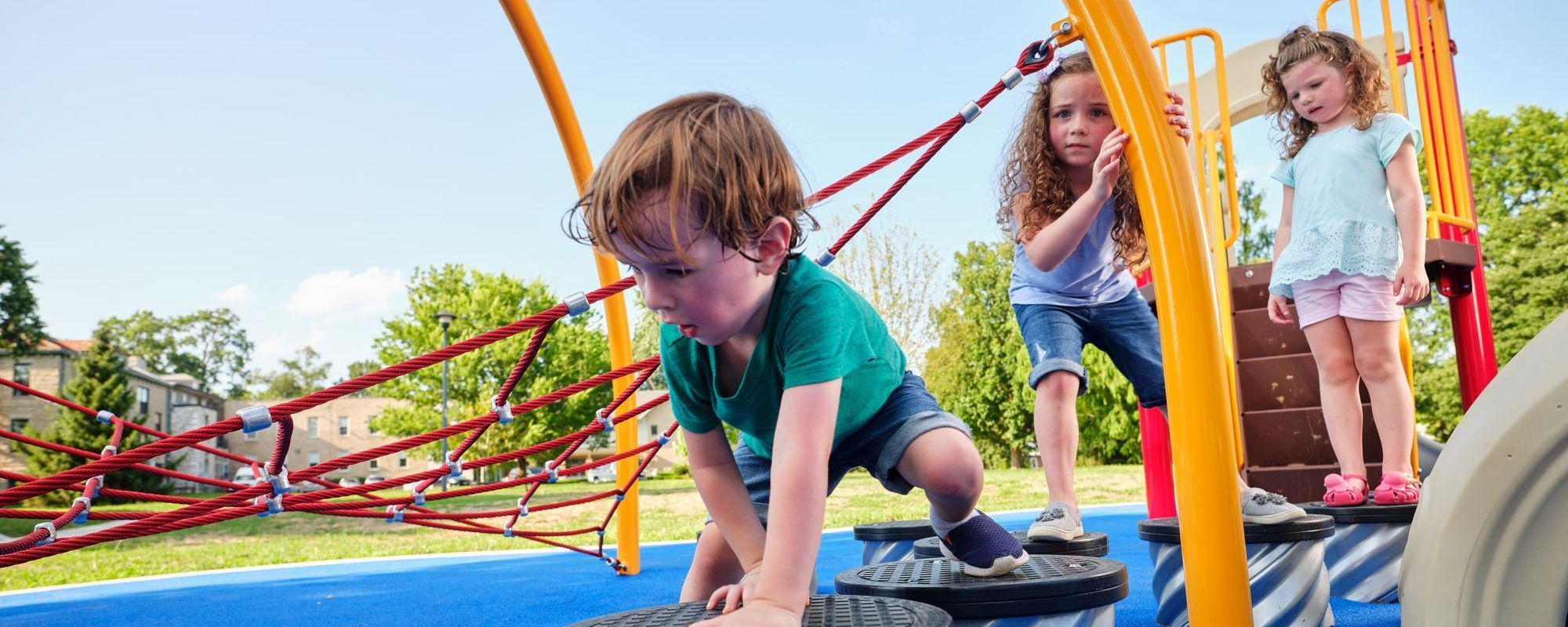 Creating Multigenerational Recreational Spaces
These days, not all play spaces are solely for kids. Parks and playgrounds offer more than just the swings and seesaws of yesterday –– today, you'll find sturdy playground equipment that's designed for comfort and durability. Outside the playground, you're likely to find exercise equipment that's suitable for adults.
They're called multigenerational recreational spaces, and they're for adults, too. Why should adults have to sit on the sidelines while kids get to have all the fun? Now they don't have to.
Multigenerational recreational spaces encourage fun among kids and their parents, grandparents, coaches and teachers. These spaces are designed to include people of all abilities and ages, so that everyone may find enjoyment and entertainment at their community playground.
Read the full article or skip to a specific section:
Principles for Multigenerational Design
Design for a multigenerational recreational space can be the determining factor of a recreational area's effectiveness. How the area is designed, what play spaces are included, whether it appeals to community members, and whether it meets the needs of the community are all factors that decide whether the area is successful. A multigenerational recreational space should have design features for visitors to:
1. Get Fit
Outdoor exercise and play help both adults and children stay active longer and more often. Playgrounds that use nature tend to be more comfortable and appealing to adults, which can motivate parents and other adults to spend more time with kids outside, getting active.
As a whole, a multigenerational recreational space should support physical participation and encourage physical activity while also minimizing unnecessary fatigue. This way, kids and adults can stay engaged in play long enough to reap all the benefits of multigenerational design.
2. Be Included
Accessibility is a critical, foundational factor in a playground's inclusivity, but accessibility alone isn't enough. Physical accessibility doesn't necessarily equate to inclusivity. To be truly inclusive, playgrounds should cater to all ages and abilities so everyone may benefit from children playing with adults.
The goal of multigenerational recreational spaces should be to ensure all children's needs are met in a play space. Inclusive playgrounds should incorporate these characteristics:
Appeals to a variety of ages and a range of interests
Promotes interactivity between participants for all levels of ability
Offers ground-level access
Fosters the development of motor and social skills
Playgrounds don't need to be restricted to one play space that can appeal to all age groups. Instead, a playground can include multiple play areas that appeal to different age groups and interests. A play area for kids ages 2 to 5, for example, would include different activities than a play space for kids ages 5 to 12, as their abilities and needs aren't the same.
3. Be Safe
A playground should also include picnic areas, courts for sports, game tables, structures that provide shade, and sitting areas for adults to rest while kids play.
Shade is an important investment for a multigenerational recreational space. Shade makes the space more comfortable for visitors and helps to extend the longevity of your playground equipment. Our shade structures are designed to enhance your experience at the playground by:
Blocking as much as 96% of the sun's harmful UV rays
Keeping the playground 20 degrees cooler
Protecting equipment from the weather and sun damage
Providing a cool resting spot on hot days
Allowing everyone to play longer without overheating
At Little Tikes Commercial, we know how essential shade is to a well-rounded playground experience. We offer a variety of shade structures that can meet the needs of any playground:
Single-post shades: These traditional shades are supported in the middle by a single post.
Triangle shades: These shade structures provide lots of shade with a unique look.
Two- and four-post shades: These shades are built with posts on both sides with an open area at its center, perfect for a shady, open space on the playground.
Superspans: If you need shade over a large space, such as a pool or seating area, Superspans are the ideal shade structure for you.
Two-post hip structures: These shade structures are great for covering bleachers or pools without a sole post in the center.
Custom shade structures: If you want to design a shade structure specific to your needs, Little Tikes Commercial can help you build the structure you want, from the shape to the color.
By incorporating fitness, inclusion and safety in an intergenerational play space, a strong sense of community can grow. Implementing these principles for multigenerational design will ensure everyone who visits the recreational space will benefit for years to come.
Benefits of Multigenerational Design
When it comes to intergenerational play, everyone benefits. When kids play with adults, they show higher levels of creativity, problem-solving and language skills. When adults engage in family play with kids, they experience improved moods, higher cognitive skills and reduced levels of stress.
In a recreational area designed to engage all ages, there are plenty of ways to build skills together. For example, kids can enjoy using a Memory Game panel with their parents so they can practice their memory skills together. Or, perhaps the recreational area can feature a walking trail for parents and children to enjoy together as they take in the sights and sounds of nature while getting exercise. Here are just a few of the skill-building benefits of multigenerational design:
1. Cognitive Skills
Getting active gives everyone the chance to grow their cognitive skills. Play that is stimulating and engaging can keep kids participating for a longer period of time. Cognitive skills that adults and kids can learn or improve include:
Problem-solving skills
Cause and effect
Imagination
Understanding visual and mathematical relationships
2. Social Skills
Play is not truly inclusive unless it includes a social component, allowing kids and adults to engage in socialization that is meaningful and beneficial. Parents interacting and playing with children on the playground is crucial for their development. Social skills that adults and kids can learn or improve include:
Cooperation
Compromising and sharing
Taking turns
Expressing ideas to others
What is acceptable for behavior and language
How to make friends
A few of the products that we offer that encourage group interaction are the following;
3. Emotional Skills
A multigenerational recreational area can provide a space for kids to feel secure emotionally so that they can enjoy a sense of belonging and make decisions about how and when they want to join in playing. Emotional skills that adults and kids can learn or improve include:
Navigating differences and disagreements with others
Expressing feelings
Building self-esteem
Demonstrating empathy
4. Physical Skills
Everyone needs to be physically active. In the shift toward a more sedentary lifestyle, adults and kids need to make time for exercise in their daily lives. A multigenerational recreational space is a great place for everyone to get the exercise they need. Physical skills that adults and kids can learn or improve include:
Gross and fine motor skills
Define relationships of measurements, such as weight and distance
Control of objects
To ensure everyone can attain these benefits, adults should avoid instructing or directing kids during intergenerational play. Kids should be allowed to explore and play freely, and adults should participate in that free exploration rather than dictate it. If the principles for multigenerational design are followed, and everyone participates in a positive way, the benefits of a multigenerational recreational area can be virtually limitless.
Freestanding Activities (for ages 2-5)
Freestanding playground equipment can enhance the fun of any play space with little expense. Kids ages 2 to 5 will enjoy activities such as climbers, motion components and freestanding slides. As kids in the 2-to-5 age range begin to gain control of their bodies, they can be introduced to playground equipment that requires increased physical activity. These activities can help kids at this age develop their fine motor skills and muscle control. Play is a vital developmental component for young children, so providing them with the best playground equipment for their age and abilities is key.
1. Choosing Age-Appropriate Equipment
Kids receive the greatest value from activities and structures that are designed for their ability levels, including their physical strength, motor skills and level of cognitive development. While some equipment may be designed for kids under 5, these activities are still safe and fun for older kids ages 5 to 12.
2. Choosing Safe Equipment
Safety is a concern for many parents and caregivers when it comes to playgrounds. To ensure a playground is as safe as possible, keep in mind proper equipment sizes, surfacing and playground conditions.
Young kids are energetic, so it's important to match playground equipment to their development and their energy levels. To keep kids ages 2 to 5 safe on the playground, choose the proper size of equipment to ensure they can be safe while they play. Surfacing can also help kids remain safe while playing by lessening the impact of falls from slides, swings, climbing structures and other playground equipment. Finally, regularly assess your playground's conditions to discern whether other measures for safety need to be implemented, including shade structures or borders.
With Little Tikes Commercial, you can find a variety of freestanding activities and independent events for young kids, including:
Every activity offers a ton of fun for kids, so simply choose what works best for your kids and your budget.
Fitness Areas
A multigenerational recreational space might have a fitness area separate from playground equipment for adults and older children to enjoy. Fitness areas offer the chance for kids and adults alike to get a great workout. Fitness equipment can include stationary bicycles, a leg press, an overhead press, an elliptical and bars shaped for efficiency and comfort to use for wall pushups or to grip while performing squats.
Here are just a few benefits of incorporating fitness equipment into a multigenerational recreational area:
Appeals to older children who may be losing interest in playground equipment designed for younger kids
Prepares kids for participation in team sports
Promotes active play and healthy competition
Encourages kids to get and remain active by making exercise fun, which will benefit them throughout their lives
Allows everyone to have fun while exercising, regardless of age
At Little Tikes Commercial, we offer engaging equipment options that you can choose to use for fitness:
The Single Balance Beam: This beam is great for kids ages 5 to 12 who want to perfect their balance.
The Turning/Chinning Bar: This bar is used for exercises like chin-ups and stretches. You can use the bar alone or with a friend.
The Parallel Bars: These bars help users develop their upper body strength. Kids ages 5 to 12 use their arms and hands to lift themselves off the ground and move from one end of the parallel bars to the other. This can be a fun activity with a friend.
The Vertical Ladder: This activity is great for targeting core, arm and leg muscles.
The Leg Lift Loop: This exercise is perfect for older kids. While hanging onto the loop above their heads, they lift their legs without bending their knees until their legs are parallel to the ground.
The Arch Ladder: This activity can help visitors improve their footwork, agility and speed along with upper and lower body strength.
The Monkey Bar: Use this bar for pull-ups, chin-ups, hand-over-hand exercises and much more.
The Dip/Leg Raise: Work on your leg, thigh and calf muscles with this activity.
The Ab Bench: This piece of equipment targets your core.
The Sit-Up Bench: This bench can be used for various stretches and also provides a space for sit-ups. For an additional boost, the bench includes another bar where you can tuck your feet.
The various pieces of equipment found in a fitness area can target arm, leg, hip, core, shoulder, back and arm muscles –– a whole body workout. You can improve your strength, balance, flexibility and coordination by using the equipment properly and following instructions on signs posted near exercise stations.
For a little less intensity, you may also find paths for walking and picnic tables with games, such as checkers. So even while taking a much-needed break, you can still engage your cognitive and social skills.
What else does a fitness area have to offer?
It's free. Who needs a paid gym membership when a community fitness area is free, fun and you can visit when it's best for your schedule?
It's a judgment-free zone. Everyone is there to play and have fun. You don't need to worry about being instructed on which machines you should be using or for how long. It's all up to you. As long as you're having fun and being safe, you're doing it right.
You can work out with loved ones. Bring your kids, grandkids and friends so you can have fun and socialize while all of you get physically active.
You can use your loved ones as motivation. When you see other people working out, a healthy dose of friendly competition will kick in. Who will earn bragging rights at the dinner table this evening?
When engaging in physical activity at a fitness park, be sure to follow posted instructions and illustrations to help you prevent injury. Always stretch before and after exercising, and stick to equipment that conforms to your abilities. If you have problems with balance, for example, don't use any equipment that requires maintaining balance so you can avoid a fall.
If you're looking for a place where fitness meets fun, look no further than a multigenerational fitness area, where everyone can have a great time while getting fit.
Inclusive Playgrounds
Designing a playground for all means going beyond ADA requirements and building a playground that is wheelchair accessible. An inclusive playground involves:
Creating paths that are wide enough for anyone to walk or roll between pieces of playground equipment
Building quiet, cozy areas for anyone who may need a little space if they become overwhelmed
Including special needs play equipment with other equipment so that everyone can play together rather than separately
Using surfacing compatible with wheelchairs, crutches and any other devices for mobility
Building equipment that can be used by everyone and has multiple uses
When a playground includes accessible equipment, every child benefits. Kids with different abilities don't need to worry about whether they can navigate the playground and have fun because the equipment and layout of the playground were created with them in mind. As there are more parents and grandparents who have disabilities than children who have disabilities, an accessible playground is imperative for them, too. Adults with mobility issues won't have to worry about whether they can go to the playground with their kids and have fun together.
Kids and adults who don't face those same challenges can socialize and connect with peers of all different backgrounds and develop empathy for anyone who may be different from them. Learning how to socialize and cooperate with people of all backgrounds and abilities will prepare kids for the diversity they'll encounter in school and in the workplace when they enter adulthood.
At Little Tikes Commercial, we offer many activity options that focus on inclusive play:
Every child and adult should be allowed to have fun and be included at the playground. Little Tikes Commercial works to make sure every playground visitor feels welcome.
Playgrounds From Little Tikes Commercial
A multigenerational recreational space can attract more visitors and enhance the community's quality of life by encouraging people to get active and socialize with their family, friends and neighbors. When you follow the principles for multigenerational design, you'll ensure that every visitor attains the physical, social, emotional and cognitive benefits that your recreational area provides.
At Little Tikes Commercial, we offer freestanding activities for preschoolers, fitness equipment and inclusive playgrounds to suit your community's needs. We work to make sure we produce high-quality, durable play spaces that will keep every playground safe for all visitors.
If you're interested in working with an experienced manufacturer of multigenerational playgrounds that are inclusive and promote fitness, contact Little Tikes Commercial today.