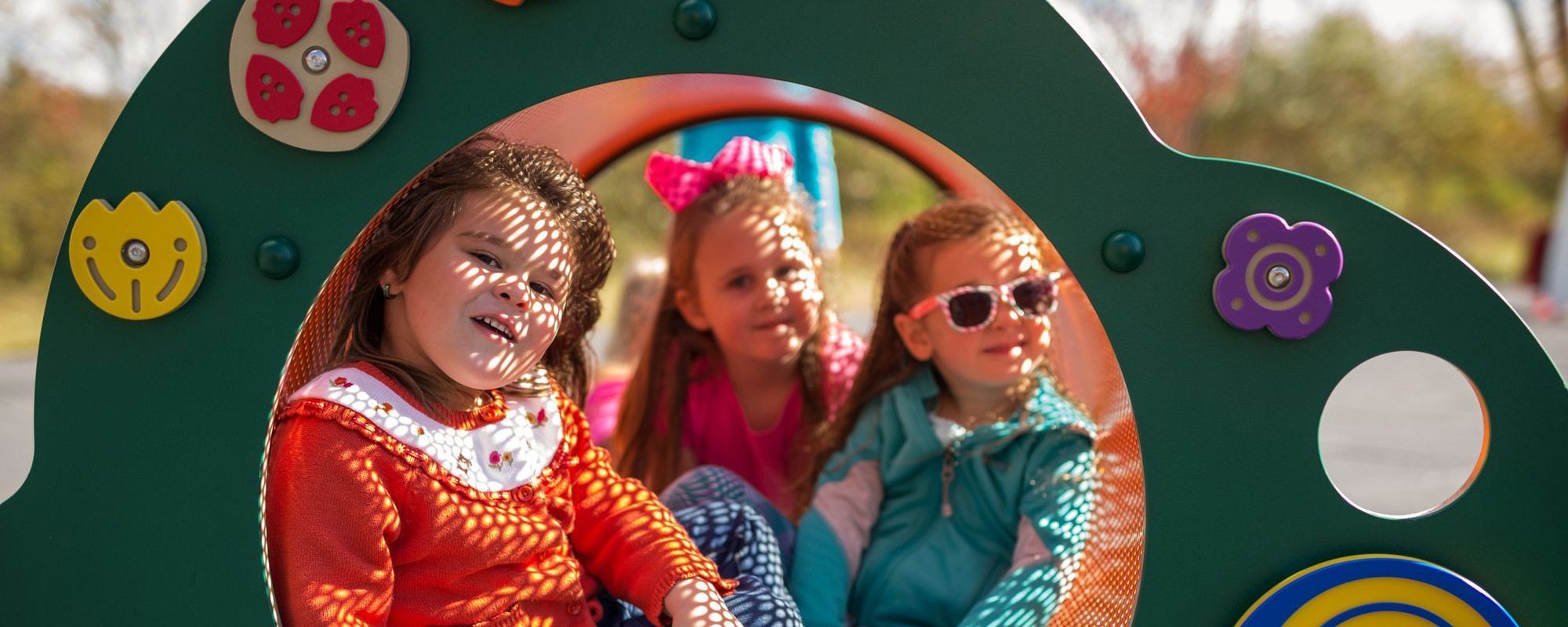 Benefits of Adding Activity Panels to Your Playground
Activity wall panels allow children to explore new sensory elements and set their imaginations free. These age-appropriate play components are accessible for all kids, and they develop cognitive and mental skills through challenging, stimulating games and puzzles. Discover the benefits of activity wall panels to decide what value they can add to your school, learning facility, park, or organization.
About Playground Activity Panels
Playground activity panels are age-appropriate play experiences to help children develop physical and cognitive skills they'll use throughout their lifetime. These play elements combine educational situations with fun, colorful toys to make an outdoor play area attractive to young learners. Activity panels introduce sensory and mental stimulation, opportunities for social interaction, and imaginative play to a playground so children of all ages and abilities can play together.
As you design your playground, think about which of the following types of activity panels you'd like to include:
Math and science
Sound and music
Alphabet
Matching games
Tic-tac-toe
Texture and sensory development
Braille
Sign language
Mirrors
Bubbles
Search and find
Mazes
Benefits of Activity Wall Panels for a Playground
The playground is where children interact with their peers and get a break from sitting in the classroom or at home. Activity wall panels give kids a fun way to learn even when they're playing outside. Activity panels add value to your playground because they:
Facilitate social interaction: Kids can play with activity panels on their own or with their peers. As they explore this new equipment, children discover how to solve problems and collaborate with others. In particular, early learners can strengthen their social skills by learning how to communicate what they want, share, and wait their turn.
Stimulate learning and cognitive development: A playground should provide plenty of opportunities for kids to learn. Activity panels allow kids to discover more about math, science, and the alphabet. These play elements are fun for kids as they develop their minds and recharge their bodies from other playground activities.
Attract children to your playground: After sitting inside, children need fresh air and sunlight. Even while kids are on break from class, they can learn through activity panels. Colorful, interactive activity wall panels invite kids to come and play. You can find activity panels with various fun, educational activities so children will never get bored. By playing with these play elements, kids will begin to associate learning with fun.
Stimulate and develop tactile skills: Children enjoy touching different textures, especially at a young age, because it's the first sensory skill to develop. Activity panels allow kids to try out various tactile tasks to stimulate the nervous system and help them make sense of the world around them.
Strengthen and engage hearing: Besides stimulating a child's tactile senses, musical play panels also engage hearing. Children can bang on the drums or play the xylophone to create sound and music. Their nervous systems process these sounds and help stimulate their mental and cognitive functions. Auditory sensory integration also offers therapeutic benefits by encouraging children to grow or recover their verbal skills.
Develop sight: Vision development is necessary for how children think and learn. Sensory activity wall panels include visual elements that encourage motivation and maintain children's attention. Consider designing your school's or other organization's playground with mirror panels that strengthen kids' ocular motor control as they hold their own gaze and practice hand-eye coordination.
Build confidence and self-esteem: Activity panels encourage self-led exploration to establish independence and language, emotional, and motor skills. Children feel a sense of accomplishment as they interact with their peers and conquer new tasks on the playground. Offering a wide variety of different sensory activity wall panels helps kids make their own decisions and pursue the activities that interest them.
Engage all children: Playground activity panels are fun and developmental for children of all ages and abilities. Sensory activity panels encourage thought process development through sight, hearing, and touch. Mirror panels encourage kids to interact with their reflection and understand cause and effect as they move different parts of their bodies. Music wall panels stimulate the auditory system to offer therapy and development for kids with auditory processing disorders, autism, or ADHD.
Encourage creativity: As you design a playground for your school or other organization, consider installing activity wall panels with problem-solving opportunities for kids to think critically and independently. You may also incorporate activities that provide the backdrop for an imaginative world, such as a farm or a ship. Pretend play is beneficial for children as it helps them learn how to collaborate with their peers and develop empathy for those around them.
Let children express themselves: At a young age, children need to learn the tools and words necessary to say how they feel. Activity panels can stimulate imaginative play so children can understand how to process their emotions in a healthy way. These playground features also allow kids to gain independence to establish their personal feelings, thoughts, and ideas.

Advantages of Working With Little Tikes Commercial
For several decades, Little Tikes Commercial has designed playground equipment driven by innovative wonder and whole-child learning. We offer various types of activity wall panels to fit within your playground's layout. Our dedication to quality and safety is why we're one of the industry's leading playground equipment suppliers. Consider getting your activity wall panels from us, and enjoy these qualities that define our brand:

Explore Our Selection of Activity Panels
Little Tikes Commercial provides durable, interactive activity panels to boost creativity and inspire learning in outside play areas. Browse our selection of activity wall panels to decide which ones you'd like to include in your playground's design. When you're ready to start working with us, request a quote online or call 1-800-325-8828.