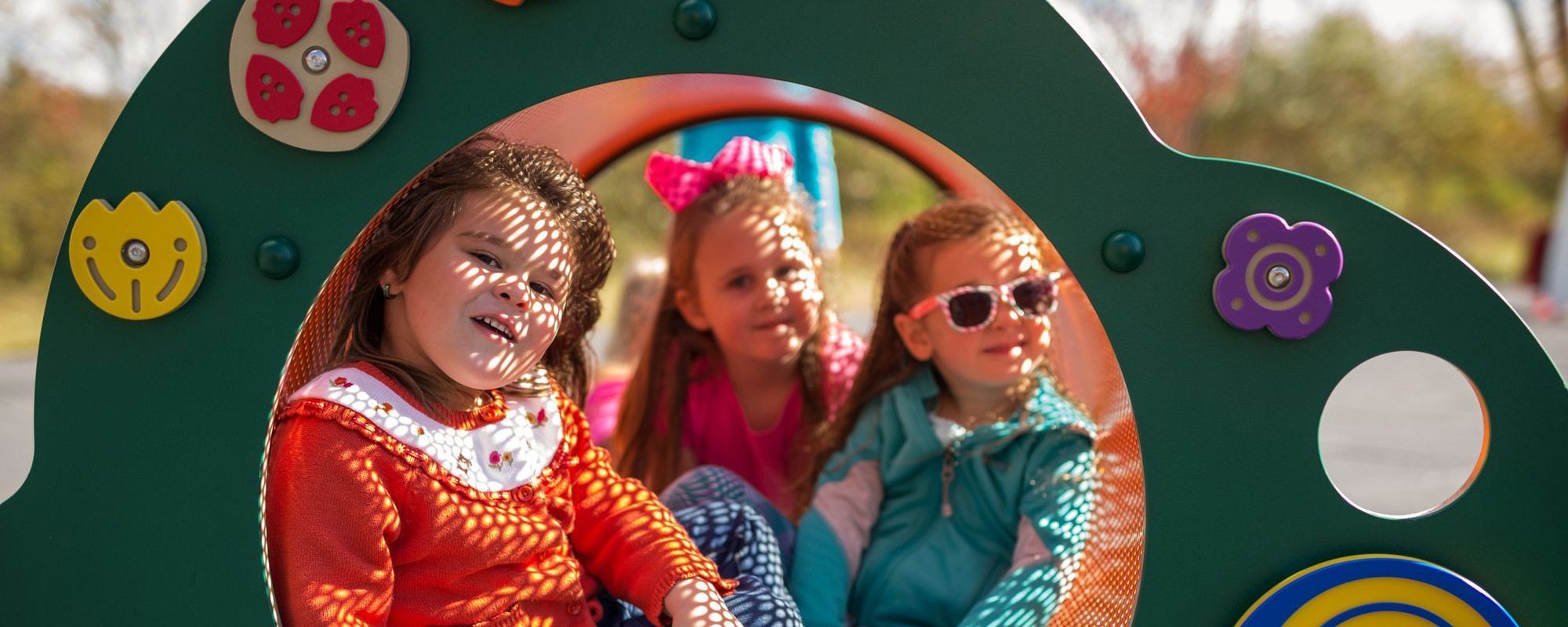 Best Playsets for Small Spaces
Whether creating a playground or trying to fill an empty space, small outdoor playsets can offer more play opportunities for kids at your facility. Keep reading to discover playset models you can implement at your playground and tips to consider when buying small playground equipment.
6 Outdoor Playsets to Consider for Small Spaces
Little Tikes Commercial offers several pieces of equipment you can integrate into your playground when looking for the right playset for your smaller spaces. Each set caters to different audiences and needs, helping you find the options to complete your playground.
1. Clever Climbers — All In!
This playset from the Clever Climbers collection can be just what you need when designing your playground's smaller spaces. The All In! supports ages 2 through 12 with its colorful design and several iconic playground features.
This equipment includes two slides for increased fun and space efficiency. A crosswalk connects components, so children can pretend play while leaving room for others. Underneath, children can find small windows in the plastic wall, allowing them to play house or shop.
As a compact design, you can fit this in tighter areas while leaving enough room for multiple children to play.
2. Clever Climbers — Jump Start!
The Clever Climbers — Jump Start! is excellent for promoting social activity on your playground. Even though the Jump Start! fits in smaller spaces, it's spacious and open, so multiple kids can play together or independently on this piece of equipment. Designed for ages 2 to 12, the design allows different age groups to play together.
This smaller playground equipment offers many exciting features. Children can access the swirling slide from two staircases and cross the wide crosswalk. The under space allows kids to move easily from the slide to the steps for another ride.
3. Kid Builders® KB2273270
The KB2273270 model offers comprehensive play features children will love when visiting your playground. It has two slides and several entrances they can climb up, so more kids can enjoy this play option.
Kids who feel uncomfortable using a ladder can also access the equipment using the stairs. The wheel helps transform this piece into a place where kids can play pretend and exercise their imagination. The various ladders and climbing features can help kids develop balance, coordination, and strength.
This equipment is ideal when your audience is older. The design supports children ages 5 through 12.
4. Play Builders® PB2273260
Designed for kids aged 2 to 12, the PB2273260 is a colorful, animal-themed smaller playset that can fit seamlessly into your playground. It offers several playground features kids will enjoy for years.
This playset model boasts two slides children can use for increased group or individual playing. The ladder gives kids an alternate way to climb up the equipment than the stairs, encouraging them to take risks and have fun on the playground.
The wheel and spyglass support imaginative play, where kids can pretend to be pirates, astronauts, royalty, and more. The sensory board provides visual and tactile stimulation with colorful animals and moving features.
5. Play Builders® PB2273263
For another playset with multiple climbing experiences, consider the PB2273263. This option comes with several ladders along with steps to improve fun while kids play. It includes a slide to give kids an exciting, safe way to get down before returning to climbing. The wheel provides sensory delight and pretend opportunities, so children can get creative and develop fine motor skills at the playground.
The PB2273263 is colorful with unique shapes and smooth lines. It suits kids aged 5 to 12, making it perfect for schools, parks, and neighborhoods.
6. Canopy Walk
If you want to create a usable transition space between other equipment, the Canopy Walk is a compact option to fit into your playground's open areas. This playset is a suspended bridge kids can use to develop balance and coordination. It includes cables on each side for children to hold onto as they play on this feature.
The Canopy Walk is ideal for 5- through 12-year-olds.
3 Tips for Choosing a Small Outdoor Playset
Designing a playground comes with many considerations. Small playsets can offer unique challenges, and understanding how to implement them can help you simplify and streamline the research and purchasing process.
1. Measure Spaces First
Before researching specific models, you should measure your available space and take your location regulations into consideration. Knowing how much room you have between other equipment can help you better understand your limitations when searching through playset choices.
Further, you'll need to consider how much space kids will have to play around the equipment. A playset might fit in an area, but kids might need more space to play without risking bumping into other children and equipment.
2. Consider Your Audience's Age
Each age group has different needs for playground equipment. Age groups will determine sizing, weight limits, and complexity. If your playground serves one age group, try to find playsets designed for those children. Many playground equipment manufacturers design equipment targeted for multiple ages, allowing commercial playgrounds to address several audiences with one playset.
Commercial playgrounds must also consider visitor volume when choosing playground equipment, including playsets for small spaces. Spacious, open playground equipment allows several children to play simultaneously. Singular features, like one slide or ladder, are great for smaller audiences.
3. Cater to Your Audience's Preferences
Children have many preferences for playgrounds. When choosing a new playset, you can improve your playground's experience by meeting their needs and wants. Many kids go to playgrounds looking for a specific type of play or feature —ensuring your new small commercial playground has a slide can help increase visitor satisfaction, regardless of size. If kids at your playground love an existing feature, adding another can allow kids to play on it more while visiting.
Design a Custom Playground Set to Fit Your Space With Little Tikes Commercial
When you want to support your available space and your visitors, creating custom playsets can help you optimize your needs. Little Tikes Commercial offers comprehensive customization services to help you create a playground unique to your space that stands out for a more memorable, meaningful play experience. A custom playset will impress your guests and increase retention rates, helping you find the perfect design for a smaller playground space.
Contact Little Tikes Commercial today to get started on your custom playset theme and design.