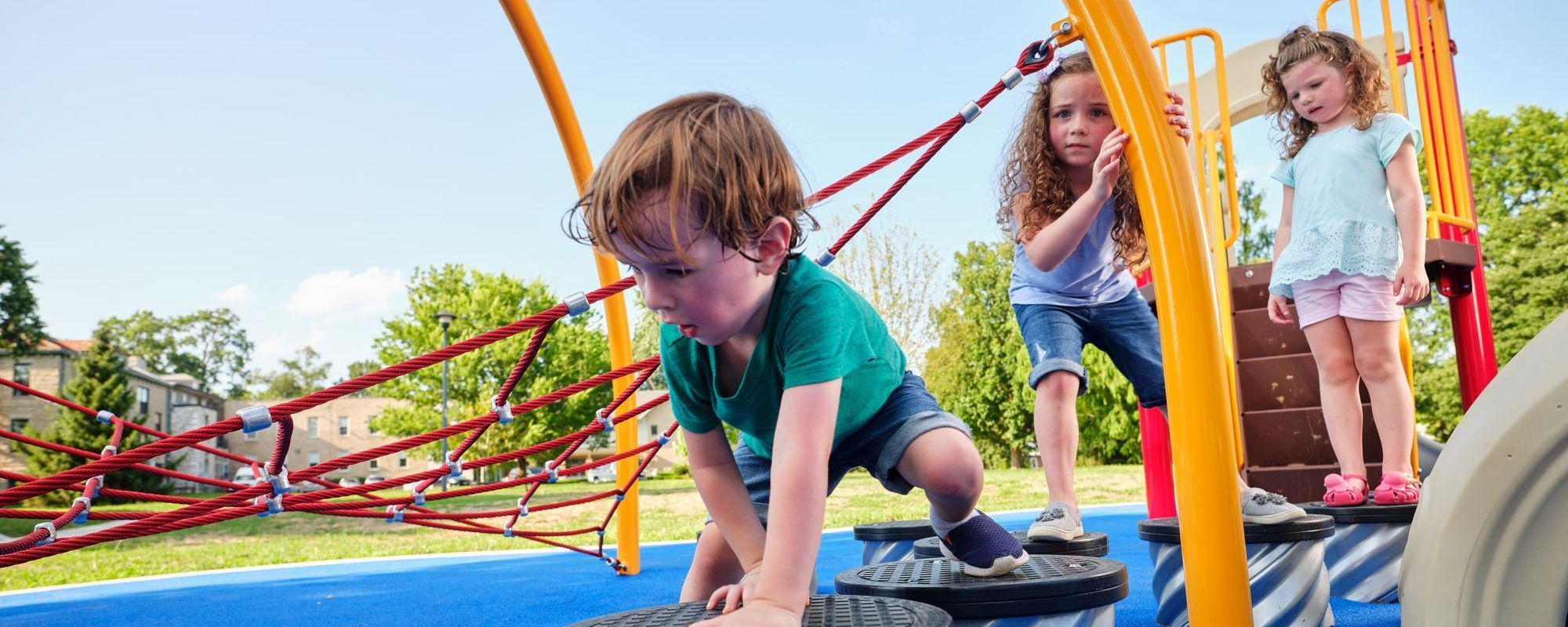 How to Design the Perfect Early Childhood Playground
During the toddler and preschool years, children are discovering the world around them and are learning a lot about themselves, too. They're learning how to use their bodies, how to engage their minds, and how to communicate with their peers. When a child gets to play on a playground, they can further their development on all of these fronts and enhance their physical health, all while simply having a great time.
If you're designing a playground for your daycare, church, neighborhood, preschool, or another facility, you want to capitalize on these benefits through your design. The goal is to create a space where kids can enjoy the very best parts of childhood. In this guide, we'll explain some key considerations to help you design your ideal early childhood playground.
Read the full article or jump to a specific section:
Understanding Children's Gross Motor Skills and Play
Understanding early childhood playground design starts with understanding the purpose of playgrounds for children in this age group. Children of all ages can benefit from the physical activity and social-emotional learning playground equipment encourages. For toddlers and preschoolers, one of the main benefits of playgrounds is the way they help develop their gross motor skills.
During early childhood, many of the activities children engage in that we may simply label "play" are actually helping them develop crucial motor skills. Fine motor skills involve the controlled use of smaller muscle groups in the wrists, hands, and fingers. Activities like coloring or playing with building blocks, for example, can help children develop their fine motor skills.
Gross motor skills involve larger muscle groups we use to move our bodies. Developments in gross motor skills allow babies to begin rolling over or crawling and are what make preschool children capable of playing hopscotch. Gross motor skills children develop through preschool age include physical abilities like:
Walking
Climbing
Balancing
Core strength
Flexibility
Skipping
Jumping
Some gross motor skills, like walking, many children naturally get to practice through everyday life. Active play can help children further develop these skills and can help them practice skills they may not use as often at home.
Various types of playground equipment can target specific gross motor skills, helping children become more adept at moving and controlling their bodies. For example, early childhood playground equipment that incorporates stairs or ladders can help children develop their climbing abilities. A clatter bridge can help children work on their balancing abilities. As children get older, their age-targeted playground equipment should provide new challenges to help them improve their motor abilities.
When kids are playing on a playground, they won't stop to think about whether they're learning critical skills. Instead, they'll simply be having fun. But all the while, they'll be benefiting their health and wellbeing and building motor skills that will prepare them to become more independent.
Playground Regulations and Guidelines
Regulations are a practical concern for anyone looking for the best playground equipment for toddlers or preschoolers. Before making a purchase, know whether there are certain rules or recommendations you should follow. Your state or local parks and recreation department may have standards you need to abide by in your layout and equipment.
You should also take into account the Americans with Disabilities Act (ADA). More specifically, the ADA Standards for Accessible Design outline ways to make shared spaces inclusive for people with disabilities. Including certain surfacing types, ramps, and other features can make your playground more accessible for a wider range of kids.
In addition to, or in the absence of, legal requirements, there are still some best practices and guidelines to note. Look for playground equipment that adheres to certain safety standards from various organizations, including:
View Early Childhood Playground Equipment
Creating Your Playground With a Variety of Play Equipment
To create your ideal playground, consider the different types of playground equipment and play areas you want to incorporate. Research has shown that playgrounds are more likely to draw children and encourage active play if they feature a variety of play facilities. Let's look at some of the most popular choices for early childhood playground equipment.
Climbing Structures
Age-appropriate climbing equipment can help children build their lower-body, upper-body, and core strength and improve their balance, agility, and coordination. Climbing is also an ideal way to develop problem-solving skills and perseverance in the face of a challenge.
Climbing structures for young children might include stairs, ladders with wavy rungs, or loop climbers. Many play structures are elevated, allowing for multiple types of climbing equipment to surround the outside.
Slides
Including slides on the playground encourages young children's sense of adventure. At this age, it's hard to beat the level of excitement kids get from letting gravity and a smooth surface work their magic.
The fun of sliding can also motivate kids to use climbing equipment to get up to the slide. Sharing a slide with other children can help kids learn how to take turns and communicate to determine who can slide first, too.
Swings
Swings are a great source of fun on the playground. Bucket swings are ideal for toddlers who enjoy being pushed on a swing. Children 4-years-old and over use standard swings and begin learning how to swing on their own. The movements involved, like pushing off with their feet, pumping their legs, and shifting their weight forward and back, are all part of why swinging further develops a child's gross motor skills.
Riding Equipment
Riders, also called motion equipment, are another excellent component to include in any daycare or preschool playground designs. Small children can engage their imagination and move their bodies to enjoy bobbing up and down, spinning, or gliding on the playground.
You'll find equipment designed for single or multiple children. For instance, a child can hop on the back of Lola the Snail for some fun independent motion play, or they can join friends on a four-seat teeter.
Activity Panels
Activity panels, also called playground learning walls, include games and puzzles that engage children's minds and senses. These panels are made with bright colors and interesting textures to interest even younger children. Some panels even play music.
Activity panels are great for all kids, including those with limited mobility or other physical disabilities. All children can work together, develop their problem-solving abilities, and have fun with games.
Pretend Play Equipment
Some playground equipment can also help children use their imaginations. Pretend play equipment essentially provides the sets and props to help children bring their imaginary scenarios to life, whether that includes putting on a play, riding a dragon, or playing house.
Through imaginary play, children can develop important abilities, including their sense of empathy, capacity for processing emotions, ability to build connections and interact socially, and higher-order thinking skills.
Free Play Space
Children should also have some open areas where they can engage in free play or simply discover the world around them. Free areas may include sandboxes, open fields, or paved areas. Some children may finish swinging or sliding and want to play hopscotch.
If you do incorporate these open areas into your design, be sure to post signage and include fencing to designate the location as a play space. Add benches and seating so caregivers can watch younger kids as they free play.
Safety Surfaces
The right playground surfacing can make a playground safer and more inclusive for all children. When they have a shock-absorbing surface to move on, kids can move around and play comfortably and easily. Use a type of uniform surfacing, like interlocking rubber tiles or poured-in-place solutions, or loose-fill surfacing materials, like Engineered Wood Fiber, a mulch surfacing designed for playgrounds.
Options for Creating Your Ideal Playground
Once you've brainstormed some preschool playground design ideas and know which types of equipment you want to include in your playground, choose products to bring your vision to life. There are a few approaches you can take to put together your ideal playground:
Choose a complete play system: One of the simplest options is to choose a complete play system. In one connected system, you can get multiple slides, bridges, an activity panel, a climber, a transfer station with safety rails, and more. These systems are designed for specific age groups and may feature fun themes in their design, like castles or treehouses.
Add other components: If you don't see a play system that includes all the components you want or that isn't laid out in a way that works well in your space, create your own layout. One way to do this is to start with a play system and add other components, like swingsets or riders, to the play area.
Put together your own arrangement: Another option for a more customized playground is to put together your own design of individual play components. Use this idea if you're working with limited space and you want just a few pieces of equipment for a small group of children.
Commission a custom design: If you want a completely custom playground, you can commission a unique design that perfectly fits your brand and preferences. For example, the Little Tikes Commercial Custom Design Studio could help a zoo create a wildlife-themed playground or a design that complements a school's colors. In addition to unique theming, this option allows you to have control over the layout of the equipment.
How to Organize an Early Childhood Playground
When arranging your playground, you should consider natural aspects of the space itself and features you will add to make it more functional for both kids and adults. Think through the following factors when creating your design:
Separate areas: If you have equipment for various types of activities, you may want to create different areas designated for these activities. Mainly, you want to separate equipment that encourages active play and equipment designed for more quiet or imaginative play. For instance, you could group swings, slides, and climbing equipment in one area and pretend play structures in another. You can also create group play and individual play areas to organize the space.
Environmental features: Work with the natural environment where you're installing your playground. You can always clear trees or level an area to prepare it to become a playground. But in some cases, you may be able to work around natural features and even incorporate them into your design. You might choose to place a bench under a tree for shade, surrounding it with safety surfacing.
Access points and pathways: Consider how children will approach the play area. A preschool playground layout may include a pathway from the exit students and teachers use when it's recess time. You should also include pathways throughout the play area to guide children in how they should safely navigate the space. Be sure to leave plenty of clearance around equipment to serve as safety zones for kids playing and ones walking by.
Seating and sightlines: Some children may want a break after some vigorous play. Adults supervising children will also appreciate having a place to sit on the playground. A daycare playground layout or any play space designed for small children should include seating in multiple places so supervising adults can maintain a watchful eye on children from multiple vantage points. Playground seating typically takes the form of picnic tables and benches, but you can also use natural features like tree stumps for seating.
Tips for a Successful Playground Design Process
In addition to the main aspects of playground design we've discussed so far, there are some overarching principles that can help you during the process. Consider these tips to help you design your perfect early childhood playground:
Get professional advice on the playground design: If you're feeling unsure about how to design your playground, consult with experts to help. Playground designers understand the benefits of playgrounds for young children and how to unlock these benefits through the right equipment and arrangement. Discuss your project goals with a professional and work together to create your ideal design.
Prioritize health and safety: Health and safety is always top priority for any play facilities for children. Toddlers and preschoolers are still learning how to judge what is safe and unsafe behavior, so — while it's critical that we make children aware of playground safety rules — it's also crucial that the playground itself facilitates safe play.
Consider aesthetics and themes: Playgrounds can be extra exciting when they're visually appealing to kids and adults. In addition to incorporating fun shapes and bright colors, you can also find themed playgrounds. Themed play equipment can encourage children to use their imaginations and can set your playground apart from other more generic play areas.
Know the scale you're working with: Make sure you know the exact dimensions of the space you're working in and note any immovable features you need to work around, like trees. Your ideal design plan and equipment will largely depend on the scale of the space and the playground you want to create. If you have more than enough room, consider how many children you want your playground to accommodate at once.
Consider the play value of the playground: Especially for playgrounds that the same children will use time and time again, it's crucial to create a versatile play space that can continually engage kids. The ideal playground can facilitate a variety of make-believe scenarios and active games and activities so children are excited to play on the equipment every time.
Evaluate your budget: A practical concern to think through is your budget. In addition to the cost of your playground equipment, you may also need to factor in costs for site preparations, permits, landscaping features, surfacing, and installation. If necessary, you can accommodate a smaller budget without compromising quality and safety. You might choose to create a smaller playground or select a more affordable surfacing material, for instance. You can also consider methods for funding your playground to expand your budget.
Invest in quality equipment: Consider investing in quality playground equipment from a reputable manufacturer. No one wants to invest a great deal of time and money into a project only to create a lackluster playground that disappoints kids and begins to rust or peel quickly. Instead, commit to creating a playground that children today and children years from now can thoroughly enjoy.
Quality Playground Equipment for Young Children From Little Tikes Commercial
When you want to create a playground with equipment that is inclusive, safe, durable, engaging, and fun, Little Tikes Commercial is a source you can trust. Explore our equipment designed for children from the ages of 2 to 5 to learn more about the variety of options for this age group. You can also request a quote to learn more about how Little Tikes Commercial can bring your vision to life and help you create the perfect early childhood playground.