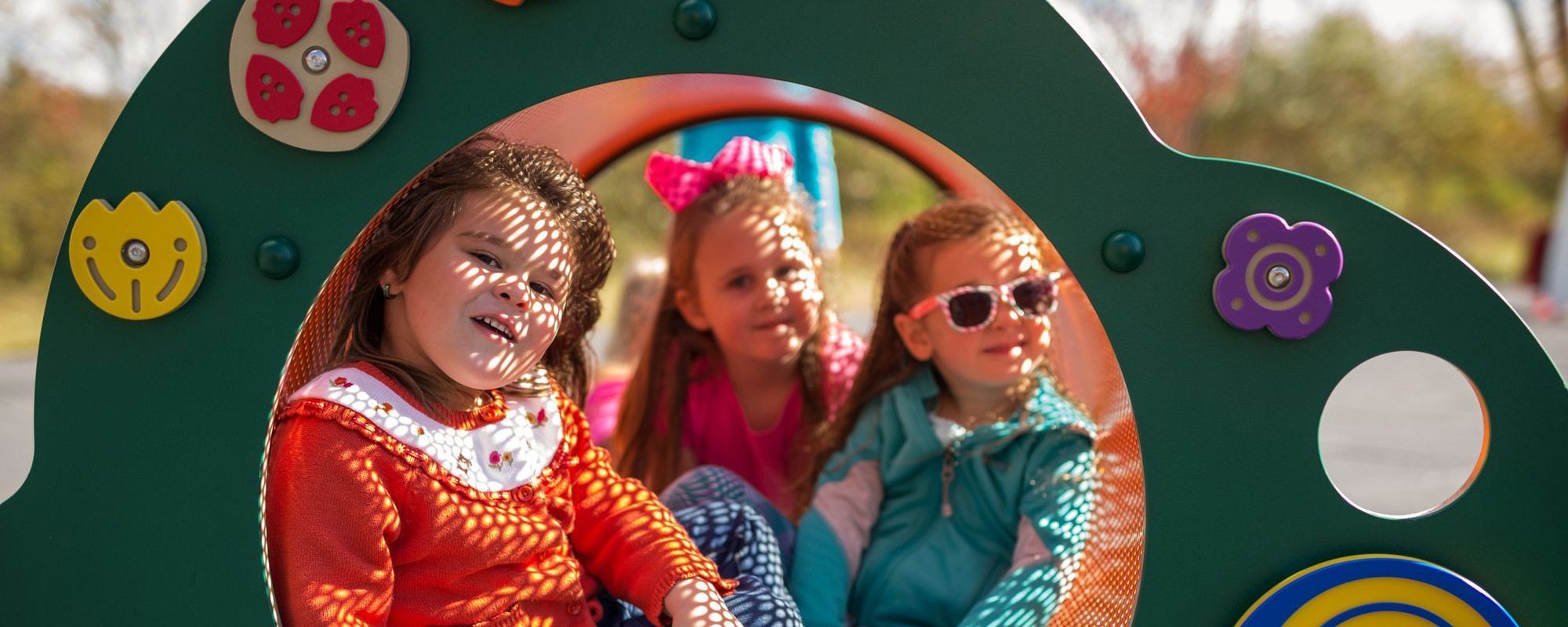 How to Create Playgrounds for Toddlers
Playgrounds are important parts of the community and provide many benefits. However, there tends to be a lack of playgrounds designed for toddlers. Children between the ages of 1 and 3 aren't able to use school-age equipment safely, as they haven't developed the necessary skills yet. They need a specially designed playground that accommodates their ability level and helps keeps them safe.
Read on or jump ahead to a specific section:
The Process of Creating a Playground
Designing a playground can be challenging, so it's important to keep the necessary elements in mind from the beginning. You should start the planning stages of the process several months before you would like it to be open, though working with your designer can give you a more clarified timeline.
Find a Location
First, you will need to find a suitable location for your playground, unless you are renovating a preexisting one. There should be plenty of space and it should be distanced from busy roadways. The best locations have a slight slope that allows water to drain away from the area.
Before you begin the rest of your project, get in touch with the local utility companies to confirm there are no lines or cables underneath the area. You should also contact the local authorities regarding any regulations that will apply to your new playground.
Consider Your Audience
Consider the demographics of the area or the people that will be using the playground the most. The age group of the kids you are designing the playground for will have a huge impact on the entire playground. For example, if you are building the playground at an elementary school, the equipment will have to be appropriate for school-age children. If your demographic is early childhood and toddlers, you will have to consider some extra factors.
Design the Playground
Then, you can start designing the playground. Think about the age group you are aiming for and create a list of elements you want to include in your design. You will typically want to incorporate features like slides, swings, climbers, and more. You can be as detailed with your list as you'd like. For example, if the playground has to handle many kids at once, you will likely note that you need multiple swings, slides, and other popular elements.
You could also choose to have a themed playground to create a fun atmosphere. From pirate ships and underwater adventures to medieval castles and lush jungles, a themed playground is a great way to engage the kids' imaginations. Once you have a general idea of the elements you want to include and some theme ideas for your outdoor toddler playground, partner with a manufacturer to create a final design.
Prepare the Site and Install Equipment
Another critical element is preparing the property for the playground. If the site has poor drainage, you will need to fix that first. Once you install your playground equipment, you can start the process of digging the pit and installing surfacing material. Surfacing material is critical in cushioning the potential falls from the playground equipment.
You have a few options for surfacing material when building a playground. There are loose-fill options, such as rubber mulch or engineered wood fiber. There are also solid surface options, such as pour-in-place rubber and rubber tiles. When designing a playground for toddlers, consider using a unitary surfacing material to prevent curious toddlers from putting materials in their mouths. Whichever option you choose, it should have a depth that is appropriate for the height of the equipment you installed.
Perform Routine Maintenance
Once the playground is complete, you still have work to do. These play areas require regular, year-round maintenance to keep the equipment in good condition and the children safe. Equipment should be checked for sharp edges, loose screws, and rust. Loose-fill surfacing will need to be raked regularly and added to maintain the required depth.
The Benefits of Playgrounds for Toddlers
Playgrounds have many benefits for children of all ages, especially toddlers. Early childhood is filled with development and learning, and playgrounds are designed to facilitate these areas. Kids can learn more about themselves, their capabilities, and others. They will be able to develop healthy habits, become stronger, and stretch their imaginations.
Physical Development
Toddlers and young children should get at least 60 minutes of unstructured physical activity each day. Playgrounds provide all sorts of activities for young kids that can help them develop many physical skills. They can crawl and walk on different surfaces, improving their balance and hand-eye coordination. Climbing short structures helps them develop their strength and other activities can help improve their flexibility.
Kids can hone many different physical skills on the playground as they get a fun workout in for the day.
Health
Active play is an important part of staying healthy. When kids regularly get outside exercise, they are improving their overall health. Physical activity can prevent obesity and many other serious illnesses, such as high blood pressure, diabetes, and heart disease. Exercise builds healthy heart and lung function. Young children who get into good exercise routines are also more likely to continue to exercise as they get older.
Cognitive Development
Playgrounds also help kids develop cognitively. These areas offer unstructured play, which means the child has to choose the activities they participate in and how they want to be involved. This form of recreation develops the child's decision-making skills and gives them a sense of independence. Playgrounds are also great places for imaginative play, which can help improve kids' problem-solving and critical thinking skills as they come up with unique and fantastical situations.
Increased Social and Communication Skills
More often than not, a child will be on the playground with other children. As a result, they will learn how to interact with kids of different ages and backgrounds. Kids will learn how to take turns, share, and respect boundaries. They will get opportunities to have positive interactions with others as they play together or side-by-side. Even if a child chooses to play by themselves, they will still learn by watching how the other kids interact with each other.
Encourage Imagination
Playgrounds are great places to motivate creativity. Play structures often become pirate ships, medieval castles, underwater submarines, or exotic jungles as kids make up fun scenarios to act out. When kids use their imagination, they are exercising their mental and creative muscles.
Important Considerations When Creating a Playground for Young Kids
There are some special factors to consider when creating a playground for toddlers. Most people are familiar with playgrounds for school-age children, but toddlers are not ready to play on much of the advanced equipment those areas include. Some elements to keep in mind include:
Self-Contained Play Area
A toddler play structure should be self-contained and separated from other playgrounds. The playground should be fenced in or have another kind of barrier that will keep the children from wandering away.
Barriers are helpful for preventing toddlers from accessing the playgrounds meant for school-age children since these areas may be too far above their ability level. Fencing also prevents older kids from trying to use toddler equipment and potentially damaging it or injuring themselves and others. There should be signage around the area indicating the age group that is permitted to play on the equipment.
Protection From the Elements
Toddlers can be more sensitive to the elements, especially to high temperatures and the sun's UV rays. When you begin creating your early childhood playground, you will need to plan for including shade structures. After all, during peak hours, the sun can burn skin in as few as 11 minutes! Add shade over some of the playground equipment as well as around seating and eating areas.
Toddler-Safe Playground Equipment
The most obvious difference between toddler playgrounds and school-age playgrounds is the type of equipment that can be used. While you will still see slides and swings, they should be specially designed for younger kids.
Equipment for crawling: Playgrounds designed for infants and toddlers should have plenty of equipment for them to crawl in, over, and under. Crawling is how young toddlers explore and giving them different challenges to climb will help develop their skills. You can include tunnels, playhouses, and ramps, along with themed equipment and sculpted elements that encourage imaginative play.
Short slides: There are special slides designed for toddlers and younger children you can incorporate, as well. Flat steps or ladder rungs should be used rather than rounded rungs. Slides should also have sides and not be taller than five feet. They should be low to the ground and have a gradual slope.
Toddler swings: Everybody likes to swing, from infants to adults. Just like with other equipment, you must separate the swings to protect your playground visitors. The "swinging area" should be distinguished easily with a brightly marked surface. There are specific swings you can order that are perfect for toddlers.
Activity panels: Activity panels, also known as playground learning walls, are designed to provide an educational and stimulating experience for children. Children can move pieces, push buttons, spin wheels, and more with these structures.
More Elements for Toddler Playgrounds
There are a few other elements that should be included in your playground, including:
Access to bathrooms: Early childhood playgrounds should have easy access to bathrooms. Incorporating toilets, a diaper changing area, and a handwashing or hand sanitizing station helps both mothers and children have a comfortable time.
Sturdy railings: Installing durable railings or ledges for toddlers is also a good idea. Children at this age will be able to use them to pull themselves up to a standing position and walk with confidence.
Supervision
All children should be supervised when they are playing on playground equipment. If you are creating a public playground, then it is critical for you to make it clear that adults must stay present to supervise their children. Place signage near all entrances and on the playground itself. Supervisors must be alert, aware of playground rules, and intervene when inappropriate or unsafe behaviors occur.
When activities, equipment, and open spaces are well-designed, it's easier for adults to supervise their children. Consider line-of-sight when designing a playground for toddlers. There should be a seating area for the parents that enables them to clearly see the whole playground from their vantage point.
Little Tikes Commercial Tot Builders
We designed our Tot Builders to stimulate and engage toddlers physically and cognitively, making this equipment a perfect addition to your playground. These innovative playhouses bring excitement and learning to children between the ages of 2 and 5. Our Tot Builders line is designed to promote inclusivity, motion, imagination, independence, sensory stimulation, fun, and family.
Inclusivity: We consulted child development and inclusive play experts to ensure our equipment supports the needs of growing children ages 2 to 5 years, whether they're typically developing or have disabilities. Some elements in our Tot Builders line have openings designed to accommodate kids with wheelchairs.
Motion: Tot builders provide many opportunities for physical activity and motion. Kids will jump, crawl, spin, balance, and climb on fun, themed elements.
Imagination: Little Tikes Commercial Tot Builders support imaginative play through manipulative features and themed elements. We designed them to help bring out the creativity hidden inside each child. Our Community Helpers designs allow children to create their own play story focused around police, doctors, or firefighters. We also offer structures with nature-inspired elements for kids to explore.
Independence: These sensory playhouses encourage a progression of motor skills and help children begin functioning more independently as they build confidence.
Sensory stimulation: Children will get to experience visual, tactile, and auditory elements.
Fun: Toddlers will be having fun while they are developing skills and getting exercise. Tot Builders utilize eye-level play features and integrated spaces designed to prompt interaction.
Family: We designed the Tot Builders line with uninterrupted sightlines to make it easy for adults to interact with children as they play, or to supervise from a distance. Some elements can even accommodate both children and their caregivers.
We offer several fun Tot Builders products for you to choose from for your toddler playground.
Community Helpers
Our Community Helpers designs give kids a stage to emulate everyday heroes like doctors, police, and firefighters. Available with or without the crawl tunnel, these playhouses include whimsical design options and engaging play features for all abilities while incorporating toddler safety for playgrounds. The Community Helpers design is sure to engage kids for hours since it has a dozen interactive elements and an exciting slide.
Playhouse
The Playhouse has plenty of room for multiple children to join in the fun and various spaces for crawling. It's colorful and interactive, and it promotes children's imaginations and creativity as they play with features reminiscent of a real house with all the toddler playhouse essentials you could look for — including a mail slot, doorbell, clock, and grill.
Openings are designed to accommodate a user with a wheelchair and many manipulative elements on the exterior are located at an ideal height for universal access.
Silly Tree
Forest-themed manipulative objects are strategically located all around this tree-shaped interactive playhouse. With rope elements inside the tree and a small bridge for toddlers to cross, the Silly Tree is sure to engage the senses and inspire imagination.
Chattery
The Chattery is a shaded hangout for children and caregivers alike. Each bench is crafted to accommodate users facing in or out for maximum functionality. The roof is designed to filter out excessive sunlight while still providing adequate airflow for maximum comfort.
Truck
The Truck has a generous interior space designed to accommodate everyone. Kids love pretending they are driving with the movable steering wheel, dinging bells, and realistic gear shift. Choose the color of this play structure to create a fire truck, ambulance, or police cruiser designed to engage toddlers as they explore the many interactive features.
Traffic Light
Color recognition and sensory stimulation are key benefits of the Traffic Light element. Children will see the world in new ways as they look through the colored lenses at the environment around them.
Garden Walls
Our Garden Sensory Walls are freestanding elements that can be one-sided or two-sided. These ground-level inclusive elements can have six different inserts that provide various interactions. Choose from the slide and solve insert, a-maze-ing insert, four-the-win insert, funhouse insert, magical music insert, or hypnotize insert. There is also a matching Garden Crawl Tunnel you can add to your play area.
Why Choose Little Tikes Commercial for Your Toddler Playground?
We empower kids to flourish by inspiring wonder and helping them develop important life skills through imaginative play. Our commitment to safety for playgrounds, continuing education courses, advanced materials and manufacturing processes, and sustainability initiatives sets us apart from our competitors.
Commitment to Playground Safety for Toddlers
Part of our commitment to safety is that we weave it into every aspect of our work. Our selection of playground equipment meets or exceeds the performance safety specifications established by leading safety organizations, such as CPSIA, SPSC, ASTM, EN, CSA, and IPEMA. We also actively participate in many of these standard writing bodies. Our skilled design professionals have the necessary knowledge and experience to provide safe play structures that offer the most excitement for children.
Continuing Education
Little Tikes Commercial offers courses for architects, landscape architects, and other construction professionals for free so that you can learn more about playground design while satisfying your yearly Continuing Education (CE) requirements. The ASLA–Landscape Architecture Continuing Education System (LA CES) approved Little Tikes Commercial as an official CE provider.
Materials and Manufacturing Process
Our materials and manufacturing processes contribute to our playgrounds' durability and longevity. Our posts are made of cold-formed, high-tensile steel reinforced by a three-step finishing process that ensures corrosion resistance, durability, and colorfastness. We incorporate a vinyl coating into the decks of our play structures to reduce heat transfer and corrosion. We make our rotomolded products with compound resin that offers superior endurance, color, strength against impact, and resistance to UV rays.
Sustainability
When you buy from Little Tikes Commercial, you can feel confident in the quality of our products and business practices. We continually work to reduce our carbon footprint and we focus on sustainability and continuous improvement. We also use consumer recycled material as much as possible and take care to ensure nearly everything we make can be recycled.
Contact Us Today for a Quote
Little Tikes Commercial specializes in play equipment that encourages imagination, unlocks potential, nurtures creativity, and inspires kids to live a life of wonder. Browse our Tot Builders products and other equipment for children aged 2 to 5 for innovative inspiration for your early childhood playground project. Then, select the products you are interested in, get a quote, and talk with our design professionals to create an engaging sensory experience that helps kids develop important skills.
Have more questions about how to build a playground for toddlers? Check out other articles on our blog or contact a representative today.