Introducing Playgrounds, and Hope, to Children Around the Globe
Play is a human instinct. Even kids who've never laid eyes on a playground know exactly what to do when presented with one.
I've worked for Little Tikes Commercial since 2007, so I'm well aware of the many benefits of unstructured play. Recently, however, I had the absolute privilege to see a playground introduced to a rural community in Ecuador, where some of the children had never seen playground equipment before. It was awe-inspiring for them and me alike.
As Little Tikes Commercial's Vice President of Global Sales for many years, it's been my focus to continue a brand legacy of charitable giving. My team and I have made it part of the Little Tikes Commercial DNA to go beyond the sale and focus on literally changing the world through play. We do this by partnering with charitable organizations that share our mission.
In 2015, Little Tikes Commercial began raising money for Alex's Lemonade Stand, an amazing non-profit organization that fights childhood cancer. For every Alex's Lemonade Stand Play Panel we sell, we donate US$100 to this vital cause.
In 2016, we began a relationship with Unlimited Play, a non-profit that uses universally accessible playgrounds as its tool to rally community members around a higher set of values. Together, we offer certified, inclusive play spaces that support individuals for who they are, not what they can or cannot do.
In early 2019, Little Tikes Commercial began a new relationship with Kids Around the World, a Rockford, Illinois-based non-profit whose mission includes inspiring hope among children by installing playgrounds in poverty-stricken global communities. Kids Around the World seeks out commercial playgrounds due for removal, refurbishes them and ships them overseas for reinstallation. They've installed almost 1,000 playgrounds in nearly 100 countries.
As Kids Around the World's exclusive playground partner, Little Tikes Commercial developed nine playground designs. When a customer buys one of these playgrounds, we donate 5 percent of the list price to Kids Around the World, while offering customers 25 percent discounts off that price. Customers can also sign up for the program while creating their own designs. It generally takes about four playground purchases to fund one global installation.
In December 2021, I joined Kids Around the World as they installed a playground in the tiny, remote community of Punta Alta, Ecuador. After flying from Atlanta to Ecuador's capital city of Quito and another 45-minute hop to Manta in the coastal Manabí province, we took a 90-minute bus ride to reach the town of Pueblo Nuevo.
Part of Kids Around the World's mission is its OneMeal program, which has provided 38.8 million meals in 20 different countries. Each meal includes rice, red lentils and vitamins, and the meal donations help support children for the entire school year. We expected about 100 people to show up for meals in Pueblo Nuevo, but more than 300 arrived, most dressed in their Sunday best. It was truly inspiring.
The next day was our trip to Punta Alta. It was a 60-minute bus ride to the outskirts of the town. To go up the mountain to Punta Alta itself, we hopped into the back of a small, well-worn pickup trucks for the 25-minute journey on a one-lane dirt road.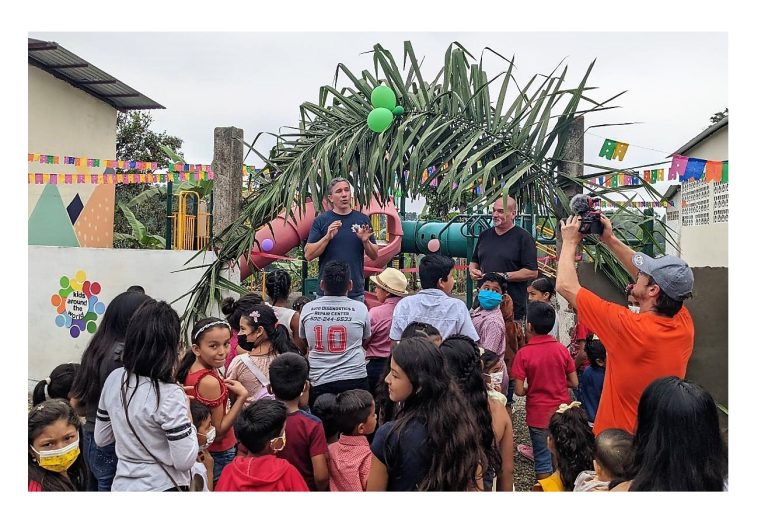 We helped finish the build of the playground as children watched with anticipation. To officially mark the day, we held a dedication ceremony where I was honored to speak alongside Kids Around the World's Executive Vice President Jeff Rosene and Viceprefecta de Manabí Kelly Buenaventura. The community was tight-knit, and most families had three generations in their ranks. They were incredibly welcoming to our team.
As Jeff shared with us at the opening ceremony: "You can travel somewhere and build a house, or a well, and that's very important. But if you build a playground, kids know it's for them." That seems like an important sentiment to reshare, because regardless of the obstacles adults face each day, kids – no matter where they are in the world – deserve to know they're being looked after. They deserve to have hope and they absolutely deserve to experience the magic and wonder of play. Instilling that hope and wonder is how we believe Little Tikes Commercial is changing the world.
After the ceremony, the kids of Punta Alta were finally set free to play, and I won't soon forget the excitement and wonderment on their faces. You don't have to teach a kid how to play on a playground, whether they've seen one or not. It was an amazing sight and, personally, an incredible feeling I will never forget. It makes me proud to work at Little Tikes Commercial.
Punta Alta now has a wonderful playground with a footprint that allows for dozens of kids playing at once. The refurbished playground features a tunnel slide, rock-climbing wall, overhead rings, a fireman's pole and much more!
This was just Little Tikes Commercial's second Kids Around the World installation due to the global pandemic. The world, however, is now moving forward despite these challenges, and so are we. Our sales representatives are excited to make this initiative a part of their own missions. We expect to significantly bolster our contribution to this amazing cause in 2022. In fact, I'm planning to return to Ecuador in April for Kids Around the World's 1,000th playground installation. I'm so excited to share the magic of play with more Ecuadorian families!
Warm regards,



Brett Kidd
Vice President of Global Sales
Little Tikes Commercial