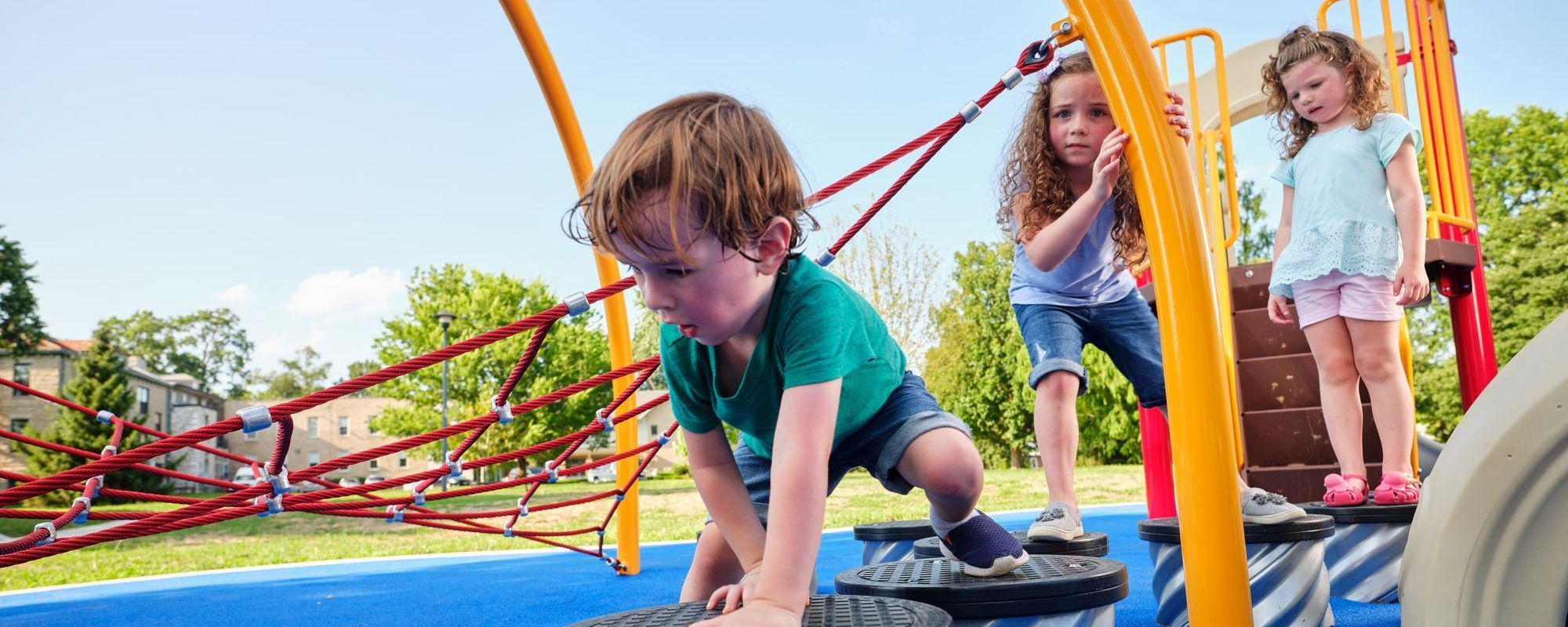 How to Choose Age-Appropriate Playground Equipment
All kids deserve to have safe places to play. However, what's best for a child will change over time. Kids need playground equipment to suit their growing bodies and developing skills. Therefore, most play equipment is designed for specific age groups based on factors like physical and cognitive development. In most instances, selecting age-appropriate equipment is a matter of checking the details of the structure.
Determining whether your existing playground equipment will benefit a specific age group is slightly more difficult. So, you should be prepared to know what to expect from play equipment for certain age groups. This knowledge will help you to create a safe, fun playground for whatever age groups you want to build for.
Why Is Selecting Age-Appropriate Equipment Important?
The intended age group for a playground is important to allow kids to get enjoyment out of the equipment. Kids who play on equipment that does not meet their size or development level may not have fun. If it is too challenging, they may not be able to use the equipment at all, and if it is too simple, they may not feel challenged enough.
Since kids grow quickly from 6 months through 12 years, the equipment they play on will also change over that time. Playgrounds intended for toddlers have very different layouts and equipment than those for older kids. Therefore, you may need to separate play areas for kids up to 23 months from those kids 2 years to 12 so they have space for the widest range of ages. These separate areas can help prioritize safety and create age-appropriate fun for the kids who play on them.
Ease of Separation for School or Daycare Classes
Many schools or daycares have on-site playgrounds. For these locations, choosing age-appropriate equipment is important for giving kids a place to play with their classmates. In these locations, separate play areas are ideal because classes already have kids sorted by age group.
With separate play areas, the teachers can keep their classes together and more easily monitor their kids. For example, a toddler and preschool class at daycare can enjoy their respective playgrounds, keeping the total number of kids on each play area low enough to give teachers a chance to fully supervise all the children in the play area.
Protect Kids During Play
Kids quickly develop new skills as they grow, especially in the ability to walk and quickly react to sudden stimuli. Younger kids may not be as adept at these skills as older kids. Therefore, toddlers on a playground with preschool kids may face potential risks. Separate playgrounds for toddlers and older kids remove this risk factor.
For instance, a daycare with toddlers and preschool kids should choose two playground options, one for a toddler play area for kids between 6 months to 23 months and another for preschool-aged kids with ages from 2 to 5 years. Separate areas protect younger toddlers, who may have slower reaction times and not move as quickly, from older, more developed preschool kids.
Avoid Boredom
Kids need to feel challenged on the playground. If they don't, they may become bored with the equipment.
Installing appropriately challenging play equipment can discourage boredom from occurring. The equipment should have the right sizes and heights for kids of that age group to reach and have fun using. The more fun they have, the more often they will want to play.
When kids want to spend more time on the playground, they will benefit from unstructured play, such as trying physical challenges, creating social connections, and practicing creativity.
Minimize Frustration
Another reason that age-appropriate equipment is vital is that it can minimize feelings of frustration in kids. When children try to play on equipment that is too large or advanced for their development, they may become frustrated and not want to play at all. You don't want to discourage kids from making positive associations with playgrounds. Therefore, you can reduce their frustration by checking that every kid has playground equipment that they can use, regardless of age or ability.
Provide Appropriate Physical Challenges
Age-appropriate play areas give kids the necessary space to engage in the fun on equipment that works for their size and physical development. Ideally, playground equipment should provide kids with a little challenge to increase the enjoyment and to help build their growing set of physical skills. Choosing equipment based on age groups will provide the opportunity for kids to experience the types of challenges that suit their needs.
Encourage Age-Appropriate Social Development
Not all kids will be prepared to socially engage in play their entire time on the playground. Therefore, you should have equipment that keeps kids' social development in mind, based on their ages.
For instance, young toddlers are still working on physical and mental development and focusing on sensory play. They may not have the creativity or social skills to engage in group play. Therefore, playgrounds for toddlers often don't have equipment that requires collaborative efforts for large groups. Instead, these playgrounds promote individual exploration of various sights, sounds, textures, and movements.
Pre-school and school-age kids will likely need to have playground equipment that allows for both group play and individual play. Creatively themed playgrounds can encourage kids to engage in imaginative play with others. Other pieces that require cooperation among children include slides, swings, a Stand 'N Spin, a Team Swing, or the classic tire swing.
What Are Typical Age Groups for Playground Equipment?
The appropriate ages for playground equipment tend to follow children's stages of development and social interaction. Therefore, these age groups often mirror the kids' level of education, which also helps schools and childcare centers to select equipment easily based on the students in their care.
Playground equipment age groups tend to break down into the following age ranges:
Age-Appropriate Play Equipment for Toddlers Ages 6 to 23 Months
Toddlers need plenty of options for building their gross motor skills. At this stage of development, they go from crawling to walking. However, many kids make this transition at different times. So, a playground for kids 6 to 23 months will require heavy supervision from adults who help kids who crawl and those who walk to enjoy the equipment.
Since very small children may not have the ability to climb up large play structures, playgrounds for these ages tend to focus on providing kids with smaller play equipment and sensory experiences. For instance, a Tot Tree is small enough for crawling or newly walking toddlers to move around on. Plus, its bright colors and treehouse-themed design appeal to the visual senses of young kids.
Another way that toddlers can enjoy playgrounds is on equipment that allows them to pull themselves up, crawl, climb, or stand. Options for toddlers include:
Small slides, as seen in the Tot Tree
Climbing equipment less than 32 inches tall
Ramps
Individual swings that use bucket seats instead of belt seats
Playgrounds for Preschool Kids Ages 2 to 5
Preschool children from ages 2 to 5 become surer on their feet. They can move faster than they did as toddlers and have greater strength. Therefore, the playground equipment should reflect these growing developments.
For the younger children in this group, ages 2 to 4, you should still have bucket seats for swings. However, older, 5-year-old children can generally use standard belt swings.
Similarly, climbing equipment for the younger ages within this group should meet the same 32-inch height maximum required for toddler equipment. However, children ages 4 and 5 can generally climb ladders and equipment up to 60 inches tall.
Preschool children also enjoy pretend play. Therefore, make sure to have plenty of options to engage their imaginations. For instance, preschool children love structures that encourage pretend play, such as Tot Builders Playhouses. With enough space inside each playhouse, children can improve creative play and build essential social skills.
Kids this age also continue to explore the world through their senses. Therefore, sensory walls can help them to try out different textures, sounds, and sights. These walls integrate well with other play structures to create miniature villages for children to play in.
Since kids in this age range can have developmentally different needs, close supervision of kids on the preschool-aged playground is essential so kids have fun and use the appropriate play equipment.
Equipment for Most Kids From 2 to 12
Choosing a playground for ages 2 to 12 includes elements for both preschool-aged children and older kids. However, the differences in size, physical abilities, and social skills mean that older and younger kids playing in this type of play area require close adult supervision the entire time. While this type of playground saves space, it requires even more supervision from a competent adult.
Age-Appropriate Playgrounds for Elementary School Kids Ages 5 to 12
Ideally, older kids should have a play area separate from toddlers. Playgrounds for elementary school kids have elements that can challenge all children within the 5 to 12 age range.
Kids within this range can enjoy belt swings and tire swings. They can also use equipment that requires physical effort, such as cargo net bridges, the Gibraltar rock climber, Infinity Loop climber, and Track Ride. The height and extra strength required for these make them too advanced for 2-year-old children or toddlers. But, older kids in grade school can get the challenges they crave.
A major difference in playgrounds for kids ages 5 to 12 from sets for younger groups is the size and use of overhead climbing equipment. These playgrounds allow for spiral slides that turn more than one full 360-degree turn, have taller ladders, cooperative play equipment, and greater fall heights. For instance, the Silo Scramble has a fall height of 8 feet. This is much higher than the maximum equipment height for toddlers, which is 32 inches.
Overhead climbing elements, such as overhead rings or horizontal ladders, are not appropriate for younger kids because toddlers lack the upper body strength to support themselves while doing these activities. Therefore, overhead climbers don't appear in playgrounds for preschool kids or toddlers. Grade school-aged kids, though, can safely play on these elements to build their upper body strength and challenge themselves to move between parts of the play area.
Equipment for Older Kids Ages 14 and Up
Equipment for older kids tends not to include playground elements. Instead, these pieces of fitness equipment are designed for teens and adults ages 14 and up. If installing these pieces of equipment, keep them separate from playgrounds so younger kids don't try to play on these fitness elements.
Fitness equipment is ideal for engaging kids ages 14 and up in an active lifestyle. This kind of equipment is more challenging, so it can be incredibly stimulating. However, do not use this equipment as a substitute for a playground. These pieces are not designed for use by children.
How to Determine if Existing Equipment Is Age-Appropriate
If you already have playground equipment, carefully examine it to see how well it fits into a specific age range. You can also check if your equipment satisfies the most updated requirements for playgrounds. For instance, per ASTM F1951-21, you must have surface material under playground equipment that allows for accessibility to the play area by wheelchairs. Also, verify that the equipment meets the target age range of the kids who will play on it.
Level of Supervision
The amount of supervision required can help you find out the age group your existing playground is intended for. For instance, toddler playgrounds require heavy supervision at all times to monitor that they play safely on the equipment and with each other. Due to different developmental stages, some in this group are not yet walking, so adults will need to closely supervise all toddlers.
Older kids and school-age kids also need adequate supervision at all times. However, they have more physical capabilities than toddlers, so they may have more physical independence.
Preschool children also need supervision in their play areas. However, more supervision is essential for this age group when they play on a playground for ages 2 to 12. Older children may not always respect those in earlier developmental stages. And younger children may not watch out for older children playing. The differences in expectations and abilities could lead to clashes on playgrounds without adequate supervision.
Types of Play
Children have varying expectations for the type of play they want. For instance, toddlers may want to explore new structures and engage in certain physically challenging activities. Play equipment that offers safe yet physically challenging play includes smaller climbers, bucket swings, and short slides. This more physical type of play requires toddlers to have adults help them enjoy the equipment.
Pretend play elements tend to appeal more to preschool children who begin to engage in creative activities at this age. Therefore, playgrounds that have playhouses and similar pretend play elements are typically designed for preschool kids or younger grade school children.
Preschool kids are better adept at crawling because they still have smaller bodies than older kids. Consequently, you will often see crawling tunnels and similar elements closer to the ground for preschool kids. Older kids in elementary school have playgrounds with more climbing elements than crawling tunnels because the climbing parts work better for the older kids' increased upper body strength.
Playgrounds for ages 5 through 12 tend to have components that encourage or require cooperative play. For instance, tire swings are more fun when groups of kids balance each other out on the swing and someone else pushes.
A Maypole is another instance of a playground element that works best when multiple kids use it because they can balance each other out. Several kids grab onto the poles and spin around with their feet off the ground. Because this element requires cooperation and upper body strength, this and equipment like it, are suited for 5- to 12-year-old kids.
Sizes of the Playground Parts
One of the most significant attributes of playground equipment that lets you know the target age of the elements is the size. Each age group has strict requirements for the maximum fall height of parts. Toddlers have much smaller equipment, resulting in shorter fall heights than older kids. Regardless of the fall height, you should have fall material to protect the kids from injury.
Toddler playgrounds for children ages 6 months to 23 months can have climbers, stairs, step ladders, and slides. The height requirements for toddlers for these elements are smaller than for older kids to protect young children from harm.
Stairs to reach slides and spiral slides need to have shorter risers and deeper treads to allow smaller legs to use them. For toddlers, steps on stairs must be equal to or less than 7 inches tall and at least 8 inches deep. Step ladder rungs should be between 5 and 7 inches tall, but this age group cannot have rung ladders. Also, kids in this age group cannot have open treads on stairs or step ladders.
The slides themselves for toddlers need a flat platform that measures at least 19 inches deep. If the slide is a spiral, preschool children and toddlers cannot have slides that spiral more than 360 degrees. Kids ages 2 and up can use slide platforms that measure at least 14 inches deep. These differences allow for younger kids to crawl up to the slide and use more room to maneuver their bodies into position.
Older kids can handle larger fall distances. For instance, preschool kids ages 4 and 5 can have horizontal ladders no more than 60 inches tall. Kids ages 5 to 12 can have taller climbing equipment.
Using the size of the playground elements is not the only way to determine the age intended for the space.
Skill Level Required for Playing on the Equipment
The skill level required for playing on the equipment is another crucial element if you need to determine the age range of playground parts you already have. For instance, toddlers cannot hold themselves up on belt swings. Therefore, they need bucket swings that support their bodies on all sides.
Preschool kids lack upper body strength to use overhead climbing equipment until ages 4 or 5. These older preschool kids may use arch climbers, overhead elements, or flexible climbers. Kids five and older are capable of using challenging overhead rings, track rides, and similar devices that need stronger upper bodies. If an element on the playground requires extra strength and dexterity to use, it likely is aimed at older kids who have developed the physical abilities to take on the challenge.
Choose Age-Appropriate Playground Equipment From Little Tikes Commercial
Little Tikes Commercial has playground equipment for all kids. With product listings that you can sort by age group, finding the perfect equipment is simple. If you see something that you like on our site, contact us to get a quote for it. However, we also know that you might need some extra assistance, especially if you want to customize your playground. That's why we make it easy for you to find a rep.
When it comes to the business of play, we take our work seriously at Little Tikes Commercial. With age-appropriate playground equipment from us, you can help kids to unlock their imaginations and enjoy the magic of childhood.