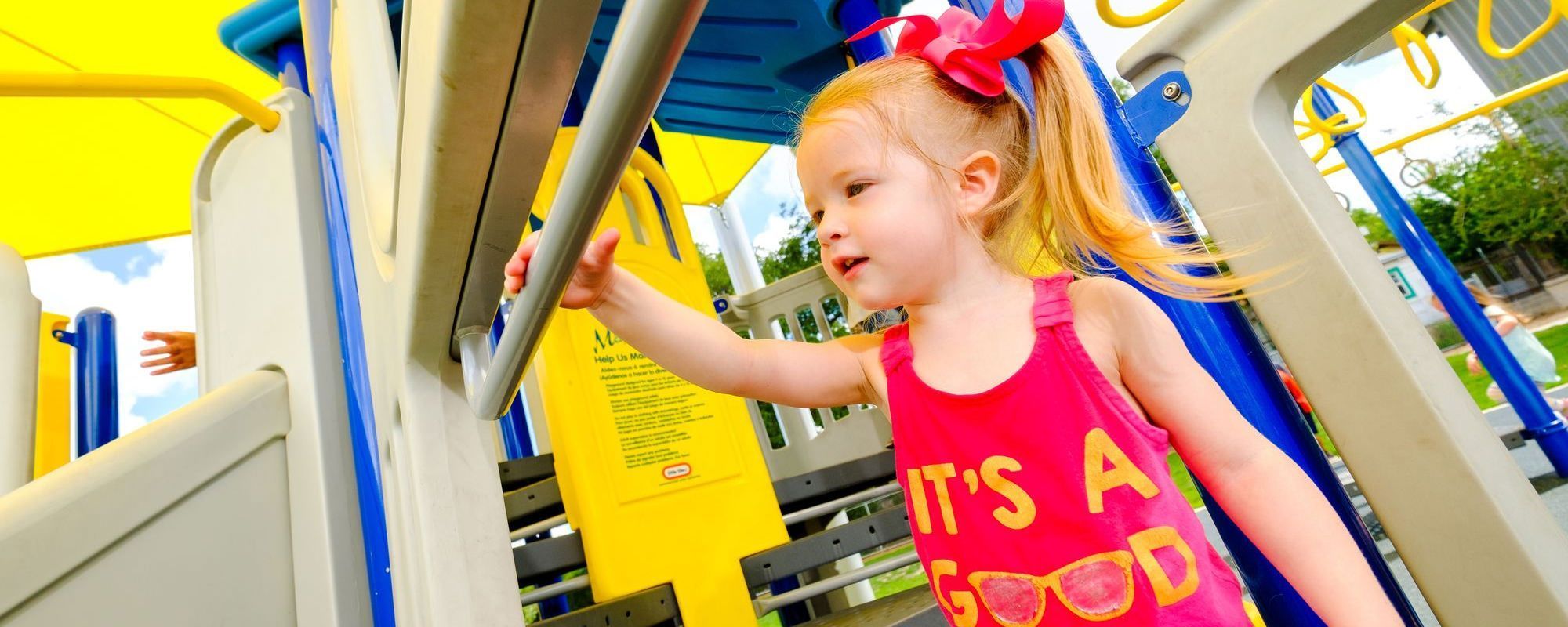 Forms of Exercise on the Playground
Many adults spend plenty of time at the playground, watching and encouraging their children to grow and learn through play. They may not realize they have plenty of opportunities to get involved, too, though slightly differently. Health and fitness are part of many people's lives, and it is possible to design your commercial play area with playground fitness in mind.
Playgrounds can be an excellent motivator for people to get moving outdoors, and outdoor pursuits have many health benefits. Caregivers and children may be looking for new and exciting activities to try. Or, teachers and other leaders could be looking for ways to encourage their students to participate in exercise routines. Either way, you can plan your playground to include outdoor fitness equipment and encourage users to enjoy healthy playground workouts.
How to Work Out on the Playground
Can you exercise on the playground? The answer is a definite yes. While most people think of working out as something that happens in a gym, playground equipment provides many opportunities for exercise. Adding an element of fun into healthy exercise is extremely beneficial for children and their adult counterparts, for that matter.
The equipment they need is there — it's just a question of how users can incorporate it into their exercise routines. Visitors can use different pieces of playground equipment to exercise, including:
Monkey bars: Monkey bars and similar components are workout staples, excellent for pull-ups and chin-ups.
Steps and benches: Users can pump their bodies with these everyday items. Think step-ups, push-ups, triceps, dips, and even jumps, lunges, and squats.
Swings: Kids give themselves a core workout when using the swing without even realizing it. The back-and-forth motion engages the core muscles, helping with strength and stability. For adults, age-appropriate swings and a little imagination could result in push-ups, abdominal walkouts, and more.
Climbing walls: Different age groups can enjoy a full-body playground workout with a climbing wall. They can just start climbing!
5 Playground Exercises for Children and Adults
People of different ages can enjoy a playground workout in your commercial play space, which means everyone who visits gets health and fitness benefits. We've compiled the ultimate full-body playground workout with the following exercises:
1. Step-Ups (Legs)
You'll need an elevated surface, like solid steps, and that's it. You can do this faster to get your heart rate pumping or focus on building muscle in your legs. Make it fun for kids by calling out the number of repetitions or singing a song while they complete the exercise. Step up onto the steps with one leg, step back down, change legs, and repeat.
More advanced fitness buffs can consider stair jumps as a challenging alternative. Stand in front of the steps, bend your knees into the squat position, and jump onto the steps in one smooth movement. This exercise stimulates your heart and engages your quads, glutes, and core.
2. Tricep Dips (Arms)
Once again, all you need for this is an elevated surface. Sit on a bench and grip it with your hands, then slide your butt off the bench, resting your weight on your heels. Lower your bottom to the ground until your elbows are bent at 90 degrees, then push back to the starting position.
3. Monkey Bar Knee Tucks (Core)
Kids will love this one, as they get to use the monkey bars. For adults, this is a fun and effective core exercise. Get into a comfortable position, gripping the monkey bars with your hands shoulder-width apart and your legs hanging down. Inhale and brace your core, then exhale, bending your knees and bringing them up to your chest. Think of this exercise as a hanging crunch. You can encourage kids to participate in monkey sit-ups, complete with monkey noises, to keep things fun.
4. Incline Push-Ups (Arms)
This is an excellent exercise for keeping things interesting for kids and challenging for adults. Use a balance beam component to provide some height. Get into a plank position with your hands on the ground and your feet on the balance beam — this is the start position. From here, you're going to do simple push-ups, lowering your chest to the ground, bending your elbows, then coming back up. The challenge here is the incline — and kids can engage their core while trying to balance and have a good laugh.
5. Swing Flutters (Core)
Kids will enjoy the novelty of this one, which is excellent for strengthening your core and improving your balance. Sit in a swing for your start position, and grab the ropes in each hand. Lean back and straighten your legs. From here, imagine you're in a swimming pool and need to kick your legs, making as little splashing as possible. In other words, flutter your feet.
Fitness Playground Equipment
When designing your commercial playground, an innovative and adventurous approach includes fun ways to explore health and fitness. You can incorporate structures designed to encourage exercise in a fun environment to provide users of various ages with maximum benefits.
Consider adding some fitness playground equipment when you design or upgrade your commercial playground to help encourage exercise in your community. Add fitness pieces like these to encourage visitors to exercise, or create a whole fitness course that includes:
Why Add Fitness Equipment to Your Playground?
Some of the benefits of adding fitness playground equipment to your play area include:
Dedicated space: Encourage playground visitors to use fitness equipment areas for exercise. Fitness components are designed for adults to use, helping keep them off playground equipment geared toward younger kids.
Community access: Your community has access to the equipment whenever needed, which makes health and fitness fun for families and schools to explore.
Improved health: The people you serve can enjoy the benefits of spending time outdoors, like boosts to vitamin D production and fresh air.
Easy incorporation: Accessible fitness playground equipment is easy to incorporate with school sports training programs or religious community health initiatives.
Community culture: A health-focused culture benefits people within your community, and with accessible equipment, they feel at home working out together in your playground.
Promote Exercise in Your Community With Little Tikes Commercial
With people of all ages spending more time indoors, health and fitness in play areas have never been as vital as today. Little Tikes Commercial outdoor equipment can help you bring health and happiness to members of your community with enriching and multifaceted play areas, making exercise so fun they don't even know they're doing it until they get home.
If you'd like to incorporate outdoor fitness equipment into your commercial playground, get a quote from Little Tikes Commercial!