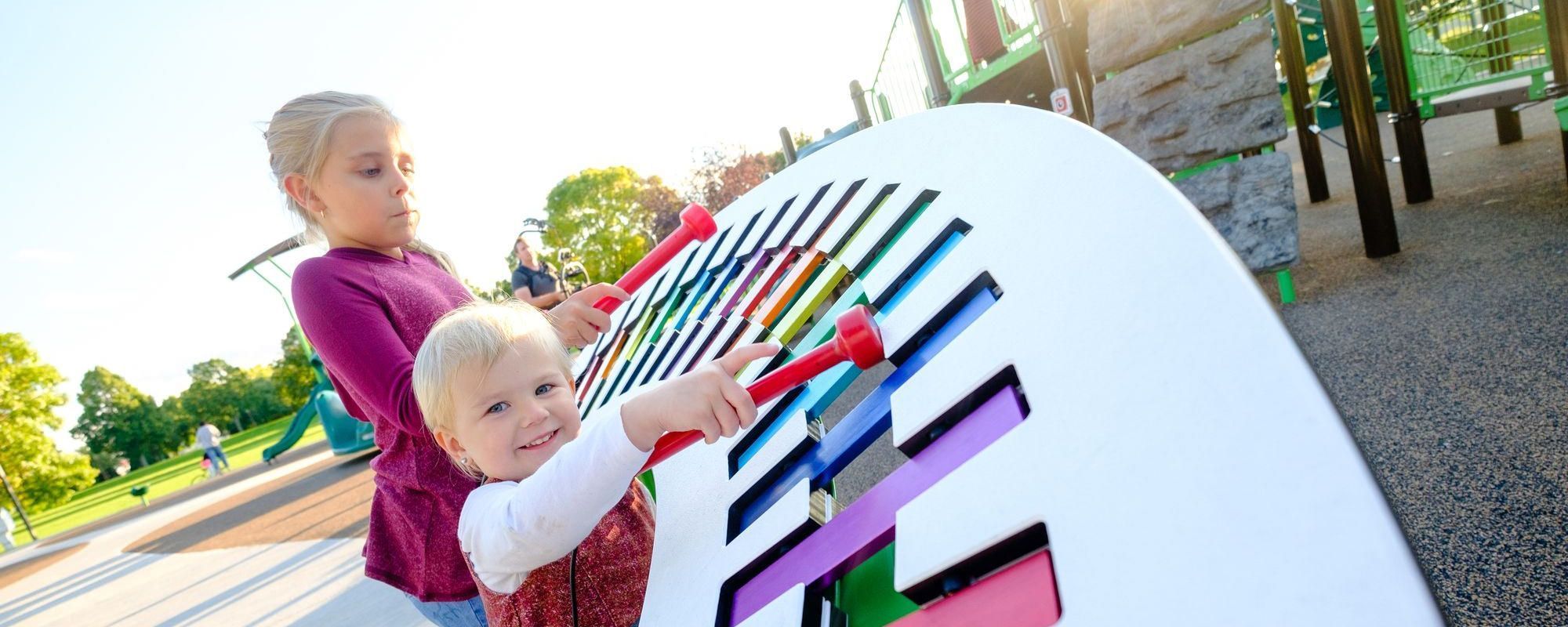 How to Design an Outdoor Fitness Course
Working out is essential for a healthy mind and body, but heading inside to exercise means a lack of fresh air and natural views. Outdoor exercise stations solve that problem for adults and older kids, combining resistance training and cardio opportunities with open, outdoor space.
Made with fitness aficionados in mind, outdoor fitness equipment gives those jogging or biking on trails or at your park or recreation center more workout opportunities. These stations add another reason for people to flock to your site for their outdoor fitness routines. Whether you need to plan fitness options for a new or existing public park, want to add exercise stations to a running trail, or need to augment your recreation center, outdoor fitness equipment provides a unique way to incorporate workout structures.
Tips for Designing an Outdoor Fitness Course
Start small when designing an outdoor fitness course. The first steps should always include planning, budgeting, scheduling, and making equipment decisions before spending a single dollar. Good planning will prevent major problems during equipment installation. By getting contributions from the community on the type of fitness equipment they will use along an exercise trail, you have a greater chance of seeing the workout stations in use long after their installation.
Understand how to design an outdoor fitness course with these steps:
1. Talk to Local Exercisers and Nearby Residents to Establish Need
Outdoor fitness courses benefit adults and teenagers in many settings. These exercise stations work well in neighborhoods, apartment complexes, parks, recreation centers, and places of worship. In all these places, people may go to work out by attending exercise classes, going jogging on trails, or going to gyms. Adults visit these places with fitness already in mind and are likely to be open to the addition of workout gear outside.
Even at sites that do not currently offer workout classes or equipment, outdoor fitness centers can become draws for improving the health of those in the community. By offering exercise stations for adults, you can keep them active in the same way that providing playground equipment keeps their kids moving.
When evaluating the need for outdoor workout equipment, find out what the community wants from the area. Poll those currently using outdoor exercise trails, attending fitness classes, or going to gyms to determine the types of outdoor fitness stations they want to see. Other ways of gauging community interest include using focus groups, requesting feedback at community events, or conducting online surveys. When you know the type of outdoor fitness equipment the community needs, you can plan to design an exercise course that will meet those requirements.
2. Identify Locations for Fitness Stations
Measure the amount of land available to determine if you can build a single outdoor gym or a series of stations along an exercise route. You will need space for each piece of equipment, room for people to use them, and space for safely maneuvering around stations in use.
For centralized sites for all outdoor fitness equipment, consider locations near playgrounds. These sites allow parents to use the exercise equipment after supervising their kids in the play area. This option places the recreational options for the whole family into a central location that everyone can easily access.
If you don't have enough space for a large outdoor gym with all the fitness equipment in one spot, consider smaller stations along workout trails. These stations may include two to four pieces of workout equipment to let runners take a break with resistance training or stretching.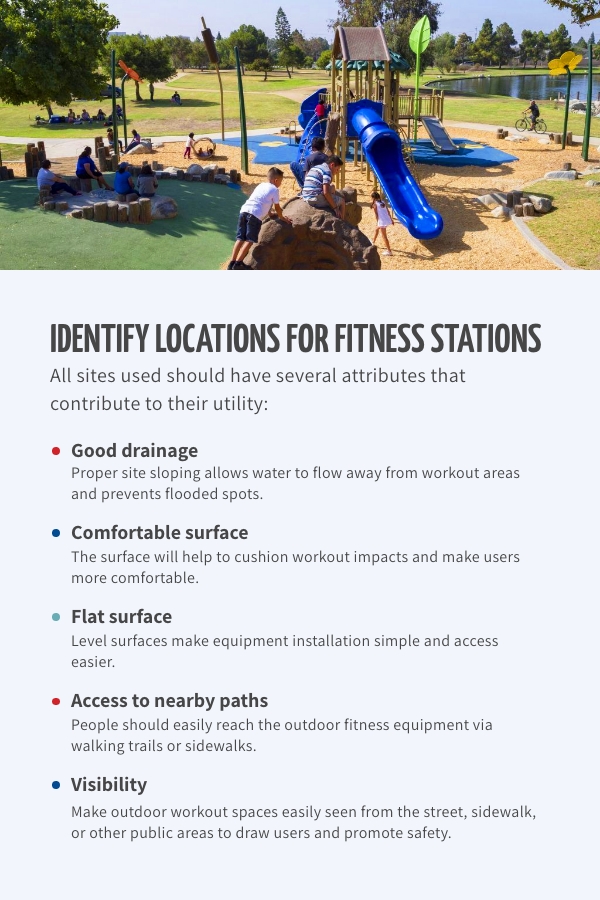 All sites used should have several attributes that contribute to their utility:
Good drainage: Proper site sloping allows water to flow away from workout areas and prevents flooded spots.
Comfortable surface: The surface will help to cushion workout impacts and make users more comfortable.
Flat surface: Level surfaces make equipment installation simple and access easier.
Access to nearby paths: People should easily reach the outdoor fitness equipment via walking trails or sidewalks.
Visibility: Make outdoor workout spaces easily seen from the street, sidewalk, or other public areas to draw users and promote safety.
When using multiple sites along a trail, all sites must meet the above requirements to ensure potential users can find the stations, use the equipment, and return to the exercise trail. When placing all equipment in a centralized location, the site needs more space for extra equipment. It must also meet the attributes of smaller sites to ensure it's easy to reach.
3. Get Permissions Required for the Construction of Outdoor Fitness Equipment
Depending on the location of the equipment, you may need to gain permission from those in charge of park or recreation center design and planning. Discuss with the appropriate authorities the plans you have for adding outdoor fitness course options. Find out where they will permit construction and if you can build a centralized fitness center outside or construct multiple stations along exercise trails.
4. Select Equipment for the Fitness Course
When selecting equipment for the fitness course, if choosing equipment for those ages 14 and up, include signage to deter younger kids from playing on the equipment. If the fitness space is not near a playground, place maps or signs directing parents to the play area for an appropriate place for their kids.
Fitness equipment caters to strength training, cardiovascular, balance, and stretching needs. You can find equipment to cater to all these needs:
In addition to components, you can find full sets with many pieces of exercise equipment in one centralized station, like an all-in-one fitness piece at a gym. This outdoor exercise station combines an ab bench, leg lift or dip, and cargo net for a whole-body workout after finishing all three stations.
When choosing equipment, it's important to remember that each component is a standalone station. Placing related pieces together in the same area augments the experience by providing more options for a complete workout. Certain connectors can also work as standalone stations. Some great examples include:
Stable press
Ab bench
Two step
Station row
Leg lift or dip
Cargo nets, both 5-foot and 10-foot sizes
Monkey bars
Traverse bars
Challenge ladders
Arch ladders
Pullup bars
5. Budget for the Project
Budgeting for outdoor gyms will be slightly different when the outdoor exercise equipment is part of a larger project or a separate addition. When part of a larger project, your budgeting work may need to include input from those in charge of funding the overall project. For installations that are not part of larger construction projects, you may need to create an independent budget only for the site preparation, installation, and maintenance of the outdoor exercise equipment.
Regardless of whether the budget is part of a larger project or calculated separately, include the following:
Outdoor gym design: In the design phase, you can group standalone pieces together to create custom areas for an enhanced workout experience.
Surface preparation: The site's surface will need readying to accommodate drainage, level the surface, ready it for surface material, and prepare the ground for equipment installation.
Signage and additional amenities: Amenities make the exercise area more comfortable, such as water fountains, new paths, benches, and shade covers.
Outdoor fitness equipment: The type of equipment and number of pieces used will contribute to the total for this portion of the budget.
Installation of equipment and amenities: Installation costs typically are calculated separately from the cost of the equipment. Therefore, you need to create a distinct section of your budget for the professional placement of the equipment. Professional installation helps ensure the equipment's safety and the viability of the warranty.
Promoting the new outdoor gym space: Spread the word to the public about the new exercise equipment through social media posts, signs in the area, or website information.
Maintenance for the area: Keeping up maintenance of the equipment and the surrounding areas will include cleaning the sites and checking for damage. Maintaining the equipment is just as essential to the budget as the purchase price when evaluating the return on the investment outdoor exercise stations bring.
6. Obtain Funding for the New Exercise Stations
Creating a budget for constructing outdoor fitness stations may be part of a larger recreation center or park project or a separate project. If the fitness stations are part of a larger project, work with those in charge of financing those components to determine how they will determine the amount of allowed funds and if you need to raise additional money.
In some cases, you may have the ability to pay outright for the fitness equipment, especially if you want to add it to an existing for-profit recreation center, gym, resort, or residential area. However, for many, the cost of installation and purchasing equipment will require outside funding through options like:
Crowdfunding: To raise additional funds for your outdoor fitness equipment, you may consider going online to crowdfund through various platforms. These websites allow people to donate to your cause to help you improve your area through outdoor gym additions. Crowdfunding also increases interest in the project by promoting it before it begins construction.
Phasing: If you will install a series of small stations along a workout trail, consider phasing to build the complete project in increments. This option lets you build each individual station at a time and raise money for the next set of equipment. Phasing can work on its own if you have money trickling into your project on a timeline. Alternatively, you can pair phasing with crowdfunding to pay for each section at a time as people contribute to the project.
Leasing: Another option to help with funding your outdoor exercise equipment is leasing. By leasing your equipment, you can pay for it over time through small monthly installments rather than making one large cash payment upfront. Plus, when you choose to lease, you can even upgrade to more pieces or sets you would not be able to afford by paying upfront.
When purchasing outdoor fitness equipment, always ask about financing or funding options to find out more about your options and which plans you qualify for. Don't let your current cash amounts limit your choices when it comes to installing components for a new outdoor fitness course.
7. Prepare the Site
Prepare the site for the installation of the new equipment. You should have a site evaluation to find out if you need leveling or other land changes. Request utility companies mark the locations of underground pipes, cables, or wires to avoid hitting these when digging holes for installing fitness equipment.
Once you have leveled the site and created better drainage, see if you need to install water and waste lines to serve water fountains or restroom stalls nearby. After preparing the site, you can get ready to dig the holes needed for installing the equipment and nearby amenities. If you will have professional installers, they may take over the work after you have the site properly arranged for drainage and the utility lines marked.
8. Install the Equipment and Amenities
Professional installation of outdoor fitness equipment ensures the pieces will stand upright and remain firmly in place during use. During the installation process, discuss the placement of the equipment with the installers, especially if you will have several stations.
You can group the equipment based on the types of muscles they work. Place the arm exercise equipment in one group and the pieces for leg workouts in another group. Also, have experts install benches, fixed waste bins, and water fountains, as needed at each exercise area.
9. Install Surfacing Material
Once you have the equipment in place, you need to install the surfacing. Surface materials include two main categories — unitary surfaces and loose fill. These materials are the same as those used on playgrounds to cushion falls. However, the choices of surfacing for fitness areas may differ from those on playgrounds.
Unitary or flat surfaces are ideal for accessibility in inclusive areas. These surfaces may consist of poured rubbery material or interlocking tiles and comply with the Americans with Disabilities Act (ADA) requirements. For maintaining the warranty of these types of fall surfaces, you must have professional installation.
Loose-fill materials cost less but have higher maintenance due to the need to maintain a consistent depth. Mulch, rubber nuggets, or wood chips are all options for loose-fill materials.
10. Promote the New Outdoor Fitness Course to the Public
Your target audience may not know about the new outdoor fitness stops unless you promote the stations. There are many ways of promoting the new fitness course without spending a lot of money. First, update your website and social media pages to reflect the addition of the new outdoor exercise stations.
Next, spread the word through signage and word of mouth at your facility. You may encourage people to use the equipment by having a ribbon cutting or another ceremony to set off its official opening.
11. Maintain the Equipment
Lastly, you need to make sure to maintain the equipment and the workout sites. Part of maintenance will be keeping up with the warranty information for the equipment. If something happens that may fall under warranty coverage, you will want to know the details of the warranty period and what it covers before filing for repairs.
Create checklists for maintenance tasks for the workout stations. These lists will ensure maintenance crews complete all required maintenance for each outdoor fitness area.
Change out waste bags as they fill and check them regularly. Also, crews should pick up any loose litter from around the area and remove anything else that should not be in the area.
If your sites have loose fill, have maintenance crews rake it back into place to evenly cover the surfaces. They should also check for signs of damage or wear to the fitness equipment. The durable nature of the static exercise equipment should help them withstand the elements. But doing consistent checks can find early signs of physical or cosmetic damage to the equipment.
With regular maintenance, outdoor fitness courses can provide users with supplemental workouts in the fresh air for years to come.
Design an Outdoor Fitness Course With Little Tikes Commercial Products
Little Tikes Commercial makes more than playgrounds for kids. We also have products to provide recreational areas for adult fitness. Let our professionals help with selecting equipment for outdoor exercise stations and installing them. Find your nearest rep today to get started. If you've already looked over our fitness equipment options and know what you want, contact us to get a quote.