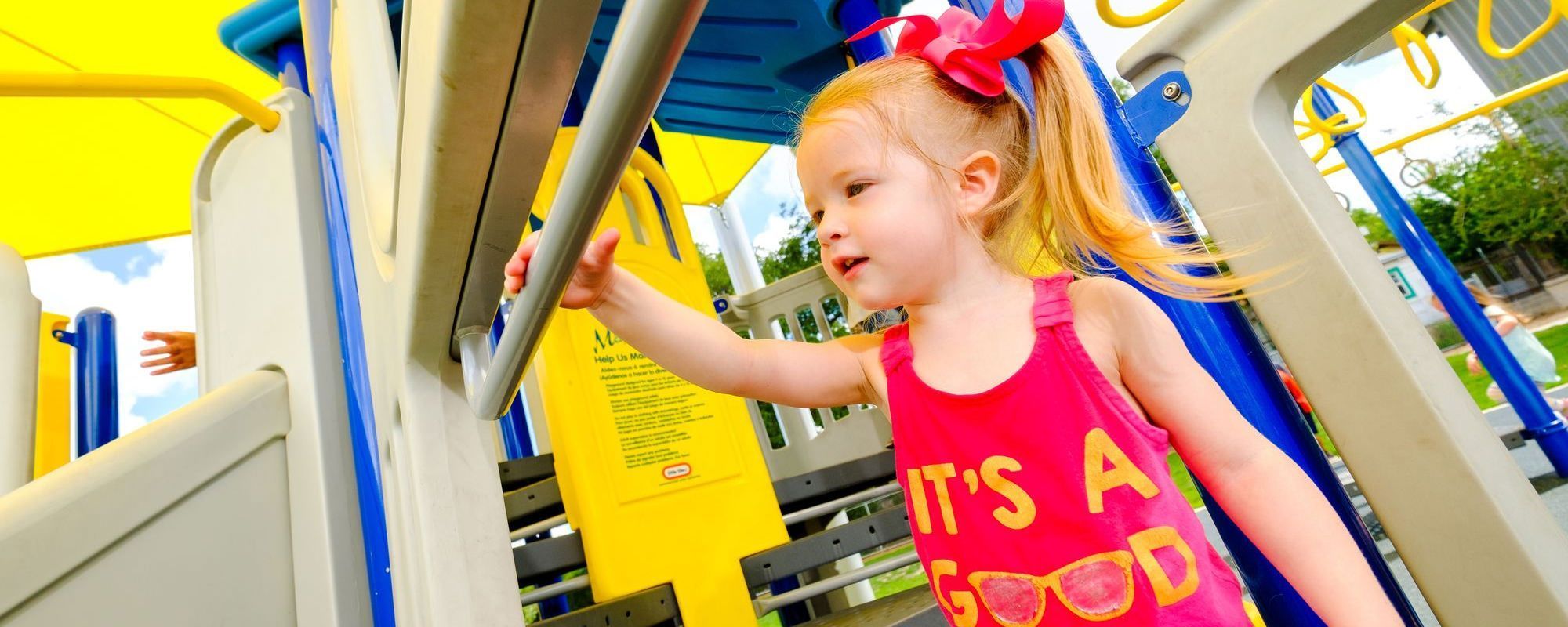 Keep Families Coming Back With a Hotel Playground
Amenities play a key role in hotels when it comes to family and traveler satisfaction. Swimming pools, arcades, breakfast bars, shops, and playgrounds are some of the top items that may come to mind when you think of a fun family-friendly hotel. When families are looking for a place to stay, they'll likely choose the hotel with the most options that allow their kids to enjoy entertaining activities.
These amenities are great for drawing in new customers, but they also keep loyal customers coming back year after year because they know they'll have a fun-filled time at your resort. Over time, these returning customers can help give you a larger return on your investment. Below, we'll examine why playgrounds are so important to hotels for traveling families and how you can install playground equipment at your resort.
Why Are Playgrounds a Desirable Travel Amenity?
Most families look for hotels that cater to children and consider family needs, and playgrounds are a great space for families to go where every member can enjoy themselves. While the kids play, create games, and come up with imaginative tales on the equipment, parents and guardians can sit under a shaded structure or socialize with others on a bench nearby.
The more amenities you have available, the more families you can attract. Adding a playground with a few swings and slides shows your guests you care about them and their children's comfort, which can lead to business growth. Upgrading your property amenities also allows you to advertise them on your hotel website, brochure, or signs around the property. A hotel with playground access can draw in customers from the road who may be looking to stop for a night or two during their road trips.
Additionally, many guests visiting your hotel may be new to the area. Whether they're staying for a few days or two weeks, having a playground on site allows them to have fun without leaving the convenience and comfort of the resort. Playgrounds are also free to use, so it's a great way for parents to work around their vacation budgets and access an activity that doesn't involve paying for tickets or scheduling reservations.
The Benefits of Playgrounds for Hotels and Resorts
A hotel for kids with a playground provides many benefits that allow the entire family to enjoy their stay at your resort and tell their loved ones about your enjoyable amenities. Let's look at the top five benefits of playground hospitality:
1. Attract Families
Playgrounds add value to the overall resort experience because they encourage families to visit and spend more time at your hotel. After all, many families go on vacation to experience quality time with their loved ones, and you can offer those experiences and activities right on your property.
With a custom or themed play area, you can alleviate congestion from the larger number of guests you'll be attracting from your other amenities, such as your playroom or pool.
2. Provide Outdoor Entertainment
Remember, your guests come to your hotel to relax and enjoy themselves outside other activities they participate in around the area. By providing outdoor entertainment for families, you can create a more positive atmosphere in your hotel and keep children happy while their parents can kick their feet up under the shade and watch their children play.
In addition to entertainment, playing on playgrounds helps kids with their cognitive development, social skills, emotional regulation, and many other critical aspects of their growth. An outdoor playground lets them build these strengths while enjoying the fresh air and sunshine.
3. Offer a Memorable Experience
Perhaps one of the most essential reasons you should consider putting an outdoor play area in your hotel is because you can help families build memories they'll keep for a lifetime. As kids are playing and having fun on the swings and interacting with play panels, parents can also enjoy the moment and snap photos of the smiles on the playground.
This means if they come back to your state or town in the future, there's a good chance they'll want to stay at your hotel again and recreate those fond memories.
4. Create a Competitive Advantage
Providing a free play structure for families to enjoy is a great way to take your hotel to the next level and boost your revenue stream. Keep in mind that the more guests you draw in, the more they'll spend at your resort, and the more likely they'll tell their friends about their relaxing experience.
You may even offer professional childcare services at your hotel so parents can take a break and visit the other amenities on your site. With this service, you can charge a fee to take care of the children and use the playground area as the perfect space for kids to have fun until their parents pick them up.
5. Establish a Great Space for Events
Many resorts and hotels host large events, such as business conventions, weddings, parties, and trade shows. With many of the attendees of these events having children, a playground space allows them to bring their kids to the playground and take a break from the festivities.
This option allows kids to remain entertained during big events. During certain events where it needs to be quiet, such as a wedding, a designated guardian can take kids to the playground so parents can enjoy the event without dealing with kids getting antsy or having tantrums. This can result in better behavior for children and allow everyone to enjoy themselves more.
Installing a Playground at Your Hotel
Before adding a play space to your area, you should explore the type of equipment needed to create a kid-friendly hotel playground. You may want to include a wide range of different age-appropriate equipment to accommodate various age groups and families with several children.
You can also install a complete playground structure that suits children ages 2-12 to cover your bases. If you only have a small amount of space for your playground, consider adding in some standalone structures that lots of kids can use, such as:
You can also include other site amenities to add comfort to the area for parents and guardians supervising children on the playground and entice guests to stay longer on your property. Some site amenities that can add value to your hotel include:
Choose Little Tikes Commercial to Enhance Your Hotel or Resort
Building an outdoor playground for your hotel adds value to your property and gives families flexible options for fun activities while on vacation. At Little Tikes Commercial, we're committed to providing our customers with quality commercial playground equipment and letting kids explore their imagination and the many benefits of outdoor exercise. Whether you have a large property or limited space, we can work with you to design and install a playground that delights your guests and keeps them returning for their yearly vacations.
We can bring your vision to life for an entirely custom playground to make your hotel stand out or install a few unique structures to add to your existing play space. We invite you to get a quote for your next playground project or contact us if you have any questions.