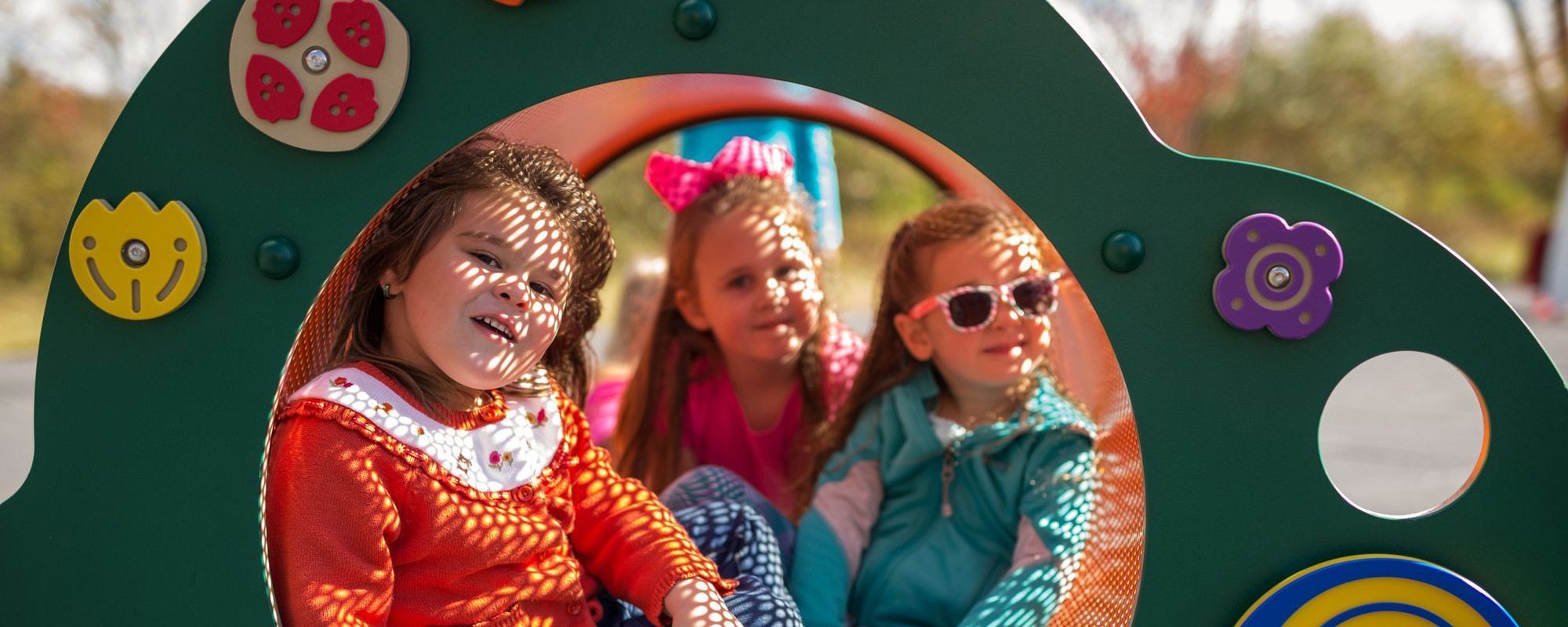 How to Make Your Playground Fun for All
Playgrounds are an important way to help kids develop social, emotional, cognitive, and physical skills. Outdoor, active play is also a great way to help kids incorporate exercise into their daily lives and take in the physical, mental, and emotional benefits of spending time outdoors. With all this in mind, playgrounds should also be entertaining so that kids will want to keep coming back to develop skills and create new memories.
Playground equipment and opportunities for imaginative play should be as unique as the kids who use it. The kids in your community are likely of many different ages and have various abilities and interests. When creating a playground, you have the opportunity to make a space all kids can equally enjoy.
Ways to Enhance Playground Fun
Whether you're looking to update your community's existing playground or create an all-new outdoor play space, you can take several innovative steps to help all kids have fun while they experience the social, cognitive, and developmental benefits of playgrounds.
Here are 10 ways to help your playground cater to all ages, abilities, and interests:
1. Start With the Basics
When you think back to your childhood, you probably had one or two favorite play elements that kept you entertained each time you visited your local playground. Now that you're creating playgrounds for the next generation of kids, choosing play equipment means returning to the excitement of your childhood. Many of the same play concepts you once loved are still adored by kids today. Classic playground equipment is a tried-and-true way to provide a fun play environment that also gives plenty of opportunities for growth and development.
Many playground elements build motor skills and balance, and playing with others teaches kids about the importance of sharing, helping others, and waiting their turn.
Some playground equipment many kids know and love includes:
2. Allow for Creativity
Classic playground equipment is enjoyable, and you can make it even more exciting by adding other elements to your play area. Think outside the box when adding other play structures and activities to enhance kids' creative thinking skills.
Some unique playground equipment you can use to enhance kids' imaginations on any playground include:
Activity panels: Kids can have fun and learn together with a variety of activity panels aimed at increasing cognitive abilities and social skills. Different themes and challenges invite kids to work together to solve problems and learn about the world around them, engaging in subjects like math, science, and music. When kids want to take a break from physical activities, panels are a great way to encourage relaxed yet stimulating play.
Sculpted play elements: Hand-sculpted play elements boost kids' imaginations by letting them climb on brightly colored animals, insects, rock formations, and other figurines. Freestanding climbers offer limitless exploration for kids, who can imagine adventures and make up games while interacting with fun animals.
Entire play structures can also encourage creative play, as every kid will approach them with different ideas. Building a playground with colorful, challenging combinations of slides, swings, ladders, and other elements gives kids an interesting canvas to fill with their own imaginative approaches to play.
3. Prioritize Accessibility
Play should be accessible and fun for all kids. Playground equipment should respect the needs of kids with disabilities and be inclusive so everyone can experience the benefits of active, social, imaginative play. Since playgrounds encourage socialization as well as physical and cognitive development, it's crucial that communities make all playgrounds inclusive.
The Americans With Disabilities Act has created several guidelines to ensure all playgrounds are accessible to kids who use wheelchairs or other mobility devices. You must not only follow accessibility laws but exceed them in order to make your playground an inclusive feature for your community. You'll want to make sure your playground has features that are welcoming and interesting for kids with spectrum disorders such as autism or hearing or visual impairments.
Some inclusive playground equipment includes:
Many activity panels are also accessible. You can install chair-level panels for fun collaboration between kids with and without wheelchairs. Sound and music panels also encourage sound processing, which can be helpful and entertaining for kids developing verbal skills, as well as children with vision impairments or auditory processing disorders. Mirror panels encourage self-confidence and ocular motor control, and panels with tactile activities help kids with visual or hearing impairments work with others to discover a new dimension of play.
Accessible playgrounds also benefit parents and caregivers with disabilities. Playgrounds are an opportunity to bring community members of all ages together. You'll want to make sure all adult caregivers can easily accompany their kids as they play, and that they have a relaxing, accessible space to rest and supervise.
Creating an accessible playground can spark a major change in your community. Kids will love the many play opportunities. Your playground may even inspire community leaders to take other actions to make other local facilities more accessible to everyone.
4. Create Designated Quiet Areas
Kids with multiple interests and needs should have multiple play areas best suited to different types of play. As long as all areas are ADA accessible, playgrounds can include different aspects for various activities.
The classic play structure will probably be a large area of your playground. Along with typical playground equipment, consider creating an open space for different kinds of active play, such as sports or games. You may also want to consider grouping together noisemaking equipment such as musical instruments, as well as collaborative features like activity panels.
Additionally, quiet areas let kids wind down from energetic play, and these also make playgrounds more inclusive for kids with disabilities. Playgrounds can be naturally noisy places, with kids using their outdoor voices and equipment echoing and making noise during play. For kids who get overwhelmed by too many stimuli, loud noises might discourage them from wanting to play.
Including a quiet play space further away from loud noises gives kids a chance to decompress. Specific structures, such as the Quiet Grove, reduce overstimulating sights, sounds, and smells so kids can keep having fun with stress-relieving activities in an environment that simulates the soothing elements of nature.
5. Cater to All Ages
Play is important for childhood development at all stages. Kids benefit from an optimal balance of comfort and challenge. They should have access to equipment and games they're familiar with and can easily use, while also having occasional access to new stimulation in the form of appropriate mental and physical challenges as they grow older. Play becomes more complex as kids grow, and playgrounds should provide multiple levels of play to ensure all kids can have fun while encountering interesting learning experiences.
To encourage age-appropriate play, make sure your playground has enough elements to entertain and challenge multiple age groups. Some play structures may be too high or advanced for younger, smaller kids. Kids usually develop crucial motor skills in their toddler and preschool years and may not have the strength, flexibility, and balance skills to conquer more challenging equipment until they're older. Giving younger kids equipment that's easy to climb on and not too far off the ground will help keep them safe while giving them entertaining obstacles.
Older kids, however, might want more of a physical and mental challenge from their playtime. To welcome different age groups, you can separate your playground into different sections. A common age distinction is play equipment for kids 2-5 years old and components for kids 5-12 years old.
Labeling these sections with signs can help kids and caregivers clarify what will be the most fun for them. Keeping these sections in separate areas but close together can also help caregivers keep an eye on multiple kids of different age levels.
Since playgrounds are also a great way to facilitate play between kids of multiple ages, equipment designed with certain age groups in mind should still be available for all kids to use. Most kids will naturally gravitate toward the equipment best suited for their age and skill level, but, under adult supervision, they'll also feel free to migrate to different equipment if they're up for more of a challenge.
6. Add Rest Areas
While the term "playground" indicates a place for active play, these areas should welcome many types of recreation and leisure for people of all ages.
Parents, teachers, and other adult caregivers often spend as much time at playgrounds as kids do, supervising their activities. Sometimes, adults will help guide their kids through playground equipment, but they're usually on the sidelines, catching their breath from a potentially hectic day.
To help make supervising adults more comfortable at your playground, add a variety of site amenities. Comfortable benches let adults sit and rest while socializing with other caregivers. Picnic tables are great for the adults and kids to eat after a day of play.
Kids will also benefit from places to step away from playground commotion. If they want to read a book or color a project, they can do so. Tired kids can relax for a few minutes, and sitting areas also encourage caregivers to remind kids to drink water, apply sunscreen, and rest in between high-energy activities.
If space allows, you can cluster multiple benches and tables together to create a defined rest area. Be sure these areas are in the shade for added comfort.
7. Add Shade Structures
To help make your playground more welcoming, safe, and comfortable, consider adding shade structures. Many playgrounds lack the benefits of natural shade. Installing extra shade elements to your play area can be an enticing feature to make your playground stand out.
Shade structures come in various sizes, colors, and styles. You can choose shade canopies to match your playground, and install a group of structures at various heights to accommodate taller play structures, individual play elements, sitting areas, and more. Or, choose a canopy with a wide coverage area to encompass your whole playground at once.
Shade structures have many benefits, including:
Sun protection: Shade structures block up to 96% of the sun's UV rays, reducing the chance of sunburn for kids and adults alike.
Cool temperatures: Because of shaded air circulation, temperatures under the canopies can be up to 20 degrees cooler than unshaded areas.
Constant shade: The overhead designs and slanted, peaked canopies of shade structures provide full-area coverage for most of the times the sun is in the sky.
Equipment protection: Shade structures help protect equipment from fading in the sun so your community's playground stays bright and colorful for years to come. To keep your playground shades in great condition season after season, remove them before heavy snowfall or other harsh weather events.
Kids will love playing under these interesting, expansive canopies, and adult caregivers will appreciate having a cool place to sit and rest out of the sun.

8. Make Space for Additional Toys and Activities
Another important element for developmental creativity is the distinction between structured and free play. Play without specific rules, such as kids using play structures as the foundation for imaginative games, is important for fostering creative thinking. However, kids can also benefit from activities like sports and other games with defined rules and parameters. Structured play helps kids learn skills such as following rules, waiting their turn, and working with others to achieve a common goal.
Imaginative play often includes toys and found objects kids incorporate into their games. If space allows, create an open place for kids to play with active toys such as jump ropes, hula hoops, and balls. If your playground is part of a school or other organization with designated playtimes, consider investing in equipment specific for outdoor play. Or, if your playground is part of a free-use park, create signs that invite kids to bring their own toys.
9. Welcome Artistic Interests
While playgrounds are great for providing opportunities for active play, kids have numerous other interests they should have the chance to explore. Some kids may want to spend their free time playing sports or climbing on play structures, while others may sometimes welcome the chance to sit quietly and engage in other types of creative pursuits such as drawing, coloring, reading, or writing.
Rest areas provide the perfect environment for quiet, artistic play. Picnic tables made from plastic lumber boards provide a flat surface for kids to draw or color on. Additionally, rest areas and quiet play spots give kids the opportunity to talk quietly with each other or read a book.
Depending on the type of space you have, you may encourage other forms of artistic play. Sidewalk and blacktop surfaces are perfect places for chalk doodling. An outdoor chalkboard is an accessible alternative that's just as fun and can serve as an ever-changing mural to decorate your playground.
If your playground is on the grounds of a school or other facility, you can provide chalk to kids at playtime. Or, if your playground is at a public park, post a sign encouraging kids to bring their own chalk.
10. Add Themed Elements
Just as playground equipment helps kids with physical growth and development, certain themes can also be a fun way for them to learn about the world around them and facilitate imaginative play. Giving your playground a theme can help it stand out in your community, as well.
Playgrounds are the perfect settings for themes, giving kids the chance to interact with tangible elements and act out the scenes in their imaginations. Some common themes include:
Nature: Incorporating nature themes into your playground provides a great opportunity for teachers, parents, and other caregivers to teach kids about the world in a way that seamlessly integrates playtime with an appreciation of nature. Nature-themed playgrounds inspire kids to explore the world around them and develop a lifelong interest in plants, animals, and environmental conservation.
Dinosaurs: You can take kids on an educational and exciting prehistoric adventure with a dinosaur-themed playground filled with pterodactyls, eggs, dinosaur bones, and more!
If you're interested in additional themes or want to create an all-new playground unique to your community values, consider a custom design.
Create an Exciting Playground With Little Tikes Commercial!
Here at Little Tikes Commercial, we know the value of active, inclusive play for every kid. We also recognize the importance of playgrounds that are fun for all guests, from kids with various interests to adult caregivers who appreciate spaces to relax.
With our wide variety of playground equipment, sun shades, and site amenities, we want to help you find exactly what you need to make your playground suit your community's needs. To get started on your playground design, we invite you to find a local representative. Or, if you already have some equipment in mind, Request a quote today!