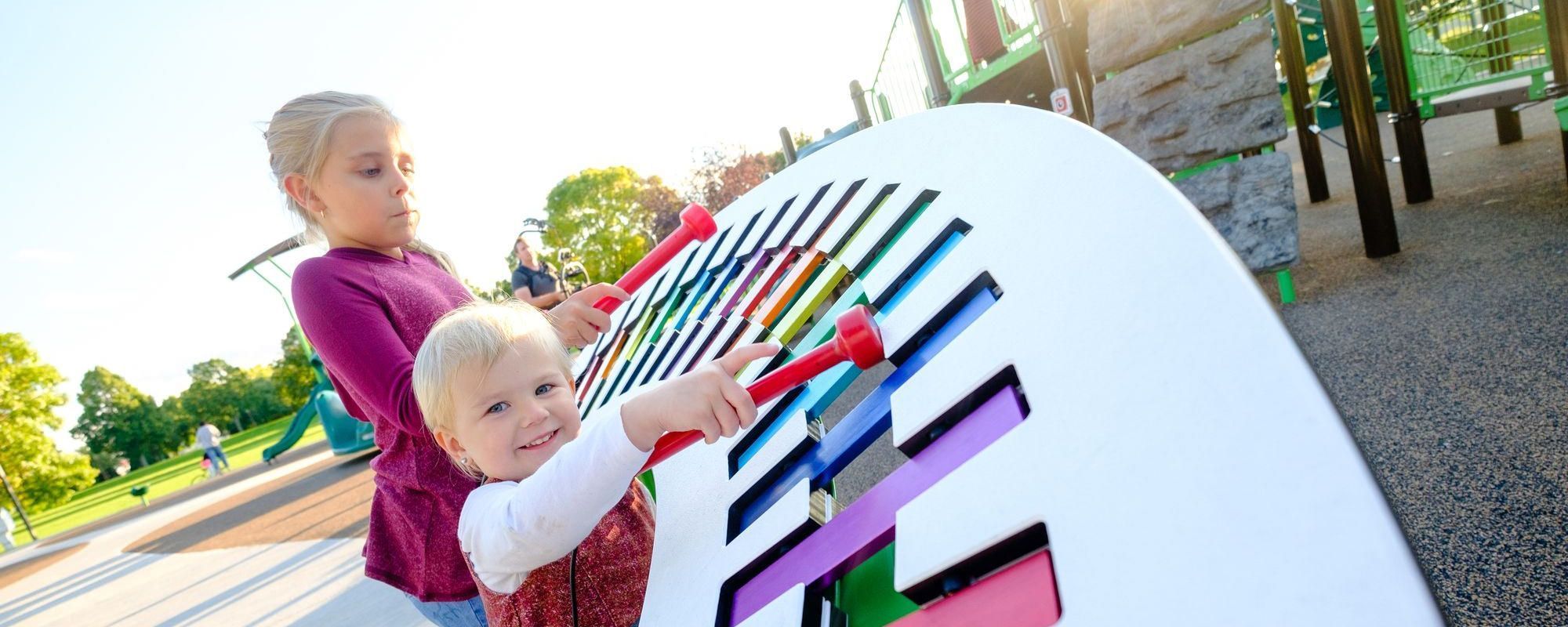 Playground Climbers Buying Guide

Commercial playground equipment is designed and built specifically to meet a wide range of physical capabilities and offer high-quality playtime. While there are endless benefits to classic playground structures like slides and swing sets, climbers are a great way for kids to build up their physical strength and cooperate with other kids while enhancing their development. Climbers can also help kids improve their hand-eye coordination, motor skills, concentration, and creativity.
Playground climbers are extremely versatile and are available in many different colors, themes, and sizes, making them the perfect addition to any playground. Consider adding playground climbers to your school, daycare, or community park for endless fun.
What Is a Playground Climber?
Playground climbers are classic, multipurpose equipment that come in a variety of shapes and sizes for kids to scale. Climbers encourage kids to use their developing strength and muscles to climb up, down, and across various configurations and features. With handrails, bars, nets, rungs, or fun-shaped rocks, kids can discover their own capabilities as they navigate across, up, and down a climber. Kids of all ages love to climb and explore different equipment, and climbers are appropriate for almost all age groups.
Playground climbers designed for older or school-age children will accommodate their bigger size and challenge them to climb vertically or scale bigger structures. On the other hand, younger kids can still benefit from smaller climbers that accommodate their shorter arms and legs but still give them a fun challenge. This type of equipment is the perfect physical activity that enables kids to use their cooperation and imagination while improving their balance and many other skills.
Climbers are a beneficial addition to any school, park, daycare, or community as freestanding or attachable structures because they keep kids engaged. Many different themes and levels of difficulty are available for climbers, making it exciting for kids to use creative thinking as they work on their own or with others to get to the top of the structure. Kids can use different strategies to overcome the challenge of climbing and feel excited and motivated to try new ways of approaching this equipment, engaging them in outdoor play.
Types of Playground Climbers
What playground climbers should you include in your playground? Keep in mind many different options may fit well in your design. Climbers help encourage creative and physical play, so fun, bright colors may be the way to go. You can also opt for a specific theme, shape, or structure that matches your existing equipment. Either way, the option you choose should incorporate all of the age groups that will be on the playground. Here are some of the best climbing equipment options for playgrounds.
Freestanding Climbers
Freestanding or individual climbers come in many different styles and sizes that can accommodate all age groups, playground sizes, and difficulty levels. You can spruce up your current play structures by adding freestanding options in open spaces or replacing your old ones with new, thrilling structures.
There are many themes to choose from, such as nature or animal-themed sculpted play elements, like a bunny climber or tree log climber. These climbers let kids interact with nature and environmental elements while engaging in age-appropriate challenges that help them improve critical thinking and balance.
You can also choose from different boulders to encourage rock climbing, such as the Fun Rock, Tri-Rock, or Jungle Rock climbers. Tunnel climbers are another option that allows younger kids to explore and play closer to the ground. Freestanding climbers are perfect for areas of open space where kids can climb up and down at different points without obstruction from other equipment.
Overhead Climbers
Overhead climbers are a great way for kids to build their upper body strength. Structures like monkey bars, climbing bars, or fun-shaped challenge ladders encourage kids to try new activities that they may never have experienced before. These climbers are usually reserved for older kids with longer arms and stronger muscles to hold them up as they climb across the equipment.
Net Climbers
Net climbers are perhaps the most versatile type of climber play structure because they can accommodate nearly any type of equipment. Net climbers are available in freestanding and complete structures — such as the NU-Edge® GSX climber — that are perfect for physical activity and teaching kids how to climb. If you are looking to expand your playground to incorporate a larger group of kids, net climbers are an adventurous, durable feature.
In addition, net climbers vary in size, so they can add to your playground as a small, singular climber for accessing platforms or as an individual play structure that won't take up too much space. Net climbers are some of the best playground climbers because they excite kids and encourage them to use their creativity and imagination.
Dome Climbers
These are classic types of climbers that often come in a geometric dome shape with triangle or square net ropes for handholds. These curved shapes and patterns are suitable for multiple kids at once because they have plenty of space and room for different access points. Dome climbers offer a great balance of fun and physical challenge, making them the perfect climbing activity.
Quad Climbers
Quad climbers provide multiple climbing paths for kids to climb up and down to build their skills and become stronger. Like many kids climbers, quad climbers are available as extensions for complete structures that allow kids to access a higher platform or as freestanding options. Whatever fits your needs, quad climbers are an exciting way to encourage balance and teamwork.
This type of equipment is great for adding to your existing play structure climbers if you have limited space.
Bridge Climbers
Bridge climbers are a popular addition to any structure as an extension or standalone climber. Kids can learn how to get from one side of a play structure to another by crossing a bridge. Bridge climbers feature many different materials, such as chains, ropes, or wood, so there are plenty of options to choose from to create a thrilling and challenging atmosphere. Plank or chain bridges are perfect to place in between two platforms, while rope bridges — like the Floating Ladder — are ideal for freestanding structures.
Web Crawlers
Web crawlers are exciting for kids to see as they make their way on the playground. This freestanding structure has a fun shape that allows kids to climb up, down, across, or under its ropes. Web crawlers are available in a simpler, one-sided shape for smaller locations or a double-arch shape that allows several kids to climb at once. The NRG Double Web Crawler can be a great addition to any playground looking to add in more climbing options.
Climbing Walls and Panel Climbers
Wall climbers are another traditional type of playground equipment that encourages physical activity in the form of an exciting adventure. Climbing walls and panels are attractive to kids and offer a unique style of play and a dynamic agility obstacle. Kids can build their upper body strength and learn to rely on their instincts when choosing which climbing holds to grasp and propel them in their desired direction.
Some great options for these types of climbers include the Stacked Timber Wall and the Treehouse Climb. These climbers help kids learn to focus on their goals and achieve them while having fun and exploring new heights.
4 Considerations When Buying Playground Climbers
As with any playground equipment, certain considerations must be taken into account before adding climbers to your location. Here are four important ones for playground climbers.
1. Location and Size
Climbers come in many different shapes and sizes, but there must be plenty of space around them for easy access. Kids should be able to engage in physical activity on a climber without colliding with another nearby structure. The location of your climber is also important because the ground underneath it should be soft or rubberized for extra comfort and stability for the safety of children. If you are unsure which climbing equipment is suitable for your playground, get in touch with a sales representative for more information.
2. Age Group
Always consider the age group that will be playing on the playground equipment. For instance, if your daycare has an age range of 2-5, it wouldn't be a good idea to choose a climber meant for ages 5-12. Separate age groups should have their own play equipment, giving every kid the opportunity to use equipment that is meant for their size and physical capabilities.
3. Material and Quality
For durable, high-quality equipment, make sure you get your climbers from a reputable, trustworthy, and experienced company like Little Tikes Commercial. The material and quality of your playground equipment climbers are important, especially for longevity, maintenance purposes, and child playground safety. It's essential to build your playground only with a credible provider.
4. Present and Future Needs
If your playground is located in a school or community park, it's a good idea to consider the evolving needs of your equipment. Even if your school or local park has a small number of young kids, those kids will eventually grow older and need accommodating equipment. Kids' interests also change over time, and they expect bigger challenges and more complex structures as they get bigger themselves.
Play areas meant for older and younger kids should remain separate so every kid is using age-appropriate equipment to maintain child safety on the playground. However, your budget may not allow you to provide two separate play areas. While buying or repurchasing separate equipment can fit some budgets, there are plenty of options to bring your design to life. Considering future needs, you can also add a complete structure to your playground for ages 2-12 that encompasses the needs and desires of a wide range of ages.
In addition, you should also verify your playground has inclusive play equipment for kids with mobility devices or special needs. This provides every child with an equal opportunity to experience the joys and benefits of outdoor play.
5 Benefits of Playground Climbers for Kids
Climbing on a playground provides more benefits outside of fun, outdoor playtime. Climbing structures enable kids to reach higher and experience the adventure and thrill of getting themselves to the top. Free play is essential for all kids, and there are many different developmental skills and capabilities they build and strengthen as they climb. If you want to include playground climbers in your playground, take a look at the many benefits they provide for kids.
1. Learn Social Skills
Climbing provides excellent opportunities for kids to engage with others their age and create competitions while developing their imagination and creativity together. Climbing structures can hold multiple kids at once, allowing them to work together to get to the top and encourage each other. These experiences can help kids learn and practice their social skills, such as:
Learning to express their emotions.
Improving self-reliance when scaling a climber by themselves.
Learning to overcome a fear of heights.
Increasing their awareness of others' thoughts and feelings.
Coping with stress when faced with challenging tasks.
Developing trust with others and learning how to share.
Building confidence when working through obstacles.
Engaging in communication through behaviors and words.
Climbers are a great way to motivate kids to work together and celebrate each other's accomplishments. Cooperation enables kids to practice listening, communicating, and teaching — which are all necessary for emotional and academic development. Climbing allows kids to have regular interactions with others as they engage in physical activity or wait their turn to climb, improving their emotional regulation and self-control. These essential skills can also help them as they mature within their social development.
2. Improve Physical Capabilities
Adding climbing playground equipment to your playground means that kids will be able to practice their coordination, balance, strength, and other physical capabilities. Climbing requires kids to use many different parts of their bodies to pull themselves up, across, or climb down. It also encourages kids to use their arm, back, and leg muscles while exercising their upper-body and core strength. Other benefits of climbing playground equipment include:
Improving cardiovascular health.
Building agility and speed.
Increasing heart rate.
Facilitating developmental skills.
In addition, climbing enhances visual perception when kids look to see where to place their hands and feet. This skill can help them learn to be more aware of their surroundings and implement caution when stepping or grabbing onto a structure. Physical activity also improves fine and gross motor movements as kids engage their entire body and wrap their fingers and hands around bars or handholds on climbers.
3. Practice Decision-Making and Problem-Solving Skills
When climbing, kids have the opportunity to overcome a challenge or solve a problem by using logic to figure out how to get to the top and back down. Climbing is particularly beneficial when starting at a young age because it helps engage their brains to adapt to new environments. Kids can practice their decision-making skills and learn how to use their determination, focus, and concentration to get them to reach their goals.
These benefits can also help with problem-solving skills, as kids learn what works and what doesn't work as they grasp handles and step up or across the climbers. Think of child climbers as a physical puzzle that kids have to solve — using memory and reason to determine what actions they should take to complete the challenge. Kids will also learn to visualize solutions to an activity that requires a sequence of actions.
These decision-making and problem-solving skills can also help them in the classroom when they come across a question or task that requires them to learn a new skill or rely on memory. Playing and exploring are essential for stimulating brain growth in early childhood. As kids exercise their bodies, they also exercise their minds, helping them learn and grow in many ways.
4. Enhance Sensory and Spatial Awareness
Climbing is beneficial for supporting vestibular and proprioception growth, which helps build essential sensory skills like spatial, directional, and body awareness. When kids climb, their proprioception senses help them determine the amount of force needed to use arm and leg movements or where to place hands and feet. Vestibular senses help kids learn about their bodies in relation to gravity and how to interact with the space around them. Strengthening these skills can support other essential functions like standing and walking.
Climbers present challenges that help kids learn to coordinate their body movements and stimulate their visual and tactile senses. This type of equipment has varying levels, inclines, and distances between handholds and footholds that provide the perfect opportunity for kids to discover new movements. These challenges will enhance kids' ability to effectively navigate under, over, or through different objects when they climb.
Swinging, pushing, stretching, and pulling are some of the muscle movements that kids can use to reach different handholds or rungs that will benefit them during other activities on the playground.
5. Build Confidence
Aside from the mental and physical benefits, kids can gain confidence when climbing, which makes them want to try other new things. Climbing presents just enough of a challenge that may not be easy to achieve at first. Even if some kids cannot immediately conquer the climber, persistence and determination can motivate them to keep trying until they do.
Check out Little Tikes Commercial Playground Climbers
There are endless benefits to climbing on outdoor equipment, and finding the right one for your playground is the first step to providing fun, exploratory play. You shouldn't have to settle for less-than-quality equipment, which is why Little Tikes Commercial offers climbers for kids that are designed to stand the test of time.
Whether you are looking to expand your existing equipment on your playground or create a custom-built experience to suit your needs, you can find the perfect addition at Little Tikes Commercial. Every type of playground climber we offer provides different social, physical, emotional, cognitive, and developmental benefits for kids of all ages.
If your older age group is seeking growth and is looking for a challenge, our PlayStax® and Sky Builders® structures are sure to excite them as they can climb in several different ways. If your daycare or school tends to younger kids, consider our Play Builders® or MaxPlay® structures that are more equipped to meet their smaller hands and feet. Complete structures allow you to maximize your playground space and include fun activities for everyone.
Independent freestanding structures are also a great option that allows multiple kids to use them at once. Freestanding structures can add that extra opportunity for social and physical development your current structures may be lacking. No matter your budget, we can help you find the playground equipment that will stand the test of time and offer exciting experiences for all kids. Browse our climbing equipment to see which styles, colors, and themes are right for your location and needs.
Contact Little Tikes Commercial for Your Next Playground Design
At Little Tikes Commercial, we know how important it is for kids to build their physical, social, and sensory skills during outdoor play. The possibilities are endless with climbers and other equipment that enable growth and development for kids of all ages. You can choose from a wide array of climbing products in various sizes, structures, and colors that spur creativity, imagination, and a love of the outdoors for the little ones in your school, daycare, or community.
Our playground solutions inspire and provide benefits that make playtime enjoyable. To learn more about our climbing products and other commercial playground equipment, contact a sales representative today or request a quote online to start your next playground project.