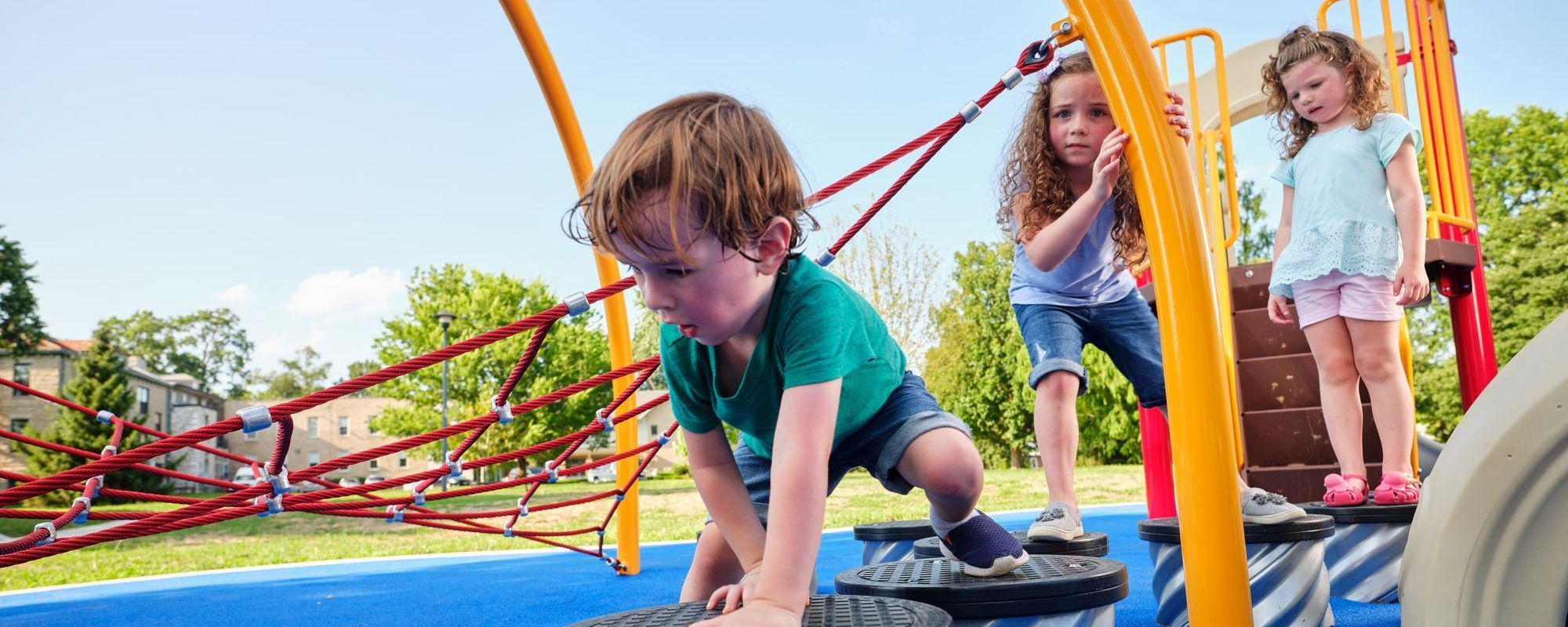 The Importance of Site Amenities for Playgrounds
It's easy to forget about site amenities when designing complex projects like playgrounds and public parks. These elements have an enormous impact on visitor experience.
Investing in a functional space is a great way to attract and retain more visitors to playgrounds and parks. Additionally, installing site amenities in spaces like outdoor break areas or school campuses can promote social interaction and outdoor time — crucial elements of people's health and mental wellbeing.
Consider, for example, a picnic table. Many families will bring a packed lunch when they go to the park. Without tables or benches to eat at, they're likely to leave for lunch — or the rest of the day. If you provide picnic tables and a shady spot for people to sit, they're more likely to stick around for more extended periods of time.
Read on or skip to a specific section:
What Are Site Amenities?
Site amenities are features that improve the functionality of a space. They add extra comfort and practical benefits to your space, whether that be a public park or an office complex. You could have the most beautiful community park in the world, but the amenities you choose to install can often make or break the visitor experience.
Consider a beautiful public park with no place to park your bike or throw out your trash. You'd have to chain your bike to whatever trees or other freestanding objects are available, and you'd need to hold on to your waste until you leave. Without amenities, public spaces are less convenient and welcoming to guests. Installing amenities on your site encourages visitors to stay longer or come back more frequently.
The Benefits of Site Amenities
Playground site amenities enhance a space by providing people with clean places to kick back and relax. The most significant benefits of site amenities for playgrounds include:
More visitors: Site amenities improve the visitor experience, which makes people want to return to your site again and again.
Improved hygiene and safety: Keeping your park clean makes it safer for your visitors — for example, installing trash cans helps keep trash off the ground, which prevents children from picking up these items and improves the appearance of your park. Additionally, shade structures help protect visitors from the harmful effects of UV light, like sunburn.
Enhanced aesthetic appeal: The right outdoor furniture can complement your space's design and make it appear more welcoming to visitors. You can even customize your amenities to match your location's color scheme.
Popular Site Amenities
Some amenities are site-specific and work for niche applications, like playgrounds or daycare centers. Other site amenities can be used in a variety of spaces to provide increased comfort and functionality.
The following site amenities are useful for different settings, from schools and businesses to community parks.
Shade Structures
Canopies and umbrellas provide extra protection from the sun and a cool place for people to socialize. For many spaces, you can take advantage of natural shade to provide additional comfort to your guests. For areas with full sun exposure, a covering is a better choice.
Installing a full canopy shade is the best option for covering large spaces, such as playground structures or whole patios. For smaller dining areas, you could place umbrella-style shades near each table to provide a covering while sticking to your building's aesthetic.
These structures also make rest areas more comfortable. Parents and caregivers can keep cool while watching their children play. Coworkers can carry on a conversation over their lunch break without squinting at each other.
Outdoor Furniture
Outdoor furniture, like benches and picnic tables, encourages people to linger. Tables turn otherwise empty spaces into study spots or dining areas, and benches make waiting areas and rest stops more comfortable.
The most important things to consider when choosing outdoor furniture include:
Accessibility: Americans with Disabilities Act (ADA)-compliant tables with open sides allow people in wheelchairs to sit directly at the table rather than going through the trouble of maneuvering into a seat.
Material: Choosing suitable material for your outdoor furniture helps it last a long time. Heavy-duty plastics or coated metals are your best choice, as they will resist rust and are easy to clean.
Trash Receptacles
Trash receptacles are a necessity in any public space. After all, litter is as much an environmental hazard as it is an aesthetic one.
Here are some tips for choosing the right trash cans for your space:
Material: Choose receptacles made from high-quality plastics and coated metals so they can last a long time.
Appearance: Outdoor trash cans come in many different shapes and sizes, so you can easily find one that suits your space. A colorful, unconventional design best suits playgrounds and schoolyards, while a sleek, traditional can looks best in commercial settings.
Cover: Covering your garbage cans helps keep your space as clean as possible. You can buy new trash cans that have built-in lids, or you can place new lids on your existing trash cans. Either way, keeping outdoor trash receptacles covered helps prevent wind from blowing trash out into the rest of the park, helps keep animals and insects out, and helps reduce odor.
Of course, all these factors also apply to choosing a recycling bin. Use signage or choose recycling bins in a different color than your trash cans to indicate which bin is which. Traditionally, recycling bins are blue and trash cans are black or gray. Place recycling and trash receptacles next to each other so visitors don't need to travel between bins to throw things out properly.
Bike Racks
Biking to work and school has become more popular in recent years due to concerns about health and the environment. Make your commercial outdoor space more bike-friendly by installing bike racks near building or park entrances, trailheads, and any rest areas.
In addition to providing a place for people to park their bikes, a well-designed bike rack can create an interesting visual piece for your space. For example, a rack with a rounded, modern design would be a suitable choice for a playground near a public garden or commercial space.
Choosing the Ideal Amenities for Your Space
Site amenities are important for more than just playgrounds. They're essential additions to any commercial outdoor space — anywhere people will be spending long periods should contain at least some of these amenities.
When evaluating which amenities are right for your space, consider the following:
Function: Knowing your space's purpose is important for choosing equipment that will fit your needs. For example, if you're creating a relaxing rest space, you'll want outdoor furniture to provide a comfortable seat and shade to keep people cool.
Aesthetic: You want to choose amenities that match the overall look of your site. You can also choose custom colors for outdoor furniture like tables and benches to complement your brand or your playground equipment.
Available space: Make the most of your area by thinking about how you can fit site amenities into your existing space rather than configuring the space to fit your amenities. If you're looking to add outdoor furniture to a school courtyard, consider how you can take advantage of elements like greenery and natural shade to create an area where people will love to spend time.
Quality: It's important to choose the right materials for your space so pieces last a long time. Partnering with a high-quality equipment provider also helps you get durable amenities.
Budget: While quality will ultimately be the most important factor in your decision, you also have to pay attention to your budget. Choose the highest-quality items within your price range for the best results.
Of course, the amenities you need will also depend on who will be using them. Early childhood centers have significantly different needs than playgrounds at community or commercial spaces. Keep your typical users in mind when determining what pieces to purchase.
Schools
Adding site amenities to your school grounds can greatly enhance the student and faculty experience. Some popular amenities for schools include:
Bike racks: Many students and faculty ride their bikes to school, so it's important to provide a secure place to store them during the day.
Picnic tables: Installing picnic tables in a playground, courtyard, or patio provides students and faculty with a comfortable space to eat or study while enjoying the fresh air. Plus, if teachers want to hold class outside, they'll have surfaces readily available.
Trash cans: Closed trash receptacles enable you to maintain a clean and beautiful campus by reducing litter and keeping pests away. Place your trash cans in areas where litter is most likely to build up, such as the outdoor entrance to the cafeteria or outside sports fields.
Benches: Installing benches throughout your campus provides places for students and faculty to sit while waiting for the bus, watching sports games, or supervising younger students on the playground during recess.
Community Parks
People visit community parks for many different reasons, from attending sports games to spending the day with their families. With so many different activities happening at once, you need to provide a variety of amenities to cater to everyone.
Popular site amenities for community playgrounds and public parks include:
Picnic tables: Install multiple picnic tables under a pavilion or shade structure to create a comfortable picnic area for people to dine. A picnic area also provides an excellent venue for patrons to hold events like birthday parties and sports games.
Bike racks: Bike racks provide a stable place for cyclists to lock their bikes up while they enjoy their time at your park. Choose racks that have enough space for multiple bikes, as families are likely to place their bikes on the same rack. You can also install several racks so multiple visitors have a spot.
Trash receptacles: Placing trash cans near restrooms, playground entrances, and dining areas is a great way to eliminate litter and keep animals from interrupting the visitor experience.
Hand sanitizer stations: People touch a lot of the same things at community parks. While you can invest in antimicrobial coatings for playground equipment, you may not be able to coat other surfaces. Hand sanitizer stations encourage visitors to keep their hands clean and help stay safe.
Benches: Installing benches around the perimeter of a playground provides parents and caregivers with a spot to watch their children as they play. It can also give other visitors a place to rest and enjoy the shade.
Barbecue grills: Revive traditional family cookouts by installing on-site charcoal grills. A quality grill will have a coating that is resistant to high temperatures. Look for grills with a Consumer Product Safety Commission (CPSC) certification — you'll know you're getting one that can stand up to heavy use.
Athletic equipment: Older kids and adults can enjoy their time at the park just as much as younger kids enjoy the playground. Outdoor fitness equipment can be a major draw for community members who want to make the most of their time outside. Additionally, creating spaces for visitors to play sports, like basketball or volleyball courts, can draw local athletes to enjoy your park.
Dog amenities: Many people bring their dogs to the local park. If you have a lot of open space available, consider implementing amenities like a dog fire hydrant or a leash rack.
Clear signage: Maybe you have two separate play areas for different age groups, or maybe you just want to welcome visitors to the park. Either way, placing thoughtful signage can help new guests feel more comfortable navigating your space.
Daycare and Early Childhood Centers
Like with schools, site amenities can help enhance playgrounds and other outdoor spaces at daycares. Use amenities suited for early childhood and staff with the following pieces:
Outdoor tables: Picnic tables provide a suitable place for kids to color, paint, or have a snack outside. They're advantageous for daycare providers because outdoor furniture is much easier to clean than indoor tables and chairs. These areas also give staff a place to sit and monitor kids as they play.
Buddy Bench: A Buddy Bench is a great way to promote inclusivity and foster friendships during playtime. The idea is simple — when a child feels lonely or excluded from the playground, they can go to the Buddy Bench to signal to their peers that they'd like to be included.
Play shade: Protect small children and staff from UV rays by installing shade structures over your playground and rest areas. A large canopy-style shade is best for covering whole structures, while smaller umbrella-style shades can cover individual tables and benches.
Hand sanitizer stations: Easily accessible hand sanitizer helps kids keep kids' hands clean, which can significantly reduce the risk of spreading illness within the daycare.
Corporate Buildings
Outdoor amenities can enhance office complexes by making courtyards and patios more hospitable for employees. Turn an otherwise empty garden into a thriving company break area by placing amenities such as:
Outdoor tables and benches: Sleek outdoor tables and seating can transform an outdoor area from the office building courtyard to a welcoming, comfortable place to take a lunch break. Two-person tables and long benches promote interaction between coworkers, which can help employees recharge between tasks.
Bike racks: Accommodate employees who ride to work every day by providing a safe space for them to store their bikes while they're working. Many different styles are available, so you're sure to find one that suits your office building.
Shade structures: Make outdoor breaks more comfortable by installing single-post play shades near benches or tables. Or you can create a cool pavilion by installing a large canopy or awning over the whole area.
Campgrounds
Camping is all about enjoying nature. But you can make the great outdoors even greater for your guests by adding the following amenities to your campground and play area:
Picnic tables: While many enjoy eating around a campfire, picnic tables make mealtime much less messy, especially for families with small kids. Give campers the option to enjoy their food at a bench or table to reduce mess and increase comfort. At a campground's play space, these areas give adults a place to relax and families a place to enjoy a snack before playing again.
Grills and fire rings: Classic foods like grilled hot dogs and s'mores are essential to any camping trip. Installing barbecue grills or fire rings throughout your campground gives guests places to gather around a fresh-cooked meal.
Benches: Install benches around communal areas like fire pits, playgrounds, or lakes to provide campers with a place to gather after a long day of activity.
Walking Trails
During a long walk or bike ride, you'll often need to stop once or twice to use the restroom, have a snack, or rehydrate. Installing the following site amenities can make the experience more enjoyable for visitors and maintain your trail's good condition:
Trash cans: As with any other outdoor space, you need to prevent garbage from building up on your trail. Litter poses a risk to the environment and any nearby wildlife, and it also deters people from wanting to visit. Placing trash receptacles along the trail or covering existing trash cans is crucial for reducing litter accumulation and keeping natural habitats safe.
Benches: Sometimes during a walk or a jog, you need to take a little break to retie your shoelaces or drink some water. Place benches along the trail to provide spots for hikers to stop and rest when they need to.
Dog waste stations: Pedestrian dog walkers need places to deposit their dog's waste while they're on the trail. You can place additional trash cans specifically for waste along the trail with signs or diagrams to encourage people to throw their bags in the right bin.
Bike racks and shelters: Encourage cyclists to use your trail by providing bike racks near restrooms, parking areas, and trailheads. Bike racks also discourage people from securing their bikes to other amenities like benches and tables, so they can also help extend the life of your other outdoor furniture. A bike rack shelter, or a shade that contains bike racks, is another great option.
Enhance Your Space With Little Tikes Commercial Site Amenities
Our site amenity collection includes durable, timelessly aesthetic pieces that will last for decades to come. So whether you want to create a functional focal point or recreate your whole space, you can rely on us for furnishings that will make your location stand out.
Here are just a few reasons you should choose Little Tikes Commercial to help you design your commercial outdoor space:
ADA-compliant site amenities: Accessibility is a necessity in any public space. We strive to accommodate people of various ages and abilities by designing ADA-compliant playgrounds and site amenities, including picnic tables.
Personalized attention and guidance: If you're looking for commercial site furnishings to match a specific aesthetic or make your space more accessible, we can help. Our design team will work with you to create custom site furnishings that will visually pull your space together and improve the visitor experience.
Results for projects of different scales: Whether you need a few tables for an office patio or you need help managing a large project, we'll work with you to find the best amenities for your site.
Purchase Site Amenities From Little Tikes Commercial
At Little Tikes Commercial, we strive to create memorable outdoor experiences for people of different ages and abilities. We offer a range of site amenities for various outdoor spaces, including playgrounds, campgrounds, office complexes, and more. Contact us for a free quote, or find your nearest representative to learn more about our options!