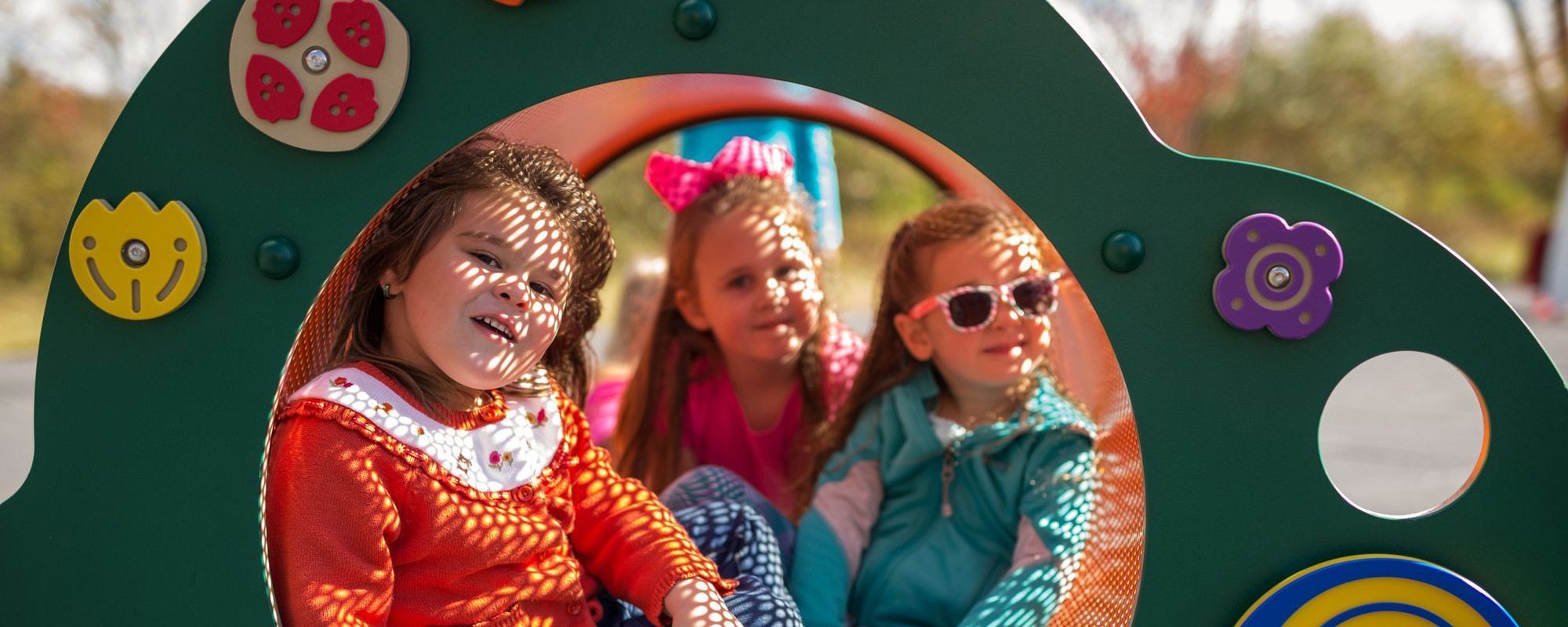 7 Ways to Improve the Curb Appeal of Your Apartment Complex
Curb appeal is a key part of what distinguishes some of the nicest neighborhoods and homes from those that lack charm. When people take pride in their homes and lawns, they and all their neighbors benefit. Curb appeal is essential to more than just single-family homes — it's just as crucial for apartment complexes and other multi-family rental facilities. With the right maintenance and design choices, your apartment property can become an asset to your community.
If you're looking for townhouse curb appeal ideas or tips for how to improve apartment curb appeal, this post is for you. We'll look at eight ways you can boost curb appeal to attract new residents and make current residents proud to call your property home.
The Importance of Curb Appeal
When a property has great curb appeal, it makes a positive first impression with passersby and potential residents. Real estate agents know how critical curb appeal can be when it comes to selling a home. Homes with high curb appeal sell for 7% more on average and, in certain markets, can sell as high as 14% more than less attractive properties. Clearly, homebuyers care about curb appeal, but so do apartment hunters.
Whether buying or renting, people want to live in a place with aesthetic appeal — a place they're proud to call home. Apartment hunters will be more interested in living in an apartment complex that makes a great first impression on them and on any guests they invite over.
From the perspective of property owners and managers, having an attractive property makes it easier to attract conscientious renters and can justify a higher price. Visual charm and valuable amenities on the property can also contribute to higher satisfaction among your renters and encourage them to renew their leases and even refer friends to your property, as well.
How to Improve Apartment Curb Appeal
Maintaining your apartment complex from the buildings and parking lots to smaller details like lighting, landscaping and signage will significantly improve its appearance and attract potential tenants. To gain the advantages of enhanced curb appeal for your apartment complex, follow these tips:
1. Prioritize Building Maintenance
When you want to enhance your property's curb appeal, you have to start with the basics. The most foundational aspect of curb appeal is a well-maintained property. Even the most beautiful property can lack appeal if it's allowed to become rundown. So start by ensuring your apartment complex is well taken care of. Of course, this includes interior maintenance, as well, but when it comes to curb appeal, you should look to exterior factors like:
Roofing: A roof that appears to sag, is missing shingles, or has unsightly streaks on it can be considerably detrimental to a building's curb appeal. Depending on the issue, it could also lead to other problems like leaks and poor insulation. Be sure to give your roof the maintenance it needs to remain in good shape for as long as possible and replace it as soon as it's time to do so.
Paint: Faded or chipped paint can also cause a building or other features like wooden fences to look unappealing. A fresh coat of paint can do wonders to enhance a building's appearance. In the case of vinyl siding or other unpainted features, replace any cracked or damaged elements and keep them clean so they retain their brilliancy.
General repairs: If anything is visibly broken, even something seemingly small, it can send a message to prospective renters that you do not take property maintenance seriously at your apartment complex. Be sure to handle all repairs in a timely manner to maintain a property that is both functional and attractive.

2. Keep It Clean
Another essential aspect of maintenance is cleaning. Most cleaning likely takes place inside of your facilities. But outdoor cleaning is also a necessity for keeping your property well-groomed. Outdoor cleaning might include regularly removing bits of trash or cigarette butts from sidewalks, parking lots, and common areas.
You can also sweep out gazebo floors, pathways, and other surfaces where dirt and debris collect and use a power washer to keep building facades, outdoor furniture, and sidewalks looking fresh. Simple cleaning tasks like these, along with the maintenance tasks we discussed previously, can help each part of your property look its best at all times.
If you have outdoor amenities like a pool or playground, be sure to regularly clean and sanitize to keep these amenities hygienic and looking their best so families can enjoy them day after day. Residents will appreciate knowing, either through a posted sign or a mailer, that common areas are regularly cleaned and sanitized.
Keeping your facilities clean shows that you take pride in your property, and this can instill pride in residents, as well. It can also give your apartment complex excellent curb appeal.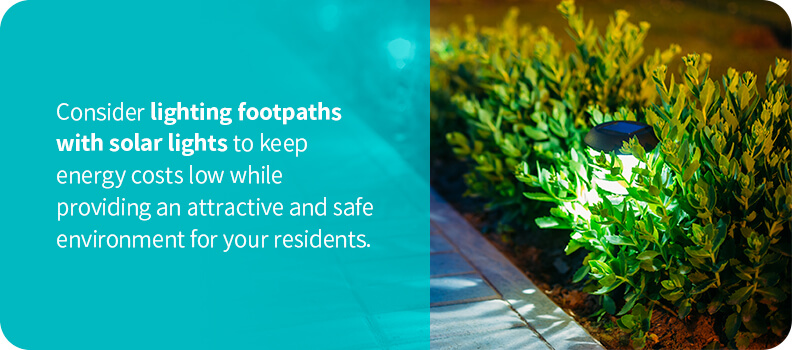 3. Update With Attractive Lighting
If your complex is well maintained, but you're looking for ways to enhance its curb appeal, consider the lighting. Exterior lighting features offer several benefits that potential renters are likely to notice. For one, the right lighting can help your apartment complex become more visible from the road after dark. Whether people are arriving for a tour after dark or are simply driving past and notice your property, ambient lighting can help you make the right first impression.
An abundance of light on your property can also help it feel safer. A person is likely to feel more secure while walking from the parking lot to their front door if that walk is well-lit. Consider lighting footpaths with solar lights to keep energy costs low while providing an attractive and safe environment for your residents.
The right lighting can do more than just increase visibility. Accent lighting like spotlights and colored floodlights can help you create a luxurious aesthetic for your apartment complex. You can use accent lighting to highlight focal points, such as your building's facade, a water feature, or your entrance sign. Especially outside of daylight hours, attractive lighting can make a tremendous difference in enhancing your property's curb appeal.
4. Enhance the Landscaping
Any discussion of curb appeal is incomplete without a focus on landscaping. Even a property with a building that appears dated or generally lackluster can achieve incredible curb appeal with the right landscaping. Features like pathways, rock walls, and pools fall into the category of hardscaping, which is a subcategory of landscaping. Hardscape features can help you create recreation areas, courtyards, and other attractive outdoor features.
Another important part of landscaping is softscaping — living horticultural elements that enhance the look of your property. Landscaping features like the following can improve the curb appeal of any apartment complex:
Green grass: If your apartment complex is surrounded by a lawn, make sure the grass receives the care it needs, such as watering and fertilizing if necessary, to appear healthy and green. Keep the grass cut so it always looks well-manicured. Even without other more decorative landscaping features, an attractive green lawn can go a long way toward boosting a property's curb appeal.
Trees: Planting trees in strategic spots throughout the complex can also give your complex more visual appeal. Some trees can grow large enough to provide lovely shade, while others remain miniature and ornamental. Whether large or small, trees can add seasonal beauty to your property, as well. A tree that flowers in the spring, is vibrantly green during the summer, and changes colors in the fall will keep the beauty of nature on full display for passersby and residents.
Shrubs: Shrubs are another great addition and are relatively low-maintenance. Simply keep shrubbery neat and trimmed, and it can add lovely greenery to your facility. Shrubs can work especially well right along the perimeter of buildings as a decorative border. Some shrubs also change with the seasons, flowering during certain parts of the year or changing colors. Evergreen shrubs can help you maintain some greenery during the winter months.
Flowerbeds: When you want to add natural beauty to a landscape, flowers are always an excellent choice. Flowerbeds typically require more ongoing maintenance than some other landscaping features, but they can also add a unique level of charm. Consider planting brightly colored flowers around your entrance sign, for example, to make it stand out to passersby and enhance your curb appeal. In an urban environment, potted flowers and other plants outside can help soften and brighten your property's appearance.
Even minor landscaping improvements can go a long way toward boosting your apartment's curb appeal. Some fresh mulch, new plants, or more neatly manicured greenery can all help you cultivate an inviting space.
5. Offer Clear Signage
Clear signage is a must, both for practical and aesthetic purposes. Consider whether you need to add or update any signage to enhance your property. From the standpoint of curb appeal, a crucial sign to pay attention to is your entrance sign. A monument-style sign can serve as a focal point that identifies your apartment complex to anyone walking or driving by. Invest in a quality sign and surround it with attractive landscaping to make it as attractive as possible.
Throughout your complex, the right signage can help provide:
Directions: One of the most important functions of exterior signage is wayfinding. From the moment a driver or pedestrian enters your facility, they should know which direction they need to go to find different parking lots, apartment buildings, and amenities like outdoor recreation areas, dumpsters, or laundry facilities. Visitors should also see directions to the leasing office. Buildings and doors should be clearly labeled so people know when they've reached their destination.
Information: Signage can also be informational, such as signs that prohibit smoking or designate smoking areas. It also includes signs that list rules at the playground or pool. Informational signage can provide reminders to residents and make new residents or guests aware of any key information they need to know.
Branding: On top of these practical purposes, signage can also help you brand your space. Rather than opting for generic signage, use as much custom signage as possible throughout your facility so you can choose colors, fonts, and designs that fit your brand identity. You can even include your logo wherever it makes sense as a sort of signature to reinforce your branding.
Advertising: Signs can also help you advertise your apartment community to prospective renters. If you have vacancies or are accepting applications, consider placing some yard signs or flags, for example, near the road to alert passersby. When it comes to curb appeal, generic signs that appear overly salesy may do more harm than good — opt for sophisticated branded signage that advertises your apartments in style.
6. Provide Accessible Parking
For most rental complexes, parking lots make up a large part of the property. It makes sense, then, that if you want to boost your apartment or townhouse curb appeal, you must pay attention to your parking lots. Your parking lot may be more visible from the road than the apartment buildings themselves. In that case, especially, the parking lot should be as attractive as possible for curb appeal. Consider adding landscaped islands throughout larger lots or border lots with landscape features like flowerbeds and shrubs.
No matter where your lots are located, it is critical to keep them well maintained. Your parking lot can be where guests and potential renters form their first impression of your property. Cracks, potholes, faded striping, and other flaws in the parking lot can cause guests to wonder what other aspects of the property might be neglected. Maintaining parking lots does require blocking off sections or whole lots at times, but it is well worth the effort.
Parking lots should also be accessible, providing handicapped-accessible parking spaces and smooth pathways from the parking lot to nearby building entrances. This accessibility is convenient for all residents, but for some, it can make your property especially appealing. One study found that 18% of renters looked specifically for something accessible for seniors or someone with disabilities in their online searches. Be sure to follow all Americans with Disabilities Act (ADA) guidelines and ensure your parking lot is a welcoming and convenient space for all visitors and residents.
7. Create an Outdoor Oasis
Of course, apartment hunters are interested in what the apartments themselves offer in the way of amenities, but they also look to see what sorts of shared amenities are available on the property. In one survey, 31% of respondents said they took note of a specific amenity a property offered during their apartment search. Close behind, 29% of respondents said they noted a certain aesthetic feature of the property.
The good news for property managers and owners is that you can provide useful amenities with the added benefit of enhancing the look of your property. As prospective renters tour your property or look at exterior photos online, they'll notice these amenities. Families, in particular, may care especially about having an outdoor area to enjoy with their children.
In 2020, outdoor space was found to be the top amenity renters searched for. Even as public places have reopened, many families have rediscovered the value of having outdoor space at home where they can enjoy time together.
Some of the outdoor amenities that can attract renters include:
Grills and picnic areas: Who doesn't love to grill out in the summer or enjoy a picnic lunch or a bonfire when it's chilly outside? Including picnic tables, grills, and firepits in your complex gives residents the perfect place to enjoy these outdoor activities with other residents or with visiting friends.
Pools: Pools and hot tubs are other perks that many children and adults alike enjoy. Some families may even limit their apartment search to facilities that include pools. Of course, pools require extensive ongoing maintenance, so it's vital that property maintenance staff is prepared to regularly inspect pools and undertake tasks to keep them hygienic and attractive.
Walking path: Another hardscape feature that can enhance the look of your apartment complex is a walking path. You could implement a simple sidewalk that makes it easier for residents to navigate the complex on foot. But, to enhance your apartment's curb appeal, you could consider using decorative stones to create a charming, winding footpath that's perfect for a leisurely stroll.
Outdoor fitness equipment: Fitness equipment is often an amenity that apartment hunters look for in or near an apartment complex. Outdoor fitness equipment at your apartment complex provides families with a space to exercise without needing to leave the property. Residents can foster a healthy lifestyle while enjoying the benefits of being active outside.
Playgrounds: One of the best features you can add to your complex to attract families is an outdoor community playground. A playground makes your complex more picturesque and makes a great first impression on families. More than 21% of apartment households include school-age children, and all children deserve a space where they can exercise their bodies and their imaginations.
Consider using an outdoor playground as the centerpiece of a larger outdoor recreation area where you can combine some of the elements above. By including furniture like benches and other site amenities around play equipment, you can make it easy for parents to supervise their kids and create a space that is conducive to helping families in the apartment community meet each other and enjoy time together.
Even to a passerby, a vibrant outdoor recreation space can communicate that you care about your residents and that families in your complex enjoy a real sense of community.
Contact Little Tikes Commercial for Ways to Improve Apartment Curb Appeal
If you're interested in improving curb appeal and creating outdoor spaces that are inviting for families, consider installing playground equipment and other site amenities from Little Tikes Commercial. As a trusted name in the industry, we can help you transform your outdoor space so it becomes a major asset to current and future residents. If you're interested in improving the aesthetic and function of your outdoor space, start by getting a quote from Little Tikes Commercial.