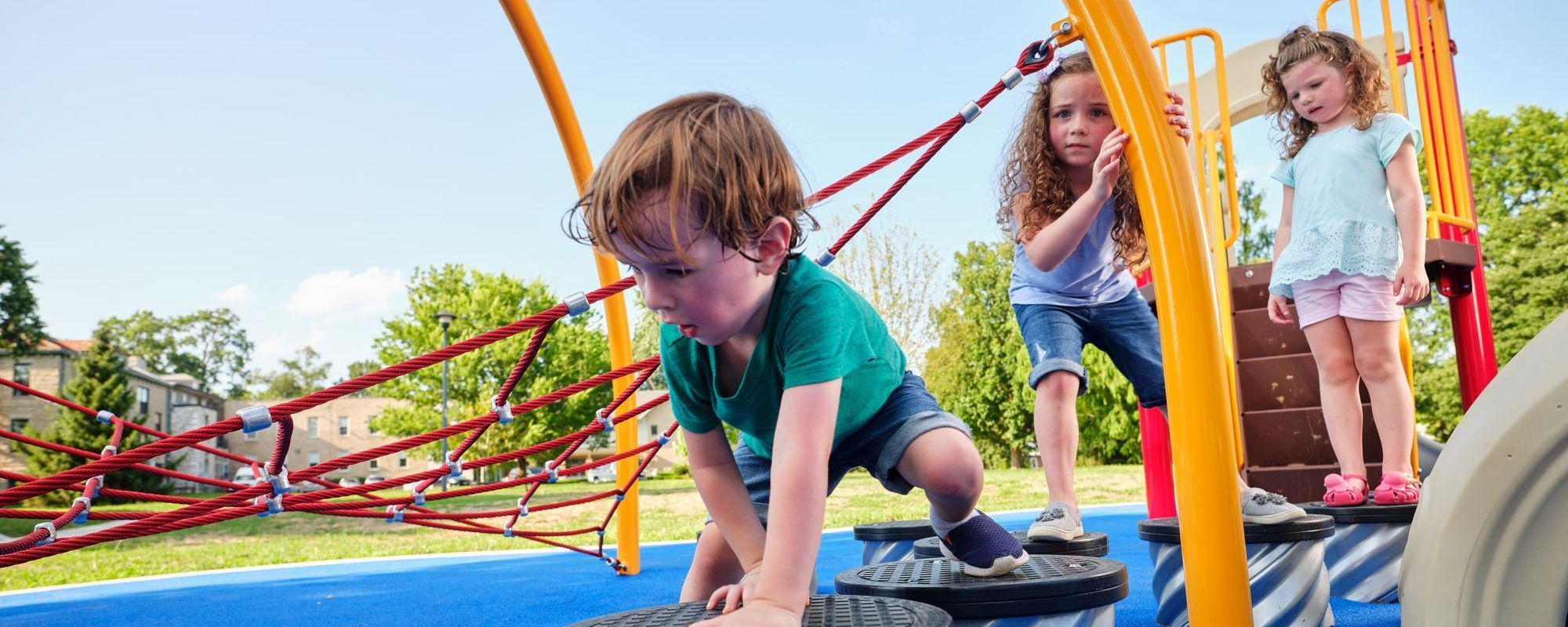 Designing the Perfect Playground for Your Apartment Complex
Millions of Americans live in apartments. According to the National Apartment Association (NAA), 39 million Americans currently call apartments home, and that number is growing. Based on recent research, the U.S. needs over four million new apartments by 2030 to keep up with the demand. For many households, renting is an affordable option, and the need for comfortable, family-friendly housing is on the rise.
Families with children need a safe place for their children to play. Both tenants and apartment complex owners can benefit greatly from installing an apartment playground. Apartments with playgrounds offer many health benefits for children, such as:
Stimulating their imaginations
Helping them develop important skills
Teaching them how to play with other children
Encouraging them to spend time away from the screen
Creating memories they will cherish for life
If you own or manage an apartment building with families, a playground can also benefit your business. Parents who live in your building will be more likely to stay when their children have a fun, safe place to play right outside their door. Also, your playground will help build a strong sense of community as neighbors bond and spend time together outdoors. An apartment complex playground makes a win-win situation for all.
When to Consider Building a Playground in Your Apartment Complex
Before investing in a new project, consider whether or not a playground is a space that will interest your tenants or the tenants you are trying to attract. For example, playgrounds generally appeal to families or young couples planning to have children soon. If your apartment complex consists primarily of one-bedroom apartments, the size could discourage families from taking up residence, even with a playground.
However, one-bedroom apartment complexes may still attract tenants who would be interested in playgrounds or outdoor spaces of some kind. If your apartment complex houses many older couples, they may want a safe place nearby for their grandchildren to play when they visit. Playgrounds can also appeal to smaller families who live in one bedroom.
Tenants may also appreciate an outdoor fitness area that includes a pullup bar, a station row, or an ab bench. Physically active tenants may enjoy an outdoor alternative to a gym membership. Even having a green space to walk dogs nearby or ride a bike appeals to all kinds of tenants. Identify the people who will use your outdoor space the most so that you can create a useful area for tenants to enjoy.
If you are ready to design and install a new playground, you likely have several questions. In this post, we will help you get started, from sharing the benefits of installing playground equipment for apartment complexes to playground-designing tips. Creating the perfect playground requires careful planning, but the process is worth every step.
Read the full article or jump to a specific section:
5 Benefits of Installing a Playground at Your Apartment Complex

A playground is an amenity many families look for when searching for a new apartment. When you install a playground, you invite new tenants, keep existing tenants happy and bring joy to your community. Here are all the reasons to feel good about welcoming play to your community.
1. Increase the Value of Your Property
People are willing to pay more to live near a park or open area. For example, homes next to naturalistic parks and open spaces are often valued from 8%to 20% higher than other similar properties. A playground invites children to spend time outside and gets parents out of the house and into the fresh air.
The National Apartment Association (NAA) illustrates the value of certain amenities with a recent case study. In an apartment complex in Virginia, management added a playground among other amenities, including a clubhouse and reserved parking. These changes warranted a price increase of $55 per unit per month. As a result of the new amenities, the occupancy rate rose from 88% pre-amenities to 92% post-amenities.
2. Attract Families
Playgrounds are popular amenities that draw new residents who want their children to laugh, grow, and get the exercise they need. Families need room to grow, both inside and outside their homes. A playground is a perfect space for kids to explore and develop.
Tenants also want their children to be safe and close by while they play. What could be better than a secure playground only a short distance from their apartment? An apartment playground will make your complex stand out, and it could be the deciding factor for many families looking for their next home.
3. Build Community
A playground brings neighbors together to get acquainted, socialize, and enjoy a strong sense of belonging. For this reason, installing playground equipment for apartment complexes will promote health and happiness for both children and adults because a sense of belonging is vital to us all. Tenants will also feel more comfortable and safe where they live if they know their neighbors. As a property owner, you might expect tenants to stick around longer.
Playgrounds also help reduce crime rates in a community. A study that looked at urban communities found that neighborhoods with lower traffic, better aesthetics, higher street connectivity, and neighborhood playground equipment also had 9.6% less crime than neighborhoods without those characteristics.
4. Promote Healthy Living

Adding a playground for your apartment tenants will offer numerous health benefits for children in your community. Parents will be happy to stay where their children have easy access to activities that encourage physical activity. Playgrounds offer the following benefits:
Physical: Playground equipment allows children to build stronger muscles and improve heart and lung functioning. Physical activity reduces the risk of obesity, diabetes, and various conditions. According to the American Heart Association, about one in three children is overweight or obese, and it is the number one health concern among parents.
Emotional: Playgrounds encourage children to experiment with their emotions and express themselves through imaginative play.
Social: At a playground, kids get the opportunity to interact with friends and neighbors outside of school and other structured environments, encouraging them to learn and build new social and relationship skills. They also get the chance to make new friends.
Cognitive: The American Psychological Association found that free, unstructured play helps kids develop and build multiple cognitive skills such as problem-solving, decision-making, and creativity. Play also enables children to manage their emotions and hone their reasoning, language, and negotiation skills.
In short, when you build a playground, you build a better future.
5. Keep Up With the Competition
Apartment turnover inevitably costs property managers money. From the loss of payments to any additional maintenance costs, the cost of a single move-out can climb to thousands of dollars. To attract tenants and prevent move-outs, apartment communities are building new amenities and upgrading old ones, including playground equipment for their apartment complexes. Before long, some of these amenities may be the standard. Apartments with playgrounds are one way to keep up with the competition of newly-built rental communities.


3 Tips for Designing, Planning, and Building Your New Apartment Playground
Adding a playground to a housing development or apartment complex is a big decision and investment. You want to consider all the important elements to maximize the benefits for you, your tenants, and your community's children. Here are the top factors to consider throughout each stage to help you build a playground that is enjoyable for all.
1. Design

Designing a playground is a fun and exciting process, and you might already have ideas of what you would like to include. Considering the number of children that will use the playground and their ages is a good place to start. In addition to this detail, you'll also want to consider inclusive playground design, so that children of all abilities can play together.
Build a team of trusted individuals to help you get votes, feedback, and playground ideas from tenants and other important members of the apartment community. Playground-building involves several decisions, so you do not want to get overwhelmed by too many different opinions. Your team of leaders will help you gather and organize ideas to prepare for the next steps.
When it is time to design your playground, keep these tips in mind:
Encourage Different Types of Play: Plan to provide different play opportunities that allow children to exercise their minds and bodies and interact socially. For example, sensory play is possible with different sounds, sights, and textures. Active play involves using the body in different ways to climb, swing, or twirl. There are many different types of play. Consider how your playground can offer variety to keep kids busy, happy, and stimulated.
Create a Sense of Space: Design a playground that captures the spirit of the apartment community to create a special space and promote a sense of belonging. Choose a theme or design that fits well with the natural surroundings.
Include Surprises: Children love little surprises like unique textures, unexpected sounds, and secret nooks. Make the playground more interesting to children by adding unique elements.
Inspire Free Play: A playground is often not about structured activities. Playgrounds allow children to use their imaginations and discover new ways to play freely. Consider how your playground will encourage and promote imaginative play. Children will not only have fun with free play, but they will also build social skills and self-esteem as they plan their journey to the moon or climb away from dinosaurs.
Consider Age: What age groups will be using your playground? This answer will determine the types of playground equipment that you want to include. Age-appropriate equipment encourages safe play.
Consider Size: You will also need to think about how many children will be using your playground. Is your apartment complex small or large? Are there many children living there? Make sure to build a playground large enough to accommodate the population of children in your apartment community. Also, consider if there is enough space on your property to build a large enough playground for your tenants' children.
Ask Kids for Ideas: Having trouble thinking up a fun design? No problem – there are plenty of children who would love to share their playground ideas with you. For example, you could hold a playground design contest among families in your community to inspire ideas and generate tons of excitement for your new community playground.
Consider Accessibility and Inclusivity: Playgrounds should be accessible for children of all abilities. Make sure to consider inclusive playground design, which allows all children to play together. At Little Tikes Commercial, we have partnered with Unlimited Play, a non-profit organization, to help property owners design and build inclusive playgrounds.
Prioritize Safety: A fun playground is important, but a safe one is necessary. Make sure all equipment and surfacing in your design meets safety standards. With over 72,000 playground-related extremity fractures occurring annually in the United States, safety should always be a priority.
Make Room for Other Essentials: Make sure to leave space for other must-haves in your design, like seating for adults, trash receptacles, playground signage, and shading. Because 40-50% of UV exposure occurs before age 20, it is vital for playgrounds to have adequate shade. If possible, build your playground in a shaded area. Incorporating play shades into your playground design helps protect young children from UV damage. Shaded regions also allow children to play at all times of day and can help keep playground equipment looking newer for longer periods.
The most important thing to keep in mind when choosing commercial playground equipment for your apartment complex is safety. It is essential to carefully consider all safety requirements and invest in equipment that keeps kids secure. Little Tikes Commercial combines safety with fun and innovation, leaving you with little to worry about.
2. Plan

Once you have developed your playground ideas, it will be time to plan your course of action. When it comes to playground planning, organization is the key to success. Here are tips to guide you through the planning process:
Know Your Goals: When you meet with a local representative, they can help you make decisions and give you advice if you have already-established playground goals. Make a list of everything you hope your playground will achieve. For example, know who will have access to the playground and what hours the playground will be open. Making a mission statement will help guide your decisions.
Create a Timeline: Playground installation typically takes several months from the planning process to the final installation. However, small projects may be completed in shorter amounts of time. A timeline will help you and everyone involved reach goals and stay on track.
Evaluate Your Location: Consider where you will install the playground on your property and the surrounding features that affect the comfort and safety of your playground. For example, build your playground in a shaded area if possible, to protect equipment and children from direct sunlight. Also, consider the amount of space you need to follow safety standards. Safety surfacing must extend 6 feet or farther past all pieces of playground equipment. Equipment should also be installed where good drainage is available to avoid pooling water. The U.S. Consumer Product Safety Commission (CPSC) has published safety recommendations to guide builders and property owners.
Choose a Quality Playground Equipment Company: You will be working with a playground equipment company throughout the entire process, so it is crucial to choose a name you can trust. The company will help you from preparing the property to installing the equipment. Make sure their equipment is high-quality, safe, and comes with warranties. Ask questions up-front, and make sure you know what to expect right away.
Obtain Insurance: You will likely need liability insurance as soon as the equipment is delivered to your property. Choose insurance to cover you before and after the playground has been built to protect you in the event of an injury on your playground equipment or property.
Plan for Maintenance: Even the best playgrounds in the world require regular maintenance, so make sure to include a maintenance schedule in your plan. To keep children and playground equipment safe, you will need to regularly inspect equipment for loose parts or cracks and keep an eye out for hazards like debris, trash, tree roots, or rocks. Always make sure safety surfacing is in adequate condition and at the proper depth or thickness.
3. Build

When it is time to make your playground dream a reality, installers can help you place equipment in a way that follows safety regulations and promotes the best playtime flow. There are many factors to consider when building your playground, from playground surfacing materials to equipment spacing. Here are general guidelines to keep in mind:
Surfaces: Playground surfacing must be able to cushion a fall and is one of the greatest factors in reducing the severity of a playground injury. Grass, soil, concrete, and asphalt are examples of unsafe playground surfaces. Loose-fill materials like wood chips and shredded rubber or pour-in-place surfacing are safer options.
Spacing: Equipment should be arranged to promote safety, and pieces should not be placed too close together. For example, make sure there is plenty of room in front of slide exits and ample space around swings and other moving equipment.
Accessibility and Inclusiveness: Use surfaces that are accessible to children of all abilities so that all children can use the apartment playground.
Supervision: Make sure the playground is laid out so parents and supervisors can easily watch children. There should not be anything obstructing their line of vision, and play areas should be visible from benches.
Installation: If you are installing the equipment yourself, make sure to follow all the manufacturer's instructions. Ask a qualified person to inspect the playground before allowing children to use the equipment. It is most important that the equipment is anchored and assembled correctly.

Installing a playground is a big project, especially when you must consider how the playground will affect existing and prospective tenants. You want to make sure every step is done just right to ensure safety and comfort for everyone in your apartment community. Little Tikes Commercial is here to help you through every single step.
At Little Tikes Commercial, we wholeheartedly believe in the benefit of play for kids and communities. All our playground equipment is tested for exceptional quality and durability and is  up-to-date on safety standards. We offer inclusive designs, so all children can play, and playground equipment kids love including:
Partner with us for your project and you will also get commercial playground equipment that:

Here are a few more reasons why:
We offer a variety of financing options to fit your budget and timeline.
We are partnered with non-profit organizations like Unlimited Play to help you design an inclusive playground.
We offer custom design services to help you bring your ideas to life.
Our equipment is made to encourage developmental growth while also considering safety, durability, and affordability.

For over 40 years, Little Tikes Commercial has been a leader in the playground equipment industry, helping children have fun while they develop skills that will last a lifetime. Get started building the perfect playground for your apartment complex and request a free quote or speak with a representative today.