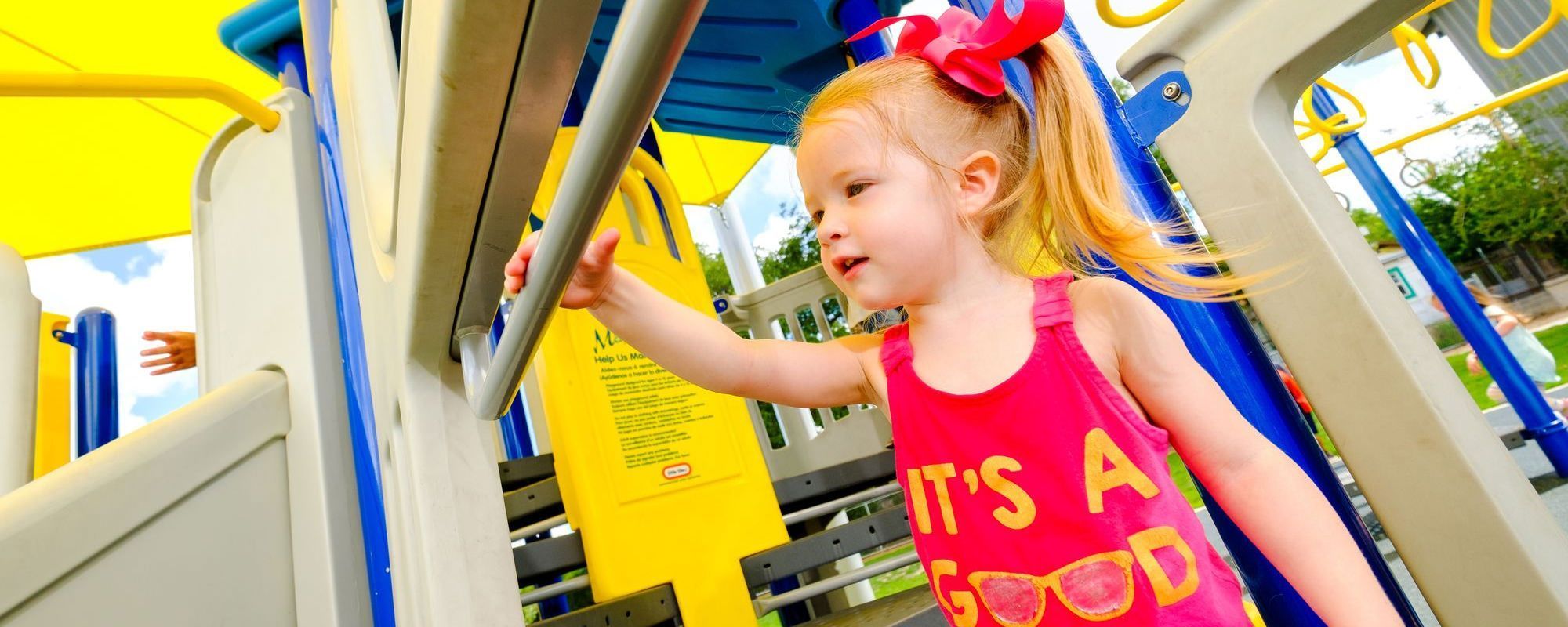 Holiday Event Ideas for Your Local Playground
At this time of year, community playgrounds and public playgrounds in spots like local parks make great holiday event venues. If you're looking for community event ideas to raise money, celebrate the season, and bring your community together, a playground is the perfect site.
Go ahead and incorporate one of these holiday ideas for a community event at your local playground.
Create a Playground Theme
Decorating your playground in a special holiday theme can be a wonderful way to transform the space and bring in members of your community. If you try a winter wonderland theme, you can decorate the whole play area with white lights and silver decorations. Play winter-themed music and try some snow-related games.
The Christmas Carol is another popular theme. You can add details to the playground to make it look like 1800s London and even have members of the community wear period clothing to hand out hot cocoa or candy canes.
Another terrific theme is "holidays around the world." Have different members of the community research how this time of year is celebrated around the world. Share what you learn with your guests and serve holiday foods from different cultures.
Have a Decorating Party
Nothing says "it's the holidays" like a get-together, and community playgrounds make ideal spots for family-friendly festivities. Decorate with wreaths and bells, set up games around the playground, and serve up snacks and hot holiday beverages. Invite the whole community. You can even set up a holiday gift exchange or hand out small treats as part of the event.
Another option is to encourage members of the community to bring the extra decorations they have. Extra cardboard, bits of tinsel, leftover ribbon, and other pieces can be great fun for kids to decorate with. They can stretch their creativity to turn these pieces into holiday art.
If you live somewhere with snow, a snowman decorating party is always lots of fun. Hand out carrots for the noses, have kids hunt for stones for the eyes, and offer a variety of hats for topping each snowman.
Dine Outside
A holiday feast brings together favorite foods and good company. When you dine al fresco at a community playground, the kids get to play too! Set up a buffet-style arrangement at nearby picnic tables and have everyone serve themselves.
Other fun options include cookie swaps or hot chocolate buffets. Simply set up a table and fill it with a "cookie station" or hot chocolate ingredients. It's essentially the winter version of an ice cream social. If possible, and depending on the temperature, consider setting up warming stations with outdoor heaters nearby.
These dining options are great on their own but are also easy to combine with other community holiday event ideas, like cookie-making contests, Santa meetups, and holiday fairs.
Set up a Holiday Train Set
The holidays and trains are a perfect mix, and with multiple levels of play, a community playground is a wonderful spot to set up a track. Make a party of it. Have community members show up with mini trees and decorations for the train landscape and work together to build the train community.
Set out paper, markers, and craft supplies so kids can create their own holiday village decorations. When everything is set up, remember to let the model train run while you take pictures and videos to mark the event.
Raise Money for a Special Cause
If you're already thinking of fun community event ideas, why not use those ideas to do some good in your community? Set up a toy drive, clothing drive, or food drive at your local playground. Or set up a play-a-thon with proceeds going to a local charity. You can also have people donate at the playground and offer refreshments and a game area to encourage more people to stop by.
Have you been noticing your community needs to replace its playground equipment? If you need to raise funds for commercial play equipment, a holiday fair or fundraising drive at the playground is one way to raise awareness and cash, so you can have an improved play space in the new year. Little Tikes Commercial has some additional fundraising ideas to help you reach your goal.
Create a Holiday Scavenger Hunt
Scavenger hunts are a great way to get kids and adults searching at almost no cost. Simply grab some festive items, like bows or candy canes, and hide them around the park or playground for participants to find. You could also hide ornaments around and have everyone come together to decorate a tree afterward.
A scavenger hunt is an easy activity to scale up or down for different age groups. For an extra challenge or for an older crowd, you can hand out flashlights and hunt in the dark. For little ones, you can simply place items around a fixture, like the playground or Christmas tree. For adults or whole-family activities, you could even expand the hunt across a large area, such as a downtown shopping strip, and incorporate clever hints or a map that leads them to the items.
This is a great activity to get local businesses involved too. You can direct the hunt into different storefronts and restaurants. Imagine finding your next clue nestled among themed cookies in a bakery window!
Have a Holiday Fair
A holiday fair with local businesses is a win for everyone. Invite local businesses, including shops and restaurants, to set up booths around the playground with their products for sale and their food. Set up a face painting booth and other attractions and advertise widely. It's an innovative way to support local companies and give your community a fun way to finish their holiday shopping.
Go Caroling
Holiday songs can bring communities together. Set up seating in and around the playground and print sheet music. Invite local musicians to play and have everyone sing along. Put up some lights and hand out warm drinks for a traditional holiday sing-a-long with everyone's favorite music.
Put on a Holiday Show or Play
Write a play together or put on a classic. Or, create a revue with singing and dramatic readings. Costumes, props, and a performance get everyone working together in the holiday spirit. You can charge admission or make it a free show. A performance gives kids something to work toward and builds their confidence. Community playgrounds make the perfect backdrops, since play equipment makes for a natural stage with a little imagination.
Create a Light Show
Kids and parents alike love the dynamic, engaging sight of holiday lights. Set up a light show or walk-through at a local playground or park — bonus points if you time it with music using light sequencing software. There's no shortage of fun and creative decorations you can use to turn a playground into a twinkling winter wonderland, from classic string lights twisted around the playset to timed waves of gradients moving across the trees.
Collect your lights and get a tech-savvy helper to set everything up. If you're looking for a low-cost option, consider asking local families for their old holiday lights in mid-November. Many families start decorating at this time. They often buy new lights and may be willing to donate old ones.
These lighting setups can be more than a one-time event, too, as they become a great draw when you leave them up all season long.
Meet Santa
There's nothing more thrilling for kids than a visit from the big man in red right in their own community playground. Having Santa drop by to read stories, sing along with holiday songs, and listen to each child's holiday gift wishes is especially important if some kids can't easily get to a mall or other location where Santa Claus may be. Adding a few games and some singing can make the event even more festive.
Reindeer Games
Take a break from the busy season by setting up games for the family. Set up contests to see who can wrap up presents fastest or have a wrapping station so parents can get their gifts wrapped while the kids play. Costume contests are another fun thing to try. Offer a range of craft supplies and have kids try to build a reindeer mask or a paper gingerbread house.
Contact Little Tikes Commercial
A community playground is a natural place to come together during the holidays. If your school, park, condo association, or community needs its own play space, contact Little Tikes Commercial to start designing your creative new playground today.