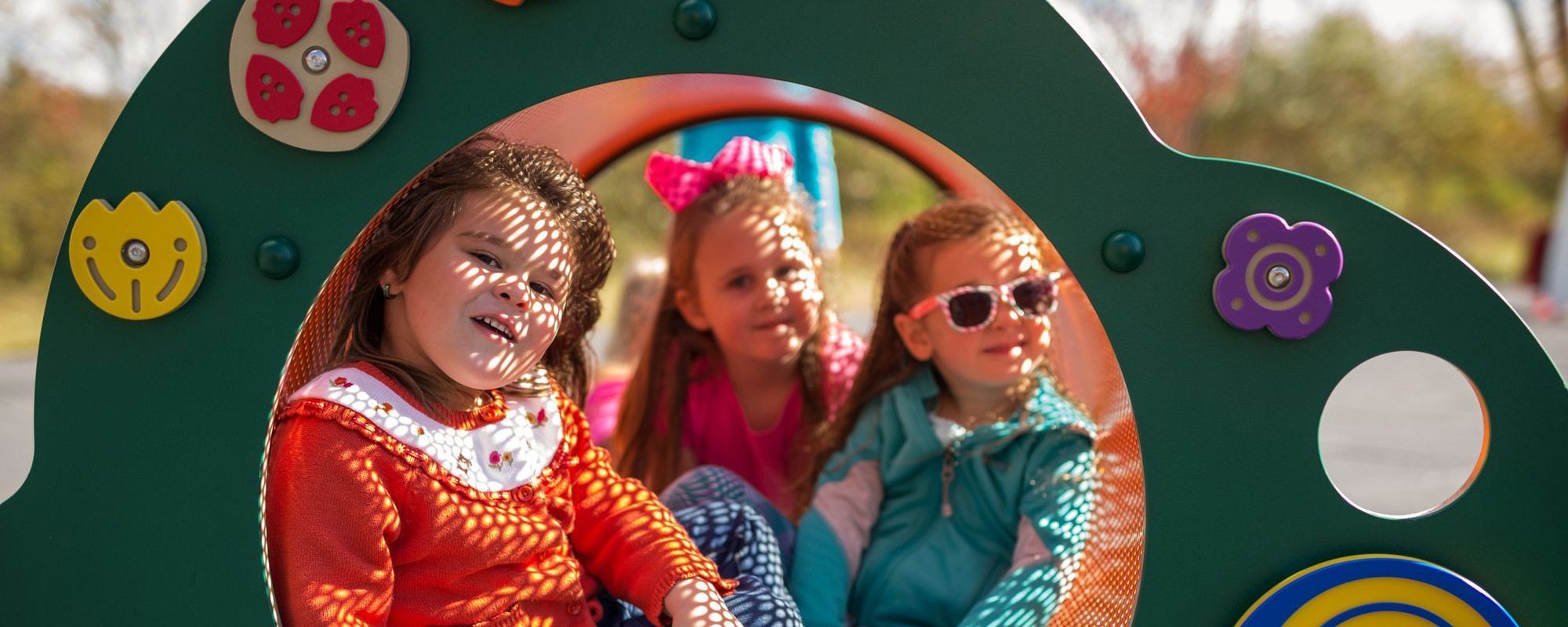 30 Community Outdoor Entertainment Ideas
Building community starts with exciting resident entertainment ideas that families can appreciate together. Whether you want to get to know the tenants in your apartment complex, create a trustworthy and helpful culture in your neighborhood or host a town-wide outdoor activity for all to enjoy, planning a community event is as rewarding as it is fun.
You can host many events in outdoor spaces your community already uses. Outdoor entertainment at parks, courtyards, and sports fields provides hours of fun and helps people get to know their neighbors and local communities.
30 Ideas for Outdoor Community Events
If you're wondering how to plan a community event, your first step is developing an idea. Build on the interests of the different age groups in your community. You may even draw inspiration from your town's unique surroundings, culture, and values to create a one-of-a-kind event that's especially meaningful to residents.
Need a jumping-off point? Check out these 30 crowd-pleasing entertainment event ideas:
1. Fireworks
Put on a thrilling fireworks show for the Fourth of July, Memorial Day, or any other reason to celebrate. Community members can gather with lawn chairs and blankets on your local park's green space and watch an exciting display. You can even turn this into an all-evening event with food trucks, vendors and live music for guests to enjoy before the big show.

2. Vendor Fair
If your community is home to many small businesses, a vendor fair is the perfect way to let people know about all the valuable work going on right in town. Sell tent spots to a variety of food and craft sellers, hire live performance acts, and bring your park to life with all the amazing products made right in your community. People can get to know local vendors and feel great about supporting high-quality businesses that give back to their community.
3. Movie Night
Rent a portable big screen, or project a family-friendly movie onto a blank wall of a public building near a local park. Invite families to bring blankets and snacks or set up a few old-fashioned popcorn machines to delight people of all ages. Everyone will love the chance to bond over a heartwarming film with the rest of their community. Just be sure to obtain a public performance license to show the selected movie in public and budget for the time it will take to get this in your planning process.
4. Barbecue
A classic summer activity, entice people to get involved in their community by offering a barbecue extravaganza at a local park. Grill up crowd favorites like hot dogs and burgers, or rent an authentic backyard smoker for unbeatable flavor. Station the cooking area near a playground and picnic tables, and invite people to bring their own lawn chairs and blankets so there's enough room for everyone to enjoy. You can also set up a variety of lawn games like cornhole and ladder ball to keep everyone entertained.

5. Food Truck Festival
Food trucks are a popular addition to any event or they can be the entire premise for an event in their own right. A food truck festival supports local businesses, gives residents a taste of local culture, and is a fun way to inspire community involvement. Park food trucks around a park or along neighborhood streets, and book some live performers to provide the soundtrack for this exciting block party.
If possible, give community members a voucher so they can sample food from different trucks at no cost to them. You can even create a friendly competition by having people vote on their favorite trucks and crowning a winner at the end of the day.
6. Live Concert
Host an open-air concert at your local park. Book a cover band for a well-known artist, or give local musical artists a time to shine. Your community likely has an abundance of talented people, many of whom would love to perform for an audience.
You can even ask choirs, bands, or orchestras from your local school district to perform for donations and get the word out about the importance of music programs in schools.
7. Car Wash
Gather a team of volunteers to set up and run a car wash assembly line. You can do this as a fundraiser for a local school or community group and let people get to know the groups they're supporting as they wash their cars. Or, have your community leaders join in on the fun to show people they're dedicated to helping and getting to know the people they serve.
You can offer a drive-through service, or turn this into a daylong event where, after getting their cars washed, people can socialize while enjoying food and music.
8. Parade
What better way to showcase the talents and values of your community than with a lively parade? Music, art, dancing, and more combine into one traveling celebratory event. Create a parade route through the streets of your historic downtown that ends in a nearby park, where all parade participants and spectators can gather for food, music, and photo opportunities with floats and performers.
9. Community Flea Market
Chances are, many of the people in your community are holding on to a host of household items they no longer need. Offer a sustainable alternative to trashing useful items by organizing a community-wide flea market.
Sellers can book table space for an affordable price, and you can put that money toward bettering your community in other ways. People can browse their neighbors' items and find a new home for things that may otherwise have ended up in landfills. At the end of the event, ask sellers to consider donating their unsold items to a charity in your community, so you can continue to make a local difference.
10. Bonfire
The perfect activity for cool summer nights or chilly autumn evenings, there's nothing like getting together with your community over a roaring fire. Ask local businesses to donate unused pallets and other untreated wood to create a natural, safely contained bonfire at a local park.
Set up a s'mores station with all the fixings and hand out long skewers so everyone can roast a marshmallow. A bonfire event is also an excellent opportunity to teach about the importance of fire safety.
11. Family Fitness Classes
Parks are the perfect place for outdoor play, but they're also great places to promote healthy lifestyles. Host a free yoga or Zumba class in your community green space, and make the class content welcoming and encouraging for beginners and kids looking to try something new. Invite local instructors to teach as an opportunity to advertise their studios and collect donations.
If one or two fitness events are a success, you can even create a regular class schedule that engages both body and mind. If your park has adult fitness equipment, you can also host an event to teach people how to use the equipment safely and effectively to inspire them to come back on their own.
12. Afternoon Crafting
Engage your community's creative side by offering craft sessions with provided supplies and snacks. Families will love breathing in the fresh air as they help each other complete fun projects. You can even theme the crafts based on your community's history, landscape, or other important features for an educational component.
13. Pool Party
If your community or neighborhood has a public pool, open it up for a free day of swimming, splashing, and fun under the sun. Parents can check out the amenities and consider becoming members, while kids can cool off in the water while making new friends.
14. Pet Adoption Day
Ask your nearby animal shelter if they'd like to help you host a pet adoption event. A local park is a perfect place for animals to play, meet new people, and potentially find their forever homes. People can learn more about pet adoption and shelter needs while meeting all kinds of furry friends.
15. Outdoor Bingo
Invite your community to a bingo night in a park pavilion for a fun event for large groups and people of all ages. Borrow a bingo set from a local school or organization, and raise the stakes with grand prizes for all, such as gift cards to local stores or kid-friendly restaurants. People can enjoy the fresh air of a warm afternoon or evening, bring snacks and connect with new community members through friendly competition.
16. Field Day
Playing outside is a fun way to promote healthy habits. Let everyone join in the excitement with an outdoor community event geared toward kids and also entertaining for adults. Host various active games and competitions, like jump-roping contests and tug of war. You can also rent a variety of inflatable bounce houses and water slides for a colorful addition to the festivities.
17. Scavenger Hunt
Help the members of your community get to know their surroundings through solving mind-bending clues and finding unique items. Teams can race to see who completes the scavenger hunt first and compete for prizes. Looking for clues can help people appreciate all the little details their local parks have to offer, and they may even find their new favorite spots to visit again and again.
18. History Day
Celebrate the past with a day of festivities centered on your community's local history. Ask re-enactors to take your town back in time with some of the clothing, games, food, and livelihoods of a prominent time in your community's past.
A history day is a great opportunity to teach kids about the people and events that helped shape the lives they live today. Parents and teachers may also be inspired to refresh their history curriculums and teach kids about people, events, and perspectives beyond what's in the history books.
19. Sidewalk Art Extravaganza
Drawing with sidewalk chalk is a great activity to engage people of all ages while beautifying your community. In your park's blacktop, sidewalks, or parking lot, section off different areas for drawing. Provide guests with chalk in a rainbow of colors, and watch as everyone displays their talents.
Have a free-draw time, or invite everyone to draw pictures related to a fun theme. You can even invite local artists to teach basic drawing skills and turn this event into an afternoon-long class for kids and adults alike.
20. Park Cleanup Day
Invite community members to work together towards a common goal and revitalize your local natural spaces with a park cleanup day. People can look for trash to pick up, wipe down playground equipment, and clear stray branches and overgrown plants from roads, pathways, and trails.
At the end of the day, reward all the helpers with food and entertainment so everyone can enjoy their newly clean space — just remember to clean up after the festivities.
21. Community Garden
For an extended project, anyone in the community can help with and benefit from, consider building and maintaining a community garden. You can host several community-wide events to plan the garden, build the structure, plant various plants, and harvest fruits and vegetables. A community garden will be especially appreciated in apartment complexes or neighborhoods where people have less access to personal outdoor space.
You can create a vegetable garden for people to pick food from, a pollinator garden that will help species like bees and butterflies thrive, or any other garden concept that inspires your community.
22. Planting and Gardening Class
Teach people how to cultivate their green thumbs with a planting class. Provide plants, seeds, and gardening tools for all participants, and lead them through the process of planting a plant and taking care of it. At the end, people can take their plants home and watch them grow.
23. Farmer's Market
If you live in an area with lots of local farms, invite them to sell their crops at a park event. Farmers' markets are a great way to inspire community members to eat healthily and locally while learning about the importance of the agricultural industry.
24. Giant Outdoor Games
What's more fun than regular board games? Giant board games! For this community entertainment idea, turn your open park space into an interactive game fest with larger-than-life replicas of classic games like chess and checkers. People will love moving the giant pieces, or you can even DIY your own board and have teams of people stand in for the pieces themselves.
25. Sports Day
Outdoor sports are a great way for people of all ages to exercise and develop team-building skills. Introduce kids to a variety of fun sports they'll learn how to play while interacting with other people their age. Or, let the kids play on the playground while the adults engage in some friendly competition and energetic play.
26. Astronomy Night
Teach kids about the stars and planets from the comfort of their own neighborhood with a guided astronomy night in a park with lots of open space and minimal light pollution. Ask local science teachers or other knowledgeable volunteers to set up telescopes at just the right angle to see faraway planets in our solar system. Tell stories about the constellations and have kids draw them and try to point them out in the night sky.
27. Food Donation Event
Create a food drive that entices people to drop off non-perishable food donations for local charities while on their way to play at a local park. You can even create a themed list of needed items by pairing each item with a piece of play equipment and asking families to bring the item as a vote for their favorite ways to play, such as the swings, slide, or monkey bars.
28. Fun Run
Gather the practicing and aspiring runners in your community to participate in a fun run! Set a target distance, such as a 5K, and cheer people on as they reach the finish line. You can even theme the event around raising money or awareness for a charity that helps people in your community.
29. Community Member Appreciation Day
Host an event that honors a special person or group in your community. Maybe you want to thank the local school district staff for their dedication, or show how much you appreciate the trash collectors and park staff who work tirelessly to help keep your community clean. Build positivity by honoring hard, often-overlooked work and creating an event for people to learn about everything these important people have done for the community.
30. Community Playground Build
Maybe you want to revitalize an outdoor area to make it more welcoming for local kids. Maybe you've seen a need for inclusive play equipment in your community, and want to create a space where all kids can play. Whatever your reasoning, building a playground with your community is a rewarding and fun experience.
When you host a community playground build, you'll have the chance to meet new people, work together towards a common goal, and see your finished project become a local staple for kids to enjoy for years to come.
The Benefits of Outdoor Entertainment for Communities
Community involvement should be accessible and enjoyable for all who attend. By hosting a festival, class, or other fun activity, you're inviting everyone to get to know their neighbors and surroundings in vibrant new ways.
Some top benefits of outdoor community events include:
Exercise: Outdoor events provide ample opportunities for physical activity. Many of the above activities involve direct forms of exercise like fitness classes or sports, and even walking around a park during a festival or playing on a playground are great ways to kick-start healthy habits.
Increased health: Spending time outdoors presents many benefits, including increased vitamin D production, which contributes to healthier bones, hearts, and moods. Outdoor time has also been shown to increase concentration and relaxation so that people may walk away from your events with sharper focuses and happier outlooks on life.
Community trust: Holding events in fun outdoor spaces lets you get to know the people in your community and create a fun, safe environment for all ages. Establishing a strong sense of community will inspire people to continue making connections on their own as they enjoy their time living in your town, neighborhood, or apartment complex.
Charitable opportunities: Use gatherings as chances to ask for donations and raise awareness of needs in your community. Rally everyone around a common cause while they get to know their community leaders and the people they'll support with their time and funds.
Park appreciation: Hosting community events in parks is the perfect way to make people feel at home in the outdoors and revive their interest in visiting their local parks and playgrounds.
Choosing Little Tikes Commercial
Whatever outdoor entertainment idea you choose, make play the focal point with an innovative playground from Little Tikes Commercial.
Playgrounds from Little Tikes Commercial invite kids to explore their creative sides while developing social and physical skills they'll use throughout their lives. From magical themed equipment sets to inclusive playground designs welcoming for all kids, our goal is to provide communities with one-of-a-kind play structures that go above and beyond to prove the power of play.
With a complete range of commercial playground equipment to choose from, you can customize your playground to suit the interests and needs of the kids in your community. To get kids moving and include adults in the fun, check out our line of dynamic fitness equipment that makes exercise feel like play.
Contact Us Today
Outdoor events are the perfect way to invite people to get to know each other, teach people about their local leadership and town values, and facilitate community growth. Add a playground to any activity spot and you're all set to help families make lasting and cherished memories.
Here at Little Tikes Commercial, we want to help you connect with your community and foster imaginative play. Contact us today for more information about our playground equipment and further inspiration to help you take your local playgrounds to the next level!