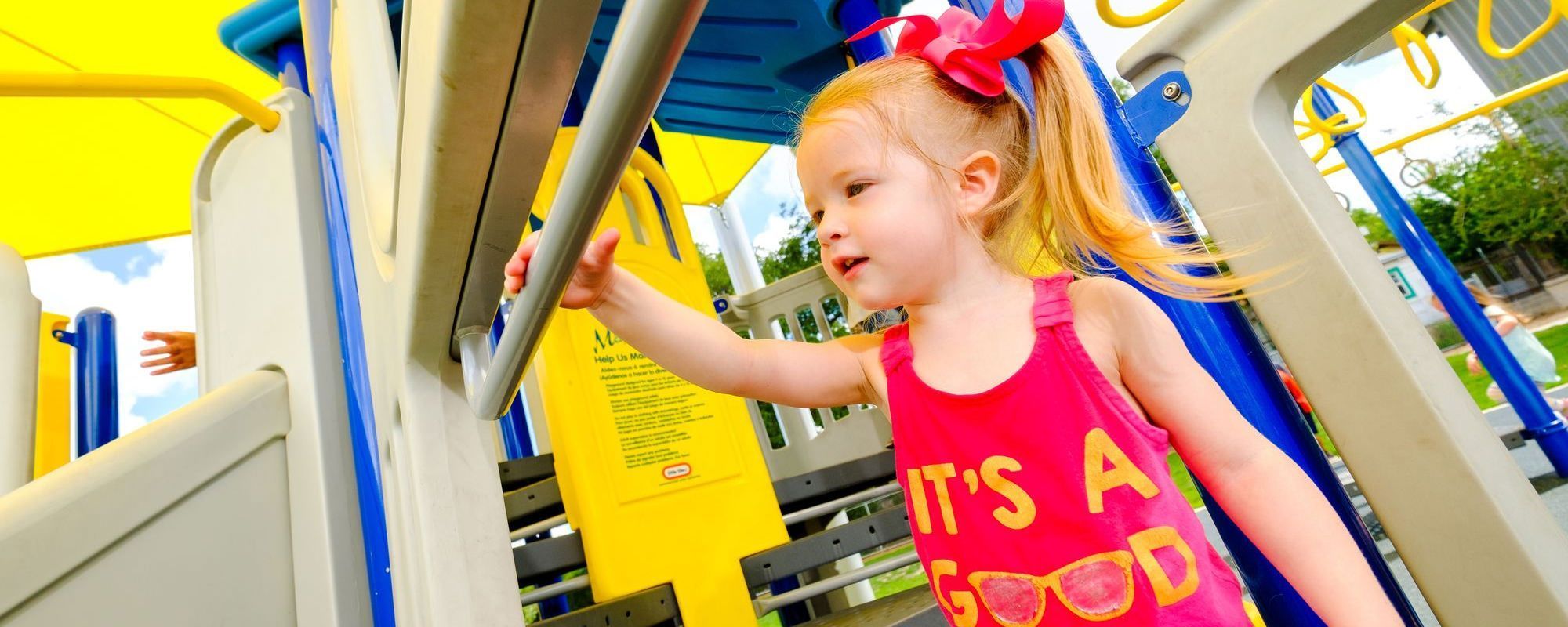 Community Outreach Ideas for Your Local Playground
Community Outreach Ideas for Your Local Playground
Community playgrounds and public playgrounds in spots like local parks make great areas to host community outreach events. If you're looking for community event ideas to raise money, celebrate the season, and bring your community together, a playground is the perfect place.
Go ahead and incorporate one of these community outreach event ideas at your local playground.
Create a Playground Theme
Decorating your playground with a special theme can be an excellent way to transform the space and bring in members of your community. In the colder months, try a winter wonderland theme — you can decorate the whole play area with white lights and silver decorations, play winter-themed music, and try some snow-related games.
Woodland is another popular theme. You can add details to the playground to make it look like a cozy forest and even have members of the community or park rangers come to talk about the different plants and animals you might find in the woods. If you have nature-themed playground equipment, this is the perfect event for your park.
Another terrific theme is "playing around the world." Have different members of the community research popular games from around the world. At the event, participants can play games that are popular in other countries and experience foods from different cultures.
Have a Crafting Party
Community playgrounds make ideal spots for family-friendly activities like crafting. Encourage community members to bring any extra crafting materials they have, such as cardboard, paper, leftover ribbon, glitter, and other supplies. Have each participant create their own work of art they can display at the park. To get everyone working together, try creating a large group work of art that everyone can contribute to. Children can stretch their creativity to create art while using up extra supplies so they don't go to waste.
During the holidays, plan to decorate wreaths and bells, set up games around the playground, and serve up snacks and hot holiday beverages. Invite the whole community. You can even set up a holiday gift exchange or hand out small treats as part of the event. If you live somewhere with snow, a snowman decorating party is always lots of fun. Hand out carrots for the noses, have kids hunt for stones for the eyes, and offer a variety of hats and scarves for topping each snowman.
Just be sure to clean up and provide trash and recycling receptacles for participants to throw away their garbage.
Host Dinner and a Movie Outside
In nice weather, you can host a movie night as a community outreach event. Charge a small price for tickets to cover the cost of any food and supplies, plus a public performance license for the movie. You might even use the additional funds earned to raise money for a cause dear to your community. By using a special projector screen or even a white sheet stretched out so that it doesn't blow away, you can project a family-friendly movie and invite the community to bring picnic foods to enjoy the film.
Remember, movies are copyrighted, so you must consider specific legal issues when showing a film to the public. Thankfully, obtaining a public performance license for a movie is fairly straightforward but will require a fee determined by certain factors of the event. Fees vary depending on the expected audience size and often fall between $200 and $400 for a single showing. Before hosting a movie event, check that your proposed profits will make up for this cost.
You can also host a more formal movie night with a slightly higher ticket price, providing buffet-style food and tables for families to eat and enjoy the film. This kind of event would be a great fundraiser for a school or for helping to provide more services to the community. And with the playground nearby, kids can play with each other under the supervision of their families while everyone enjoys a fun evening.
Due to lighting, these events work best around dusk, so be sure to have some extra lighting around your park so people can find their way around.
Start an Annual "Clean up Our Park" Day
When people love a park, they want to make sure it stays in good shape so their children can enjoy it for years to come. Hosting an annual event to encourage families to help pick up litter from the park and clean the playground equipment gets the whole community involved.
Events like this also help foster respect for the environment and can help children learn why littering is bad. You can even have professionals come to discuss how plastic and pollutants harm the environment and can even impact our drinking water.
Set up a Train Set
Playgrounds and trains are a perfect mix, and with multiple levels of play, a community playground is a wonderful spot to set up a track. Make a party of it. Have community members show up with decorations for the train landscape and work together to build the miniature train community.
Set out paper, markers, and craft supplies so kids can create their own villages. When everything is set up, let the model train run while you take pictures and videos to mark the event.
Raise Money for a Special Cause
If you're already thinking of fun community event ideas, why not use those ideas to do some good in your community? Set up a toy, clothing, or food drive at your local playground. Or set up a play-a-thon with proceeds going to a local charity. You can also have people donate at the playground and offer refreshments and a game area to encourage more people to stop by. Some other great fundraising ideas include:
Reading marathon: Partner with the local public library to host a reading marathon. Volunteers can sign up to host reading hours throughout the day. When children visit, they can bring any gently used books to donate to the library or a local shelter.
Block party: For a big fundraising event, host a block party with carnival rides and food vendors. Local artists and restaurants can benefit from increased visibility while helping your community raise money. The community playground is the perfect central location for a block party.
Art show: Invite young kids and adults to create art for a community art show. You can place the works of art on display at the park and host a silent auction on the pieces to raise money.
If you need to raise funds for commercial play equipment, a community outreach event can help you raise money. Little Tikes Commercial has some additional fundraising ideas to help you reach your goal.
Have a Holiday Fair
A holiday fair can be a great community outreach event any time of year. Invite local businesses, including shops and restaurants, to set up booths around the playground with their products and food. Set up a face painting booth and other attractions and advertise widely. It's an innovative way to support local companies and give your community a fun way to finish their holiday shopping. Some of the most popular holiday fair ideas include:
Easter egg hunt: During the spring, an Easter egg hunt is a great event to bring the community together. Place eggs in hiding spots throughout the playground and allow children to find the eggs. This event works best when you divide kids into groups based on age to avoid any competition between older and younger children.
Trunk or treat: Kids love Halloween for both the candy and the fun costumes. Hosting a trunk or treat event can provide a safe place for kids to trick or treat and bring the whole community together.
Santa's workshop: There's nothing more thrilling for kids than a visit from the big man in red right in their own community playground. Having Santa drop by to read stories, sing along with holiday songs, and listen to each child's holiday gift wishes is especially important if some kids can't easily get to a mall or other location where Santa Claus may be. Adding a few games and some singing can make the event even more festive.
Benefits of Community Outreach
Community outreach events centered around a strong local landmark, like the playground, can boost morale and foster a sense of togetherness. Whether you have a good playground or you want to raise money to improve your existing one, community park events can help you reach your goals. Additionally, these events can also help underserved people and programs receive the recognition and assistance they need.
Overall, some of the greatest benefits of community outreach include:
Raising awareness of social issues
Encouraging the community to work together toward a common goal
Providing enriching activities for children and adults
Being free or low-cost so everyone can participate
Promoting happiness
Improving social and collaboration skills
Contact Little Tikes Commercial
A community playground is a natural place to come together. If your school, park, condo association, or community needs its own play space, contact Little Tikes Commercial to start designing your creative new playground today.