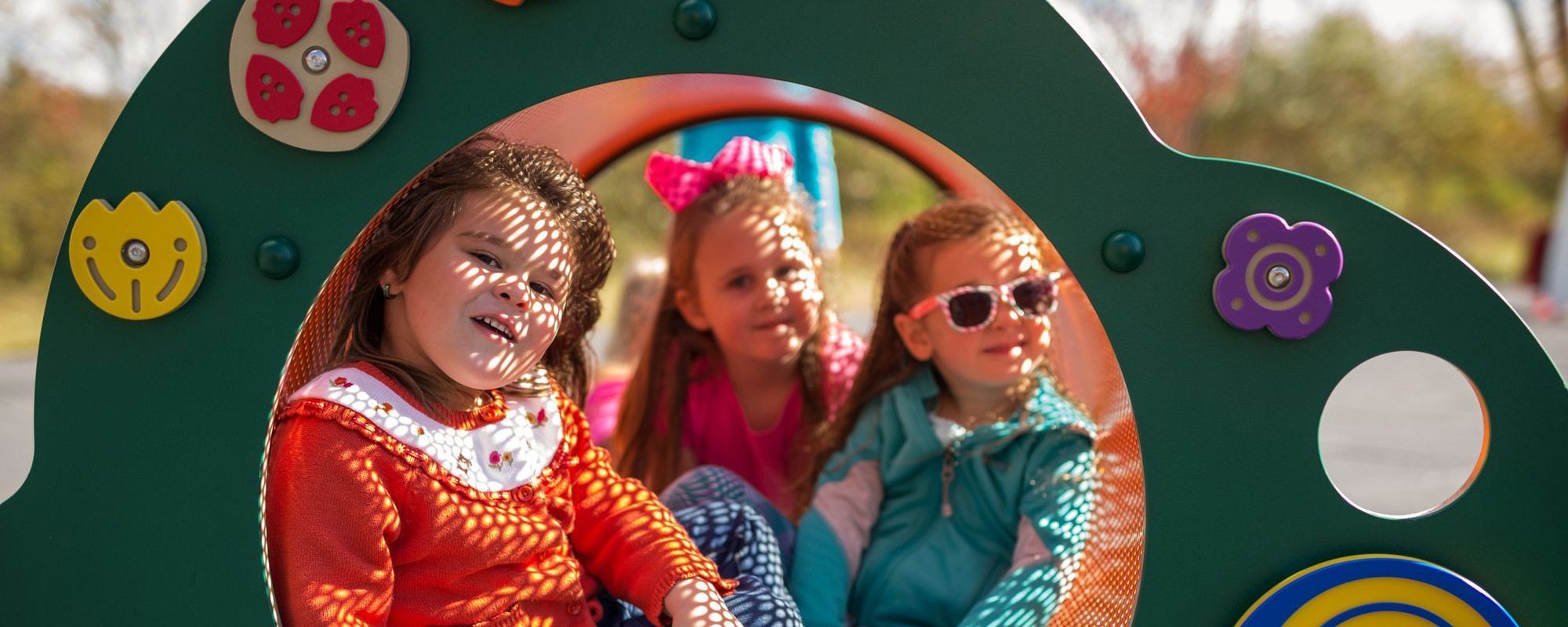 How Playgrounds Bring Communities Together
Playgrounds are full of nostalgia and happy memories of childhood. But the benefits of playgrounds go far beyond simple childhood fun. Playgrounds offer timeless connections to our childhoods and our neighbors. Parks with playgrounds add so much to the community and can bring communities together, too. Playgrounds' benefits are far-reaching. Read on to find out the value of parks for our communities.
Read the full article or jump to a specific section:
Why Are Playgrounds and Parks Valuable for Communities?
Community parks and playgrounds are an essential component of a neighborhood that can benefit everyone. Parks and playgrounds play as much of a vital role as other civic services like water and sewer connections. They are central to a community's overall quality of life, providing four primary values.
Economic benefits: Community parks and playgrounds provide significant economic value to the whole community in a few different ways. A park can increase adjacent and surrounding property values and boost the area's tax base. Businesses looking to relocate or expand are more likely to choose cities with quality-of-life benefits like extensive park systems. Parks and recreation departments generate revenue for the city from fees, activities, and events. Larger parks may be a draw for regional tourism and hospitality, bringing in more money to the local community.
Health benefits: Parks and playgrounds are ideal places for people of all ages to get in some exercise and fresh air, reaping multiple physical and mental health benefits.
Environmental benefits: Parks provide natural spaces that benefit the surrounding environment. Green spaces protect groundwater, offer a home for wildlife, and improve air and water quality for the surrounding community. They're also a way for even the most urban citizens to connect with nature in their neighborhoods.
Social benefits: Parks and playgrounds serve as gathering places for the community to socialize. They are places for people of all ages and socioeconomic backgrounds to gather and interact with one another, building a sense of community and improving quality of life.
Ways Playgrounds Bring Communities Together
Playgrounds are excellent gathering places for neighbors and friends. These public spaces appeal to people of all ages and backgrounds, helping them get to know their neighbors and increase neighborhood pride. Parks often serve as the community's heart. Here are the primary ways playgrounds serve neighborhoods and bring people together.
They promote wellness: Parks and playgrounds provide plenty of sunshine, fresh air, and places for exercise. These elements are ideal for individual health and well-being, but they also promote overall community wellness. Playgrounds help improve physical and mental health, and healthier citizens can be more involved, productive, and inspiring.
They offer space to connect: Community playgrounds are public spaces that allow neighbors to gather and interact with one another. Whether it's young children meeting new friends while playing, parents and grandparents visiting with neighbors while the kids play, or neighbors getting together at a special event, the park is a great place to grow lasting relationships with peers and neighbors.
They are inclusive: Perhaps no other community locations are as inclusive as parks and playgrounds. These community green spaces are for citizens of all ages, from tiny tots to seniors, and people of all different backgrounds and socioeconomic statuses. Public playgrounds are free for everyone and can incorporate more inclusive design principles for those with disabilities and sensory issues. People can use public playgrounds regardless of their income levels and can connect with others more easily. In this way, parks help create social equality in neighborhoods.
They have space for family bonding: Parks and playgrounds are ideal places to host family gatherings and special events. Often, these spaces are free or low-cost locations for weddings, graduations, baby showers, and family reunions. The wide-open spaces and playground equipment options provide opportunities for entire multigenerational families to play together, bond, and create lasting memories.
How Playgrounds Can Help Communities Grow
Parks and community playgrounds are essential to a neighborhood's health and can also help communities. Parks' and playgrounds' importance goes far beyond offering a place for kids to play, and they provide many benefits for people of all ages in the community. Here's how they contribute to community growth.
Playgrounds nurture the next generation: Beyond being a play space for little ones, playgrounds equip children with the essential tools they need to grow and develop into the healthy, productive citizens of tomorrow. Kids learn a range of social skills at the playground, including collaboration, teamwork, patience, imagination, self-esteem, and confidence. These are the building blocks of lifelong skills that grow future leaders.
Playgrounds promote economic growth: When you think about economic development, playgrounds might not be the first thing that comes to mind, but they are crucial to the growth of neighborhoods and cities. Parks and playgrounds boost the value of the land around them, increasing home prices and the community's tax base. Locally owned businesses will also enjoy the benefits of nearby parks, and will help stimulate the local economy further.
Playgrounds bring the community together: It's impossible to overstate parks' and playgrounds' value in community building. Playgrounds have the unique ability to connect people who may not otherwise meet or interact, contributing to the neighborhood's diversity.
Browse Playground Equipment From Little Tikes Commercial to Enhance Your Community Park
If you're thinking of adding a community park or playground, or adding to or updating an existing park, check out the wide selection of playground ideas from Little Tikes Commercial. We are proud to offer various inclusive, creative playground components that are sure to enhance any park design and encourage community-building in your neighborhood. We understand the importance of parks and playgrounds for communities, and we can help you design an ideal playground for your space. Contact us today with any questions, or to get started on a quote for your new playground.