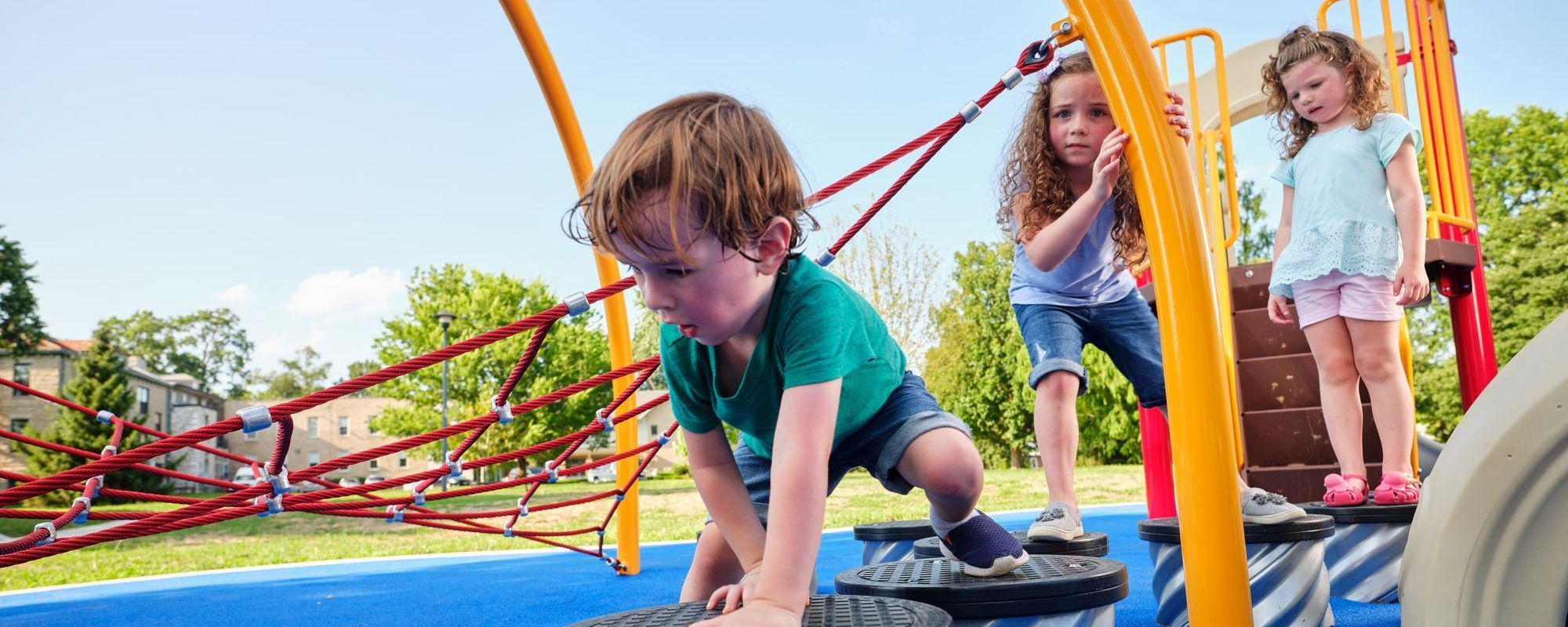 How to Make Your Community Playground Design Stand Out
A playground can be a cornerstone of your community, reflecting the personality of the people living in it and creating a versatile space for children and adults to come together. But building that kind of playground doesn't happen without purpose. To make a community playground design that stands out, you'll need to consider many different factors, from fundraising and appearance to inclusion and using the right playground elements.
To help you sort through it all, we've put together a guide on how to design a community playground full of character. When you finish reading, you'll be prepared to cultivate an environment for growth, bonding, and fun.
Read the full article or skip to a specific section:
The Importance of Community Playgrounds
Play is a vital component of childhood development. The physical and mental benefits associated with unstructured playtime are abundant:
Physical health: The Centers for Disease Control and Prevention (CDC) recommends 60 minutes or more of moderate-to-vigorous physical activity each day for children aged 6-17 years. The benefits of such activity can help improve health in various ways, like controlling weight, reducing anxiety and depression symptoms, and reducing risks for heart disease, cancer, type 2 diabetes, and other concerns. Playgrounds offer the ideal space for kids to exercise in a fun, mentally stimulating environment.
Physical skill: Playtime is also helpful for developing various skills, like hand-eye coordination, flexibility, dexterity, and overall motor skills. As children play and move in new ways, they're honing these skills without even realizing it.
Social skills: Studies have long correlated play with social and emotional benefits for children. Kids often work together on the playground. They might take turns, share equipment, or enter imaginative worlds together. They might gain experience expressing their feelings or engaging in self-discipline as they play and cooperate with their playmates.
Emotional management and skills: Children can develop a wide range of emotional skills during play. Struggling to climb a rock wall could help them learn about challenges, perseverance, and facing setbacks. On the other hand, making it to the top of a tall structure could build confidence and self-esteem. Social interactions support learning in topics like empathy, patience, and cooperation. Play is also great for helping children manage emotions through physical outlets and opportunities for expressing themselves.
Educational improvements: Playground time can also help children learn better. Research shows that play can increase on-task behavior and cognitive development and provide other benefits for focus, alleviating stress, and reducing behavioral distractions. It also opens up more opportunities for learning, such as interacting with nature.
While community playgrounds are great for taking advantage of these benefits, they also offer unique opportunities that you don't often find on other playgrounds. Community playgrounds bring people together. They're excellent places for holding events, cultivating connection, and instilling the spirit of the community into the playground.
Community parks and playground projects can rally a community and create a bonding experience for everyone involved while creating a physical monument to everything the town, neighborhood, or city stands for.
Design Ideas for Community Playgrounds
Building your community playground asks you to consider different aspects of your community and kids' needs. Below are some community playground design ideas to help you make the most of the space and help it stand out to community members and visitors.
1. Incorporate Different Types of Play
Physical play is a vital part of every playground, so you'll want to include lots of room and structures for climbing, sliding, jumping, swinging, and other high-energy activities. Be sure to incorporate a range of other play styles, too, such as:
Creative: Unleash creativity with elements like musical instruments, drawing spaces, and themed structures.
Sensory: Stimulate the senses through sensory play equipment, such as noisemakers, fun textures, balance toys, and activity panels.
Imaginative: Imagination knows no bounds when you offer a playground with flexible spaces that leave plenty of room for interpretation and imaginative play.
Reflective: Quieter zones, like a garden or a peaceful, enclosed space, can encourage reflection and help kids relax and self-monitor away from the high levels of stimulation on the rest of the playground.
Social: Let social butterflies thrive and help non-butterflies develop their social skills with space and activities for playing together and cooperating, regardless of ability level.
Natural: By leaning into the natural landscape of your playground through natural elements or nature-themed structures, you can help children get closer to the planet and learn about the environment.
As children play in different ways, they hone various skills and make meaningful new connections. Your community play structures should include elements for these different types of play.
2. Offer Activities for Children With Different Abilities
Along with various play styles, you'll need to use an accessible — or better yet, inclusive — playground design. The Americans with Disabilities Act (ADA) requires public playgrounds to meet specific accessibility requirements, like providing ramps and special surfacing that allow children with mobility devices to access equipment.
Inclusive playgrounds go further, offering spaces where children of all abilities can share community park equipment and play together. They aren't separated, less interesting, or less challenging. They also accommodate caregivers with disabilities and address more than mobility-related disabilities, such as sensory difficulties or spectrum disorders.
Below are some of the different abilities to consider when creating an inclusive playground design:
Mobility: Many disorders and disabilities, such as cerebral palsy and muscular dystrophy, can cause mobility issues that might require wheelchairs or walkers. Injuries with temporary or permanent effects can also require greater access. Wide, wheelchair-accessible structures and elements like ramps and surfacing can help children with different mobility needs stay included and enjoy the playground with their peers and caregivers. Even in areas that are not accessible, such as climbing structures, you can involve children at ground level with features like talking tubes or bucket-and-pulley systems.
Sensory: Sensory disabilities include vision impairments, hearing loss, and autism spectrum disorder (ASD). Children with sensory disabilities can benefit from navigational resources, like differentiated surfaces, and quiet spaces away from overstimulating sounds and sights.
Ages: Children across age ranges have different strengths and capabilities. Provide spaces for age-appropriate play and interactions that everyone can enjoy, such as activity panels that a toddler and school-aged sibling can use together.
3. Build With the Community Front and Center
A playground can be the pride and joy of your community, offering an inviting space to gather, hold events, display the spirit of the community, and bond with others. The best way to infuse your playground with the heart of the community is to involve its citizens in the process. Enlisting community members is also a great way to make the process easier on yourself and create a park that reflects what the people want and the personality of your region.
As you get started, lean on volunteers and their unique capabilities. A local lawyer might help with paperwork, while a writer could craft grant proposals to help with funding. Businesses are often willing to help supply fundraising incentives, and everyday citizens can help with fundraising and even take part in a community build. These helpers make great resources for alleviating the demands of logistics so you can better find funding and focus on the design.
In addition to helping with the design process, knowing how to bring the community together can offer input from people who will be instrumental in building a park they'll value the most. Community parks are often more than the playground elements — they might also include useful fixtures like:
Pavilions
Community gardens
Dog parks
Basketball hoops
Some of the most popular additions to city parks, for instance, are dog parks, basketball hoops, and swimming pools. Survey people in the community to understand what they'd like to see. Talk to people with various roles, including parents, educators, city officials, business owners, and, of course, the kids.
The character of your community can also play a big part in the playground's appearance, making it unique and full of personality. Consider what makes your community special. Do people take pride in the natural splendor of a nearby river or mountain? Do they thrive on a specific industry like agriculture or automobiles? Is there are a large population that speaks a certain language and would benefit from signs in that language?
You can center your playground around the specialty that your community offers with themed playgrounds. A beach town might choose a tropical theme, with "leafy" canopies, the pirate-themed Rock'N Ship Glider, and bars that resemble bamboo. A city with a historic train station could opt for a train-themed structure, with a gear-panel activity board and wheels for kids to sit in. You could also make the playground special by transporting kids to a faraway place, like a castle or the desert, or include a mural created by a local artist.
4. Plant Secrets and Surprises in the Playground
Kids love to explore the little things in life. Hide secrets within the playground to spark their interest and encourage them to keep exploring. Some fun additions include:
Peepholes
Pictures
Textures
Buttons and levers
These are great to include in the nooks and crannies of your structure. You might also commission local artists to add small, on-theme paintings throughout the playground or to hide little details in a mural for visitors to search for.
5. Leave Room for Creativity
Adults don't always see things the same way kids do. To a kid, a stick can be a sword, a cane, a tower, a creature, or any number of objects, while a tunnel could be an entrance to a submarine or a cozy log house for a forest creature. Include various items that leave room for interpretation, like platforms and freestanding components that allow kids to take the lead and "alter" their environments in new and exciting ways.
6. Lean Into Nature
On average, American kids spend just four to seven minutes in unstructured play outside. A playground for community children can incorporate more nature into their lives, especially for those in urban areas who may have limited exposure to the beauty of our planet. You can create a natural oasis with elements that would fit right in in a forest or jungle, like the NU-Edge Crawl Log or a bright tree frog climber.
Nature- and animal-themed elements are excellent, but you can also expose children to nature by working with the landscape around you.
A tree next to a sandbox can offer shade and beauty, while a garden or planters could introduce kids to more plant life. A trail through the garden or a small wooded area could double as a quiet space to reflect. Sensory play features, like sand and water tables, are also excellent for bringing in the elements.
7. Remember the Basics
It's easy to get caught up in the exciting structures and elements your playground will have, but don't forget about the little necessities that make it enjoyable and practical, such as:
Drinking water
Signage for rules and directions
Depending on the park, you may also want to consider restrooms. If you have an additional space like a dog park, you could add a waste pick-up area and doggy drinking station.
Considerations When Designing a Community Playground
Designing a playground can be fun, but there are also logistics to take care of. Here are some topics to keep in mind when coming up with designs for community playgrounds.
Who You're Working With
Try to choose your playground partner early. A knowledgeable playground provider should have years to decades of experience with the process and can help with everything from brainstorming to implementation to maintenance. If you involve them early, you can take advantage of their expertise for a smoother process and a stellar playground.
Fundraising
Funding your playground may seem daunting. But one of the nice parts about community playground equipment is that everyone gets to use it, so many community members will happily assist, whether through direct donations, their time, or fundraising help. Recruit your community's A-team to help with fundraising events like bake sales, silent auctions, marathons, and donation requests from local businesses.
One significant source of funding is grants, which can come from governments, foundations, businesses, and even individuals. When writing a grant, you'll look for research to back up your goals, such as how playgrounds benefit the community and how the investment will pay off. Your playground partner should be able to offer tips here, too, and point you in the right direction.
Federal, State, and Local Laws
Approvals can be complex, so working with a knowledgeable representative is vital. Your custom playground design will need to meet standards from the ADA, as well as requirements from the Consumer Product Safety Commission (CPSC), your local city officials, ASTM International, and other applicable entities.
You need to create an environment that's as safe as possible. Trusted sources like your playground provider and regulatory guidelines can help you here.
Although the safety needs of each playground will differ, some ways to address safety issues include installing playground surfacing, providing enough space in play areas, using guard rails, and using bars with specific spacing requirements.
You may also want to help children and caregivers avoid sun exposure, burns, and dehydration. Achieve this by installing structures for shade and providing water fountains.
Budgeting
Figure out your budget as soon as possible. The cost of a playground can vary widely according to factors like:
Playground size
Equipment costs
Landscaping needs
Surfacing
Labor
Shipping
Even if your community playground is on a strict budget, you can make improvements like updating any existing equipment or building in stages.
Materials
Lastly, you'll want to choose the right materials for your playground, namely surfacing and equipment.
Surfacing generally falls into one of two categories — loose-fill or unitary surface materials. Loose-fill refers to items like engineered wood fiber and rubber mulch. These surfaces might be messier and difficult for individuals with wheelchairs to access.
Unitary surface materials offer better accessibility. These materials include poured-in-place rubber and rubber tiles, which provide a smooth surface and fewer maintenance demands.
You'll also want to be careful when selecting the materials for your community park equipment. Consider the costs and how easy it will be to maintain. At Little Tikes Commercial, we use materials like:
Vinyl coatings: A layer of vinyl on decks, steps, ramps, and bridges helps reduce heat transfer and holds up to aging and corrosion.
Three-step finished posts: We use high-tensile, cold-formed steel finished in a three-step process. This design offers durability, corrosion resistance, and colorfastness.
Compound resin: This material offers superior impact strength, vibrant colors, durability, and ultraviolet (UV) resistance.
Fire-retardant fabric: Shades can be built with fire-retardant fabric to stand up to high heat and the elements.
Strong clamps and connections: Non-slip, tamper-resistant clamps and durable fasteners provide dependable connections.
How Little Tikes Commercial Can Help
Little Tikes Commercial has been building playgrounds for decades, and we know the ins and outs of community playground design. We love to share our expertise and help our partners make the most of their new and existing playgrounds. Here are some of the ways we can help:
Equipment: We offer a broad selection of community park playground equipment designed for fun themes and inclusive play. These elements span climbing structures, activity panels, bridges, swings, tunnels, and much more. Whether you'd like to purchase a complete set or individual components, our versatile playground options allow you to find the right fit for your budget and community.
Funding assistance: From comprehensive guides on playground funding to our DoughBuilders fundraising program and financing options, we're committed to helping you fund the community playground you envision.
Amenities and accessories: Our inventory also includes the amenities you'll need for a complete playground, like benches, bike racks, grills, picnic tables, trash cans, and even dog park equipment.
Inspiration: With so many playgrounds under our belt, we have a whole webpage dedicated to inspiration. You can see our themed pieces in action and get ideas for your own playground. Your representative can help you get creative, too.
All Little Tikes Commercial equipment has our commitment to safety at the forefront of design, manufacturing, and use. We make equipment that meets or exceeds performance safety specifications from organizations like the American Society for Testing and Materials (ASTM), CPSC, ASTM International, and others.
As a leading playground manufacturer, we also help you follow these standards by providing input. Our knowledgeable sales representatives and design professionals know requirements well and can help you build a compliant playground that puts safety first.
Contact Us Today
Your community playground project has lots of potential, and Little Tikes Commercial is committed to bringing it to life. We're the champions of discovery, with the equipment and support that communities need to fund, plan, and build exciting playgrounds and parks.
To learn more about working with Little Tikes Commercial and how we can help you create a community playground, reach out to us today!