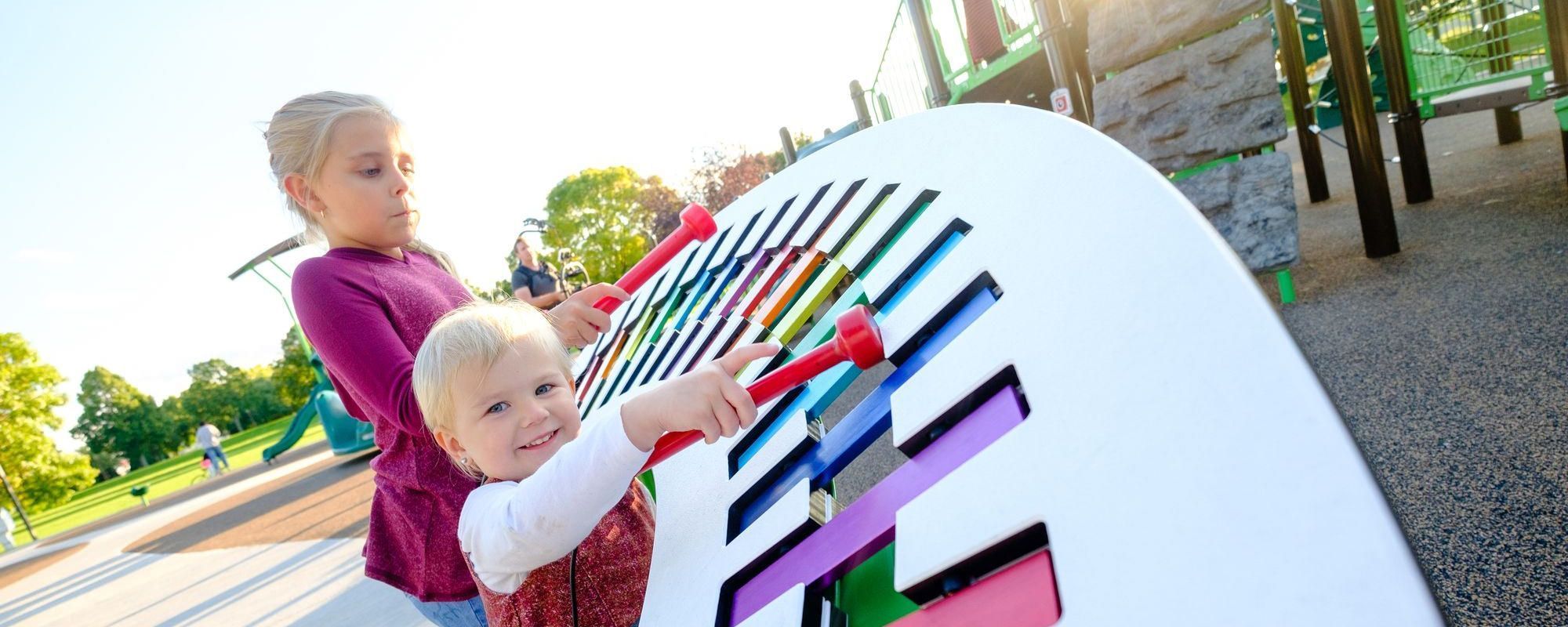 Park Improvements That Won't Break Your Community's Budget
By providing a safe place for children to play, learn, and grow, local parks are an integral part of a community's well-being. But keeping up with a park's maintenance can be financially draining. Because parks play such a key role in building strong community ties, it is important to find cost-effective ways to keep them fully functional and up to date.
Fortunately, there are simple and affordable community playground improvements you can make to get more visitors to your park. Keep reading to find out how a local park benefits its community and ways you can take your neighborhood's playground to the next level without breaking the bank.
Read the full article or jump to a specific section:
How Parks and Playgrounds Benefit Communities
Although playground equipment requires regular maintenance, community park budgeting should include a playground for the sake of the many benefits it offers. Here are the top five reasons to leave room for playgrounds in the community budget:
1. Develop Life Skills
A playground helps children hone life skills by providing multisensory experiences that engage and build their brains quickly. The fun and imagination inspired by play spaces encourage children to interact with their surroundings, stretch their cognitive abilities, and socialize with peers.
Here are some specific skills a play space can sharpen:
Sensory: Play areas stimulate visual, auditory, and touch senses.
Cognitive: Imaginative play requires problem-solving and strategic planning, along with language and literacy skills.
Strength: An active play space can help a child improve their cardiovascular system, core, and upper and lower body.
Motor: Playing in parks tests muscles to develop fine hand and finger skills, agility, balance, endurance, and hand-eye coordination.
Along with physical and mental abilities, playing with others can teach children valuable social skills. When playing together, children must learn how to be cooperative, share fairly, and collaborate as a member of a team. Playing in an inclusive play area encourages diversity and acceptance among children of various ages, backgrounds, and abilities, which can help them get along with and learn from others later in their lives.
2. Promote Healthy Habits
Play spaces help kids develop a healthy, active lifestyle. By including features like a playground, hiking trails, a pool, and tennis or basketball courts, a park can inspire kids to increase their physical fitness through exercise. A park centered around physical activity can be a key component in your community successfully fighting off childhood obesity.
A park can also promote healthy habits of the mind. Spending time in nature can significantly improve people's mood and boost their mental health. Studies show that spending two hours in nature over the course of a week leads to less stress, reduced anxiety, lower blood pressure levels, higher self-esteem, enhanced immune system functioning, and other benefits.
3. Nurture Surrounding Nature
A park is a good opportunity to take care of the environment and plant more trees in the area. Along with providing shade on a hot summer day, the trees within a local park can supply cleaner air by removing air pollutants like dust, pollen, ash, and smoke. Trapping these air pollutants in the trees can help alleviate the symptoms of people with allergies or asthma.
Nature benefits human health, and a park can help communities love nature back. A park's playground equipment can be blended with its natural surroundings to push children to explore nature and appreciate the natural environment around them. This early exposure to nature could plant the seeds for future environmentalists, botanists, or ecologists.
4. Provide a Safe Place to Play
Parks and playgrounds are essential for providing children a safe place to play. Research highlights the role of recreational areas in decreasing the rates of disorderly, property, and violent crime. By offering youth programs in the park like a basketball league, craft club, or skateboarding lessons, communities can give their children a productive outlet and see a reduction in youth crime rates.
5. Foster a Sense of Community
A park that has a playground draws more local visitors by creating a relaxed public space where community members can come together to interact and form connections. Kids can play together or participate in community programs while their caretakers chat and form new friendships with each other. These interactions can shape a deep sense of belonging and community among neighbors.
Seven Cost-Effective Ways to Improve School Playgrounds
Even if you recognize the importance of parks and playgrounds for a community's well-being, you might be worried that your community budget for park playgrounds is not large enough to support any updates. There are plenty of fun, cost-effective improvements any park can make — all it takes is a little effort and organization.
Check out these affordable and adorable community park ideas:
1. Go Digital
Improve your local play area and generate more park visitors by creating a website dedicated to describing the park, posting photos and event announcements, and even coordinating a calendar for volunteer cleanup sessions. Community members will feel more invested in their local park if they can connect with it online when they cannot be there in person.
Creating a social media account for your park is another free and effective way to connect with community members and keep them updated on the latest park happenings. Because the internet reaches such a wide audience, a vibrant social media account can also attract new visitors to your park. Make the most of your digital resources and foster stronger community bonds by setting up an engaging social media page for your park.
2. Make Friends
Organize a "friends" volunteer group of passionate community members willing to take care of the local park. Many recreational sites across the country have "friends" groups to help maintain their grounds while saving the city money. Establishing a grassroots volunteer group can help with park upkeep and deepen the community's connection to their park by giving members a sense of ownership.
3. Spark Creative Play
It is easy to encourage creative play in your park — all it takes is a little imagination. Make your park's playground conducive to imaginative play by building a small stage for children to play pretend and perform on. Another way to get kids' creative juices flowing is to put an outdoor chalkboard in your play space for giant tic-tac-toe games, Pictionary, or doodling.
4. Light It Up
Your local park's lighting provides an opportunity for a simple, quick, and affordable upgrade. Swap out your park's outdated metal halide or high-pressure sodium vapor lights in favor of a more modern LED lamp. Despite the initial installation costs, switching to LED lighting can save your community money in the long term by reducing maintenance and energy bills.
5. Get Artsy
A little paint can go a long way. From repainting the lines on a basketball court to adding a new hopscotch board on the playground's surface, paint is an inexpensive way to spruce up a park. One easy way to give your park a fresh coat is to touch up the paint job on picnic tables and add a painted chessboard to their surfaces.
6. Streamline Signage
The most awesome park system in the world is incomplete without some clear, coordinated signs telling visitors what the local park system is all about. A fun, welcome sign is key to good play areas because it's the first impression the park will have on its visitors. If your local playgrounds are in need of some new signage, have a community night to brainstorm ideas and come up with a specific brand for your park system.
Depending on how much flexibility you have in the community budget for playground signs, you may need to get a bit creative. Don't underestimate the power of handmade signs to bring the community together by creating a charming look unique to your town's park system.
7. Update Playground Equipment
Nothing discourages park visitors quicker than dirty, run-down, or faulty playground equipment. Community playground budgeting may not always include the funding for a total playground makeover, but minor updates or fixes can be just as effective. Repairing outdated playground pieces or adding new standalone fixtures like a slide, tunnel, or swing can quickly eliminate safety concerns and attract a greater number of guests.
Contact Little Tikes Commercial to Begin Your Playground Improvements
If you are thinking about improving your community's park, check out the wide variety of playground equipment from Little Tikes Commercial. We offer options suitable for any community park project, no matter the budget. Our high-quality playground equipment is customizable and adaptable depending on your park's needs. At Little Tikes Commercial, we strive to make playgrounds a fun, inclusive, and safe place for kids to exercise both their bodies and minds.
For more information about financing your park, Little Tikes Commercial offers a funding resource center full of step-by-step guides on fundraising and campaigning for your park. These free resources can help you identify donors, build relationships, and manage a successful campaign. From obtaining grants to securing donations, our funding resource center can help you ensure your park is always on the cutting edge of recreation.
Contact us today to find out how you can start improving your community park and playground.