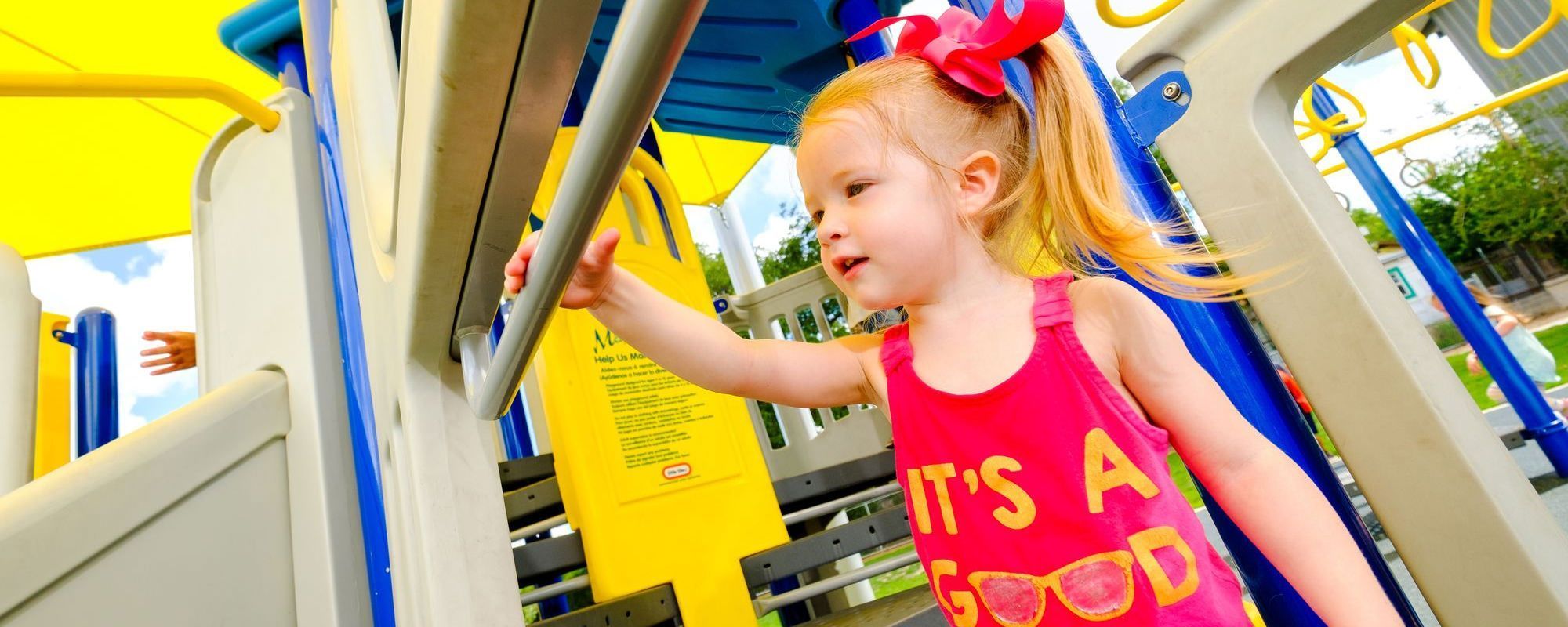 Park Improvements That Won't Break Your Community's Budget
Time and again, parks have proven their value to families and communities alike. By providing a safe place for children to play, learn, and grow, local parks are an integral part of a community's well-being. In a time when parents are seeking to inspire their children to engage in active play, parks and playgrounds are the lifelines that bring communities together to create lasting memories.
However, keeping up with a park's maintenance can be financially draining, resulting in outdated equipment and fewer visitors. Parks play such a key role in building strong community ties that it is important to find cost-effective ways to keep them fully functional and up to date.
Fortunately, you can make simple and affordable community playground improvements you can make to get more visitors to your park. Keep reading to find out how a local park benefits its community and ways you can take your neighborhood's playground to the next level without breaking the bank.
Read the full article or jump to a specific section:
How Parks and Playgrounds Benefit Communities
Community parks and playgrounds are so much more than just another pastime to keep the kids busy. They offer many noteworthy benefits to every member of the community, including raising the values of surrounding homes and drawing in new visitors. Although playground equipment requires regular maintenance, this list proves that playgrounds are a necessity to any community park budget.  From promoting invaluable life skills to encouraging revitalization of even the most distressed neighborhoods, here are the top seven reasons to leave room for playgrounds in the community budget:
1. Develop Life Skills
A playground helps children hone life skills by providing multisensory experiences that engage and build their brains quickly. The fun and imagination inspired by play spaces encourage children to interact with their surroundings, stretch their cognitive abilities, and socialize with peers.
Here are some specific skills a play space can sharpen.
Sensory: Play areas stimulate visual, auditory, and touch senses.
Cognitive: Imaginative play requires problem-solving and strategic planning, along with language and literacy skills.
Strength: An active play space can help a child improve their cardiovascular system, core, and upper and lower body.
Motor: Playing in parks tests muscles to develop fine hand and finger skills, agility, balance, endurance, and hand-eye coordination.
Social: Along with physical and mental abilities, playing with others can teach children valuable social skills. When playing together, children must learn how to be cooperative, share fairly, and collaborate as a member of a team.
It's also notable that playing in an inclusive play area encourages diversity and acceptance among children of various ages, backgrounds, and abilities, which can help them get along with and learn from others later in their lives.
2. Promote Healthy Habits
Play spaces help kids develop a healthy, active lifestyle. By including features like a playground, hiking trails, a pool, and tennis or basketball courts, a park can inspire kids to increase their physical fitness through exercise. A park centered on physical activity can be a critical component in your community successfully fighting off childhood obesity.
A park can also promote healthy habits of the mind. Spending time in nature can significantly improve a person's mood and boost their mental health. Studies show that spending two hours in nature over the course of a week leads to less stress, reduced anxiety, lower blood pressure levels, higher self-esteem, enhanced immune system functioning, and other benefits.
3. Nurture Surrounding Nature
A park is a good opportunity to take care of the environment and plant more trees in the area. Besides providing shade on a hot summer day, the trees within a local park can supply cleaner air by removing air pollutants like dust, pollen, ash, and smoke. Trapping these air pollutants in the trees can help alleviate the symptoms of people with allergies or asthma.
Nature benefits human health, and a park can help communities love nature back. A park's playground equipment can blend with its natural surroundings to push children to explore nature and appreciate the natural environment around them. This early exposure to nature could plant the seeds for future environmentalists, botanists, or ecologists.
4. Provide a Safe Place to Play
Children need a place where they can act like children — a protected environment that allows them to play, learn, and have fun. Parks and playgrounds are essential for providing children a safe place to play, explore, and cultivate relationships with their peers.
Research highlights the role of recreational areas in decreasing the rates of disorderly, property, and violent crime. Without knowledge of a child's home or school environment, parks are one thing a community can provide to support their children. By offering youth programs in the park like a basketball league, craft club, or skateboarding lessons, communities can give their children a productive outlet and see a reduction in youth crime rates.
5. Foster a Sense of Community
A park that has a playground draws more local visitors by creating a relaxed public space where community members can come together to interact and form connections. Kids can play together or participate in community programs while their caretakers chat and form new friendships with each other. These interactions can shape a deep sense of belonging and community among neighbors.
Community parks offer the additional benefit of transforming into an accessible event venue. For many families, birthday parties and other celebratory events aren't possible without a place to host them. With budget-friendly and ADA compliant amenities such as benches, picnic tables, and grills, neighbors will have the opportunity and resources to host inclusive events.
6. Encourage Revitalization
A park and playground have a significant role in defining the identity of a neighborhood. Urban public parks, in particular, have shown that park renovations improve activity levels and mental health and transform cities into places that foster an attractive balance between life, work, and play. With approximately 80% of Americans living in urban areas, the need for parks has become more relevant than ever.
Along with the economic impact of more park visitors and support of surrounding local businesses, recreation in communities has an undeniable positive impact on the entire community's well-being.
Parks can transform unoccupied, littered lots to open and inviting green spaces that encourage community spirit and child development. As an investment in the people of the community, the impact of park renovations has shown to increase efforts by members of the community to push for greater positive change. This effect leads to more diversity, reduced youth crime rates and vandalism, and more involvement by the community to maintain shared spaces.
7. Gain Media Coverage
In the age of sharing everything online, the impact of media coverage in parks is not to be underestimated. Local news stations are always looking to feature community projects and events. A park revitalization effort will spark free media coverage, which could prove to be invaluable in the long-term impacts on the community.
News articles, radio announcements, and social media engagement will put your park at the forefront of people's attention. This will inspire inactive community members to join in and get surrounding communities to know, like, and trust yours.
With increased local coverage, more families will look to move to your community and help boost the local economy, as well.
The Benefits of Community Playgrounds for Families
Playgrounds level the playing field for children of all abilities, races, and ages. In the span of one afternoon, a park can create lasting friendships for children who would have otherwise never met. The true impact of recreation in communities cannot be expressed enough. In a time where smart devices have a role in nearly every area of life, families need a neutral common ground to come together without distraction and connect.
Inclusive playgrounds allow children and families of all types to learn, grow, and play together. Parks aren't just for kids — they are a space for multi-generational recreation. When engaged with their families at local community parks, adults experience better moods, higher cognitive skills, and reduced stress levels.
When you have teenagers who would rather be on their smartphones or game consoles, parks get them moving and out of the house to experience genuine positive peer interaction and exercise. And with about 24% of kids in the United States between the ages of 6 to 17 actually getting the recommended amount of exercise, parks are becoming increasingly vital to the current and future physical health of the community.
Other ways the benefits of playgrounds impact families include:
Actively fighting against the obesity epidemic
Encouraging diverse and inclusive play and socialization
Adding a sense of adventure to the humdrum of everyday life
Keeping traditional methods of play alive, like hopscotch, freeze tag, kick the can, and other classic games
Enjoying physical exercise for the whole family
Parks are one strong link to the past that have withstood decades of change to still offer the same benefits they did when kids used to play until the streetlights came on. Playgrounds allow parents to share and pass on the same elements that made their childhoods unforgettable with their own kids, who will do the same in turn.
10 Cost-Effective Park Improvements
Even if you recognize the importance of parks and playgrounds for a community's well-being, you might be worried that your community budget for park playgrounds is not large enough to support any updates.
Of course, funding and resources are the first concern when discussing the possibility of any new community project or construction. But you don't need a multi-million dollar budget to make unique and attention-grabbing changes in your park. In fact, there are plenty of fun, cost-effective improvements any park can make — all it takes is a little effort and organization.
The key is to invest your parks and recreation budget into the things that will benefit the community the most. Research has shown that some park features promote more physical activity than others, but the use of the park always increases after renovations and improvements are made. These affordable and adorable community park ideas will help offset park facilities costs while allowing you to perform necessary park renovations and community outreach initiatives.
1. Go Digital
Improve your playground and generate more park visitors by creating a website dedicated to describing the park, posting photos and event announcements, and even coordinating a calendar for volunteer cleanup sessions. Community members will feel more invested in their local park if they can connect with it online when they cannot be there in person.
Creating a social media account for your park is another free and effective way to connect with community members and keep them updated on the latest park happenings. Because the internet reaches such a wide audience, a vibrant social media account can also attract new visitors to your park. Make the most of your digital resources and foster stronger community bonds by setting up an engaging social media page for your park.
2. Make Friends
Organize a "friends of the park" volunteer group of passionate community members willing to take care of the local park. Many recreational sites across the country have "friends" groups to help maintain their grounds while saving the city money. Establishing a grassroots volunteer group can help with park upkeep and deepen the community's connection to their park by giving members a sense of ownership.
You can easily do this by logging onto your park's social media account and posting in local groups to search for volunteers. Many parents and community members will appreciate the opportunity to give back to the community and do their part in keeping the local park clean and beautiful.
3. Spark Creative Play
It is easy to encourage creative play in your park — all it takes is a little imagination and thinking outside the box. Make your park's playground conducive to imaginative play by building a small stage for children to play pretend and perform on. Another way to get kids' creative juices flowing is to put an outdoor chalkboard in your play space for giant tic-tac-toe games, Pictionary, or doodling.
If your playground has a theme, like dinosaurs, you can feature a sandbox and sand and water table to allow kids to dig for fossils so  they learn about science and history while playing. Or you can use sculpted climbers to spark a game of make-believe that will encourage kids to dream as big as their imaginations allow.
4. Light It Up
Your local park's lighting provides an opportunity for a quick, and affordable upgrade. Swap out your park's outdated metal halide or high-pressure sodium vapor lights in favor of a more modern LED lamp. Despite the initial installation costs, switching to LED lighting can save your community money in the long term by reducing maintenance and energy bills.
Dependable lighting systems have proven to make parks and neighborhoods safer. Parks are spaces that people walk through day and night, so adequate lighting adds a level of visibility and protection that is essential to cultivating a safe and secure environment for your community. Additionally, updated lights encourage playground use during the winter months, when kids typically stay inside as it gets darker earlier in the day.
5. Get Artsy
A little paint can go a long way. From repainting the lines on a basketball court to adding a new hopscotch board on the playground's surface, paint is an inexpensive way to spruce up a park. One easy way to give your park a fresh coat is to touch up the paint job on picnic tables and add a painted chessboard to their surfaces.
Another way to take advantage of the huge impact and cost-effectiveness of using paint is by adding other games like four square, snakes and ladders, Twister, and long jump to your blacktop. To raise awareness for the newest additions, you can host a community field day where families can compete while the kids learn how to use the new games.
6. Streamline Signage
The most awesome park system in the world is incomplete without some clear, coordinated signs telling visitors what the local park system is all about. A fun welcome sign is key to good play areas because it's the first impression the park will have on its visitors. If your local playgrounds are in need of some new signage, have a community night to brainstorm ideas and come up with a specific brand for your park system.
Depending on how much flexibility you have in the community budget for playground signs, you may need to get a bit creative. Don't underestimate the power of handmade signs to bring the community together by creating a charming look unique to your town's park system.
7. Update Playground Equipment
Nothing discourages park visitors quicker than dirty, run-down, or faulty playground equipment. Community playground budgeting may not always include the funding for a total playground makeover, but minor updates or fixes can be just as effective. You can easily replace outdated playground equipment with new standalone fixtures like a slide, tunnel, or swing. This way, you're not taking away an element of play but swapping out an unused piece for something that is modern and durable against years of wear.
It's the simple changes that quickly eliminate safety concerns while also attracting a greater number of guests.
8. Install Auto Locks
Many schools, religious organizations, daycares, and developments want to keep their playgrounds in working condition for as long as possible. Often, this means having to close parks and playgrounds after sunset. An efficient and cost-saving way to eliminate vandalism and after-dark park use is installing automatic locks on the park gates, restrooms, and concession stands.
This preventative measure ensures the playground is well-maintained while still allowing everyone in the community access during reasonable hours. In the end, it would cost much more to replace an entire playground than it would to simply purchase a few automatic locks right now.
9. Explore New Funding Options
Sometimes the budget simply doesn't allow for additional playground equipment, and unfortunately it's the children in the community who suffer. Luckily, there are other ways to secure funding to improve your playground. There are dozens of playground grants and programs that can provide your community with adequate funding for new park amenities.
Other sources of playground grants include:
Government agencies
Family and community foundations
Businesses
Philanthropists
Don't underestimate the power of your community's voice. With active outreach, you can rally your community together to find solutions to create beautiful parks that are built to last.
If you're unsure of where or how to start looking for new funding options, this guide can help you get started today.
10. Refresh the Amenities
A playground has more than play equipment. The most accessible and accommodating school playgrounds offer places for children and adults alike to sit, eat snacks, park their bikes, and more. By installing new site amenities, you can ensure everyone in the community can enjoy the space.
Here are several ideas for site amenities you can add.
Picnic tables: Whether someone's hosting a birthday party or a family needs a place to have lunch, picnic tables are a helpful addition to any playground. These tables come in many configurations, so you can supply adequate seating. Plus, they are available in different color combinations, so selecting options that match school or equipment colors is simple.
Benches: Everyone needs a place to sit. Disperse various benches throughout the playground to ensure people have dedicated areas to rest. There should be seating with and without backs to meet each visitor's needs.
Accessories: Aside from playground equipment like monkey bars and slides, kids may want to explore their musical abilities with chimes, congas, and other instrument installations. Other playground accessories you can add include talk tubes, bike rests, and welcome signs. These components offer visitors plenty of options for entertainment and convenience.
Little Tikes Commercial can supply you with site amenity options to help you improve your school playground. To meet each visitor's needs, our picnic tables and benches are ADA-compliant. If you need customized site amenities, we can help you create fully customized options for various sections of your playground.
Funding a Playground Addition for Your Community Park
Whether you're looking at installing a new play space or how to improve your playground, you may feel overwhelmed by all the costs involved. Considering all the benefits of community playgrounds, though, it's well worth exploring this option and seeing how you can make it fit your budget.
Fortunately, even if this addition seems out of your budget range, there are a variety of funding options you can pursue. It's usually best to look for donors in your local community or in the closest large city in your area. There are four types of funding sources to consider:
Individual donors: Individual philanthropists in your community may be willing to help fund your project, especially if they have children who would benefit from the playground.
Businesses: Both large corporations and small family-run businesses can also be sources for funding. Look for ways to recognize these donors so community members and park users know about their sponsorship.
Foundations: Charitable organizations in your area may also be willing to help carry part of the cost of your project. Look for foundations with a mission and values that would align with the goal of bringing a playground to your community.
Government: Government funding is another possibility to explore. You can apply for grants from the federal government, your state, or local governments.
How can you ask for funding from these different sources? The best way to make your request will likely depend on the type of donor and your relationship with them. In some cases, it's best to meet in person. For example, this can be a great option for asking local businesses if they're interested in supporting the playground project and explaining how you can publicly highlight their contribution.
If you're requesting funding from the government or a charitable foundation, there should be a predetermined procedure for applying for this funding, which will likely involve a written proposal. Other options for spreading the word about your project and connecting with potential donors are through online fundraising and in-person events.
Before you start fundraising, make sure you have a detailed understanding of the cost of your project and how far this cost exceeds your community's budget so you know exactly how much you need to raise. It's also a great idea to give donors the option of funding a particular piece of equipment rather than just giving generally to the project. A local business may take pride in knowing they're specifically responsible for the presence of a swing set on the community playground, for instance.
Contact Little Tikes Commercial to Begin Your Playground Improvements
If you are thinking about improving your community's park, check out the wide variety of playground equipment from Little Tikes Commercial. We offer options suitable for any community park project, no matter the budget. Our high-quality playground equipment is customizable and adaptable depending on your park's needs. At Little Tikes Commercial, we strive to make playgrounds a fun, inclusive, and safe place for kids to exercise both their bodies and minds.
Whether you're interested in adding a few benches or revamping your entire playground, Little Tikes Commercial is here to assist your endeavors. If you have any questions or hesitations, you can rely on our trusted team of specialists to guide you through the selection process. For decades, we have been working with communities to create accessible and enjoyable play spaces.
For more information about financing your park, Little Tikes Commercial offers a funding resource center full of step-by-step guides on fundraising and campaigning for your park. These free resources can help you identify donors, build relationships, and manage a successful campaign. From obtaining grants to securing donations, our funding resource center can help you ensure your park is always on the cutting edge of recreation.
Contact us today to find out how you can start improving your community park and playground.