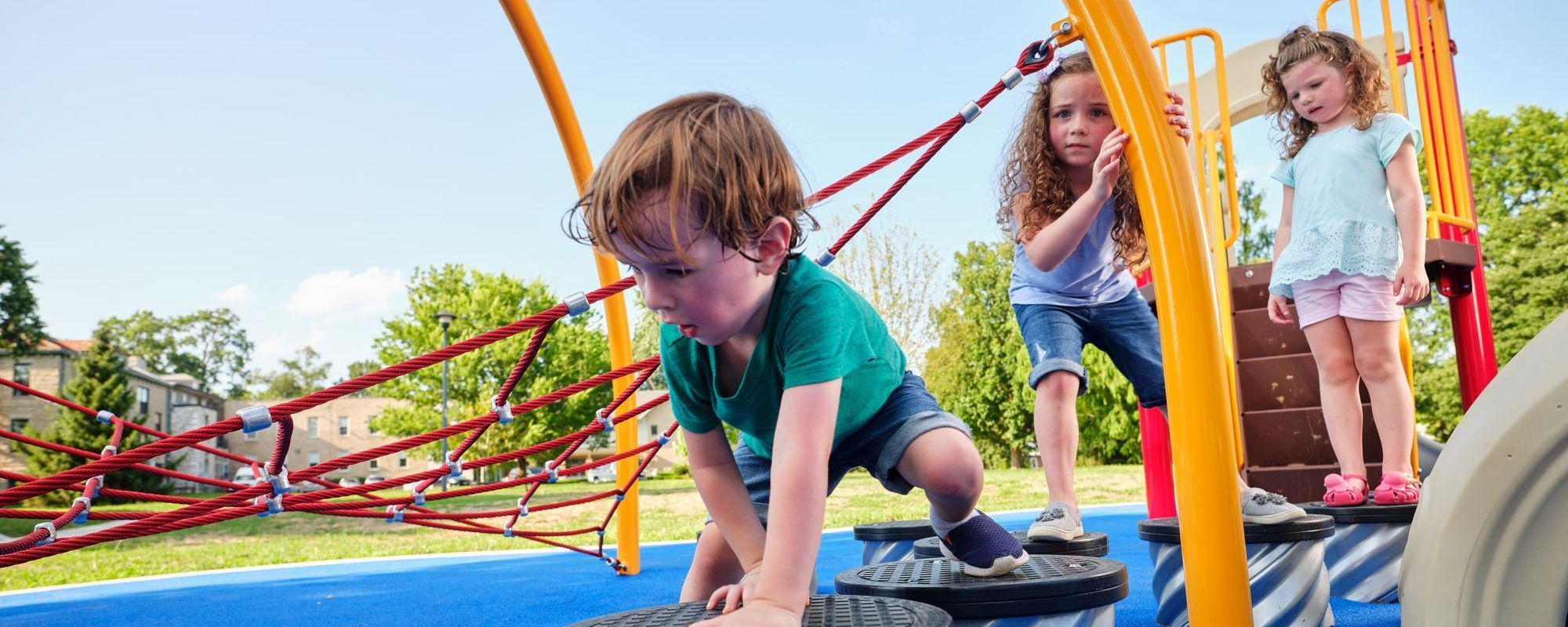 The Benefits of Motion Playground Equipment
Today's playground equipment goes beyond the standard swings and monkey bars. Modern motion play equipment provides new ways to play, keeping kids engaged and excited as they spin and rock along.
Why do kids love motion play, and how can you add it to your playground? We'll answer those questions and more in this quick guide.
Read on or jump ahead to a specific section:
The Benefits of Motion Play for Children
Motion play upgrades static playground equipment, offering kids a more exciting and engaging play experience. Additionally, it also helps their mental and physical development. Interacting with rocking and spinning playground equipment helps develop the vestibular system, the part of the nervous system responsible for maintaining balance and body positioning.
When kids spin, swing, and slide, their vestibular systems receive sensory stimulation from the motion. That stimulation helps them establish an awareness of their bodies. Building the vestibular system helps kids develop:
Improved reflexes: As kids become more familiar with how their body moves through space, specific movements become more familiar. Their bodies build muscle memory and learn to respond to their environment more quickly.
Postural control: Motion play equipment helps kids build core and upper body strength. Developing those muscles helps them stabilize their torsos and neck to remain upright while walking and sitting.
Increased strength: Motion play helps kids develop muscular strength and endurance.
Types of Motion Play
Motion play involves a variety of movements, including:
Swinging: Swing sets are popular with kids throughout their development. Swinging teaches kids how their body moves through space. Pumping their legs to propel the swing develops lower body strength and coordination.
Spinning: Playground equipment like merry-go-rounds, maypoles, and solo spinners help build new neural pathways, leading to improvements in spatial awareness and rhythm.
Rocking: Rocking playground equipment helps kids gain a sense of rhythm and timing by responding to how the equipment moves. Additionally, the gentle back-and-forth motion calms kids, helping to soothe feelings of anxiety and stress.
Sliding: Sliding helps kids develop their balance by requiring the child to hold an upright position all the way down. Adding slides with twists and turns adds more of a challenge, creating a more exciting riding experience for older kids.
Adding equipment that incorporates multiple types of movement will give kids various exciting ways to develop well-rounded motor skills.
How to Add Motion to the Playground
You can easily incorporate freestanding commercial motion equipment into your existing playground or working designs. If you have out-of-date playground equipment you're planning to replace, consider upgrading to new motion play events to draw more kids to your playground.
Spring Riders
Spring riders, like the classic rocking horse, rock back and forth in response to a child's movement. This motion helps kids develop their core strength, leading to greater coordination and improved gross motor skills.
You can find spring riders in various colors and shapes, from bright yellow bulldozers to vivid orange snails. With such a variety to choose from, it's easy to match your playground aesthetic. For example, you could add a whale spring rider to a nautical-themed playground or a two-rider grasshopper to a playground in a nature-themed park.
Spinners
Spinners come in many different configurations to challenge kids of different ages and abilities:
Seesaws and Teeter-Totters
Seesaws and their smaller cousins, teeter-totters, are more playground essentials. This equipment significantly contributes to kids' physical and mental growth. Kids develop lower body strength by pushing off the ground to get into the air and catching their bodies as they land. They also improve fine motor skills and grip strength by holding on to the handles and keeping themselves seated correctly.
These playground must-haves have undergone a significant upgrade over the past few decades. A modern seesaw like the Dragonfly is fun for kids and safer than its older iterations. You could also choose a double-seated teeter-totter like the Team Totter. Riders have to coordinate their movements, encouraging teamwork and cooperation.
Swing Sets
Swings are a classic way to add motion to your playground. Kids love the back-and-forth motion of swinging, which helps them develop balance and spatial awareness.
Standard swings are a classic choice and a surefire crowd-pleaser. You can also consider other configurations to offer kids a variety of riding experiences:
Tire swings: The spinning motion of tire swings builds core strength and muscular endurance as kids resist forces from multiple directions. They're also easy to incorporate into most modern playgrounds.
Team swings: Multi-rider swings like the Team Swing and the Raft Swing encourage kids to develop teamwork and collaboration skills to control the swing's movements.
Inclusive swings: Adding inclusive seats to your swing sets lets kids who have difficulty with traditional swings play alongside their peers. When you provide inclusive options, you can help everyone feel included.
Balance Events
Challenge children with unique playground equipment that develops their balance and coordination.
A floating balance beam is an excellent example of upgrading old-school equipment. The tension from the suspension strings makes the board wobble. Kids have to find new ways to respond to the unsteady floor while maintaining their upright position.
Consider installing a standing swing like the Freestyler for even more of a challenge. Inspired by board sports like surfing and skating, the Freestyler has kids hold on to the overhead handles while standing on the suspended beam.
Get Your Playground in Motion With Little Tikes Commercial Equipment
At Little Tikes Commercial, we're committed to providing high-quality playground equipment for kids across a broad range of ages and abilities. Browse our entire collection of motion playground equipment online to find pieces that will make your playground a hit.
See something you like? Fill out our online form to request a free quote or reach out to your local representative to discuss specific options for your playground.