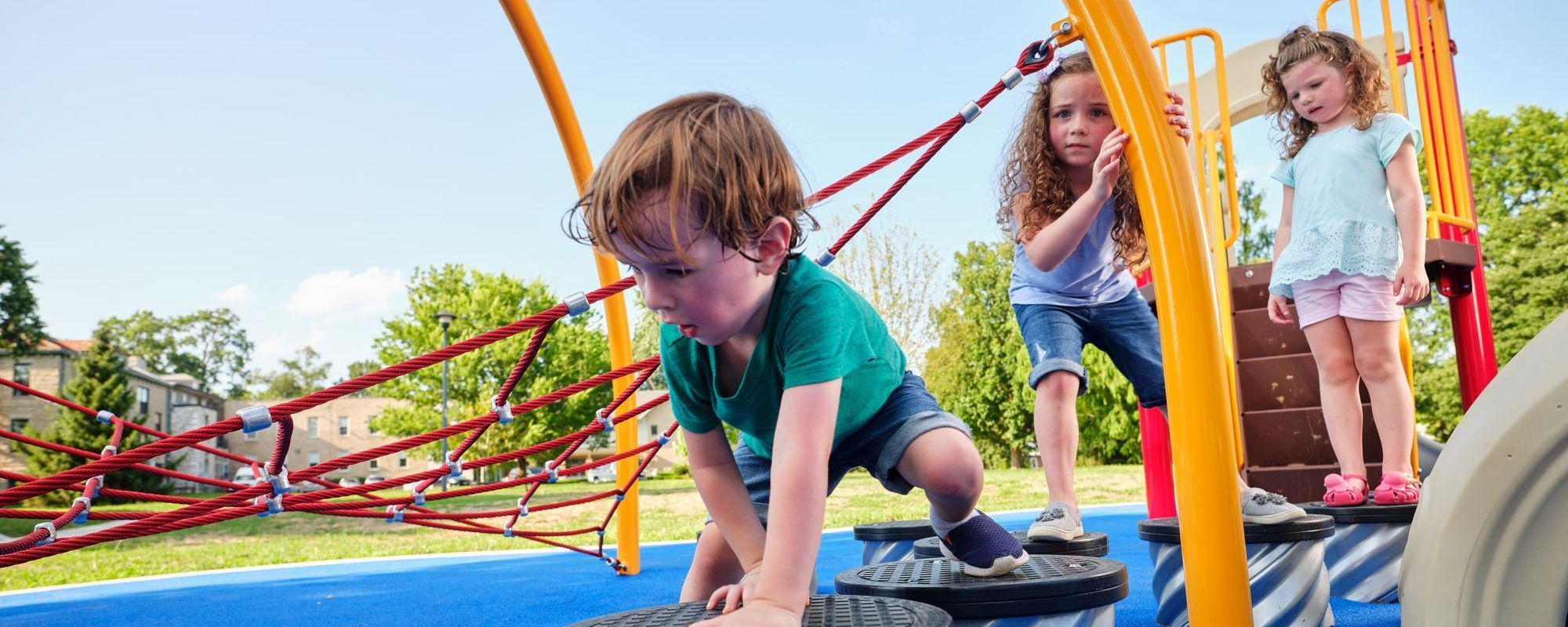 Top Things to Consider When Buying Commercial Playground Equipment
Playgrounds should provide a safe space for kids to explore, play, exercise, and interact with others. They're an important part of child development and encourage the growth of new skills and healthy bodies. They bring communities together and support mental health. Once you know the benefits of having a park in your community, you may be wondering how to get a new playground in your area.
Most people do not have a lot of experience with buying commercial playground equipment. When it comes time to update your school, park, church, or community, you need to consider many factors to make the best playground purchase for your needs. You need to identify a target audience and age group for the playground. Then, pick a location and determine how much space the playground can take up. Figure out what the budget is for the new project. Decide on the surfacing, equipment types, and structure material.
All this can be overwhelming, but with a little help, you'll have a great playground in no time.
Consider Age Group
Consider the kids that will be using the equipment the most. Playground structures are divided into three different age categories — 6 months old to 23 months old, 2 years old to 5 years old, and 5 years old to 12 years old:
6 months to 23 months: Playgrounds for young children 6 months old to 23 months old should offer safe equipment for them to move in and explore. Equipment for this age group should encourage kids to crawl, stand, and walk. Kids learn a lot at this age, and appropriate play structures can help them develop new skills. Equipment for this age group is often small structures close to the ground that encourages simple interactions.
2 years to 5 years: Equipment for this age group should contain more complex structures that encourage stepping up and down, climbing short lengths, and using their imagination. The playground can contain short slides, ramps, sand areas, and spring rockers. Kids at this age are starting to explore more things and challenging their limits.
5 years to 12 years: School-age children can use more equipment that encourages all sorts of skills. Include a variety of structures that can help kids work on different muscle groups and develop new skills. Horizontal bars, climbing ramps, tire swings, slides, and sliding polls are all examples of equipment that can be included.
It's important for kids to only play on equipment designed for their age group. It can be dangerous to play on equipment that is too advanced for their age. Always put signage indicating the appropriate ages that can use the equipment. If you want to create structures for different ages, there are certain precautions you should take to ensure the kids only play on the appropriate equipment.
On the Little Tikes Commercial website, you can filter our products by age group. Find equipment for ages 6 to 23 months, 2 to 5 years, 2 to 12 years, 5 to 12 years, and 14 years and up.
Consider Location and Space
Next, find the location where you'd like to place the equipment. The best place to put a playground is the place that gives the most people access to it. Playgrounds benefit communities in many ways. If you have a choice in where to put it, put it somewhere that will benefit as many families as possible.
Consider the following:
Where to put the playground: You'll need a large, flat area with plenty of room. Attempting to build a playground on uneven land will greatly increase the time and money required to complete your project. Consider placing the playground in a place that already has shade cover. The utility company will have to confirm that the location doesn't have anything running underground in that area before you get started. Make sure the playground won't violate any local codes or ordinances.
How much space is available: Figure out exactly how much space you'll have. There will have to be extra space around each structure for the required "usage zone." Kids need space around the equipment to play safely. You'll also want to consider space for the parents to watch their kids and if you'll be adding anything in the future.
The number of structures: Think about the number of structures you want to place. You can have one huge structure in the center or many smaller structures spread out around the area. Depending on how large the area is, you could separate it into different playgrounds as well. Plan out other amenities like benches, trash receptacles, tables, and anything else you're playing on installing in that area.
Consider the Needs of the Community
When buying commercial playground equipment, keep the needs of the community at the forefront of your efforts. Working closely with the community can inform which equipment to select, as different communities have various needs.
Consider the following factors when evaluating community needs:
Demographics: Think about the number of children in the community who may be using the equipment in addition to their ages. Different organizations have different goals for their playgrounds. Playgrounds catering to specific age groups also require different equipment. Consider getting input from the community's children when designing a playground to better understand which pieces of equipment they'll enjoy the most.
Accessibility: Playgrounds should be accessible to all. Consider how children with disabilities will be able to access the playground by creating an inclusive space for all to enjoy. Playgrounds accessible to the public must be ADA-compliant. For example, because ground-level components are easier to access, a quarter of all playground components must be at ground level. When buying commercial playground equipment, include kids with disabilities by featuring sensory equipment and ensuring the playground is wheelchair accessible.
Purpose: Contemplate your playground's purpose. Are you selecting equipment for a school, church, daycare, park or another community organization? Each playground will get varying amounts of use and target different age groups. For example, a school will likely see more foot traffic than a community park. Schools may also have different wants to select equipment for particular age groups, while parks might choose a range of equipment.
Consider Your Budget
Once you have an idea about the type of playground you're planning on installing and where you'd like to place it, you need to know what the budget is. There are many things to consider when it comes to the cost. There may be a cost for leveling the land, preparing it for the playground, or acquiring permits. There is the cost of the equipment, but also the cost for delivery and installation. It's also a good idea to keep money aside for other playground additions, like benches, plants, flowers, and trees, or other structures that provide shade.
Consider these areas when preparing your project budget:
Preparation: Preparing the site for a playground will depend on what you're starting with. If you're tearing down an old playground or leveling ground, this cost could be higher. Starting with flat, level ground is always better, but there are still other preparation costs. There will be a cost for drainage, surfacing, and fencing. Get as many quotes as you can to plan your budget for this part of the project.
Equipment: The equipment will take up a significant part of the budget. Going with the cheapest option is not always the best.Become familiar with the standards for safety when it comes to playground construction and choose a reputable company.
Shipping: Shipping costs can make up a significant portion of your budget, depending on the shipping costs of the manufacturer you choose and where the playground will be located. Planning ahead can ensure you get your equipment on time without having to pay extra for faster shipping.
Installation: Some manufacturers will give you a quote that includes equipment, shipping, and installation, but many will not. Make sure you confirm what each quote is for.
Maintenance: Maintenance is one of the most overlooked costs in playground budgeting. Playground equipment is built to withstand harsh weather conditions and frequent play. However, equipment requires regular maintenance to keep it safe for children to use. Include costs for equipment inspections, replacing old or broken parts, and grounds upkeep in your budget.
Amenities: Set money aside for things like seating areas, trash receptacles, trees, flowers, signage, and other things to make the playground more than just the equipment. It should be a space for families to spend quality time, get exercise, and enjoy being outside.
Reach out to Little Tikes Commercial today to request a quote for your project to help you start planning out your budget. We also have helpful resources for project funding.
Consider Area Surfacing
The surface of the ground you place the equipment on is an important safety feature for the kids playing on it. Kids will be moving, climbing, and sometimes falling on the surface, so it should be something with a soft impact. Newer surfacings are much more forgiving than the old sand or gravel playgrounds. These are five common surfacing materials:
1. Unitary Surfacing
Unitary surfacing is a safe and low-maintenance option. While it does tend to have a higher cost, it offers many benefits and requires less maintenance. Unitary surfacing is slip-resistant, durable, long-lasting, and often ADA-accessible. There's pour-in-place surfacing, which provides a smooth, cushioned surface over the whole area, and interlocking rubber tiles.
You will need to know the maximum fall height of the highest piece of playground equipment, so the surfacing can provide the right amount of cushioning. Another good option is rubber tiles that fit together to make a solid surface. These options often come in different color options and varying thicknesses.
2. Rubber Mulch
Rubber mulch is a great way to get a soft, flexible surface without having to spend quite as much money. This mulch is typically made from old tires cut up into "nuggets" to make a cushioned landing surface for the kids. It won't get compacted as people step on it, won't blow away in the wind, and won't float away when it rains. As far as loose-fill options go, rubber mulch nuggets are a great option.
3. Engineered Wood Fiber
Engineered wood fiber is affordable and durable. It's a type of wood mulch, like landscape mulch, but with important differences. Engineered wood fiber is specifically designed for playgrounds and contains no arsenic, lead, or sawdust. It's a natural way to provide cushioning and protection.
Consider Playground Equipment Types
There are many different types of equipment you can incorporate into your playground. The structures you place will mostly depend on what age group your playground is meant for, but it's important to know what is available.
Swings
Swings can be in any playground as long as you have the right ones. Some seats allow even infants to enjoy a swing, with the help of an adult. Infants, toddlers, school-age kids, and adults can all enjoy swinging. It provides visual and vestibular stimulation and requires effort and leg strength. Learn more about the physical and cognitive benefits of swinging for kids.
Climbing Structures
Equipment that allows kids to climb safely can help them develop coordination, confidence, and healthy muscles and joints. Climbing has many physical, mental, social, and sensory awareness benefits for children. Remember to make sure the height of the climbing structure is age-appropriate.
Slides
Almost any playground will have slides. There are spiral slides, straight slides, bumpy slides, tunnel slides, and they all come in varying lengths. Equip your playground with multiple slides to provide different experiences.
They offer tactile stimulation, and kids always love them! Slides provide multiple benefits to children. They offer unstructured play, engage the senses, boost mood, encourage socialization, inspire exploration, teach cause and effect, and encourage decision-making.
Horizontal Bars
Monkey bars and other types of bars help kids develop upper body strength by challenging themselves. Kids will push themselves to complete the whole length of bars and even compete with other kids to see who can stay up the longest.
Spring Riders
Spring riders are simply a seat placed on a movable spring. These spring riders can look like anything, so they add an imaginative aspect to your playground. Kids can ride a horse, bulldozer, or even a whale. These are great options for younger kids.
Activity Panels
Activity panels are great for sensory and social play. These panels can contain all kinds of different activities, thus engaging multiple senses and different tactile experiences. You can have math and science-themed panels, sound and music panels, cognitive activity panels, and tactile panels. These panels give kids of all ability levels educational and interactive experiences.
Consider Structure Material
Playgrounds can be made of wood, metal, plastic, or a combination of different materials. The material will affect the durability, safety, and maintenance required for the playground:
Wood: Wooden playgrounds are sturdy but need quite a bit of maintenance to have a long life. They need to be weather-sealed and regularly treated, as well as checked for splinters and rot. This equipment can cause cuts, bruises, and other injuries if the damage isn't promptly taken care of. Wooden equipment has more flexibility than metal playsets, which can be important in case of a fall.
Metal: Metal playground sets are made of sturdy steel and are usually coated with something to prevent rust and other damage. They're very durable and can withstand all types of heavy weather. Some metal sets can get very hot in the sun if it's not treated with a heat-resistant coating. Metal sets can come in various shapes and sizes and can have brightly colored coatings to fit any environment.
Plastic: Plastic playground sets are lightweight, affordable, and much less likely to have dangerous edges when compared to wood sets. They don't need a lot of maintenance and are easy to clean. They can come in many colors and configurations.
At Little Tikes Commercial, the posts of our playgrounds are made from high-tensile, cold-formed steel with an internal coating, zinc galvanizing on the surface, and a dry powder coating. All our decks have a vinyl deck coating that reduces heat transfer and protects against corrosion. Our rotomolded components are made from compound resin that gives them durability and UV resistance.
Consider Ongoing Maintenance
No matter what kind of playground or surfacing you choose, there will still be maintenance required on a regular basis. This ensures that the playground is safe and stays in good condition. Consider the following:
Regular inspections: Inspect the playground daily for damage and any new hazards. Check for trash, broken glass, and other debris. Inspect the equipment for anything broken, loose, or sharp. There also shouldn't be any standing water. If there is, you may need to improve the drainage of the area.
Inspecting a playground after a storm: If there's a storm, you'll need to perform a more thorough inspection. First, inspect the surfacing. Remove debris, repair tears, and access the turf or infill. Check for erosion and inspect playground equipment hardware.
Equipment maintenance guidelines: Always follow the maintenance guidelines for whatever equipment you purchase. Some playground sets may need resealed, recoated, or retreated after a certain amount of time. They also may just need deep cleaned regularly. Contact the equipment manufacturer for more information on maintenance.
Safety Tips for Playground Management
Safety is of utmost importance when it comes to playgrounds. Kids will be climbing and jumping, and sometimes accidents happen. However, there is a lot that you can do to reduce the chance of injuries.
Surface Safety
The type of surfacing you choose will have a big effect on safety, as that is often what kids will be falling on. Invest in quality surfacing that is deep enough and provides enough cushion to help reduce the impact of falls. The fall height of the equipment and your budget will determine the depth and quality of surfacing material.
While all surfacing types require regular inspections and maintenance, some require more upkeep. Loose-fill products like wood chips, rubber mulch, or sand are higher maintenance than unitary alternatives, like pour-in-place surfacing and interlocking rubber tiles.
When inspecting loose-fill surfacing, check the area for compacted materials, uneven spots, and holes. Level the surface and ensure the depth provides adequate fall protection. Raking through loose-fill surfacing will also help clear foreign objects from the surfacing.
Unitary surfacing is more durable than loose-fill alternatives. However, high-use areas can become worn over time. Rubber tiles can also shift, causing gaps children can trip on. Check for cracks, thin areas, and other signs of wear and tear during inspections. You should have a certified installation professional repair any damaged areas.
Equipment Safety
Be sure that all the equipment you choose conforms to all safety specifications. There are many different safety guidelines when it comes to playgrounds. Little Tikes Commercial playgrounds meet or exceed standards set by leading safety organizations. Our equipment is designed with all the safety standards in mind.
Rules and Signage
Even after considering safety when it comes to surfacing and equipment, there are still other ways to keep everyone safe. Remember to put up signage around the playground that indicates the age group meant to play on it. Signs should also instruct the adults to always supervise their children and ensure their safety.
List all the rules you'd like to mention, such as:
Always have adult supervision
Don't use the equipment when it's wet
No running
No pushing or shoving
Wear closed-toe shoes
No glass bottles allowed
Play carefully
Keep the gate closed, if applicable
Contact Little Tikes Commercial to Learn More
Playgrounds are important parts of every community. Whether you're building one in a public park, school, church, or anywhere else, they truly make a difference in childhood development.
There are so many things to consider when purchasing playground equipment. That's why it's important to find a trustworthy company to help you with the process of creating an educational and stimulating playground. Little Tikes Commercial has a commitment to safety and sustainability, and we pride ourselves on providing quality equipment for all kids.
Our commercial playground equipment can be designed to fit the needs and budget of your project, no matter how big or how small. We aim to bring fun, learning, and exercise to kids of all ages and ability levels. Reach out to us for a quote to get started with your exciting new playground project.