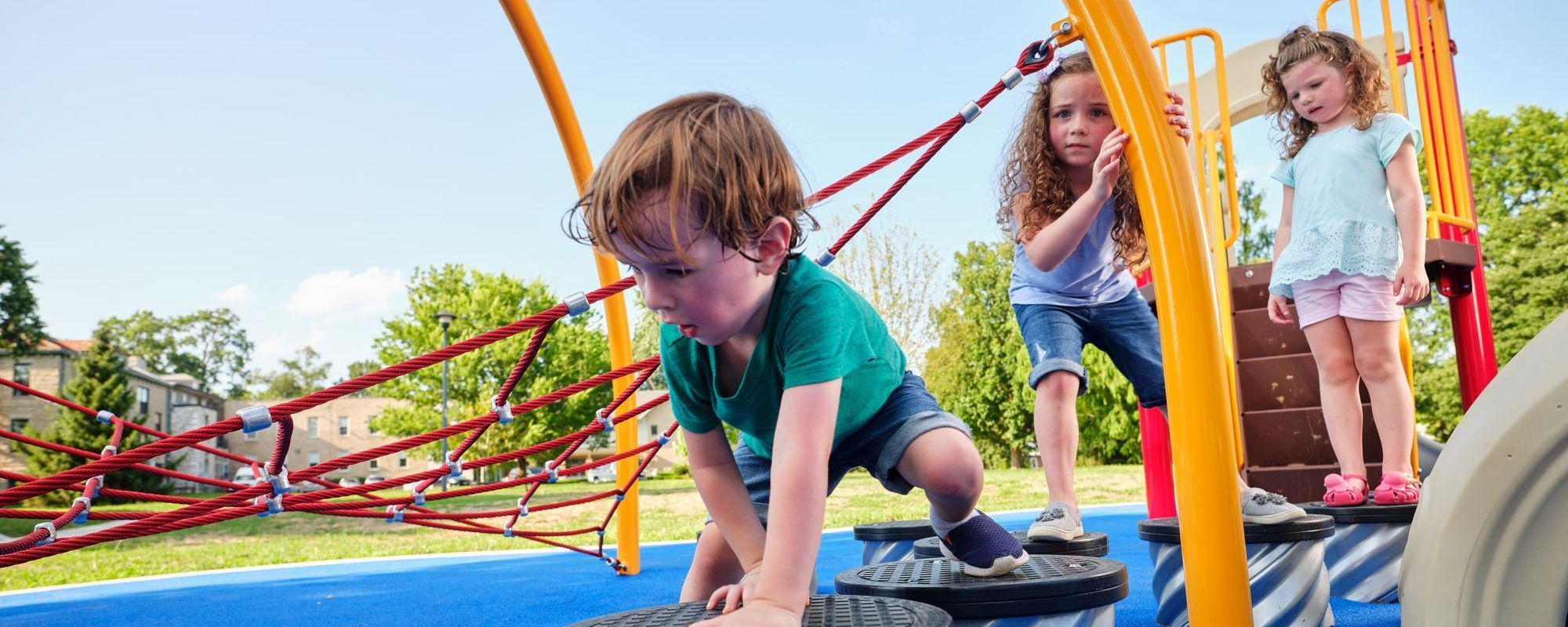 The Ultimate Guide to Planning and Buying a New Playground
As kids grow, they benefit from the power of play in many ways. From playground equipment that boosts physical fitness to themed areas that supercharge the imagination, play is both a necessary and fun part of every child's day. Playgrounds also help kids gain confidence and develop social skills as they meet new friends, share, take turns, and include each other in their games.
If you're looking to bring all the benefits of innovative play to your community, planning and building a new playground is a rewarding and fun experience that achieves your goal. This guide includes all the essential playground planning steps you'll need to create a beautiful playground to share with the next generation of local kids.
Considerations When Making a Playground Project Plan
Once you've decided to create a new playground, gather a team of creative and hardworking people to craft a plan. Your group can consist of local park developers, city planners, homeowners association members, or other community leaders whose perspectives and expertise you could benefit from.
You'll also want to include other people from your community, such as parents and teachers, who can tell you what kinds of playground features kids enjoy and the types of structures they can benefit from. You may even ask kids for their input, as they know better than anyone what playground features are big hits and which themes make them most excited to play.
As you spread the word about your project and build a team, get as many people interested in your idea as possible so that you can gain any necessary approvals before diving into the planning process.
With your new team, brainstorm your thoughts on the following:
Age: What age group will the playground be for? Kids of different ages need equipment to provide fun challenges while also keeping them safe. If you want to create a playground for a range of ages, consider separating play equipment into distinct, labeled sections with age-appropriate equipment grouped together for younger and older kids.
Size: How many kids are likely to use this playground at one time? The playground's size should reflect the number of kids who will use it at once to ensure there's room for everyone who would like to play.
Accessibility: What abilities and needs might these kids have? Kids of all abilities should be able to enjoy your playground through inclusive equipment and design. Make sure your playground is ADA-compliant, and consider going above and beyond to create inclusive, interactive and enjoyable spaces for all.
Theme: What will your playground's theme be? Consider the interests of the kids you're designing the playground for. You can also create a custom playground based on your community's values.
Planning a playground requires thinking ahead and applying your initial goals. After compiling some ideas for your playground, think about what you would like to accomplish as a team throughout this project, such as:
What impact do you hope your playground will have on your community?
What are the details of your timeline, and how do they align with your project goals?
What is your budget for this project, and how will you handle any budget changes that might arise?
How will you delegate routine maintenance after completing the project?
Tips for Playground Design
After some initial planning, you can begin designing your playground more thoroughly. Implement equipment and colors that match your theme and provide an engaging environment for play. In your designing phase, think through some of these tips to create thoughtful designs that will easily translate into a fun play experience:
Be unique: Kids love the excitement of new experiences, such as play equipment they may not have seen before. Choose unique pieces, or combine traditional equipment in interesting ways to create bridges, lookouts, and hiding spaces kids will be excited to explore.
Make space for different types of play: Playgrounds exercise bodies, minds, and social skills, and all kids have different needs and interests that various play elements can address. While much of the equipment in a playground set will lend itself well to active play and exercise for kids, you can also offer sensory play experiences through sounds, sights, and textures to gently introduce kids to new stimulations.
Encourage free play: While playgrounds often provide a combination of equipment-based activities, remember the importance of free play as you add to your designs. Kids will benefit from using their imaginations to transform the playground and its surrounding area into relevant and exciting adventures.
Provide a safe environment: As your designs transform into fully realized structures, consistently refer to the equipment user manuals and any state and federal regulations to ensure you're building your playground with space considerations in compliance with updated safety codes and zoning laws. In addition, your playground's layout should allow adult caregivers to easily monitor kids at all angles, with few visual barriers so they can enforce safety rules at all times.
Remember other amenities: Playgrounds encompass much more than just the play structure. A comfortable playground setting will also include site amenities such as benches, picnic tables, and trash receptacles. Factor these elements into your designs to ensure you leave enough space for adequate seating and other accessories.
The Importance of Playground Location
As you take the time to design a stellar playground, you'll also want to consider your playground's projected location. The place where you're planning to build your playground may present some limitations, but it can also spark your imagination and help you create a play environment that's as unique as it is entertaining.
Your playground's location may depend on your intended audience. A playground around the corner from a preschool might attract toddlers and very young kids, while a similar space in a growing neighborhood with lots of families might benefit from play structures kids of all ages can enjoy.
The location you choose will also affect some of your design choices. You may wish to create a theme or color scheme that coordinates with the surrounding buildings or natural environment.
When choosing a location, consider the following:
Safety: If possible, choose a location that will best serve families and kids. You can protect people and equipment from UV rays by installing equipment in shaded areas. Pick a piece of land with good drainage to avoid pooling water interfering with playtime. If hazards such as roads or bodies of water are nearby, add a fence to keep kids safely within the play area.
Space: Measure your location to determine how much area you have to space out equipment safely so that you know how big or small to make your playground set. Space equipment far enough apart that it doesn't cause hazards, and lay safety surfacing that extends beyond the equipment's area. You can consult your most updated safety regulations for exact measurements and specifications for the equipment you're installing.
Accessibility: Just as you want the playground equipment to be ADA-accessible, you should also make sure the location is accessible from various areas. Look for a nearby parking lot, pathways made from ADA-compliant materials, and ramps at elevation changes. The accessible route should be the main route to the playground so that everyone can enter and exit the playground site easily.
Once you have your exact location, map out some tentative layout options, working around any immovable obstacles such as trees or streetlights. Before you break ground, consult with local officials to make sure your design follows building codes and that you'll be building on ground free from underground pipes or wires that could interfere with your progress.
Types of Playground Equipment
When planning your playground, including a variety of interactive equipment will entertain kids for years to come. All playground equipment should be age-appropriate for the kids who will use it while also presenting a bit of a challenge so that kids can learn and develop new skills as they play.
Putting together a combination of exciting playground features ensures kids will have a unique place to play, and it's also one of the most fun parts of the design process!
Here are some common types of commercial playground equipment and the benefits of including each in your new project:
Slides: With an abundance of styles and sizes to choose from, playground slides are an adventure for kids of all ages. Kids must first climb to the top of a platform, letting them conquer hesitations about heights. They engage various senses and skills as they slide down, such as touch, balance, and proprioception.
Swings: Kids will feel like they're flying with the help of classic playground swings. Kids can learn to set the swings in motion by themselves and build gross motor skills as they coordinate the pumping of their legs with the balance and strength it takes to sit up straight and hold on. Swings also help kids build confidence as they learn to control them on their own.
Climbers: With integrated and freestanding options, climbers can help you expand your playground according to your space needs. Climbers give kids a fun workout that engages their whole body and increases their coordination skills. The tactile pieces let kids engage their senses, and climbing to the top of a structure by themselves builds kids' self-confidence.
Activity panels: Combine active play with sensory play and learning experiences using various activity panels. Find interactive panels that go with your playground's theme, and place a few with your equipment to encourage social interaction. These elements give kids the chance to pause and rest their bodies while exercising their minds.
Motion play elements: From spring riders to bouncers and spinners, kids will love the effects of motion play, which will make them feel like they're riding off on their latest adventure. Rocking and spinning movements exercise kids' vestibular systems, while the air moving across their faces has a calming effect.
Sculpted play elements: Bring imaginative play to a whole new level with climbable elements depicting animals, plants, and other features of the natural world. Kids will love playing with giant frogs, butterflies, and fish, especially if the playground has other themed equipment. What's more, freestanding sculptures provide a world of inspiration for free play that energizes kids' imaginations and lets them create their own stories.
Tips for Funding Your Playground
Building a new playground also means buying a new playground. Lucky for you, the playground equipment company you choose may have resources to help you fund this project so you can break ground as soon as possible. Little Tikes Commercial provides a series of step-by-step funding guides to help you manage the intricacies of funding a playground and launch a successful campaign.
After you've created a plan and budget for your playground, put them together to create a realistic expectation for how much it will cost. When researching the costs of your chosen elements and equipment, you may need to tweak some aspects of your playground plans to better fit your budget, or you may find you have the money to expand your designs and add an extra feature or two.
Beyond the actual prices of the equipment, you'll also need to budget for:
Site preparation
Surfacing
Equipment shipping
Landscaping
Once you've calculated a total cost for the playground elements you've chosen, use that total as your funding goal. Based on the funds you may already have available to dedicate to this project, consider your options for raising any additional money you may need. Common funding sources and strategies include:
Donors
You may want to get the attention of specific people or businesses in your community who could contribute significantly to your funding efforts. Think of businesses and community leaders who may be relevant to your project through the work they do and past projects they've supported. You can communicate with these potential donors and strengthen a positive relationship with them so they stay interested in your mission throughout your project's timeline.
Grants
Your playground project plan may be eligible for grants from foundations, businesses, individuals, or the government. Look for grant options in large cities near you, and apply early in your planning process, as applications and processing take time. Apply for as many grants as possible to have the best chances of gaining funding, and work with a grant writer to ensure your applications are polished, detailed, and stand out from all the rest.
Fundraising
The very community your playground will serve might be a key source of funds. Gather your community together for a fundraising event that shows them how valuable playgrounds are and encourages them to support your cause. From bake sales and silent auctions to talent shows and 5K runs, every dollar raised at an event adds up when your entire community donates a little at a time.
Phasing
You may also consider building your playground in phases based on what's possible with your current budget and what you might have the funds for in the future. Playground phasing allows you to install one section of your plan at a time to help make your costs more manageable. Modular equipment makes phasing easy by letting you add on to existing equipment in various configurations to suit your designs.
Installing Your Playground
Once your plans are finalized and approved and you've met your funding goal, you can finally begin building the structure you've designed! Gather your planning team, as well as anyone else who'd like to help, and hold a playground building day.
Building a playground is a wonderful opportunity to spend time outdoors, get some exercise and socialize with like-minded community leaders as you all work toward a common goal. Working with community volunteers will also help you save money, so you can dedicate all your playground's hard-earned funding to the quality equipment and accessories you've chosen.
During playground installation, consult all equipment manuals, as well as state and federal regulations, to ensure you're complying with updated specifications and making your structure as safe as possible.
In addition, keep the following details in mind:
Surfacing: Follow instructions to install adequate amounts of safety surfacing on the ground around the play equipment. Loose-fill and unitary surfacing materials each have their own specifications to follow.
Spacing: Your playground plans should already take the necessary spacing between types of equipment into account. As you install these pieces, measure to ensure you're spacing them correctly.
Sharp edges: As you work with the equipment, inspect each piece for sharp edges or broken parts that could create an unsafe environment for kids.
Fastenings: As you put pieces together, tighten all bolts and screws so they won't come loose with continued use. Tightly close all "S" hooks and ensure no fastening materials are protruding.
Tripping hazards: During installation, anticipate and eliminate any tripping hazards such as tree stumps, rocks, and exposed concrete footings. After installation, check again to ensure these hazards are gone.
At the end of the installation process, you can proudly look back at all your hard work, knowing you've made a tangible difference for local kids.
Maintaining Your Playground
After you've built your playground, it's ready to be loved by kids all across your community. Routine maintenance is the key to keeping it in good condition for years to come.
Consider making a maintenance schedule with a list of routine duties assigned to a rotating group of people from your original planning committee. Check on your playground at least once a month and after any major storms to ensure this long-term investment in your community stays in good shape.
With your committee, also decide on a maintenance plan. Determine how to follow up with repairs if someone finds damage, and create a documentation procedure so everyone knows how to report common issues.
Some maintenance items to cover on your list may include:
Looking out for broken pieces such as cracked plastic or fasteners and hooks that have come loose or undone
Removing debris such as tree branches and leaves, especially if the playground is in an area shaded by trees
Clearing snow and ice
Inspecting and refilling loose-fill material as needed
Checking for issues with equipment surfacing and hiring a professional to perform any repairs
Cleaning rubber materials so they remain soft and pliant
Choosing Little Tikes Commercial
Little Tikes Commercial is dedicated to bringing the power of play to every community. Playgrounds invite kids to use their imaginations while developing important social and physical skills they'll use throughout their lives. We provide a complete range of innovative designs, from custom theming options to inclusive and accessible equipment that welcomes all kids to play together.
Our goal is to give kids the tools they need to thrive while providing a fun way to learn about socialization, sharing, problem-solving, and the benefits of physical activity. We design our commercial playground equipment to inspire new generations of imaginative play because kids deserve play spaces as dynamic and unique as they are!
Contact Us Today
Building a playground for your community is a fun and rewarding experience for everyone around. From the initial planning stages to the design and installation processes, you'll create a one-of-a-kind play space for local kids and help spread the benefits of healthy childhood play.
Here at Little Tikes Commercial, we're ready to help you find equipment, themes, funding resources, and more to help turn your ideas into a reality. Contact us for more information about our innovative products and to find out what we can do for your next project!