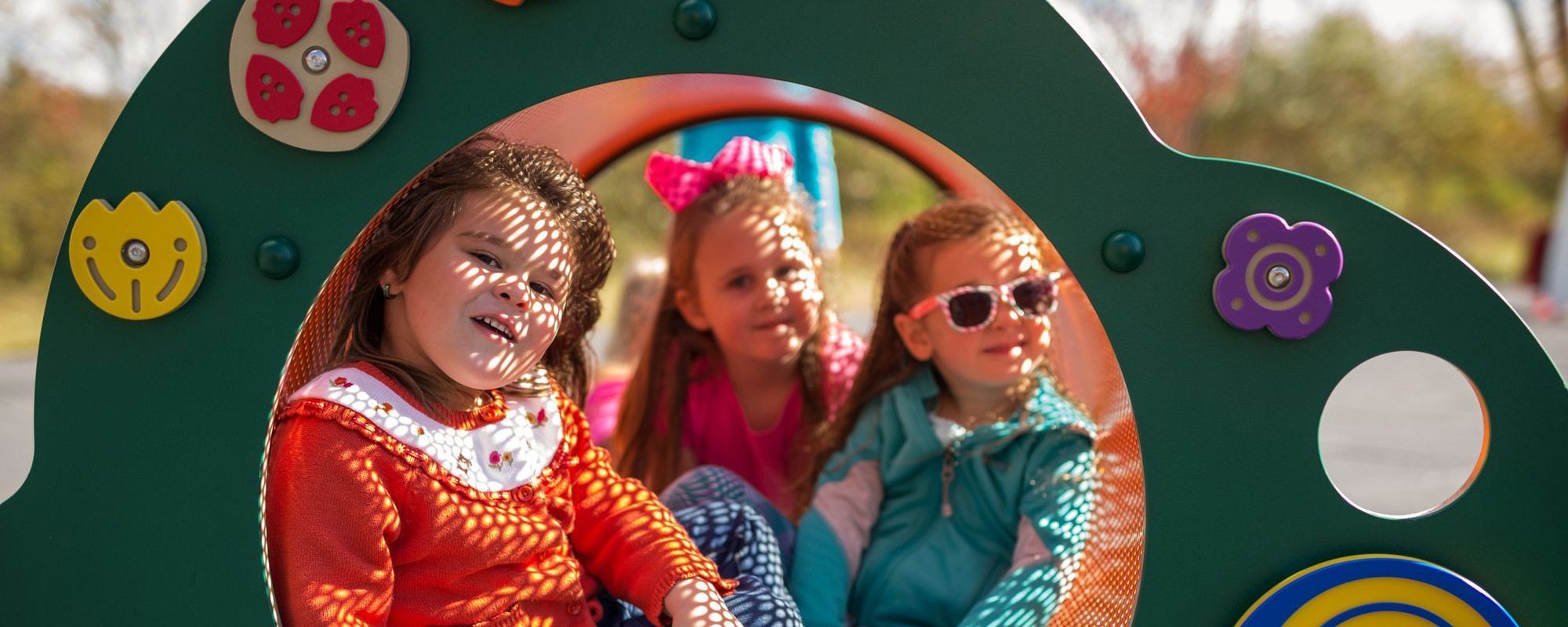 How to Determine a Budget for Your Playground
Whether your school or community already has a strict budget or is researching the cost of building a playground, you want to prepare well in advance to be aware of potential costs. Doing plenty of research can prevent surprise charges and help you stretch your funds further.
Many factors go into the construction of a playground. From site preparation to installation and upkeep, a thorough understanding of the building process can help you create a space that kids will love for years to come. This guide can help you learn how to budget for a playground so you can bring new play opportunities to your community.
How Much Should You Budget For A Playground?
Playground budgets are determined by a number of factors, but there are four primary things to consider: the space available, the number of children that will be using the playground, the needs of the organization, and the necessary characteristics of the playground.
1. Consider the Available Space
When planning a playground, consider the physical space you have for playground equipment. If your school or daycare has a large open yard, you will likely have more flexibility to install play systems along with independent play structures. With enough space, you could create multiple play areas for children of various ages, so every child who uses the playground finds equipment to suit their preferences and play style.
The space available to you will also impact the overall cost of constructing your playground. The existing shade and landscaping might help you cut costs. It is essential to consider safety and comfort, as some spaces could require additional investment, like shade or renovated surfacing. Working with a professional like a landscape architect can help you design a playground that fits your space.
2. Estimate How Many Kids Will Use the Playground
The best starting point for your budget is to determine the maximum number of children the playground will accommodate. A good rule of thumb is to budget $1,000 for one child. However, it's important to keep other factors in mind as well. For example, accessibility accommodations or other special features will increase the cost even further.
3. Evaluate Your Organization's Needs
Your organization's capacity and the characteristics of the kids it serves will influence your budget. For example, if only a handful of toddlers have access to your playground, you will budget differently than if you build a playground for a housing complex with children of all ages.
For a thorough understanding of your organization's needs, first determine the playground capacity. The more children who use your space, the more you will need to budget to accommodate them. Include any other site amenities your organization might need in your budget. Consider if visitors to the playground would appreciate on-site restrooms, a splash pad, picnic tables, or other special features.
4. Determine the Characteristics Your Playground Must Accommodate
Children of every age and ability deserve the chance to experience the joy and imagination of play. When planning a playground budget, factor in the characteristics of the kids who will use it. The height and type of swings, slides, and other play components will vary based on the age range of the children you want to serve. If your organization caters to multiple age ranges, it may be helpful to create designated areas for each age group with age-appropriate play systems.
When budgeting for playground equipment, you must also consider the abilities of the children who will be using your new playground. Kids using wheelchairs or other mobility equipment can benefit from specialized play structures that make play accessible and inclusive. Safe and inclusive playground equipment allows children to play and grow with other kids.
Understanding the Costs of Building a Playground
Building a commercial playground requires considerable thought and planning. You will want to consider elements like equipment, surfacing, and amenities, as well as the costs of installing and maintaining your playground.
A reasonable budget for a playground will depend on your organization's needs and priorities. For example, if you are considering a playground construction project for your preschool, you won't need to buy playground equipment for older kids. The kids playing on your playground need smaller-sized equipment. Considering your organization's needs will help you invest in playground equipment that the kids and families you serve will enjoy.
Before beginning your playground construction project, consider the following categories and their costs.
1. Building Permit
Obtaining any necessary building permits is a vital part of building a new playground. Your state and municipality might have building codes and zoning requirements that apply to your playground construction. In other situations, you might only need a permit if you're also building a new building like a rest area.
It's essential to comply with local regulations to pass inspections and ensure safety at your playground. Research the regulations that apply to playground construction in your area. Usually, you can expect to pay a fee to obtain the building permit. This fee will vary based on your location.
2. Equipment
Equipment is generally the most noticeable aspect of a playground, and play equipment usually takes up the largest portion of the playground budget. Simple playground equipment can be versatile, though it needs to be exciting and engaging to interest kids. Equipment should be long-lasting, so an investment in high-quality materials is well worth your money.
Before deciding what equipment to include in your playground design, identify what play and learning components to prioritize. Depending on the ability levels of the kids in your demographic, you may include more climbers or inclusive spinners to get all kids playing together. Including inclusive equipment can show kids and parents that they are welcome on your playground.
3. Ground Surfacing
Playground surfacing is vital for ensuring safety and providing a play area for kids to find enjoyable.
Options for playground surfacing include the following.
Unitary surfacing: This kind of surfacing includes rubber tiles and poured-in-place rubber. Unitary surfacing is more accessible for children and guardians with wheelchairs, as it stays in place when people walk over it.
Loose-fill surfacing: Loose materials like rubber or engineered wood fiber are traditional playground surfaces. These options are budget-friendly, though they require more upkeep than unitary surfacing. The National Safety Council recommends that playgrounds have at least 12 inches of loose-fill surfacing around playground equipment.
Safety is just one facet of playground surfacing to consider. Price, durability, and aesthetics also factor into your decision. You may also need to account for any landscaping and fencing that can make your playground safer.
4. Shade
Play shade is another potential playground cost to consider. If your site has ample shade from trees or you live in a cooler environment, you may have shade already covered. However, providing adequate shade is essential for sheltering kids from the elements.
When deciding what to budget for a playground, consider what time of day kids will be playing and whether there is sufficient shade from trees. Shade elements can help kids keep cool on a hot summer day.
5. Amenities
Playgrounds are a fantastic addition to any school or housing development on their own. They can draw even greater interest from your community when coupled with other site amenities. Extras like splash pads, bike racks, benches, trash receptacles, picnic tables, and benches can attract families. When they have a designated place to watch over their kids and even unpack a picnic lunch, guardians can feel comfortable staying at the playground all day.
Restrooms are another potential cost that your organization may consider. Many locations can benefit from providing families with restrooms close by, so parents won't need to rush off somewhere when their child needs to use the restroom. Playground signage and water fountains can also provide valuable services. These amenities can go a long way in encouraging families to keep returning to your playground.
6. Installation
After researching and buying your playground equipment, it's time for installation. A playground budget is incomplete without considering installation costs since it's the final step toward giving the kids you serve a new environment for exploration and wonder. Proper installation ensures all equipment meets safety requirements and durability standards.
Playground installation from professionals may include the cost of labor, equipment, and concrete for grounding the play structures. It may also include removing old equipment and prepping the site before construction. To prepare your site for building a playground, you need to level the ground and create a water drainage system.
You should also determine whether the playground company will install your structures. Many schools and daycares organize volunteer installations, which could help save costs, as long as you receive guidance from a representative who can direct the installation so your equipment meets safety requirements.
7. Shipping
If your playground site is a great distance away from your playground equipment supplier, you may have to pay more for shipping. You may be able to discuss shipping rates with your playground equipment supplier early on.
8. Construction Contingency
Accidents and setbacks sometimes happen. When creating a budget for a large and complicated project, there is always some uncertainty about the final cost. It's a wise idea to create a construction contingency section in your budget to help with potential surprises. This budget item is typically a smaller percentage of the overall project cost estimate, from 5% to 10%.
A construction contingency can help you cover the cost of delays due to weather, supply issues and other unexpected costs while constructing your playground. It's ideal if you don't have to use your construction contingency, though having the funds if they become necessary can save you from a significant headache.
Different Types of Playground Options
When determining what kinds of playground equipment to install at your site, the options may first seem overwhelming. Today's playground equipment is versatile, engaging, and surprising. Different types of playgrounds may call for specialized equipment to suit the children who enjoy it.
As an experienced playground equipment manufacturer, we know a lot about playground equipment options. Playground budgeting is easier when you consider the differences between commercial and residential playgrounds.
Use and durability: First, commercial playgrounds will likely see much heavier use than residential playgrounds. On any given day, thousands of kids could use a playground at a school. A high level of use calls for durable materials that can withstand thousands of adventures every day.
Level of input: With a school, daycare, or housing development, there may be many opinions and suggestions for what to include in the playground. Stakeholders, investors, and parents may have a say when it comes to commercial playground equipment. It's essential to have options that include a broad range of interests and concerns.
Return on investment: Stakeholders in a commercial playground might be concerned about more than just providing a fun space for kids to play. They may also consider the equipment's longevity and its long-term upkeep cost. In addition, they might want to choose equipment that provides more learning opportunities.
Variety of users: Commercial playgrounds are much more likely to see various children with different abilities. Kids and parents alike could benefit from a wheelchair-accessible space or equipment that considers those with visual or cognitive impairments. Inclusive playground equipment allows every child to enjoy your playground.
Consider the following playground equipment options for your commercial playground project.
1. Slides
Slides have been a classic playground component for generations. Slides of all types provide sensory stimulation and may help kids conquer their fears, from straight to spiraled and single to double-wide. We offer slides for toddlers and older kids alike, so you can choose a structure to suit the needs of the kids you serve.
2. Swings
According to one study, swings — along with slides and ladders — are among the play structures that encourage the most physical activity, making them an excellent choice for a commercial playground serving many kids.
Swings are perfect for adding accessible elements to your playground. For example, our inclusive seat allows kids with additional needs to swing alongside others, encouraging inclusivity.
3. Climbers
Playground climbers come in a wide array of structures and designs, ranging from free-standing to attachable fixtures. You can find a playground climber — or two — to fit nearly any kid's need for unique challenges and developmental benefits.
Consider the age ranges of the children your playground will serve when determining which climbers are best for you. Dome climbers and climbing walls increase upper body strength and challenge older kids, while younger kids may prefer structures lower to the ground.
From side step climbers to chain net climbers, climbing equipment gives kids a sense of adventure and helps build balance and strength. Kids can increase their coordination and instincts while reaching new heights on climbing equipment.
4. Tunnels
Swinging and climbing are only some of the movements kids may enjoy on the playground. Climbing through tunnels is another fun way to get kids moving differently. From toddlers to older kids, playground tunnels are an engaging way to get from one place to another and provide a sense of adventure.
5. Activity Panels
Activity panels are an excellent option for your commercial playground if learning is a high priority. Kids can learn the alphabet and pretend to be grocery store or ice cream shop owners with a counter panel. Interactive activity panels encourage dexterity and critical thinking. We also provide panels that fit various playground themes, like pirate ships and castles.
Activity panels are a helpful playground addition for children of various abilities. Kids using a wheelchair will find activity panels accessible and can express themselves through rhythm, sounds, and exploration.
6. Bridges
Kids on the playground always seem to be on the go. Help them get where they want to be with bridges offering different levels of challenge. Our bridges range from the short and motionless four-foot arch bridge to the moving clatter bridge. Each bridge builds balance and coordination, so kids can develop essential skills while playing.
7. Decks and Ramps
Another way for kids to move between playground structures is with a deck or ramp. These connecting structures make it simple to build larger systems while maximizing space. Ramps with steel decks also help make playgrounds inclusive by allowing kids who use wheelchairs or other mobility devices to reach the upper levels of a playground.
8. Motion Equipment
Group play is a fun way for kids to improve social skills and develop healthy relationships with their peers. Motion equipment is one way to encourage this kind of play on your playground. Multiple children can enjoy the Raft Rider and dragonfly at one time. Our one-seater riders also allow kids to appreciate movement on their own.
For an accessible playground design, check out inclusive motion equipment like the Turnabout Spinner, allowing kids using wheelchairs to roll onto the spinner. Stable hand grips create a safe environment for children of all abilities to experience the joy of play. Children of all ages and abilities can also use the Together Glider, a playground structure that becomes fully wheelchair-accessible with the addition of a ramp.
Little Tikes Commercial Funding Guide
Paying for playground equipment doesn't have to be stressful. At Little Tikes Commercial, we prioritize bringing the benefits of play to as many communities as possible. We offer guides and financing alternatives to help make your organization's playground dreams a reality.
We make funding your build easier with resources and even leasing options to help you achieve more with your budget. Download our funding guide here to access our helpful playground financing resources. There are many ways to pay for your playground. Consider the options below to determine which is best for your organization.
1. Grants
Your project may be eligible for grants from the government or other organizations interested in bringing play to your community. When seeking grants for your playground, start with local foundations or philanthropists and then branch out to local or state governments. Many businesses may also be interested in sponsoring your playground build.
Your grant applications should provide a budget and timeline for your project. Apply for a grant if you are eligible for it, and engage as many potential sponsors as possible. Many libraries have resources to help you with writing a grant proposal. Our grant guide can also help you discover the best practices for researching and applying for grants.
2. Fundraising
Fundraising events are popular for gathering the funds needed for a playground building project. Many schools and day cares are familiar with common fundraisers, like bake sales, silent auctions, and 5K races.
However, you and your organization are free to think outside the box when raising funds for your project. Consider organizing a family day, picnic, or talent show where families purchase tickets to contribute to the budget. Remember to research fundraising companies, as they can help you provide donors with quality products to help get them excited to raise funds.
3. Crowdfunding
Crowdfunding is a recently developed fundraising method that uses the resources of a large group of people to fund your project. Multiple crowdfunding sites exist to help finance campaigns from anywhere in the world. A campaign like this may involve local media coverage and creative incentives like selling advertising space to small businesses. Research crowdfunding options online to determine the percentage of your profits the websites will keep.
4. Government Pricing
At Little Tikes Commercial, we offer several financing options to help you meet your budget goals, even if other fundraising efforts fall a little short. If you are a government entity, we can work with you to secure the best possible pricing through our General Services Administration-approved vendor status.
We also offer an easier way to purchase the equipment you need through Sourcewell, a National Cooperative government partner that simplifies bidding on equipment. If you are a government entity, school, or nonprofit, you may qualify for our government pricing options.
5. Phasing
A complete playground is a substantial investment that may be out of reach on your current budget. Consider playground phasing, which allows you to build and pay for sections of your playground at a time. This financing option allows you to complete your project on your schedule and spread the total cost over a manageable period.
We make phasing easy with our modular structures, to which you can easily add temporary barriers. Phasing lets you open your playground to families sooner and pivot your goals if new funds become available.
6. Leasing
If you want to install your playground quickly and haven't reached your budget goals, leasing might be your best option. Leasing your equipment through Little Tikes Commercial allows you to set up your equipment right away and pay for it later. Our leasing partners offer reasonable rates that help you preserve your cash reserves and potentially give you the option to invest in better equipment.
Choosing Little Tikes Commercial
At Little Tikes Commercial, our mission is to inspire kids through exciting and inclusive play structures. We believe play is crucial for childhood development and building life skills that can enrich kids and help them thrive for years to come. The unlimited opportunities for imagination playgrounds give kids inspires us, and we strive to engage children through every detail of our play equipment.
Imaginative play and inclusivity are central to our work, driving us to encourage community and care for all kids equally. We make play possible for children of all abilities through our innovative solutions. We can help you create more than a wheelchair-accessible space, bringing inclusive play to children through equipment designed to engage multiple ability levels.
Safety should be at the forefront of every playground. We ensure each product we manufacture meets or exceeds regulations outlined by safety organizations in the playground industry. Our structures provide challenges for kids while creating a safe environment to explore.
Contact Little Tikes Commercial for Your Playground Needs
From helping you design and plan your organization's playground to providing you with resources for funding your project and keeping it in top condition, Little Tikes Commercial is here to help you at every step. Our mission is to empower kids through play and help you make your playground goals a reality.
Contact Little Tikes Commercial to learn more about opening up a new world for kids through play.