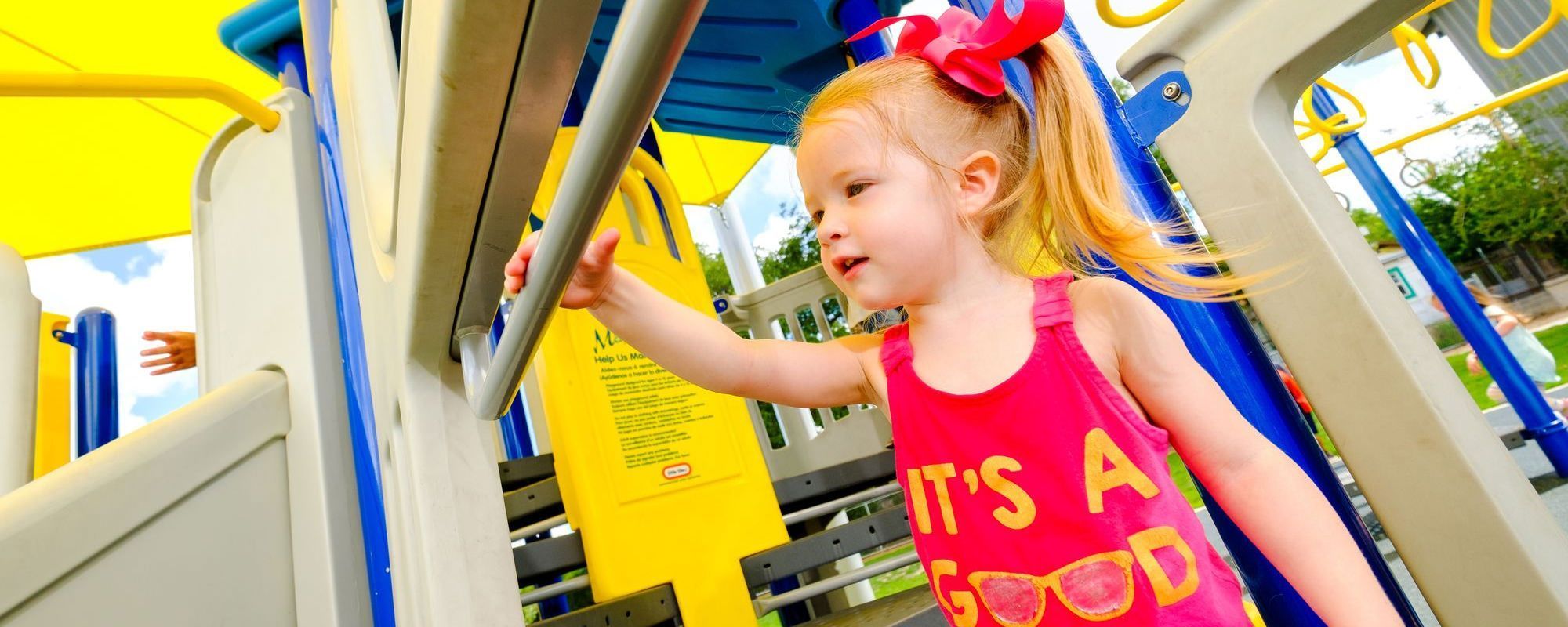 Playground Essentials: Everything You Need for the Perfect Playground
Playgrounds are a crucial part of the community. They're a safe place where kids and adults can go to exercise, socialize, and enjoy the outdoors. Whether you need to build a new playground or update an old one, you have many factors to consider. You'll need to prepare the site for a playground, including leveling the area, adding drainage, and installing surfacing. Then, you'll have to choose what playground equipment to use. You'll also need other playground essentials, like benches, trash receptacles, and other amenities.
Read the full article or jump to a specific section:
Playground Design Checklist
The following steps are vital in creating the perfect playground for your community.
Choose the location.
Prepare the site for the new playground.
Plan for drainage.
Work with a professional for your design.
Determine a playground system.
Choose a playground theme.
Install slides, swings, climbers, and other equipment.
Add shade elements.
Remember amenities.
Install safe surfacing.
Preparing the Playground
When designing a new playground, many critical steps go into preparing the area for the equipment.
Choosing the Location
You need to consider a few placement factors. First, check local ordinances and see if you need any permits to develop your park. Avoid underground utilities, which could be a hazard. Also, think about trees that can help shade your playground. Determine the space you'll use and if there will be expansion opportunities.
Preparing the Land
The ground needs to be mostly level and then modified for adequate draining, if necessary. Standing water will cause your surfacing and equipment to deteriorate faster. Excess water on your playground also provides the perfect environment for mold, mildew, and in some cases, mosquitos.
Drainage Options
Simple sump: To implement a simple sump, the area needs a 1 to 2% slope. At the lower end, dig a pit where the water can accumulate. Line the pit, fill it with drain rock, and cover it.
Sump pump: A sump pump is an electrical pump that removes water from a pit. These are typical in areas with more drainage issues.
French drain: A French drain runs along the play area's perimeter and connects to an existing drain.
Channel drain: You can place channel drains in playgrounds that use unitary surfacing. The drain directs water to the drainage system.
Get Professional Advice
It's OK to be unsure about how to design a playground, but you can always consult experts for help. First, get a general idea of what you're looking for, then work with playground designers to get the optimal arrangement to meet your goals. Our design teams and sales representatives have the knowledge and experience to help you with all your playground questions.
Choose a Playground System
Modern playground systems are just as diverse as they are thrilling. Your choices include varied components and activities.
Little Tikes Commercial Systems
PlayStax®: This modular, stackable fort-like system has mesh enclosures that give kids an exciting sense of risk while still being visible to their caregivers.
Nu-Edge®: This system has towering rooftops that blend nature with urban environments.
Play Builders®: If flexibility and budget are your top concerns, check out the Play Builders system.
Kid Builders®: This system is compatible with universally accessible ramps and has a large variety of components to choose from. Kid Builders Theme is another option that can have exciting motifs such as a magical castle, train, or tropical jungle.
Unlimited Play: Unlimited Play offers inclusive play spaces where children of all abilities can enjoy the benefits of play.
SkyBuilders®: This vertically designed system, with slides reaching up to 17'4″, is excellent for smaller spaces.
N-R-G Builders®: This unique system provides climbing, fitness, coordination, and strength challenges.
MaxPlay®: MaxPlay is ideal for playgrounds with a limited budget, since it offers maximum fun in a smaller area.
Gelefish®: This bright, colorful, and unique system is highly customizable and is compatible with most Kid Builders play activities.
Choose a Playground Theme
You may wish to go with classic playground colors or have an elaborate playground theme. Motifs can turn a simple playground into an exciting pirate ship, jungle, island, or medieval castle. Themed playgrounds are perfect conduits for imaginative play, which has many benefits for children. Imaginative play facilitates creativity and lets children play pretend.
Whether you have a specific theme in mind or only a general idea, the design team at Little Tikes Commercial can help bring your dream playground to life. You can give your whole playground a theme, or add themed elements like fun characters and unique structures.
Most Popular Playground Equipment
All playgrounds should have elements like slides, swings, climbers, tunnels, and activity panels. These components have excited and challenged kids for years. Today, these classic elements have new and improved twists that make playgrounds even more engaging.
Slides
When was the last time you saw a playground without a slide? Slides are classic pieces of equipment that kids love to play on. They can use their boundless energy to race to the top and feel the air blow by them as they slide down. Slides are ideal for playgrounds meant for any age group. They can be short and low to the ground for toddlers, or long with lots of twists and turns for older kids.
Slides boost children's confidence, improve sensory development, and encourage kids to be active. They help children experience heights and get a new perspective of the world around them.
Little Tikes Commercial offers over 10 types of slides!
Colossus slides: These giant triple slides let kids go down with their friends at the same time.
Curved slides: Use these slides to add a new twist to the experience.
Double-wide slides: Wide slides allow two kids to slide at once.
Spiral slides: Spiral slides are perfect for spaces with a small footprint.
Tunnel slides: These blend two beloved pieces of equipment — tunnels and slides.
Hypersonic slides: Hypersonic slides have an extra-long descent for added thrills.
Morphous slides: This exciting slide morphs from a tunnel slide to an open slide.
Quantum slides: Choose this type to have multiple, visually intriguing colors.
Roller slides: These slides offer a new sensory experience.
Double- and triple-entry slides: These allow kids to choose which slide they want to head down next.
Swings
Swings appeal to kids, teenagers, and adults. They're beneficial for kids' sensory and physical development. They experience the sensation of movement and wind in their face as a direct result of their actions. They pump their legs and hang on with their hands, strengthening gross and fine motor skills.
While many parks only have one kind of swing, this equipment offers more variety than you might realize. We sell many types of heavy-duty commercial swings. There are generation swing sets, which offer a place for children and caregivers to swing together. To encourage children to improve their social skills, you can add team swings that require them to work together. Inclusive and mirage seats are options for kids of all ability levels. Choose from options such as the following.
Classic belt swings: Kids of all ages love this iconic swing.
Generation swing sets: These swing systems allow children and parents to swing together.
Freestylers: Freestylers are thrilling options where kids can stand up and hold on as they swing.
Inclusive Seat: Inclusive Seats provide an inclusive swing option.
Team swings: Kids must work together on these swings.
Mirage seats: These seats help kids of all abilities feel supported while swinging.
Tire-style swings: These provide a unique swinging experience.
Heavy-duty swings: Heavy-duty swings are perfect for high-traffic parks.
Climbers
Kids love to climb on all sorts of equipment. Climbers provide physical challenges for kids of all ages, while helping with their cognitive and emotional development. Kids face their fears and work hard to conquer the obstacle and get to the top.
Various climbers can challenge different age groups and ability levels. There are small climbers for toddlers, net climbers for older kids, dome climbers, and panel climbers.
Tunnels
Some tunnels are excellent stand-alone playground components, while others connect to the playground equipment. They add an opportunity for exploration and motor skill development as kids crawl through. Tunnels can even serve as aesthetic pieces and can have many different themes. They can be shaped like animals, such as pufferfish, gorillas, and black bears. They can also be nature-inspired and look like gardens, leaves, and flowers.
Tunnels from Little Tikes Commercial encourage imagination and social interaction. We sell a wide selection of ADA-compliant playground tubes and tunnels and sculpted tunnels in unique shapes.
Activity Panels
Activity panels, sometimes called playground learning walls, provide sensory stimulation and opportunities for creativity. They help make playtime engaging and educational! They're also excellent for kids who might want to take a break from the physical exertion required on other playground equipment.
We offer activity panels in a range of themes. There are math and science-themed panels, sound and music panels, cognitive panels, and tactile panels. We have designed our educational panels to be social activities that facilitate teamwork, imagination, and creativity. They engage multiple senses and help kids learn while having fun.
Adding Shade Elements
On playgrounds, safety is paramount. Sunburn and overheating are risks kids face on the playground. In the summer, during peak hours, kids can get enough sun for adequate vitamin D production in only 15 minutes. Cumulative exposure to the sun's harmful UV rays can lead to adult skin cancers. Sometimes equipment can get too hot and end up burning sensitive hands. Include shade elements like trees and shade structures in your playground, even if it's only partial coverage.
Amenities
Your park needs more than playground equipment — it also needs site amenities. Add picnic tables, benches, trash receptacles, grills, and bike racks. Seating areas give older adults a place to relax while they enjoy the fresh air.
Installing Surfacing
Surfacing is a critical part of your playground. Investing in quality surfacing is not an extra — it's essential for playground user safety. Remember to check your chosen equipment's height and ensure the surfacing has a higher max fall height. You can choose between loose-fill surfacing and pour-in-place solid surfacing.
Loose-Fill Surface
Loose-fill surfacing is easier to maintain with a playground border to contain the pieces. Loose-fill is more budget-friendly upfront but requires more maintenance than a unitary surface.
Rubber nuggets: Landsoft™ Rubber Nuggets come in various colors you can combine for a unique look or use as one uniform shade.
Engineered wood fiber: This type of wood mulch is specifically for playground use.
Unitary Surface
Solid playground surfacing is more accessible for people using wheelchairs and other mobility devices.
Pour-in-place: No-Fault® Pour-in-Place consists of rubber granules covered by a layer made from polymer and recycled tires. There are no seams or gaps in this type of surface because it gets poured at the playground.
Rubber tiles: Kid Tiles® surfacing consists of easy-to-install interlocking tiles.
Other Playground Essentials
Playgrounds need to appeal to everyone in the community, so you need to get creative with your playground equipment list.
Areas for Teenagers
As kids mature into teenagers and outgrow the playground equipment, they still need a safe place to hang out. Install benches and covered areas where people can sit and talk with their friends. It should be close enough to the playground that older kids can still be near family members who may also be at the park.
Unique Equipment
Make your park stand out and attract more people by adding equipment you can't find anywhere else. Consider custom-designed elements or interesting equipment most parks don't have, like eye-catching sculpted play elements, colorful surfacing, or a unique piece of equipment like the Freestyler. The more exciting features you have, the more you'll have families returning again and again.
Inclusive Elements
At least some of your playground elements should be inclusive. We're staunch advocates for inclusive and accessible playgrounds that welcome all children to participate and enjoy outdoor activities. If you operate a public park, the Americans with Disabilities Act requires it to be accessible to children with differing abilities.
Park Signage
Signage is another essential for your playground. Use signs to indicate the appropriate age group for each piece of equipment and display the playground rules. Displaying a list of playground do's and don'ts in your park can help kids stay safer and make the experience more enjoyable for everyone. Examples of rules to include are no running, no roughhousing, no glass bottles, and all playground users must have adult supervision.
Playground Design Tips
All the decisions to make can complicate playground design. Here are some other helpful design tips that will help make your playground perfect.
Choose Equipment That Meets All Safety Standards
Many safety organizations provide guidelines for playground equipment. These include ASTM International, the Consumer Product Safety Commission, and the International Play Equipment Manufacturers Association. Little Tikes Commercial products always meet or exceed these standards!
Your equipment should also be high-quality to resist deterioration and damage. We use high-tensile, cold-formed steel fortified for durability, corrosion resistance, and colorfastness. We coat all our decks in vinyl, which reduces heat transfer. We make our rotomolded products with compound resin that gives them strength, durability, and UV resistance.
Include Various Exciting Equipment
Playgrounds need to draw in and thrill their users. Make sure to add various equipment and multiples of popular things like slides and swings. Try to plan accordingly for the number of kids you expect. Problems can arise when too many kids attempt to use the same piece of equipment at the same time.
If you don't have a large budget to start with, choose play equipment you can expand in the future. Many play systems allow you to keep improving your playground. If you plan on doing this, remember to leave space for the new equipment.
Separate Different Areas of Play
Separate playground equipment meant for different age groups, and use playground borders, signs, or different colors to designate each area. This tactic helps keep kids safe and playing on equipment designed for them.
You could also group active play equipment in one area and sensory play equipment in another. Kids who prefer to play the same way can make friends naturally.
Always Prioritize Health and Safety
Every step of your playground design process should prioritize health and safety, which is part of everything from determining the surfacing type, to choosing types of playground equipment, to cleaning your playground equipment. Anytime you need to make a decision, keep safety top of mind.
Browse Little Tikes Commercial Playgrounds
Our mission is to create fun, exciting, and inclusive play spaces that instantly engage imaginations. Little Tikes Commercial can help you design the perfect playground for your space, budget, and goals. Browse completed projects for inspiration and then check out our products. We can help you with the whole process — planning, designing, financing, customer support, and more — to make sure you can create the ideal playground.
We'll make sure you have all the essentials you need for the perfect playground. Contact us today to get started! We always design our playgrounds with safety and durability in mind, so you can be sure you're making the best choice for your community.