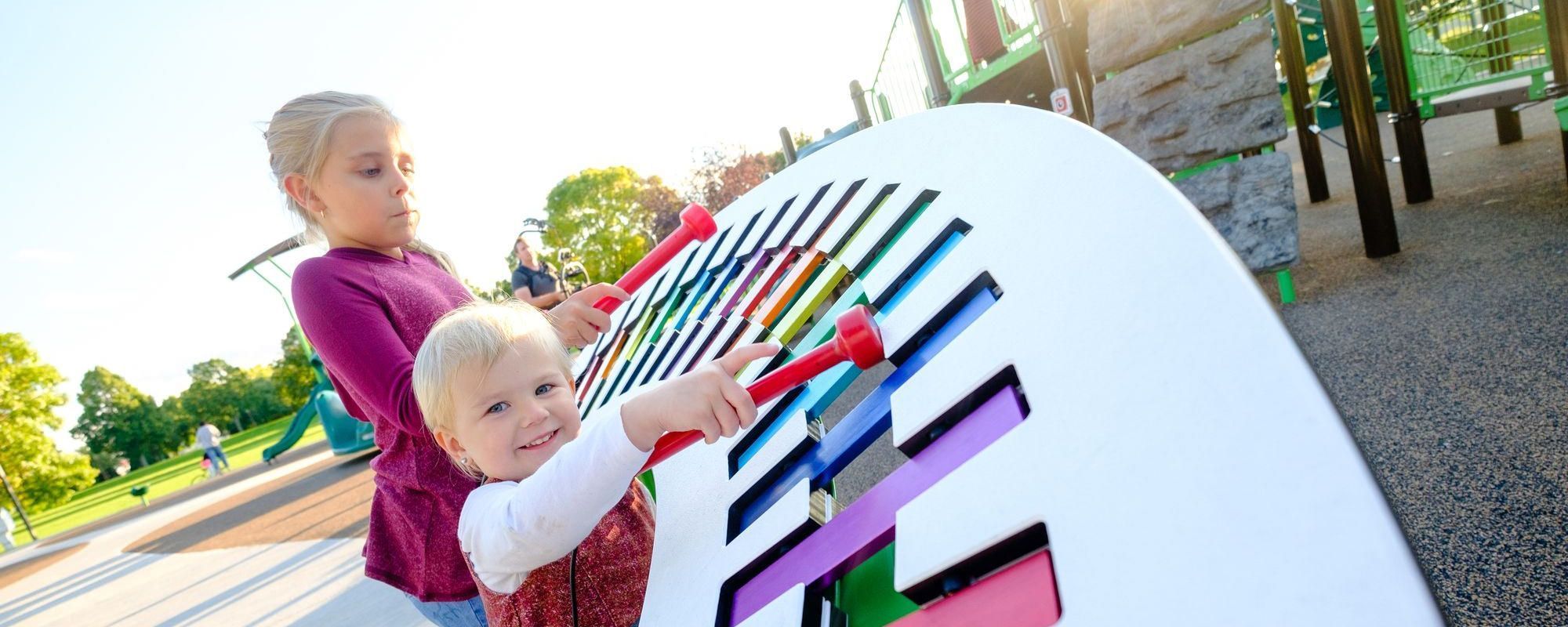 How to Create an Environmentally Friendly Playground
Playgrounds are exciting hubs for child development and community interaction. Kids can build self-esteem, create friendships, and progress in their development while having fun. Playgrounds are designed to engage kids' creativity and discovery.
One crucial aspect of playground design is sustainability. As we progress throughout the 21st century, many businesses seek ways to reduce their environmental impact. Playgrounds are structures for the next generations, so keeping the environment in mind during construction is essential. Using sustainable playground equipment contributes to environmental protection for future generations.
To learn more about how to build an environmentally friendly playground, read the full article or skip to a specific section:
Why Is It Important to Build an Eco-Friendly Playground?
Implementing an environmentally friendly design for a playground is important for many reasons. By choosing sustainable materials and encouraging eco-conscious behaviors, you can help preserve the environment. Sustainable playground equipment positively impacts the environment, rather than adding to the carbon footprint.
Here are more reasons explaining the importance of eco-friendly playgrounds:
Reducing pollution: Using an environmentally friendly design for your playground can also reduce pollution. Many pieces of playground equipment consist of plastic materials that you can't reuse or recycle afterward. The synthetic materials do not break down and return to the earth, contributing to waste and pollution. However, using sustainable materials in your playground limits this issue. You can reuse sustainable materials like steel in alternative ways, extending their life cycle and reducing pollution. Or, you could use recycled plastic, giving the material another use.
Helping new generations: Playgrounds are made for kids, and they will lead future generations. When you make environmentally friendly choices, you help protect kids' futures. You can help upcoming generations have the materials and safety they need to live happy and healthy lives. Eco-friendly playgrounds contribute to kids' development and their future happiness.
Encouraging a love of nature: Playgrounds allow kids to have fun outdoors. As they develop socially, physically, and cognitively, they can connect with nature. Fostering a love of nature from a young age can teach kids to appreciate and help the environment. Nature-inspired playgrounds can boost this appreciation even further. For example, you could choose tree-shaped playground structures or earthy color palettes with green and brown tones.
The Benefits of Sustainable Playground Equipment
In addition to a reduced carbon footprint, sustainable playground equipment has many more benefits. These are some examples:
Environmentally friendly lessons: You can use an eco-friendly playground to help you conduct environmental lessons for kids. For example, you could explain the concept of recycling by explaining a slide made of recycled materials. When kids see the exciting end product, they could be inspired to recycle themselves. Or, try introducing concepts like composting and gardening. You could also teach kids about the importance of the surrounding nature and how they can help.
Improved durability: Many sustainable materials are extremely durable. Environmentally friendly playground equipment can last many years, withstanding harsh weather conditions. Its durability keeps it high-quality and safe for kids to use, even after many years. When it's time to replace your equipment, you can recycle the materials and reduce waste.
Community connections: Implementing a sustainable playground can also contribute to sustainability goals for the entire community. You can encourage fellow community members to take environmental actions, too.
Enhanced aesthetic: Using natural materials can improve your playground's attractiveness. Some equipment might blend in with the surrounding environment. These designs encourage kids to appreciate and explore nature. In turn, more families and visitors might be inspired to visit your playground.
Creating an Environmentally Friendly Playground
You have many options if you're interested in establishing an environmentally friendly playground. Whether you want to introduce a new structure or update an existing playground for sustainability, you have various options available. A playground's design can impact kids' cognitive and physical development, influencing how they view the world. By using environmentally conscious choices in playgrounds, you can positively shape their development.
Here are some steps to take as you create an environmentally friendly playground.
1. Choose Sustainable Playground Materials
One crucial aspect of building an eco-friendly playground is sustainable materials. Many playgrounds use non-renewable materials for equipment, such as artificial grass or single-use plastic. These products are typically not sustainably sourced and could detract from sustainability goals. By implementing products you can only use once, you contribute to waste issues.
Instead, look for sustainable playground materials. You can reuse resources and extend their life spans rather than adding to waste issues. As global plastic production continues to rise, reducing waste and focusing on more sustainable materials is important.
Try options like:
Recycled plastic: The mass production of plastic worldwide adds to global waste problems. You can extend plastic's life span by reusing it in your playground equipment. Items like milk jugs or old toys can be recycled into new equipment. Manufacturers can repurpose old plastic and add vibrant colors to create new equipment. Reusing plastic costs less and takes less energy to produce, so it's helpful for the environment in many ways.
Recycled rubber: You could also implement recycled rubber into your playground. Rubber is an excellent option for playgrounds because of its cushioning material, helping kids play safely on these soft surfaces. You can reuse many rubber materials for playground pieces, such as car tires. They can be shredded into soft mulch or used as soft edges on existing play equipment. No matter how you reuse rubber, it benefits the environment and kids' safety.
If you're building a new playground, try using sustainable sources as materials. Or, you can add sustainable options to your current playground. For example, when you need a new equipment piece, you can use recycled materials for its replacement.
2. Clean and Maintain the Equipment
Regular cleaning and maintenance are also crucial for an environmentally friendly playground. Consistent cleaning and maintenance checks can optimize your equipment and help it last for many years. The fewer replacements you need, the less waste you produce. Additionally, maintenance checks help keep your playground safe for children as they play.
Look over these components in your regular maintenance checks:
Complete equipment: Inspect the condition of all equipment pieces. All equipment should be complete, with no missing parts.
Rust or wear: Look for any signs of rust on playground materials and check their solidity. It should be firm, with no dents, tears, cracks, or obvious surface wear.
Debris or trash: Inspect the grounds around your playground. Look for trash or any extraneous debris nearby, and pick it up as soon as possible.
Surfacing: Lastly, check the playground surfacing and remove any debris found. For loose fill surfacing, check for any areas that are no longer at the proper depth, rake and add more material as needed. Check unitary surfacing for cracks and other damage.
According to the United States Department of Health and Human Services, you should complete inspections daily to enhance a child's play experience and encourage equipment longevity.
3. Provide a Trash Can and Compost Bin
Another essential component of environmental awareness is reducing litter. As you create your environmentally friendly playground, you should reduce opportunities for people to leave trash around. Kids and other community members might carry candy, drinks or other food to the playground. If they don't have a way to get rid of their trash, they might leave it on the ground. Excess litter contributes to problems of pollution overall.
To combat this, provide trash cans and recycling bins in easily accessible areas. Recycling bins encourage visitors to recycle their materials, such as cans or plastic, and add another opportunity for healthy environmental practices. You can also include a compost bin to help organic materials degrade naturally. You can teach kids about the process of composting as they visit.
You can implement trash cans, recycling bins, and compost containers near high-traffic areas, like the entrance or exit. Consider adding more than one of each so everyone has adequate space to eliminate their trash.
4. Surround the Play Area With Flowers and Greenery
Lastly, use flowers and greenery in your environmentally friendly playground design. Consider including trees, grassy areas, and flower beds.
With these additions, kids can play in nature and develop an appreciation for it. They can implement natural features, like trees, into their games and play stories. These features facilitate a love of nature from a young age and show the importance of the environment. Plants and trees near your playground help center the focus of a healthy environment.
How Does Little Tikes Commercial Protect the Environment?
At Little Tikes Commercial, we understand the importance of a healthy play environment. Using sustainable resources in playground design benefits the environment and kids' experience. We commit to the health of children and the planet.
Little Tikes Commercial uses sustainable practices during manufacturing and installation. We use recycled materials whenever possible, whether rubber or plastic, which help reduce waste and excess energy consumption.
We also hold vital environmental certifications for the manufacturing industry. We are ISO 9001, 14001, and 18001 certified. In addition, Little Tikes Commercial has a Leadership in Energy and Environmental Design (LEED) certification. We use environmentally responsible practices in manufacturing, and our materials promise high quality and durability.
We constantly work to reduce our carbon footprint and create a healthy future for the next generations. When you choose Little Tikes Commercial playground products, you make a healthy environmental selection.
Little Tikes Commercial Sustainable Play Equipment
Little Tikes Commercial offers many options for sustainable play equipment. Whether you want to add sustainable components or create an entirely new environmentally friendly playground, Little Tikes Commercial can help.
These are some examples of our high-quality play equipment and how it can benefit your playground.
Sculpted Play Elements
One of our most exciting offerings is our themed play sculptures. These are available in a variety of designs, from butterflies to sharks. Kids can climb on them and use imagination to incorporate them into their play.
Our sculpted play options consist of Glass Fiber Reinforced Polymer. The material is lightweight, so it uses less energy to install and ship. These sculpted play features are excellent options for your sustainable playground and come in various shapes, including climbers and tunnels.
Two climber examples are:
PlaySoleil
Little Tikes Commercials' unique light structure, PlaySoleil, is also a sustainable option for your playground. These lamps light your playground equipment for 6+ hours at night, keeping away vandals or other unwanted visitors. It's also entirely solar-powered, making it a sustainable choice for your playground.
You can add PlaySoleil structures in many places around your playground since it doesn't require any wiring.
Activity Play Panels
Our interactive play panels are some of our most popular options. These panels are available in many styles, from working cognitive functions to sound and music activities. With these designs, kids can develop their senses — sight, sound, and touch. You can also encourage learning even when they're on the playground.
We make play panels with sustainable, recycled materials. Our environmentally friendly production practices mean using less energy wherever possible. Installing these play panels is an eco-friendly choice for your playground.
Any of our play panels could make an excellent addition to your sustainable playground. Here are two options:
Go Green With Little Tikes Commercial
Using eco-friendly designs in playgrounds benefits the environment and the kids. You can start implementing environmentally friendly choices today with Little Tikes Commercial equipment.
As one of the leading distributors of playground equipment, Little Tikes Commercial provides high-quality and fun options for kids. Our wide range of playground equipment can suit many needs. Whether you're building a playground for a school, park, church or anywhere in between, Little Tikes Commercial can help. We understand the importance of sustainability and work hard to use it in all of our manufacturing.
To get started, browse Little Tikes Commercial products today and get a quote. We look forward to helping you create an environmentally friendly play area.