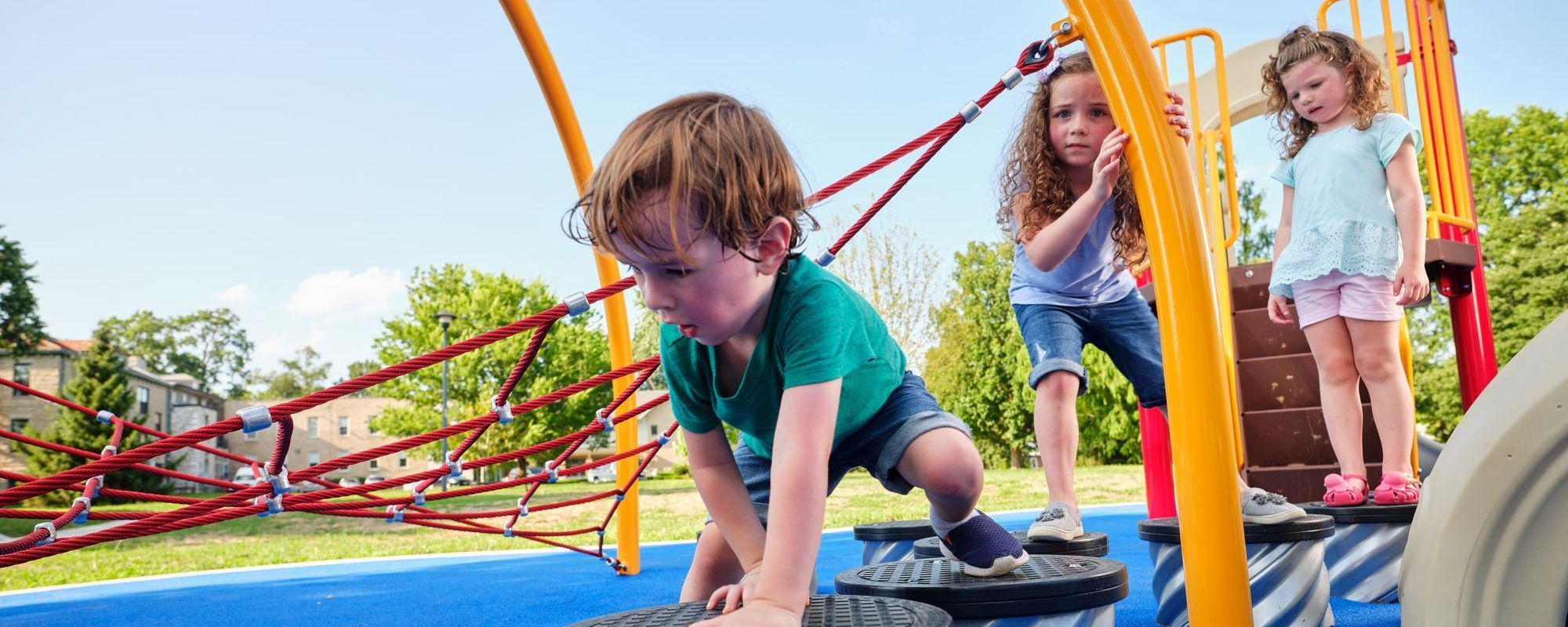 How to Design Challenging Playgrounds
The physical health and fitness benefits of playground activity are undeniable, but playgrounds have many more benefits outside advancing physical fitness. They promote learning while playing and present children with a wonderful opportunity to flex their creative muscles.
Children can learn important life skills such as problem-solving, decision-making, perseverance, and overcoming fears. And these benefits only increase when the playground has adequate challenges for children.
When challenged in a safe and controlled environment such as a playground, children learn skills that can be applied elsewhere in their lives.
Through experiencing different challenges at the playground, children have the unique opportunity to try, fail, try again, and succeed. Facing challenges is crucial to their overall development into confident and capable adults.
Read on or jump ahead to a specific section:
The Importance of Challenge for Children
Challenge is significant for children's development. Life already presents challenges to children almost every day when they are young — from learning how to spell their name to how to tie their shoes — and it's worthwhile to encourage these types of challenges. They all serve the essential purpose of helping children learn and develop. Without challenges, children cannot experience the fullness and complexity of the world.
Children learn skills such as perseverance and resilience through challenges. They see it's okay to be confused on their first try, they figure out how to deal with frustration, and they learn to take as many tries as they need to to get something right. By succeeding at something they were initially scared of, children might feel achieving a task that requires more work is sometimes more rewarding than accomplishing an easy task.
The absence of challenges has as many downsides as facing challenges has upsides. If children don't have the opportunity to face challenges when they are young, they might not be as imaginative when confronting problems later in life. The results could lead to increased stress and a lack of self-confidence. With challenges, children can become more confident in their skills and feel powerful in their ability to make choices by themselves. They can figure out how to best manage risk in the future through trial and error.
Challenges are also often fun for children. It's exciting to test the limits as young people, and challenges that promote learning are an excellent way for children to do just that. It's the opposite of boredom! Children should have a safe place where they and the adults in their lives feel safe facing challenges and building confidence, and playing on the playground makes for the perfect opportunity.
The Benefits of Challenging Playgrounds for Children
Playgrounds are usually associated with their health and fitness benefits. However, challenging playgrounds can include a variety of benefits for children. Through challenging play on the playground, kids can feel accomplished when they figure out what to do by themselves without help. Figuring out what to do in a low-stakes environment such as a playground is a great opportunity for children to learn how to face challenges later in their lives.
Just like the challenges they face in real life, challenges on the playground give children a sense of accomplishment when their perceived risk pays off. For instance, monkey bars might be an example of challenging play at a playground. When a child figures out how to use the monkey bars by themselves without any extra assistance, they might feel proud they've learned something new, and their risk paid off.
Children also can learn from playground challenges which result in failure. If they don't make it all the way across the monkey bars, maybe they'll figure out a better way to do it next time. A playground is a safe place for children to fail. It's also a great opportunity for children to learn how to grapple with losing. More benefits of challenging playgrounds include:
Increases in self-esteem: Winning challenges helps a child develop self-esteem and confidence. When children take steps to face a challenge and succeed, it helps them feel good about their accomplishments.
Learning perseverance: When kids fail on the playground, they can also learn to get back up and try again.
Overcoming fear: Playgrounds often expose children to many common fears, including heights, small spaces, and bugs. Repeated exposure to these fears can help children overcome them. For instance, if a child is afraid of heights, climbing up to slide down on their favorite slide is one way to start confronting their fear.
Presenting social challenges: The social challenges present at a playground can also help children grow. When they're playing, children may have the opportunity to ask someone new to play with them. And when the new playmate says yes, the child might be encouraged to be less nervous the next time they ask someone new to play with them.
Increases in imaginative play: Imaginative play has many benefits, including building a child's problem-solving skills. Children have to solve problems between themselves during playground activities or brainstorm strategies to create whatever amazing world they're playing in.
One of the playgrounds' most apparent benefits is encouraging children's physical fitness. According to the Center for Disease Control and Prevention (CDC), consequences of not enough physical activity include:
Increased risk for type 2 diabetes
Low bone density
Increased risk of cardiovascular diseases
Many children do not get enough exercise or outdoor playtime, largely due to an increase in time spent in front of a smartphone, tablet, TV, or computer. Getting enough exercise is essential for kids' health regardless of their ages. With that in mind, it's more important than ever that children receive enough exercise. With sufficient outdoor exercise, children can decrease their levels of anxiety and depression and reduce the risk of developing heart disease, cancer, high blood pressure, and obesity.
Challenging Outdoor Playground Equipment
Creating a challenging playground involves keeping in mind children want to play somewhere where they can experience something new. A successful playground offers children many different methods of play so they can develop their own unique way of doing things every time they visit. There's no right way to play, and much of the fun for kids comes from figuring out what they want to do. Playgrounds are unique because, for the most part, the kids are in charge.
If children aren't challenged on the playground, they might miss out on all benefits associated with playing, such as improved coordination, cooperation, empathy levels, problem-solving, and communication. Additionally, playing in parks or on playgrounds has benefits for a child's mental health, including decreased depression and stress relief.
Challenging but safe playground equipment lets children be more imaginative in how they choose to play, which helps with their cognitive growth by showing them strategies such as problem-solving and decision-making that they can use in the classroom, at home, and beyond. The following equipment can encourage children of all ages to have a great time on the playground:
There can be some thrill factor for children with each of these pieces. The height of climbing walls sparks excitement, the space between money bars challenges a child, and the narrowness of balance beams requires some extra effort. Safe and challenging playgrounds are possible!
How to Challenge Children on the Playground
Here are some ideas for playground design that is appropriately challenging for children:
Utilize a theme: Playground themes are great because they prompt children to use their imaginations while leaving the door open for them to make their own rules. Some exciting themes include animals, castles, firetrucks, or outer space.
Imagine more than one way to play: Noting multiple ways to play is a great way to create a challenging playground for children. With many ways to play, children can find new ways to challenge themselves and are less likely to get bored on the playground.
Consider age ranges: Playgrounds are great for children ages 6 months to 12 years and beyond. Different age groups will find different equipment challenging, so striving to make a playground challenging and fun for every age is important. It's a great idea to create separate spaces for different age groups where they can have appropriate and safe challenges that suit their development.
Embrace curiosity: Kids are naturally curious. To sculpt a challenging playground, embrace the curiosity with activity panels, themes, colors, and patterns.
One of the best things about playgrounds is they encourage children to play together with old friends and new. Building a playground that's conducive to group play is another way to challenge children in a healthy way.
Designs for playgrounds to challenge children leaves enough room for imagination. Children using their imagination on the playground is a tool they can later use to solve problems and make decisions. When they have adequate space to make up their own games at the playground, children's imaginations can run wild and they can learn vital skills.
Challenging children on the playground is essential for their cognitive, social, emotional, and physical development. Building challenging equipment for children increases the likelihood they will receive all of the great benefits of going to the playground.
When purchasing playground equipment for your school, community park, or daycare, you'll want to consider a few important factors:
Your budget limitations
The location of the playground
The age range of children using the playground
The needs of the community
Its structure material
Ongoing maintenance needs
Challenging playground equipment is exciting for children, but the proper equipment also provides essential safety measures to avoid injuries and meet compliance standards.
Balancing Safe Playgrounds With Challenging Playgrounds
Everyone knows the physical benefits associated with physical activity for young children. However, there is some debate regarding the safety of playgrounds and if playgrounds should actually be challenging. Every parent and person in charge of a child wants them to be safe on the playground, and it's understandable to worry they might get hurt.
Risk-taking is essential for a child's growth. For a child to learn how to navigate the world and all the challenges that come with it, they should experience what risk feels like for themselves. On the playground, kids learn how to handle stressful situations and navigate physical and mental challenges.
Challenging playgrounds are meant to be durable. They withstand the play they're built for. Playgrounds are designed to encourage children to push their limits in a more controlled environment. This should alleviate some of the worries that can be associated with taking a child to the playground.
Additionally, if a playground doesn't present enough challenges for kids to make it interesting, they might go to unsafe lengths to make it challenging. They might take unnecessary risks in pursuit of a challenge if the challenge isn't built into the playground's construction in a meaningful way.
How Little Tikes Commercial Can Help Build a Challenging Playground
Little Tikes Commercial knows the importance of challenges at the playground. With our different playground equipment, kids can feel challenged and invigorated while on the playground and ready to reach their full potential in life. Some Little Tikes Commercial equipment that embraces challenge on the playground include:
Activity panels: Playground activity panels are an excellent opportunity for children to learn together on the playground. Little Tikes Commercial offers several versions of playground activity panels, such as math and science-themed panels and tactile panels.
Play structures: Kid Builders® is Little Tikes Commercials' flagship line with over 500 components to choose from. Choosing components to promote healthy challenges at the playground is great for helping kids learn and grow while having fun and exerting energy.
Creative playground themes: Custom and themed playgrounds are excellent for giving children an opportunity to use their imaginations. Coming up with new games on the playground helps the playground experience feel new every time. At Little Tikes Commercial, you can customize the color scheme and theme of your playground  These playgrounds challenge a child's imagination and encourage them to make up new games every time they visit.
Little Tikes Commercial understands there might be some worry involved with bringing children to the playground. All of our equipment meets or exceeds the expectations set by the leading playground safety organizations. Our design professionals are committed to providing the safest possible environment for children to experience the wonder of outdoor play, and we take the time to look at each of our pieces separately and how they will work in the grand scheme of the area.
We are also committed to designing and engineering inclusive playgrounds that strike a balance between safe and challenging. We want to empower all children to learn about the magic of play and all its benefits. We also carefully calculate heights and distances so kids and their guardians can feel safe about the kids testing their limits through play.
Our safety checklist includes considering the following:
Playground users
Environmental conditions
Surfacing safety
Regulations
We also provide detailed instructions for your equipment and recommend safety audits as well as regular maintenance inspections. With Little Tikes Commercials' equipment, feel confident in the safety of playground equipment and its ability to allow kids to test their limits in the safest manner possible.
Get in Touch With Little Tikes Commercial
At Little Tikes Commercial, we believe in the importance of challenging play for children's cognitive, social, emotional, and physical health. We love seeing kids growing while playing, spending time outdoors, and learning just as much about life as they are about nature and themselves. And we're passionate about providing them with the safest possible environment to express themselves through their imagination!
Please feel free to contact us online for more information on our playground equipment or for more information on the importance of play! We'd love to hear any questions you might have and can even help you find a local representative for your area.