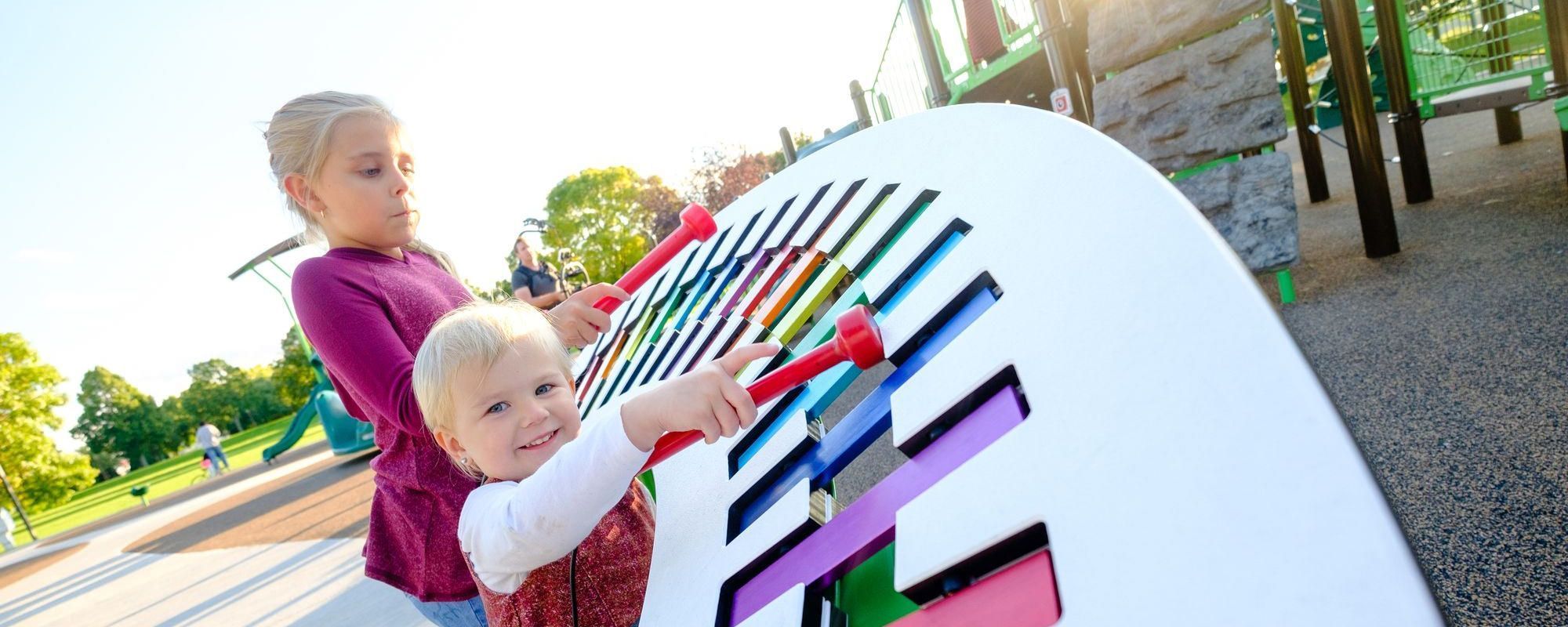 How to Improve Your School Playground While on a Budget
Playground equipment can last for years, but not forever. Eventually, your school will need to replace many or part of its playground components. Most schools have to do renovations on a budget, including play areas. Even with financial limits, you can still make needed school playground improvements. New equipment comes with the right sizes and costs to fit numerous spaces and budgets. Plus, you have other ways to save money on safe, updated playground components to meet the needs of today's active kids.
Playground Improvements on a Budget
School improvements, even playgrounds, frequently come with budgetary constraints. However, you can still give kids at your school a fun, safe, age-appropriate place to play without spending too much. The most important aspect of your improvements will be to create a plan. The following steps and tips can help you establish a focused method to determine exactly which improvements your school's playground needs and how to fit them into your budget.
Read the full article or jump to a specific section:
1. Know Your Budget for Playground Upgrades
First, get an exact amount for the budget you will have to spend on playground improvements. Since the total budget will dictate so many aspects of which elements you choose and how much equipment you can replace, you must know how much you have to spend before starting.
Use your school's budget to make the most important upgrades for student safety. You can even spread out the improvements over several years if you need more money. Another way to boost the budget's funds is to discuss the matter with your school's parent-teacher organization. They may fundraise for the project.
2. Consider Who Uses the Playground
Who will use the playground? If you have an early childhood education center, you don't want to spend money on playground equipment for older kids. Similarly, if your school is an elementary facility for ages 6 through 12, you shouldn't use funds for buying equipment for younger kids. By focusing your playground equipment purchases on the ages of your school's kids, you can find a structure that fits your needs and budget.
If your school centers around preschool to middle school-age kids, you can find playground equipment designed for ages 2 to 12. These types of multiage playgrounds work well at schools because teachers provide constant supervision during playtime. They are also best if younger and older kids use the playground at separate times. Keeping kids 5 and up separate from those under 5 on the playground can help keep everyone safe during playtime.
3. Establish a Plan to Prioritize the Most Essential Upgrades
One of the best ways to maintain your budget restrictions is by designing a long-term plan for upgrades and making changes over time. If your school budget doesn't allow for an entirely new playground, you can replace one or two essential elements over time instead. Plus, you can extend the time you have available for fundraising or acquiring more funds from the school's budget, if necessary.
When creating your plan, prioritize upgrades that emphasize:
Safety: Ensure your plan features optimized safety measures. This might include playground equipment that needs immediate removal and replacement. Set these tasks first on your playground improvements schedule. The U.S. Consumer Product Safety Commission has a safety handbook for public playgrounds outlining which equipment to use and avoid. Refer to this if you are uncertain about the safety of a specific element on your playground.
Accessibility: Next, make upgrades to include accessibility. All children at the school should have the chance to use the playground equipment. If your school playground is open to the public, it must be accessible, as stated in section 240 of the 2010 ADA Standards for Accessible Design. These standards apply to all new or altered construction after 2012. Therefore, if your school's playground was built before that, it might have elements that don't comply. Even if you make upgrades in sections, each phase of improvements needs to meet accessibility requirements.
Appearance: Lastly, make changes to aesthetics or other extras on the playground. These modifications could include additional spending on elements that enhance the fun of play for kids or extra sports equipment.
4. Choose Elements to Update and Keep
Determine which elements you want to keep and how they need updates. The more elements you decide to keep, the more money from the budget you will have to spend replacing dangerous, inaccessible, or outdated equipment.
Verify that the playground components you keep adhere to modern safety and accessibility requirements. The good news is that many timeless elements often do meet these specifications, but it's important to assess that your structures continue to meet ever-changing safety standards over the years.
When choosing parts to keep, request for a professional to inspect the equipment to check that it will continue to support kids at play for years to come. If it needs maintenance, such as part replacements, include those upgrades in your budget.
5. Examine Available Space for the Play Area
As you decide to upgrade playground pieces, you should keep an eye on your playground's available space. You can maximize the area you have by staying creative and using your space wisely.
Look at how much space you have available in the playground. Don't forget to include the space that gets freed up after removing old equipment. If you find you have a limited amount of space for new additions, don't give up your playground improvement plans. By using independent events, you can add fun playground elements that don't take up too much space.
Independent events are standalone playground features that you can add to any playground, even if you have limited space. You can add these upgrades to any playground area for a new add-on. Many are also cost-effective, making them great options for those on a budget.
Little Tikes Commercial offers many independent events, such as:
Implementing independent events is a great way to enhance your playground without making massive changes.
6. Create and Follow Improvement Phases
Making improvements in phases will help reduce the money required at each step of the project and lessen the total burden. The first phases should focus on safety and accessibility. During each improvement stage, you may want to keep portions of the playground with safe equipment open to allow kids to still have a place to play during the modifications.
Another option is making the upgrades over the summer or a long winter holiday break while the kids are on vacation. This option is best if you cannot leave any parts of the playground open during improvements.
Remember that your improvements to the school's playground will be an investment for students in the future. Therefore, take the time to space out improvements in phases, even if the process takes longer than intended. The kids who attend the school after the project's completion will have a better playground as their reward for your time investment.
7. Remember Other Elements of Playground Improvements
When planning how to spend the school budget on playground improvements, remember to budget for other aspects of the playground, such as:
Permits
Landscaping
Sidewalks
Surfacing
Ramps
Seating
Removal of old equipment
These tasks can be a significant percentage of the total cost, so it's important to factor them in alongside replacement expenses.
The exact fraction of your total project these parts account for depends on how much of the playground you need to replace and what you need to keep. For instance, if your playground already has accessible features, good landscaping, and plenty of seating for teachers, you may not need to spend as much on these aspects of improving the area.
Always check with your local building requirements to see which permits you need for removing old playground equipment and installing new parts. In many cases, you will need to acquire these permits before work can begin on the playground upgrades.
8. Replace Outdated or Dangerous Play Structures
Mark outdated or dangerous equipment for removal and plan to replace it or use the newly opened space for sports or other free play. Watch out for the following types of playground hazards identified by the U.S. Consumer Product Safety Council and remove equipment that could pose these risks:
Entrapment: Avoid spaces on playground elements where children could become stuck from strings on their clothing or accidentally entrapping body parts.
Crushing: Don't use playground equipment that could present a crushing hazard for kids' fingers or limbs.
Impalement: Examine hooks, bolts, and other hardware on the playground and determine these parts are properly enclosed to prevent impalement.
Tripping: Tripping hazards include concrete anchors that are slightly above the ground, low walls, and changes in elevation without high contrast.
Cutting: Used tires or rubber mulch can have metal that could present a cutting hazard due to the steel belts inside. Remove all metal from recycled tire mulch or use an alternative for fall area surfacing.
If you notice any of the above elements in your existing playground equipment, either remove the harmful components or replace the piece entirely. Older equipment is much more likely to have parts that don't meet today's safety requirements and will need removal and replacement.
9. Add Greenery Around the Play Area
You could also update the landscaping around the play areas. Trees create natural shade to keep kids cool during the warmer months at the beginning and end of a traditional school year.
To save money, consider planting young trees rather than fully grown ones. Keep them from getting too close to the playground equipment, where they could become an obstruction. The trees will cost less to purchase and plant and will grow throughout the years to provide shade for future students. Consider installing shade covers for the playground or seating areas, especially if you live in a very hot climate.
Greenery such as grass on non-play areas will also help improve minor site drainage and prevent muddy spots. For instance, a grassy area will absorb more water than bare ground, making it less likely to produce mud that kids can slip on. However, even with grass outside the play area, supervise kids to help avoid slipping.
10. Upgrade Surfacing for Safety
The surfacing inside the play area is important. Loose-fill surfacing, such as engineered wood fiber or loose-fill rubber, needs regular attention to keep it at proper levels around exit areas of the playground. Kids exiting slides or swings will often move the surface material with their feet. Plan on adding more fill or choosing another type of surface material, such as poured-in place rubber, to make the playground more inclusive and less maintenance-intensive.
11. Create Separate Play Spaces
Don't feel obligated to use the entire play area for playground equipment. Instead, consider zoning the playground into separate play areas. Have playground equipment in one space, an open area for sports and games, and another place for quiet or sensory play. For example, if you have jump ropes and playground balls to supplement recess activities, you should have an open space in the play area where kids can safely use these without getting too close to others.
With separate play spaces, kids can choose activities on their own terms. They can select the play area that suits their mood or interests, keeping anyone from feeling left out. For instance, if a child wants quiet time instead of participating in a noisy game, they can choose the quiet play section. They can then have a better experience during their playtime.
Sensory play equipment can encourage fun while appealing to various senses. Many children find sensory elements calming, especially if more traditional playground equipment or games leaves them overwhelmed. Numerous kids can enjoy sensory play components that stimulate sight, touch, hearing, and vestibular senses. Adding a separate sensory play area could be a great upgrade for your playground.
12. Update Playground Furnishings to Create a Big Visual Impact
Playground furnishings are often overlooked, but these aspects can have a big impact on how the space looks. Using bright colors for playground furnishings adds to the playground's visual appeal. Plus, since these seating areas are typically where teachers monitor the play space, students can quickly find an adult if they need one.
Playground furnishings also give kids a place to cool off during hot weather or sit quietly when they feel overwhelmed. With carefully spread-out amenities, kids won't have to go far to find a place to rest.
Furnishings can also foster friendships. For example, by installing a Buddy Bench in your school playground, you give kids who feel too shy to talk to others or who feel lonely a chance to meet other students. With these benches, anyone can sit down to indicate they want to find someone to play with.
Kids who see someone on the bench should be encouraged to ask the child to play with them. The kid on the bench should be encouraged to say yes if asked to play. Consider posting Buddy Bench rules nearby so everyone knows how to properly use these seats.
13. Include Plenty of Seating for Teachers or Playground Monitors
While having colorful seating adds to the playground's appearance, you also need to have seats spread out around the playground so teachers can see as many students as possible.
Include enough seating in your budget so teachers have benches available in the center and on every side of the play area. Also, consider installing longer benches to accommodate multiple teachers or students who need to sit during recess. The more seating you have, the more opportunities you provide for comfort during playtime.
14. Add Simple Structures to Encourage Creative Play
Your new playground components don't have to be lavish. In fact, some simple structures can encourage creative play. For instance, climbers like the Fun Rock are eye-catching, simple elements that offer kids the opportunity to engage in pretend play. Make-believe is a valuable asset to playground activities, and simple play elements can encourage it.
Swings are another example of a simple element kids of numerous ages enjoy using. If you found that the old swings in your playground were especially popular, consider adding more to reduce kids' waiting times. Or, consider adding a Team Swing that lets several kids swing together.
Another way to encourage creative play is through using paint on asphalt or concrete surfaces to create game patterns, such as boxes for the game four square or hop-scotch. You can even dedicate an area for students to create sidewalk chalk art by providing supervised kids with chalk. These options help you affordably turn empty space on your playground into usable, fun areas.
15. Consider Fundraising to Supplement Your School's Playground Budget
To augment your school's budget and money offered from the PTA, think about adding to the playground funds by hosting additional fundraisers. These could include traditional bake sales or online crowdfunding. The latter is a great option if your school's playground is used by the public after school hours.
Get the community involved and encourage donations for the playground. No matter what type of fundraiser you use, these extra funds can help you add more upgrades to your play space.
16. Keep the Updated Playground Well-Maintained to Increase Its Longevity
Lastly, make the most of the playground upgrades you invest in by dedicating time and money to their upkeep. You could encourage the community or PTA members to come to the playground for a once-a-month cleanup. A well-maintained playground will last longer and be safer for kids.
You should complete regular playground inspections to ensure safety for kids. You or your staff could perform these inspections, or you could hire a professional inspector. During these checks, be sure to look at:
Playground equipment: Inspect all playground pieces and ensure they're tightly fitted. There shouldn't be any loose or worn parts. Also, look for cracks or dents in the equipment that might make it unsafe for kids.
Surfacing: You should also inspect the surfacing and follow the manufacturers recommended maintenance for the type of surfacing your playground has.
Fences and benches: Make sure these components don't have any bends or cracks.
Drainage systems: Lastly, examine your playground's drainage systems regularly, especially after large storms. Standing water can damage your playground equipment or surfacing, leading to more repairs in the future. Check your drainage systems consistently and make sure they drain water properly.
By completing maintenance checks often, you can notice potential problems more quickly. In turn, you could expand the life span of your equipment and reduce future maintenance needs.
Get Big Ideas for School Playgrounds to Fit Into Smaller Budgets With Little Tikes Commercial
The kids at your school deserve a fun, safe place to play. Upgrade their playground to meet their needs without blowing your budget. With the above budget-friendly tips, you can make significant school improvements, starting with the play area.
Have fun with the process of renovating your playground. This is your chance to get creative and think outside the box to deliver a fun, imaginative play area for the kids at your school. Now is your opportunity to design a playground that will bring the wonder of childhood play to your school's kids. Make the most of it with a little help from us. No matter your budget, Little Tikes Commercial has the school playground elements to fit it. Browse our site to find playground components that you like and request a quote.
Remember that you're not alone in upgrading your school's play space. You can also get help with developing a playground design on a budget from your nearest Little Tikes Commercial representative.