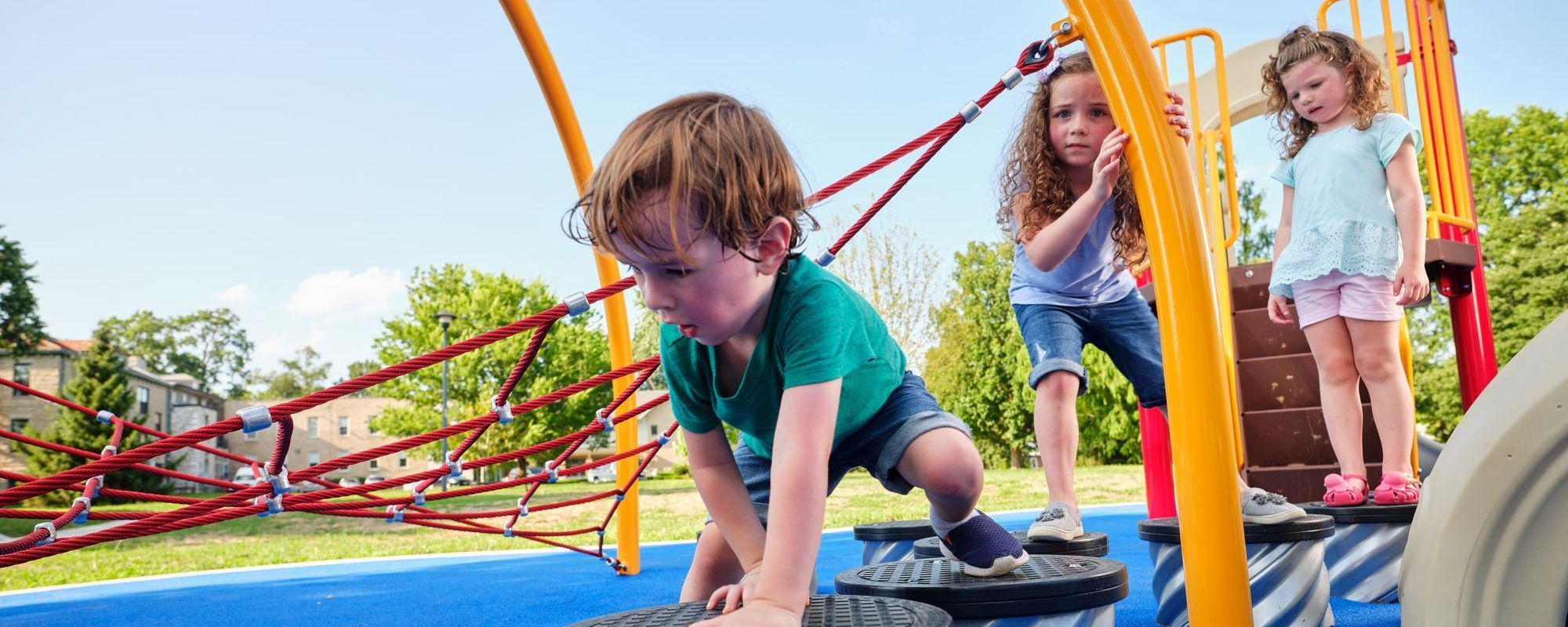 Everything You Need to Know About the Most Popular Playground Equipment
The most popular playground equipment allows kids to explore, challenge themselves, play safely, and have fun. When deciding what playground equipment to install at your playground or park, design a space that every child can enjoy. Including versatile and inclusive playground components ensures that every kid who visits your playground finds something that appeals to them and allows you to cater to more kids and parents.
While some pieces of equipment have remained universally popular for decades, others give kids an innovative way to have fun. Providing popular equipment is an excellent way to ensure that everyone can enjoy your park or playground.
What Makes Playground Equipment Popular?
How do you know which playground equipment will be popular with the kids in your community? The best place to start is with classic playground equipment and inclusive solutions involving children of every ability level. Giving kids a wide variety of play solutions designed with their needs in mind will keep them returning to your playground equipment. Consider the following elements that make playground equipment popular:
1. Classic Pieces
A great way to ensure kids will love your playground is to pick classic playground fixtures that children have enjoyed throughout generations. While every kid has different preferences, some pieces like slides, swings, and climbing equipment are always popular. You can't go wrong with playground equipment that has withstood the test of time and engaged kids' interests all over the world.
2. Inclusive Options That Involve Everyone
Providing inclusive equipment at your park or school playground allows all kids to join in the fun together. Whether kids have mobility or sensory differences, it is essential to give them a space to play and grow in whatever ways they enjoy. Inclusive playgrounds include equipment like accessible swings, gliders, and activity panels. Inclusivity also involves creating an easily accessible space through unitary playground surfacing, broad pathways, and handrails on ramps.
3. Unique Equipment
Including unique equipment is an excellent way to make your playground stand out from other play spaces. Uncommon features will capture the imaginations of the kids you serve and give them another way to exercise their creativity. Whether you look for playground equipment that kids have never seen before or create a themed space customized for your community, unique equipment can become a focal point of your playground and even your community.
Popular Playground Equipment
Attracting kids to your playground involves creating a safe and inclusive space, giving kids their favorite playground equipment, and bringing in new surprises. Some of the most popular playground equipment you can use include the following:
1. Slides
Whether updating your school's current playground or adding a new play space to your city's park, you have probably considered adding a slide. Playground slides are a classic option that appeals to children of every age. Kids love to feel the wind as they rush down the slide. Playing on slides also improves balance and helps kids get a workout from climbing up to tall slides.
A slide is one of the first pieces of playground equipment many kids try out, and it offers plenty of physical and social benefits. Slides present little risk to a hesitant child and still provide a physical challenge through which kids can conquer their fears. Single slides help kids learn how to take turns, and kids can even race each other on a double wide slide.
2. Swing Sets
If you want to enhance your playground with equipment that is sure to be popular among kids, choose the beloved swing set. Playground swings have been around for a while and stick around for a good reason. Swinging gives kids pure exhilaration, making them feel like they're flying. Children often flock to the swings, making them essential for kids' playgrounds.
Once kids learn to coordinate their movements, the swings are sure to be a favorite. Gradually kids learn to swing higher and faster, increasing their independence and confidence as they race their friends to see who can go the highest. The benefits of swings include increased body awareness, coordination, sensory stimulation, and calming effects. You can involve kids of every ability level with accessible swings that all kids can enjoy.
3. Climbers
Climbing is a natural part of play. Kids want to explore new spaces and see from different vantage points. This inclination makes playground climbers an excellent addition to any play space. Climbers encourage kids to challenge themselves and reach their highest potential.
Kids love climbers because of their unique physical challenges and varying degrees of difficulty. While climbing, kids increase their upper body and core strength, balance, and agility. Navigating tricky equipment also encourages kids to be persistent in solving problems. Climbers come in various designs, including freestanding and connected structures, net climbers, dome climbers, and climbing walls.

4. Motion Play Equipment
When kids go to a playground, they want to move and use their energy exploring. Motion play equipment is the perfect solution for energetic children. This equipment allows kids to work independently or with a group to move in new ways and accomplish a common goal. Some of the most popular motion play equipment are:
Spring riders: Made for one to four passengers, spring riders come in various themes and designs. From the traditional single-seater like a bulldozer spring rider to a four-seat teeter for younger kids, this equipment is versatile enough for any playground and community.
See-saws: A staple at parks and schools, see-saws encourage cooperation and help kids build friendships. Children love to soar up and down on a see-saw while cooperating with playmates. Whether you choose a traditional see-saw design or a modernized version, like this dragonfly or the Team Totter, you'll find kids who love this equipment.
Gliders and spinners: Kids also love the gentle swaying or high-speed rotations of gliders and spinners. Kids will have fun exploring new types of motion, from accessible gliders for groups to solo spinners.
5. Tunnels
Another popular piece of commercial playground equipment is the tunnel. Playground tunnels are versatile and easy to incorporate into nearly any playground design. Kids enjoy the sensory stimulation and interaction that tunnels provide and even like hiding out in the enclosed space.
This component is the perfect prop for make-believe scenarios. Tunnels can act as connecting pieces, independent pieces, or freestanding equipment that can enhance your playground's theme and aesthetic appeal. Tunnels also come in various styles and can be made ADA-compliant to increase accessibility.
6. Activity Panels
Activity panels are popular playground accessories that give kids another form of play. These interactive panels, also known as learning walls, provide sensory play and learning opportunities for kids of all abilities and ages. Unique activity panel designs incorporate color, texture, and movable elements into activities that keep kids engaged and stimulate the senses.
Activity panels are a versatile way to tailor your playground to the kids in your community. You can include learning-focused panels that involve math and science concepts, music, colors, shapes, and other cognitive exercises. Because activity panels are stationary and accessible, they are also excellent for incorporating into an inclusive playground.
7. Themed Equipment
Consider themed or custom playground equipment when you want to turn your playground into a unique space designed especially for the kids you serve. Custom playgrounds can meet kids' specific needs by including more inclusive play elements. You can also create custom-designed equipment centered around a motif like a spaceship or a castle to bring your unique vision to life.
Themed equipment is sure to be a hit with the kids in your community or organization. The customized colors and components will help kids get the most out of your playground. Playground themes also ignite greater creativity and encourage group play by suggesting make-believe scenarios for kids to explore.
Important Features for Popular Playground Equipment
Many popular playground features are integral for creating a safe, inviting space for the kids in your community. These features make room for every child on your playground and enable each child to get the most out of their playground experience.
1. Variety
Including a good amount of variety in your playground design lets kids' imaginations run free, experience different challenges, and change activities whenever they wish. Playgrounds should challenge kids physically, mentally, and socially. Various playground equipment will encourage:
Active play: Kids can use their energy spinning, swinging, sliding, climbing, and moving.
Sensory play: Music, science, matching, and learning activity panels challenge kids' senses of hearing, sight, and touch.
Imaginative play: Creativity is unrestricted with make-believe roles and props.
Social play: Healthy socializing involves sharing, communicating, and cooperating.
2. Age-Appropriateness
Knowing the ages of the kids who will be using your playground helps you choose equipment they will enjoy using again and again. Equipment designed for kids ages 2 to 5 is generally lower to the ground, more compact, and relies less on upper body strength. In contrast, older kids like to take risks and climb, swing, and jump high, so they will enjoy more challenging equipment.
If children with a broad range of ages will all use your playground equipment, it can be helpful to create sections geared toward specific age groups so younger children can play comfortably in a space designed for them.
3. Safety
Safety is an important playground equipment feature that makes your playground enjoyable. High-quality playground equipment always includes safety features like guardrails and durable materials that can withstand years of play. Some essential playground safety features include:
Proper playground surfacing: Choosing the right playground surfacing material can help keep kids safe during the occasional trip and fall.
Covered hardware: It is crucial to find and cover all hardware like S-hooks, bolts, and other projections to minimize the risk of clothing becoming entangled or kids scraping their skin on the exposed metal.
Guardrails: Kids should be able to climb and explore new spaces while playing. However, the higher a child goes, the greater the risk of serious injury if they fall. Playground equipment located high off the ground should include guardrails and barriers to keep kids from falling.
4. Space Maximization
The best playgrounds make use of every accessible space so kids can enjoy as many opportunities for play as possible. Even if there is little space available in a playground, designers can still maximize every foot by using equipment with a small footprint. Playgrounds also use natural paths to divert traffic and prevent kids from congregating in one area. For example, a walking trail can lead from the slide to the swings to the climber, with other equipment shooting off to divert kids as they move from activity to activity.
Playgrounds should also use space mindfully. For example, placing a swing set too close to other equipment could lead to children walking in front of the swings. Proper playground spacing leaves plenty of room in high-traffic areas, like where kids exit the slides, to prevent overcrowding.
5. Inclusivity
Accessible playgrounds can become a gathering place for every child in your community. When kids can access more playground features, they will enjoy playing more and want to keep coming back.
Popular playground equipment caters to the physical and social needs of the children who use it. For example, a child who is easily overwhelmed by loud noises or crowds might enjoy a secluded area that gives them a chance to regulate their emotions before returning to play. In addition, kids who use wheelchairs would enjoy wheelchair-accessible ramps and equipment that provide them with access to more play opportunities.
6. Flexibility
Children have endlessly creative minds and can turn ordinary playground equipment into something extraordinary. Kids often come up with new uses for old things, making the playground an excellent place for them to explore their imaginations.
Allow kids' creativity to go wild by including equipment that can be used for multiple purposes. For example, a steel counter activity panel can easily be anything from a grocery store to an ice cream shop to a teacher's desk. Including versatile playground equipment encourages kids to make up their own stories and live out their make-believe worlds.
7. Spaces for Different Energy Levels
Just as you might create sections of your playground designed with different ages in mind, it can also be helpful to arrange areas where kids with varying levels of energy can feel comfortable. For example, an area with a rope swing and Rail-Rider might be loud and busy, while a corner with a garden and benches might feel more calming. Some kids prefer a more boisterous atmosphere, while others could choose a quieter area to enjoy their own forms of play.
Designing spaces for different energy levels gives kids who prefer to play quietly or feel overwhelmed a space to retreat when they need it. It also provides places where kids can enjoy being noisy with friends or quietly daydreaming, whichever they feel like doing.
8. Learning
Popular playground equipment often involves learning, even if kids aren't aware of it. Sure, kids learn using activity panels that teach numbers, telling time, or music notes. However, kids learn through every play activity. The most popular playground equipment is usually the kind where children learn about the world around them without even having to think about it.
For example, kids learn through these important playground features:
Movement: Kids learn coordination, balance, and motor skills by enjoying playground equipment like slides, swings, riders, and spinners.
Social play: Interactions with other kids teach children how to get along, make friends, play by the rules and engage in friendly competition. Kids also learn social and language skills through communication with others their age.
Sensory play: Kids can explore their environment and learn about the world by engaging their primary senses on the playground. Sensory play provides an excellent opportunity to cultivate their sight, hearing, touch, and vestibular senses.
9. Physical Activity
Popular playgrounds for kids always involve physical activity. A playground is an excellent place for kids to strengthen their muscles through play and begin healthy habits that can last a lifetime. Some of the benefits of physical activity on a playground include:
Improved balance and flexibility
Development of fine motor skills and hand-eye coordination
Promotion of lung and heart function
Lowered risk of diabetes and obesity
Stronger muscles
10. Interaction
Playgrounds are social environments, and this is beneficial for developing children. Through play, kids learn about social norms and cooperate, communicate and compete in healthy ways. Creating spaces where kids can interact with others of different ability levels can be a massive step in creating a popular playground. Kids who can accept and celebrate others' differences will bring those valuable skills with them into their adult lives.
Designers may inadvertently segregate kids by their ability levels when including inclusive playground components. However, it is vital to create spaces for interaction between all children. A helpful way to do this is to give kids with different ability levels the opportunity to play together on equipment that challenges them in similar ways. For example, putting inclusive swings side-by-side with standard swings lets kids swing at their preferred difficulty level and interact with those of different abilities.
Choosing Little Tikes Commercial
When designing a popular playground for children, choose commercial playground equipment that challenges and delights kids of all abilities and ages. Little Tikes Commercial has created exciting play spaces for children for decades. With products that champion childhood development through outdoor play and involve kids of all ability levels, Little Tikes Commercial playground equipment meets the needs of the kids you serve in several ways:
With a wide variety of playground features and components to choose from, Little Tikes Commercial offers everything needed for a safe, fun, and inclusive playground project.
Contact Us Today
Kids will love to play on equipment that they find fun, challenging, and unique. Popular playground equipment for kids will keep the children you serve engaged, inspired, and returning to your playground again and again to have more adventures.
Whether you want to include a classic swing set or slide in your playground design or opt for a custom design that is sure to stand out, Little Tikes Commercial can help you achieve your vision. Our popular playground equipment comes in many sizes, shapes, and difficulties, so everyone can find something they enjoy. Contact us to find out more about our outdoor playground equipment options today.