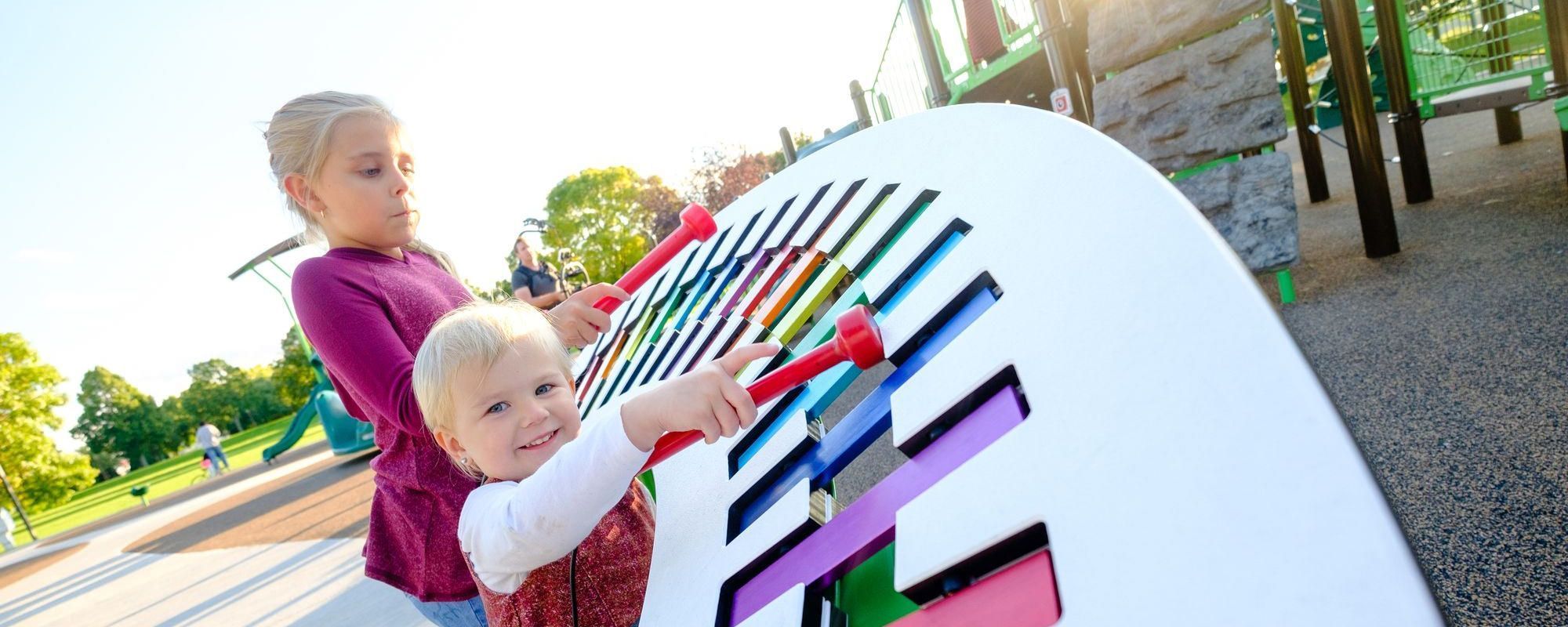 What Is the Best Playground Equipment for Your Park?
We live in an era where academic pressures reign supreme. Schoolwork seems to be ever-increasing, while outdoor playtime is ever-decreasing. That's why a community park playground is so important — it gives kids an escape from the stresses and frustrations of school life so they can just be kids.
If you're thinking of installing a playground in your local park, this guide is for you. We'll discuss the benefits of providing outdoor playgrounds and the best equipment you can install in your park. Plus, we'll touch on some considerations you should think about before making any final decisions.
Why Park Playgrounds Matter
Playgrounds are safe spaces for children to engage in free play, helping them develop important skills for navigating adult life. While like sports and organized games like tag provide valuable structure, free play allows a child to choose their own adventure.
Here are a few ways a public playground can benefit your community's children:
Physical
One of the clearest benefits playgrounds offer is somewhere children can go to burn off some steam. Kids can climb, slide, and swing on a playground — activities they often can't do at home or school. Specifically, outdoor play can:
Emotional
Playing outside with others teaches kids about themselves and their feelings in a safe, accepting space. On a playground, children can:
Build self-confidence: Mastery of difficult structures empowers children to take risks and boosts their sense of self-esteem.
Manage emotions: Playgrounds provide a safe space for children to work through new emotions.
Improve mood: Outdoor play protects childhood emotional development and reduces feelings of anxiety and depression.
Bond with caregivers: Playgrounds are great spaces for children to grow closer to their parents, grandparents, or guardians.
Mental
Kids learn important lessons during their time on the playground, including:
Enhance creativity: Free play helps children develop their imagination through make-believe games and scenarios. Innovative, interesting playgrounds can help provide the backdrop for these storylines.
Learn important life skills: Through unstructured play, children learn to think critically and solve problems independently.
Discover identity: Imaginative play allows kids to develop their own personalities through exploring their likes, dislikes, and beliefs.
Release stress: Outdoor playgrounds allow kids to recover from long days at school and other structured activities, helping them focus better when they return to the classroom.
Social
Through enabling imaginative play, playgrounds create opportunities for kids to learn social norms such as:
Diversity and inclusion: Playing with children of different ages and backgrounds teaches kids to expect and appreciate diversity in their daily lives.
Social roles: Through imaginative play, children can try out different roles and identities, teaching them how people fit into the real world.
Working together: Kids learn to get along, cooperate, and share with others through collaborative, imaginative play.
Friendship: When kids play together, they learn to build and maintain friendships that can last for years.
Self-assuredness: Shy children can benefit from regularly playing with their peers. By gradually exposing shy children to social situations, parents can help their children overcome their shyness and learn to advocate for themselves.
Problem-solving: Imaginative play allows children to learn how to develop their own creative solutions to challenges they may encounter. This practice helps them become more independent and creative thinkers.
The Best Playground Equipment for Parks
When you want to plan the best park playground, you need to create one that will stand out from other community parks. That means that in addition to looking good, it has to work well and impress the kids who will use it.
Here, we'll provide some ideas for great park playground equipment, along with some tips about including them in your design.
The Essentials
While others have come and gone, these classic playground elements have withstood the test of time. You'll want to install at least one of these playground staples. People expect their inclusion, and with today's safe and practical designs, parents feel at ease letting their kids play with them.
Here's what we mean:
Swing sets: Your park swing sets should be big and strong enough to accommodate a good number of kids. Swings for parks should have at least two toddler seats, and two regular seats for older kids. You should also make sure to purchase at least one inclusive swing seat, so all kids have the chance to play.
Slides: Slides are playground essentials. They help kids develop their sense of balance while providing thrills. Park slides can be independent structures or connect to larger structures to provide exciting exit points. You can choose from a wide variety of exciting shapes, including spirals, tunnels, and wave slides. You can also opt for a double-wide slide to accommodate two kids at once.
Spinners: The successors to the old-school merry-go-round, spinners are thrilling pieces of equipment for older kids. Newer models like the Turnabout Spinner and the Revolution Inclusive Spinner are more accessible than their predecessors, allowing kids of all ability levels to experience the fun together.
Climbing Structures
Climbing structures are excellent for skill development. Children must use their bodies to pull themselves upwards, engaging them mentally and physically. As they climb, they make decisions about how to move to the next step and practice their focusing skills on accomplishing the task.
While many playgrounds use climbers to connect pieces of a larger playground structure, you can also use smaller freestanding climbers to complement your larger structures and provide more variety.
Popular examples of climbing components include:
Activity and Game Panels
Activity panels enhance the play experience by providing interactive, educational elements for kids. You can attach these panels to other structures or post them on their own around the park to add variety. Here are some examples of activity panels:
Overhead Events
Overhead climbing challenges are exciting ways for kids to work on their hand-eye coordination, posture, and visual perception. Kids will build confidence in their abilities as they get stronger and overcome these challenging elements:
Challenge ladders: Like monkey bars, challenge ladders provide an interesting way for kids to get from point A to point B. Structures like the Trapeze Challenge Ladder make things even more interesting by adding moving rungs. The Z Challenge Ladder and the S Challenge Ladder introduce directional changes to keep kids engaged.
Ring treks: Kids need to use their minds and bodies to make it across the challenging Ring Trek structure.
Fun wheels: Fun wheels spin while kids hang onto them, which provides a creative way for kids to develop grip strength and balance while having fun.
Early Childhood Structures
While public playgrounds are great for kids of all ages, it can be beneficial to choose play equipment specifically for your smallest visitors. Toddlers and small children are still working on their gross motor skills, so they need engaging equipment designed for their size and ability.
Choose low-to-the-ground equipment that fosters independence and group play — children are still learning how to play with others from ages 2 to 4. Here are a few ideas for your park playground:
Toddler clubhouses: All-in-one structures like the Tot Tree and the Community Helpers playset create spaces for kids to act out imaginary scenarios. Attached features like mailboxes, flowers, and windows prompt kids to interact with them, enriching their imaginary worlds and making playtime deeper. Make sure to choose a structure with clear, open lines of sight to enable supervision.
Small slides: Little kids deserve their own sliding fun. Sturdy, low slides are great for toddlers and other small children to get used to the balance required to successfully use slides before they can move on to the real thing.
Accessory Structures
Installing freestanding interactive accessories can help to visually pull the space together and provide more outdoor park activities for children to engage in. The possibilities with accessories are endless, including:
Spring riders: These bouncy devices rock smaller kids gently back and forth. You can choose from many shapes and colors for spring riders, including whales, ATVs, and classic horses.
Musical instruments: Let kids put on a show with freestanding musical structures like the Concerto Chimes, Vibes, or Conga drums. Setting up a few instruments in the same area allows kids to play together and gain musical awareness.
Considerations When Buying a Playground for Your Park
You want to get the best equipment for your money. Taking the following factors into consideration can help you evaluate manufacturers and find the best products.
Safety
Ensure the manufacturer is in good standing with the International Play Equipment Manufacturers Association (IPEMA). This certification means that the manufacturer is committed to distributing only the highest-quality commercial playground equipment to their customers.
Additionally, you want to check that your manufacturer adheres to the guidelines laid out by the American Society for Testing and Materials (ASTM) and the Consumer Product Safety Commission (CPSC).
Once your playground is complete, make sure to perform several rounds of final checks before allowing children to play on it. A great way to do this is to have a certified playground inspector professionally assess it. This inspection can identify weak points, installation flaws, or other defects.
Surface Type
Choosing the right playground surface is a crucial step in designing inclusive playgrounds. Your two main options are loose-fill or unitary surfacing.
As the name implies, unitary surfacing creates a single surface to absorb energy and provide fall protection. It's more accessible than loose-fill, as its even surface allows wheelchairs and other mobility aids to glide across with ease. You have several options for unitary surfacing:
Poured-in-place rubber
Interlocking rubber tiles
Loose-fill is loose material installed by hand to create a level shock-absorbing surface. While it's usually more affordable upfront than any unitary surface, it requires more maintenance. If you're considering loose-fill, you have several types to choose from:
Rubber mulch
Engineered wood fiber (EWF)
Budget
As with all major investments, your options depend on your budget. The amount you're willing and able to spend on a playground will determine what equipment you're able to choose. In addition to whatever funding is already available to you, many options are available to gain more funding.
You can raise funds through community events. Fundraising events allow community members to support your cause while enjoying themselves:
Bake sales
5K runs
Concerts
Carnivals
Silent auctions
You can also expand your budget with a grant from a government organization or a nonprofit. Many organizations allow you to apply for grants, including:
Your local parks and recreation department.
National government offices.
Local nonprofits.
Online grant directories.
Foundations attached to large corporations.
Playset Material
Plastic, metal, and faux wood are ideal materials for playground equipment because their durability lets them withstand harsh environmental conditions year after year. Wood is another popular choice, though it's prone to insect infestation and risks splinters and injury.
Height Requirements
Each age group using playground equipment differs dramatically in height. Height requirements will vary depending on the specific piece of equipment — for example, swing sets can accommodate much taller children than tube slides. Before you purchase any playground equipment, make sure to check that the height limits match most kids in your community.
It may also be a good idea to set up a separate area specifically for toddlers and smaller children to ensure that these kids can play on equipment made specifically for them.
Site Amenities
The area surrounding your playground is just as important as the playground itself.
It's important to place park equipment like bins for trash and recycling on the perimeter of your playground to help keep the area clean and free of litter. Adding hand sanitizing stations can help keep little ones safe from germs. These additions both serve a purpose and help pull together the whole aesthetic of your playground, creating an attractive space your community will be proud of.
Choosing Little Tikes Commercial for Your Playground Needs
If you want to create a high-quality playground that your whole community will love, Little Tikes Commercial can help you achieve it. Our play equipment is:
Contact Little Tikes Commercial For More Information
At Little Tikes Commercial, our innovative designs create innovative, imaginative play experiences for kids of all ages, backgrounds, and ability levels.
To get started building your dream playground, browse our wide selection of play equipment and request a free quote. You can also contact us online or reach out to your local rep for more information and personalized support.